---
Are you looking to add a pop of color or a unique design to a leather surface? Leather paint is a great way to dress up bags, shoes, and furniture made from leather or vinyl. Read along to learn about the top paints for leather products. We've scoured the internet for quality paint sets and settled on 10 amazing kits to share with you.
Angelus 12-Color Leather Paint Kit
Angelus Leather Paint is a high-quality water-based
acrylic paint
. This kit comes with twelve 1-ounce jars of the premium stuff. It's non-toxic. So, there's no need to hide it from little ones and pets.
What's more, it is a flexible paint that will not chip or crack after drying. As such, we highly recommend this product for wearable applications, including shoes, bags, jackets, and more.
| | |
| --- | --- |
| Pros | Cons |
| Set of unique colors | – |
| 1-ounce glass jars with twist lids | – |
| Water-based acrylic | – |
| Non-toxic/td> | – |
---
Angelus 1-Ounce Acrylic Leather Paint in Assorted Colors
If you have a specific color application in mind, then these single 1-ounce jars of Angelus Leather paint are perfect for the job. Angulus Paint is a high-quality water-based acrylic that won't crack or peel.
It is made in the U.S.A. Colors can be blended together to create custom pigments. There are 12 colors available.
| | |
| --- | --- |
| Pros | Cons |
| Sold in single 1-ounce jars | Must remove leather finish before applying |
| 12 different color options | – |
| Does not crack or peel | – |
---
Angelus 4-Ounce Flat White Leather Paint
White is one of the most common leather color applications. This brimming 4-ounce bottle of flat white leather paint is perfect for touching up specialty sneakers other leather items. It's a typical water-based acrylic that goes on smooth.
There' no need to worry about drips and spills, as the Angelus blend is super easy to clean up.
| | |
| --- | --- |
| Pros | Cons |
| Flat white color is ideal for athletic shoes | Comes off if you do not remove the top layer of leather treatment |
| Large 4-ounce bottle | – |
| Easy to cleanup | – |
| Non-toxic | – |
| Can be mixed with other colors | – |
---
Kaps Super Color
Do you need to touch up a custom pair of kicks or fill in a gash on a designer purse? Kaps Super Color comes in 70 different shades, making it easy for you to find the perfect pigment. Each bottle of Kaps contains 25 milliliters of dye, an applicator sponge, and an applicator brush.
This small yet mighty kit makes it easy for individuals to fix up fade spots and scratches in under 24 hours.
| | |
| --- | --- |
| Pros | Cons |
| Dries in less than 24 hours | Streaky |
| 70 different pigments to choose from | – |
| Comes with an applicator sponge and brush | – |
| Manufactured in Europe | – |
---
Vallejo Airbrush Thinner 200-Milliliter Paint
Occasionally, you need to dilute leather paint to create the perfect pigment. The only way to do this is with a high-quality paint thinner, such as Vallejo. This 200-milliliter bottle is a perfect match for liquid acrylic paints.
It enables leather painters to dilute colors without losing their longevity or adhesion.
| | |
| --- | --- |
| Pros | Cons |
| Dilutes paint without reducing their quality | Does not work well with airbrush |
| Perfect for water-based acrylics | – |
| 200-milliliter bottle | – |
---
Fiebing's Acrylic Leather Paint
Fiebing's Acrylic Leather Paint comes in handy 2-ounce bottles. There are eleven different vibrant colors to choose from. The paints have strong pigments that can stand the test of time. The colors go on smooth and dry evenly.
They do not crack or peel. What's more, you can use water to naturally thin the color.
| | |
| --- | --- |
| Pros | Cons |
| Goes over dark leather with no need for primer | – |
| Water can be used to thin hues | – |
| 11 vibrant water-based acrylics to choose from | – |
---
Jacquard Lumiere Exciter Pack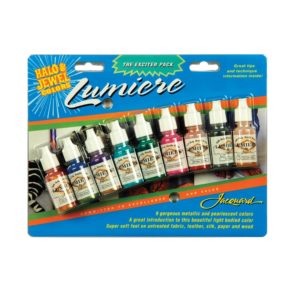 If you're looking to get crafty, the nine-color Jacquard Lumiere Exciter Pack is a great way to get started. This paint kit includes several metallic paint colors that can be applied to a variety of surfaces, including leather and wood. Each painted bottle contains half an ounce of Lumiere.
Colors include rose gold, blue gold, violet gold, pearly turquoise, pearly green, pearly magenta, russet, pewter, and gold.
| | |
| --- | --- |
| Pros | Cons |
| Vibrant metallic hues | Visible brush strokes |
| 11 different colors | – |
| Can be applied to a variety of surfaces, including leather | – |
| Works well on dark surfaces | – |
---
Angelus Acrylic Leather Paint Collector Edition 1-Ounce Bottle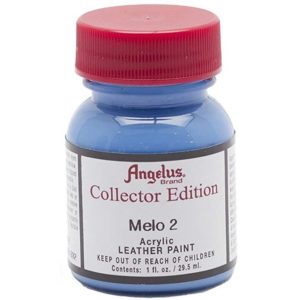 If you're looking for the exact match for an original leather color, then the Angelus Acrylic Leather Paint Collector Edition paints are the way to go. These paints offer an exact match for 16 different popular leather colors.
They also boast a premium acrylic base that won't peel or crack after drying. At just under $2 a bottle, you can't go wrong with these expertly crafted colors. They may not be non-toxic, but they're easy to use and clean.
| | |
| --- | --- |
| Pros | Cons |
| Premium pigments mixed to match original leather colors | – |
| 16 different color hues available | – |
| Premium acrylic foundation | – |
---
Angelus Original Leather Paint Starter Kit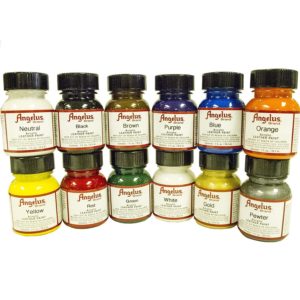 If you're looking to create colorful custom designs, then the Angelus Original Leather Paint Starter Kit is an excellent foundation. This kit includes 12 premixed pigments. Each color is packed into a 1-ounce bottle with an applicator lid.
The paint has a premium water-based foundation that goes on smooth and won't crack. All of the primary colors, neutrals, and original metallic paints are included.
| | |
| --- | --- |
| Pros | Cons |
| 12 colors to get you started | Multiple coats required for full coverage |
| Won't peel or crack | – |
| 1-ounce bottles | – |
| Built-in applicators | – |
---
Angelus Leather Paint Basics Kit
Are you just looking for the basics? The Angelus Leather Paint Basics Kit comes with six colors, including red, yellow, blue, black, and white. It also includes a five-piece paint brush set that can be used for leather applications.
What's more, the kit comes with a bottle of deglazing. These high-quality primary paints can be mixed together to create custom hues.
| | |
| --- | --- |
| Pros | Cons |
| All the primary colors | – |
| Black and white included | – |
| Deglazer included | – |
| Five-piece brush set | – |
| Paint goes on smooth | – |
---
Buying Guide
Is this your first time buying leather paint? Did you previously purchase a subpar product and want to avoid making the same mistake twice? If so, read along for helpful tips on purchasing leather paints.
Choose a Preparer
You always need to strip the surface of protected leather before applying a fresh coat of paint. This will prevent the new paint from peeling or chipping. Many leather paint companies sell premixed deglazers. Nevertheless, a basic mixture of soap and water will usually do the trick.
Find the Right Pigment
Crafters often choose to buy paint kits as opposed to single bottles. If you're looking to paint colorful designs, it helps to have a full palette of colors to choose from. Of course, multi-color kits also enable you to blend colors to create custom hues.
Leather paint comes in a variety of sheens. Determine whether you are looking to create a flat or shiny finish. If you are touching up an article of clothing or piece of furniture, look at the item in bright light to reveal its finish.
Application
Leather paint is applied with the use of a wide variety of brushes. Some paints come with built-in paint brush applicators or accessory sponges. No matter what type of applicator you use, it is important to always pull your leather taunt to avoid creating a streaky, flaky surface. Follow the manufacturer's instructions regarding drying times to ensure that the paint dries effectively. What's more, use a paint dilution solution or water to dilute your paint for a more even consistency. It is important to remember that you can always apply more coats of paint to achieve your desired opacity.
Quick Look: What to Look For
Water-Based Acrylic Foundation
Comes in Different Hues
Applicator Included
Non-Toxic
Paints for Leather FAQ
What kind of paint can be used on leather?
Leather paints are paints focused on acrylic, made especially for natural and fake leather. While you may still use traditional acrylic paints from a hobby shop, leather paints are budget-friendly and manufactured without peeling, chipping, or cracking with time to conform to certain styles of fabrics.
Are acrylic paints good for leather?
Surely, yes. Acrylic paint is not only nice to use on leather, but it is also one of the strongest forms of paint for wallets, coats, purses, and also accessories to use on most leather pieces.
Before painting, what you first ought to do is get the leather primed. You want the surface to be primed first.
To degrease, scrub, and scrape any coatings, waxes, or oils that might be on the leather, spray the leather with Isopropyl alcohol before painting. The leather or imitation leather has likely been coated with a silicone coating if you notice that the color is not adhering to the leather.
In this scenario, you might use a leather deglazer to help extract this covering but alcohol does the trick much of the time.
Applying the paint thinly sufficiently to absorb in the leather is the secret to the successful adhesion of acrylic paint to leather items. If thick paint is used or made up so thickly, when flexed, there might be an improved risk that the paint may break.
Acrylics are thermoplastics that react to temperatures in the climate.
Do fabric paints work on natural/fake leather?
When working on leather, fabric paint is not suitable to use. Because of the way leather is, cloth color would not be able to saturate it, and the pattern will not turn up.
The texture and surface of both leather and fake leather are somewhat distinct from canvas/denim. This suggests that it would be unusual to paint on leather than to paint on other surfaces.
You should get paints specially designed to fit with leather, even if you may apply acrylic paint on natural leather. Relevant leather paints aren't that concentrated than acrylic paints, although with time, they can last on natural leather longer. They are even more probable under a steam iron to keep up.
What kind of paint can you use on leather shoes?
For leather or vinyl items, special spray paint is used, while fabric paints are better used for shoes made of cloth or canvas. Paint pens can be used with more complex patterns on shoes to draw out the designs before applying the necessary forms of paint.
Prep leather by scraping existing acetone paint and coatings. Painting leather with designs of Angelus (for instance). For a gloss or matte finish, finish using an acrylic finisher.
Does acrylic paint wash off leather?
It won't wash off easily if you use a sealer after applying it. 
Use a solution of 1 part acrylic paint centered on water and 1 part water. Use a wool dauber to add the condensed paint to the leather surface. Only add a thin hat. Do not let the leather over-soak.
Without a sealer added, acrylic paint has a very chalky texture (well, relying on the finish). Satin or Gloss are certain acrylic paints that have a built-sealer, but you won't have to put something on top then.
If you need to wash acrylic paint off your leather couch, then you may follow such guidelines: 
Depending on the extent of the spill, blot or brush off excess paint lightly with paper towels or old rags. Take caution not to rub color on clean leather;

With 1 part hot water and 1 part gentle, bleach-free liquid soap, fill a bucket. In the paste, soak a sponge; wring out excess liquid and rub on the stain with the sponge, removing as much of the paint as practicable. Soak the sponge and continue until the leather sofa extracts all of the color leaking;

With a new rag, rinse the leather. If required, add any industrial leather-conditioning substance;

Take a tiny portion of a paper towel with olive oil. Dab it with a generous coat of oil onto the drying acrylic color, covering the whole stain. To smooth the color, allow the oil to settle for many minutes;

With cotton swabs or the tip of a blunt knife, dislodge patches of color;

Using a toothbrush, carefully clean the residual color, brushing away the softened paint with paper towels or an old rug;

With hot water and a few drops of gentle, bleach-free soap, fill a bucket. In the paste, dip a sponge and rub it over the stain. Any residual paint stain is dissolved by the heavy, soapy solution and the olive oil cleans up. Rinse the sponge and repeat until there is no remaining color or olive oil on the sofa;

With a clean, dry cloth or towel, scrub the leather and, if necessary, add some leather conditioner;
How to make acrylic paint look like leather?
A fake leather finish may add accent to any interior or item. A favorite piece of distressed leather apparel may serve as motivation for your project or even an enticing thrift-shop find. You can render any surface look like real leather in texture and color with only a few colors, simple tools, and bits of thin plastic sheeting:
Make sure the surface is thoroughly washed. Offer gentle sanding on every shiny surface so the color can stick properly. If required, wash the surface and clean any loose paint. With a clean rag, wash the dust clear. Before painting, the surface must be neat and dry. To cover off any places that you don't want to color, use painter's tape;

Apply a primer coat and allow it to fully dry. Using a primer that is ideal for the board. Some primers, such as plastic and metal, are specially designed to bind to smooth surfaces;

On the first coat of color, roll. This is going to be the lighter color of the two that you have picked. Cover the whole area and encourage it to fully dry. If the first coat has not properly covered the original finish, apply a second coat of lighter-color paint to the region. Before beginning the leathering process, allow it to dry;

Mix the second, deeper color of the paint with the glaze. Using such a ratio – four portions of the glaze to one portion of the pigment;

Using spontaneous roller strokes, add the glaze combination. If you are covering a wide floor, do not seek to cover more than around a 4- to 6-foot-square region at a time. Wad up a strip of plastic firmly, then un-wad it, right after you finish rolling on the glaze;
How to make fake leather shiny?
Using a spray bottle to apply a little rubbing alcohol on the leather surface, or gently add the rubbing alcohol with a toothbrush.
Rub the stains with a dab of petroleum jelly and buff with a soft rag, with scuffs on patent leather and imitation leather accessories. With a squirt of glass cleaner and a rub with a comfortable rag, restore the shine.
How can you make dull leather shiny? You may clean large areas with saddle or Castile soap and a limited volume of water, including armrests. With a wet towel, wash the soap odor clean. Whenever you spot-clean, recover the shine until the leather dries entirely by buffing the region with a smooth, dry rag.
Video Guide: Painting on Leather
Final Thoughts
Whether you're looking to create custom sneakers or need to touch up your sofa scratches, leather paint is a great item to have on hand. We've taken our time to carefully examine and compare dozens of popular leather paints/ At last, we've narrowed down our search to ten premium products. Of course, you can always use our comprehensive buying guide to hone in on a paint that's just right for you!
---