---
Best Oil for Leather Review
Leather has the potential to last a lifetime, but with regular exposure to outside elements, like water and salt, it will quickly wrinkle, scuff, and dry. Don't bring shame to this naturally brute material by hiding your leather goods deep in the bowels of your closet. Regular applications of leather oil will keep your skin-based footwear, accessories, and upholstery looking youthful and soft. Read along to discover our top ten leather oils and then dive into our comprehensive buying guide to make the most out of your pick.
1. Obenauf's Leather Oil –
Editor's Choice

Obenauf's hydrating oil concoction comes in a black and gold bottle that looks s though it's fit for a king. However, it' the compound's rich mixture of beeswax, propolis, and natural oils that make it one of our all-time favorites.
| | |
| --- | --- |
| Pros | Cons |
| Comes with dauber | Initially darkens leather |
| Softens | |
| Hydrates | |
| Wide range of applications | |
A few daubs of Obenauf's will restore the flexibility and sheen in boots new and old. Of course, you shouldn't limit your Obenauf applications to footwear. This leather oil blend works well on nearly any leather item, including leather furniture, clothing, and vehicle upholstery. As an added bonus, this product is manufactured in the good old U.S.A.
---
2. Bickmore Neatsfoot Oil Leather Conditioner – Best Budget Option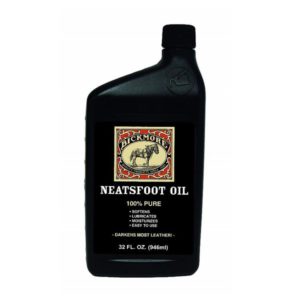 If your leather had a voice, it would be pleading for Bickmore. While the engine oil-like packaging is a bit deceiving, there's no question that Bickmore is a pure and, ironically, petroleum-free product that is designed to breathe life into a wide range of leather products.
| | |
| --- | --- |
| Pros | Cons |
| Softens | Darkens leather |
| Petroleum-free | |
| Verisitle applications | |
| Low price for 32 ounces | |
Save the environment by adding a drop or two of this leather anti-aging oil to your cowhide boots, belts, baseball gloves, and more. You'd be hardpressed to find 32 ounces of any oil for a lower price.
---
3. Huberd's Shoe Oil – Old Time Favorite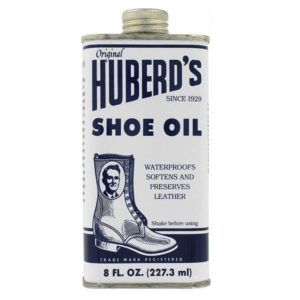 Not one to join in on the hype surrounding new products? Huberd's Shoe Oil is a time-tested leather conditioner that has been dominating the leather product market since 1929.
| | |
| --- | --- |
| Pros | Cons |
| Softens and preserves | Darkens leather |
| Contains waterproofing ingredients | |
| Non-toxic | |
| U.S. company since 1929 | |
The oil comes in a retro-looking tin flask adorned with an old fashioned blue and white advertisement. While the long-seated Arizona company isn't likely to release the full list of ingredients in their leather conditioning formula, they do ensure that it contains only non-toxic substances.
---
4. Red Wing Heritage Mink Oil – Easiest to Apply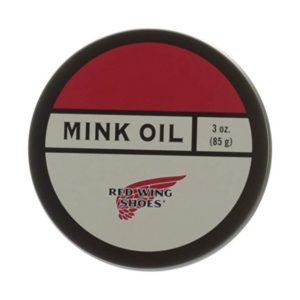 Does
Red Wing Footwear
ring a bell? The company is well-known for producing U.S. military footwear. With original marketing done by painter Norman Rockwell, the company has earned its well-established reputation for retro chic designs.
| | |
| --- | --- |
| Pros | Cons |
| Comes in a retro tin | Exclusively for footwear |
| Easy to apply | |
| Weatherproofs | |
| Softens and fortifies | |
Alas, it's really the tried-and-true combination of mink oil, lanolin, and silicone that make this leather conditioning oil so fabulous. With ingredients so yummy and hydrating you might even consider putting it on your own skin, you can imagine how lush leather looks after a coating or two of Red Wing.
Check it Now: Red Wing Boot Oil vs. Mink Oil
---
5. Sof Sole Mink Oil – Most Waterproof Barrier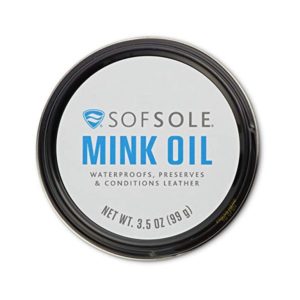 If your someone looking to waterproof and restore your leather footwear, Sof Sole is definitely a viable option. This mink oil mixture comes in a small resealable tin. It's easy to apply and contains minimal ingredients.
| | |
| --- | --- |
| Pros | Cons |
| Pure mink oil | A noticable smell |
| Easy to apply | |
| Eliminates scuffs | |
| Creates a waterproof barrier | |
While some customers complain that the oil has a rancid smell, we experienced nothing of the likes. In fact, it only took one coat of Sof Sole to eliminate years' worth of scuffs and scratches on the surface of our test pair of brown leather boots.
---
6. Fiebing's Golden Mink Oil Paste – Best Treatment for Both Leather and Vinyl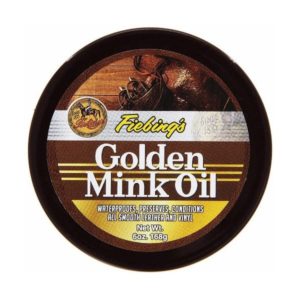 Many people don't realize that you can use oils to restore the condition of both vinyl and leather fabrics. Fiebing's golden-hued mink oil contains a blend of silicone, lanolin, and vitamin E. If these ingredients sound better fit for a high-end facial salve, that's because they are.
| | |
| --- | --- |
| Pros | Cons |
| Includes silicone lanolin, and vitamin E | Packaging is not airtight |
| Made in the U.S.A. | |
| Naturally waterproofs | |
| Usable on leather and vinyl | |
Feibing's American-made product can remove years of abuse, including water, salt, and perspiration stains. It even provides a naturally waterproof barrier that helps prevent future liquid-based abuse. The best part is that there is really no limit to what Feibing's can be applied to. So, pull out your old baseball glove, those second-hand cowboy boots, your dog's leash, and everything in else.
---
7. Angelus Prime Neatsfoot Oil – Most Convenient Liquid Application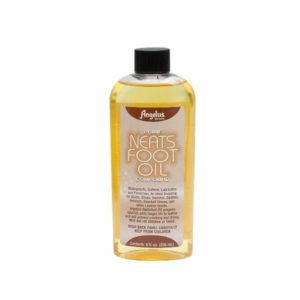 Some people make a lot of fuss when it comes to conditioning their leather products. However, Angelus makes it easy to tip back a bottle of oil for rapid results. While this neatsfoot formula doesn't penetrate too deep, it does make leather softer and more weather resistant.
If you live somewhere with high humidity or just subject your leatherwear to intense situations, it's a wise idea to keep a bottle of this low-maintenance product on hand.
| | |
| --- | --- |
| Pros | Cons |
| All-natural neatsfoot formula | Does not penetrate deep |
| Veristile applications | |
| Gently darkens oil | |
With baseball season around the corner, it's also not a bad idea to present your budding little leaguer with a bottle of their own. Trust us; oil is far faster and more productive method than clubbing your baseball glove to death.
---
8. Red Wing Heritage All Natural Boot Oil-U – Best Liquid Red Wing Oil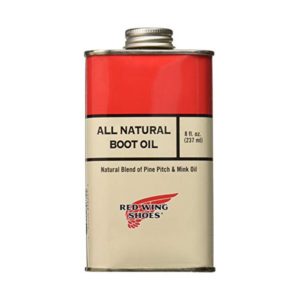 Whether you are going for that well-groomed time-traveler look or hipster chic, a single flask of Red Wing Shoes' vintage-inspired boot oil will have your leather looking as scrumptious as it would if it were fresh off the cow.
| | |
| --- | --- |
| Pros | Cons |
| A dry oil-free finish | May dent in the mail |
| Waterproofing | |
| Made with oil and pine pitch | |
| Comes it a large vintage-looking can | |
Too graphic? Well, this U.S.A.-made leather oil is made from a blend of all-natural mink oil combined with pine pitch. While we aren't alchemists, a quick application of Red Wing tells us this seasoned manufacturer is bottling some sort of magic. After a brief rubbing, our test wallet looked darker and felt softer. Not to mention, water beaded on the surface when it was exposed to rain.
---
9. JobSite Prime Neatsfoot Oil – Best Leather Oil for Work Boots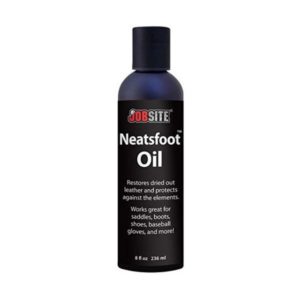 Are you looking to do more than boost the aesthetics of your outdoor gear? JobSite's Neatsfoot Oil is a favorite amongst professionals looking to add a protective layer to their vinyl and leather boots.
| | |
| --- | --- |
| Pros | Cons |
| Remedies cracks and scuffs | Strong smell |
| Softens leather | |
| Penetrates deep | |
| Darkens tan | |
Of course, it's also a popular remedy for dried and worn leather furniture and automobile upholstery. While the formula does tend to darken any preexisting tan, the leather comes out noticeably flexible and soft.
---
10. Kiwi Mink Oil – Best Mink Oil for Suede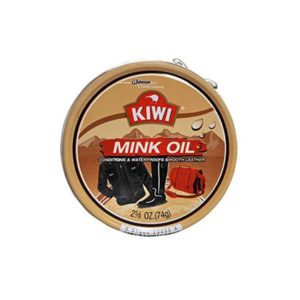 If you've ever wandered through the cleaning isles of a supermarket, you've probably come across one or more Kiwi products. While most people think of the company's thin little tins of shoe polish, their spreadable mink oil is a favorite among leather product enthusiasts.
| | |
| --- | --- |
| Pros | Cons |
| Mink oil, silicone, and lanolin | |
| Conditions and softens | |
| Verisitile | |
| Easy to apply | |
The rich natural formula is ultra easy to apply. It can be put on everything from black to white leather. Not to mention, it is suitable for suede and nubuck too. The anti-aging formula includes mink oil, silicone, and lanolin, all of which are great for smoothing out wrinkles and filling in scuffs. This leather oil is super affordable and great to have on hand if you wear boots or leather gear regularly.
---
Buyer's Guide
Still wondering what to look for in a quality leather conditioner? In the next section, we give you the rundown on common leather oil ingredients and the quality results they bring about.
What to Look for in a Leather Oil
As you've probably already noticed, leather oils consist of either neatsfoot or mink oil. Neatsfoot oil is made from the feet and shin bones of cattle. Meanwhile, mink oil is made from the fat that is removed from mink pelts. Both of these oils are ideal for restoring and conditioning leather, but each has its own proven perks. For one, neatsfoot oil is well-known for its ability to hydrate and add shine to leather products. On the downside, it tends to darken light leathers and can even break down natural and synthetic threads. On the other hand, mink oil is ideal for waterproofing and added protection. However, it fails to penetrate deeply and needs to be reapplied more frequently than neatsfoot oil.
Leather Oil Additives
Both mink and neatsfoot oil come in both pure and compound forms. It is important to note that neatsfoot oil is often added to petroleum products and other oils. Many of these additives are harmful to leather, as they can actually break down its natural fibers. With that said, there are also several valuable additives that are added to leather oil in order to increase its overall performance. These include:
Pine Pitch and Tar
Light-colored pine pitch is often added to mink oil in order to enhance leather's naturally protective barrier. Pine pitch helps improve the waterproof qualities of leather. Since it is a naturally derived substance that contains no synthetic additives, it gets two thumbs up in our book.
Pine tar is a bit different from pine pitch, though it undoubtedly comes from the same tree. It's basically a natural preservative that is often used to treat leathers. Nevertheless, it is far less common than pine pitch.
Beeswax
Beeswax is often combined with mink or neatsfoot oil to make it thick and spreadable. But this all-natural product is more than just a base for oil-based leather conditioners. In fact, it helps waterproof leather and fortifies leather's exterior fibers. Not to mention, it gives it a faint yet noticeable sheen.
Lanolin
Lanolin is a natural oil that is derived from sheep wool. It is a popular additive to skin salves and lotions, as it naturally softens and enhances the flexibility of skin. With that said, lanolin makes leather feel more delicate and pliant. Keep in mind that lanolin is extremely potent and may take away from a hardy patina you're looking to preserve.
Silicone
Some leather oil manufacturers toss a bit of silicone into their mixes. While it may seem contradictory to combine a synthetic substance with otherwise all-natural ingredients, silicone has some powerful waterproofing characteristics. As such, it yields excellent results on smooth leather boots and other outdoor accessories.
Vitamin E
Vitamin E is applauded as an anti-aging serum for skin. As such, it comes as no surprise that it's also super beneficial to leather. A little bit of Vitamin E goes a long way to moisturize leather and prevent future damage.
Propolis
Propolis is yet another honeybee-derived material. It is a resin that comes from honeycombs. It's great for filling in scuffs and indents on the surface of well-worn leather. In fact, it acts as a natural varnish.
Video Tutorial: Leather Oil DIY
Benefits of Leather Oil
While we explored the various benefits of individual ingredients, it's important to look at all of the potential perks of leather oil.
Restore
Most people find themselves searching for leather oil when their animal hide products become noticeably worn. Scuffs, wrinkles, stains, and discoloration are just a few of the common blemishes we see on old or abused leather.
A high-quality leather oil can erase years of use and exposure to the elements. What's more, it can penetrate deep below the surface to hydrate and restore leather's internal fibers. As a result, oil-treated leather often appears darker, more uniform, and more supple than leather that has been left to age on its own.
On top of that, some leather oils can help soften leather fibers in newly manufactured animal hide products. As such, many people apply them to new boots or gloves in an effort to break them in faster.
Maintain
High-quality leather products have the potential to last for hundreds of years. In fact, some of the oldest manmade artifacts are made from well-preserved animal hide. Regular and consistent oil rubs help extend the life of leather products, helping you to get the most out of your money while reducing your household waste.
Enhance
While leather is naturally durable and rugged, oil can help fortify it against harsh elements like water, salt, and dirt. I fact, regular oiling ensures that your leather goods can handle daily wear and tear. Not only will your leather products deteriorate slower, but they will also maintain a like-new exterior.
FAQ
Is coconut oil good for leather?
Coconut oil is an acceptable conditioning agent for leather boots, jackets, couches, and bags. While this liquid goes on smoothly, it will make the material look darker as soon as the application is complete. However, when setting the items to dry in the natural air of a home or office, this oil leaves the original color intact once dry. It takes approximately 24 hours for boots and moccasins to cure, however, the finish will be smooth and soft to the touch.
Is mink oil good for leather?
Mink oil is an exceptional tool for protecting leather aprons, hats, luggage, shoes, and more. This conditioning agent will soften the material making it supple and pliable. It is an excellent medium for using on full-grain and tanned leathers. It will prevent damage from salt, ice, mud, and other debris that you may get on the material. It is important to note that using mink oil on suede is not a good recommendation. This application may cause damage to these products, so we cannot advise it for this use.
Does coconut oil darken leather?
Coconut oil will temporarily make leather appear darker because it is wet. As the product dries, it will soften the leather and become lighter in appearance. We recommend using a virgin oil or an organic option because these items are the purest products on the market. Coconut oil is effective as a protective coating, however, it is not a good idea for suede jackets and bags.
Does mink oil rot leather?
While mink oil is an acceptable conditioner for leather goods, it does cause problems with oxidation without proper and regular care. The mink oil does not rot the leather, but it will harden and allow oxidation to occur when left too long without reconditioning. We suggest applying mink oil at least once a year. The goal is to keep the material soft and supple without causing color fading. If you use mink oil often, then it will discolor your materials. For example, applying mink oil twice a month is too often.
How do you apply mink oil to leather?
To apply this oil to coats, hats, wallets, and other leathers, you may want to start with a clean, dry surface with no debris. Using a fresh rag is all you need for this step. Next, leather might soak up the mink oil when both items are warm. To heat the oil, a little time in a hot water bath may do the trick. To warm the leather, using a hairdryer is all you need.
Once both items are warm, they are ready for application. Using a clean rag, coat the edges of the leather item first. Then, spread the mink oil towards the middle in small sections. For example, when coating a handbag, cover the outer seams before working inward on the same panel. When each side or area is complete, move to the next until the entire item is protected. Finally, dry the leather overnight to allow the oil to soak into the material.
Will olive oil darken leather?
Olive oil is an inexpensive alternative to high-end leather conditioners. However, there are some drawbacks to using this option to coat and waterproof boots and outdoor gear. Olive oil may go on too thick. Too much of this oil can make the leather tacky and gooey. Another disadvantage of this oil is how dark it may make your items by applying a thick coating. Heating the oil may make it easier to get too much on your favorite items. People with hands-on experience tell novices to choose a high-quality oil to get the best look without darkening the leather.
Is linseed oil good for leather?
Linseed oil may not condition your leather items, but it works well as a cleaning agent. To use this oil as a cleaner, one might mix it as two drops of linseed to one drop of white vinegar. Apply a light coating of the mixture and let it sit for about ten minutes. Keep the item moist without putting excess oil on the leather and use a clean cloth to rub and shine the surface of the material. While no one recommends using this oil to protect fine items and expensive goods like saddles, linseed oil is acceptable for low-end leathers.
Linseed will seal the cow skin and keep it from damage. It will also protect it from mildew growth. Many people suggest thinking about the results you want from the oil. The more protection and shine you want, the more likely you may want to pay more money to get a more appropriate leather sealer.
Is beeswax good for leather?
This material is a helpful tool for coating and protecting leather items that will see rain, mud, and dirt. Beeswax is good for leather when you need to keep it dry. It will not create a softer surface no matter how little or much you use. Beeswax is impervious stopping water and liquid stains from setting into saddles, whips, lassos, and other ranch tools. Since these items sit in moist areas where mildew can grow, beeswax is an inexpensive way to protect several things at once. It prevents some drying helping leather stay supple and pliable while being solid enough to minimize water penetration.
Can castor oil be used on leather?
Castor oil offers qualities the opposite of beeswax. This oil will soak into the fibers of the leather whether it is full-grain or sleek and smooth. Castor oil will add a rich, cuddly feel to any leather good. It softens the material with regular use. Using castor oil is an affordable way to nourish leather items.
Again, applying this oil means using a specific method. Heating this compound will let it go on the leather smoother. Warming the oil over low heat may be sufficient for easy application. It is important to warm up the leather with a heating lamp or iron. You may want to use a low or delicate setting to avoid damage like burns and holes.
Conclusion
If your leather products are looking worn and tired, it may be time to give them an oily massage. Seriously! A well-made leather oil can dramatically extend the life of your animal hide products. Not to mention, it will have them looking better and feeling softer than ever before!
---