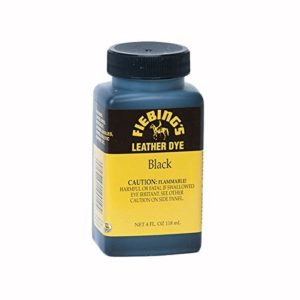 Color: Black
Alcohol-Based
Will not peel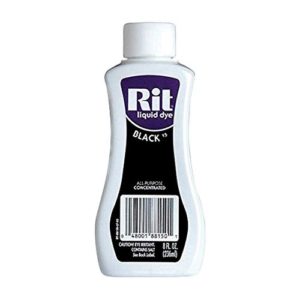 Color: Black
Rainbow Of Colors
Excellent Quality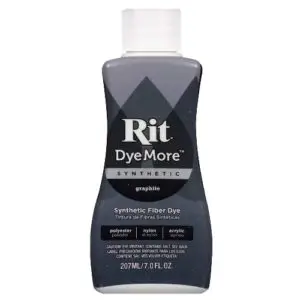 Color: Graphite
Rejuvenating Faded Clothing
With 250+ color recipes
Perfect for dye projects
Locks in color
Works best on cotton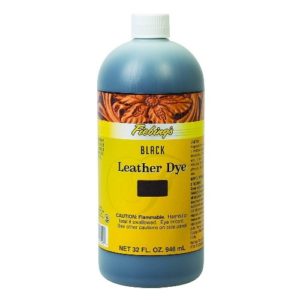 Color: Black
Alcohol-Based
Will not crack or rub-off
---
Choose the Best Leather Dye
Customer's Choice: the Best Rated Leather Dyes
1242 users answered this survey. Please help us improve this review!

84.38% of users selected Fiebings Leather Dye, 8.13% selected Liquid Fabric Dye, 3.86% selected Rit DyeMore, 1.53% selected Rit Dye Fixative and 2.09% selected Fiebings Dye. Every month we analyze your answers and change our rating.
---
Are you looking for a
high-quality leather dye
? Dye enables you to customize or repair your leather products without covering the material's natural grain and texture.
With so many leather dyes on the market, it can be difficult to know which one is right for the project you have in mind.
To make things easier, we've reviewed our favorite leather dyes and brought you a comprehensive buying guide.
Fiebing's Leather Dye –

Editor's Pick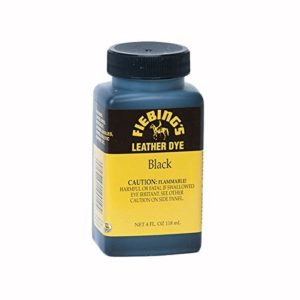 Fiebing's Leather Dye is well-known remedy in the leather repair world. If you can get through the messy application process, you're sure to be satisfied with the smooth, uniform finish provided by this retro-looking product. Feibing's is alcohol-based, which means it won't run or streak like water-based dyes.
| | |
| --- | --- |
| Pros | Cons |
| Penetrating | Messy |
| Alcohol-based | – |
| Suitable for vegetable-tanned or unfinished leathers | – |
| Does not peel or crack | – |
| Flexible | – |
| Comes in black, dark brown, medium brown, maroon, light brown, and burgundy | – |
---
Rit Dye Liquid Fabric Dye –

Best Budget Option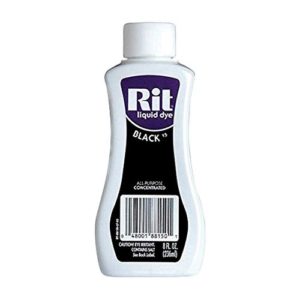 If you've never tried Rit, you'd find it hard to believe how efficient this budget-rate dye can be. It's suitable for use on a wide range of surfaces, including cotton, polyester, leather, and wood. What's more, it comes in a never-ending rainbow of colors.
If you're a DIYer looking to add pizzazz to your next leather project, Rit's reliable and robust palette is a good place to start. The 8-ounce bottles are extremely inexpensive. Not to mention, they provide full, streak-free coverage that's guaranteed to last. These dyes are even certified non-toxic, meaning you don't need to hide them from your children and pets. Of course, it's important to keep in mind that they are highly concentrated and permanent.
| | |
| --- | --- |
| Pros | Cons |
| Suitable for fabric and leather | Need multiple bottles to each dark colors |
| Wide range of color options | – |
| 8-ounce plastic containers | – |
| All-purpose color formulas | – |
---
Rit DyeMore Advanced Liquid Dye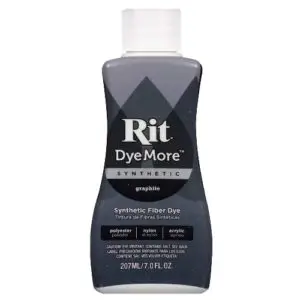 Rit DyeMore is an advanced color formula that is engineered to adhere to synthetic fabrics, such as polyester, acrylic, acetate, and nylon. It is ideal for touching up vintage leather or vinyl pieces. What's more, it can be used for unique, artistic projects. Despite its intensity, it is certified non-toxic.
You can even visit the manufacturer's website to find hundreds of color recipes and dying techniques. There is also a wide assortment of premixed color formulas available. With that said, it is best to reserve this dye for fabrics that are at least 35% synthetic.
| | |
| --- | --- |
| Pros | Cons |
| Designed especially for fabrics consisting of 35% synthetic material | Must be used in a heated stainless steel pot |
| Comes in a rainbow of colors | – |
| Can be used to revitalize and repair | – |
| Over 250 recipes on the manufacturer's website | – |
| Can be used for complex dying techniques | – |
---
Rit Dye Liquid Fabric Dye Fixative – Best Color Stay
Sometimes, leather resists dyes. When this happens, a specially formulated color stay is a great solution. Rit's fixative reduces color bleeding in most fabrics. However, it works best on cotton, linen, rayon, ramie. We love this project for dip-dye and tie-dye leather projects because it prevents the dye from bleeding.
Keep in mind that it works best when used with Rit Dyes. It comes in 8-ounce bottles and is fairly inexpensive. Formula options include Basic and Limited Edition.
| | |
| --- | --- |
| Pros | Cons |
| Prevents dyes from bleeding | Must use boiling water to apply |
| Locks in and enhances colors | – |
| Works best with Rit Dyes | – |
| Lasts through multiple washings | – |
| Brings back faded color | – |
---
Feibling's Black Leather Dye – Best Black Leather Dye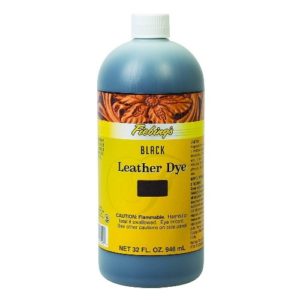 When it comes to applying rich, dark finish to leather, you really cannot afford to mess around. Few products can master dark, robust blacks. However, Fiebling's alcohol-based leather dye is known to penetrate deep below the surface to create a long-lasting jet black finish.
It's perfect for restoring vintage and well-worn pieces, including shoes, belts, wallets, and furniture. It's also easy to daub on. The end result is a smooth, soft, crack-free surface that has the potential to last a lifetime.
| | |
| --- | --- |
| Pros | Cons |
| Alcohol-based | Messy |
| Does not peel or crack | – |
| Provides a rich, robust finish | – |
| Easy to use | – |
| Suitable for spot repairs | – |
---
Buyer's Guide
How to Choose a Leather Dye
First off, it's important to understand that leather dyes should be chosen with a specific project in mind. Consider the material you are working with as well as your desired results. Most leather and fabric dyes will only work on vegetable-tanned or untreated leathers. If you are unsure about the quality of your leather, you can perform tests to determine if it is vegetable-dyed.
Once you determine the type of leather you are working with, it's time to choose a dye. Dyes may be oil-, water-, or alcohol-based. There's no right or wrong type of leather dye base, but there are certainly advantages to each. For example, water-based dyes are easier to clean up. Moreover, alcohol-based dyes go on smoother and are less streaky.
It's also important to consider the specific color formula you are looking. Some dye manufacturers offer a rainbow of colors. Meanwhile, others specialize in traditional leather shades. On top of that, many color formulas can be mixed together to create custom tones.
Video Guide: How to Dye Leather?
Benefits of Dying Leather
Leather is a naturally durable fabric that can last for hundreds of years. It even ages well, becoming a soft, flexible material with proper care. With that said, the dyes used to treat leather are likely to fade over time. As such, leather dye is a great way to rejuvenate your leather and breath new life into it. With the rise of DIY, leather dying has also become a popular technique. DIYers can use leather dye to create new or upcycled leather products.
With all that said, leather dyes often ram heads with leather paints. Both products are great but have varying capacities. Leather paint is perfect for creating intricate designs on leather. However, it often conceals the natural grain and texture of the material. On the other hand, dye is capable of penetrating leather. As such, you can alter the hue of the material without compromising its sought-after texture.
Precautions to Take When Dying Leather
Be Prepared for a Mess: Leather dye can be extremely messy! Wear gloves and work clothes when dying leather. What's more, keep ample amounts of rags, paper towels, soap, and water on hand. Most leather dyes will stain your skin!
Prep the Leather: It's imperative that you properly prep the leather before applying any dye. Use a scrub brush to remove any dirt or oils. Then, consider applying a bit of oil. This helps to lubricate the leather for better absorption. Regular household olive oil should do the trick!
Test Your Colors: If you have a bit of test leather to use, consider creating a palette of different dye blends and dilutions. This will help you to get a better understanding of what the dye looks like when it dries. You'll be able to tweak it before applying it all over your project.
Final Thoughts
We hope you enjoyed our leather dye buying guide. Leather is a durable, long-lasting material that should be treated with care. With the right products, you don't need to worry about damaging your favorite shoes or armchair. Remember, leather dying is a fairly simple process that can be done without any experience. A single application can help a leather piece take on a new life.
---