---
Leather has unique properties that can make it tricky to work with. Finding the right adhesive may ensure the successful outcome of your project.Leather also may need to handle temperature extremes and moisture. Accordingly, you must find a glue that can handle immersion and hot and cold temperatures. With this guide, you'll be able to find the correct adhesive for your leather project.
1. E6000 Craft Adhesive – Best All-Around Glue

Many things recommend E6000 to the crafter or dedicated DIY-er. It dries white, remains flexible, and can be painted or stained. It even provides you with some latitude as far as timing as it won't start to set up for about five minutes. The strength and durability of this product are second-to-none.
In addition to leather, E6000 is ideal for many uses. It's waterproof, and with its ability to withstand extreme temperatures, this glue is appropriate for use on almost any material. Moreover, E6000 can be put through the dishwasher or washer and dryer with ease.
An Adhesive for Multiple Uses
E6000's durability is a boon for any leather project. Moreover, it retains plenty of flexibility, even when dry and cured. Hobbyists and makers further may appreciate the ability to shift and separate the pieces they are working with for five minutes before the adhesive becomes permanent.
However, note that this glue does not dry instantly. After application, the glue won't begin to set for five minutes. This lets you make last-minute adjustments. The manufacturer recommends allowing this product to sit for a minimum of 24 to 72 hours, depending on what you're using it for. Consequently, you'll need to select an alternative adhesive if you need the project to be done immediately.
E6000 is recommended for a vast array of uses. It's inexpensive yet incredibly effective. The only things to be aware of are that it takes time to cure and that you must take care of replacing the cap after use as you might permanently glue the tube closed.
| | |
| --- | --- |
| Pros | Cons |
| Dries white and can be stained or painted | Requires 24 to 72 hours to cure so it's not for projects with immediate need |
| Takes time to dry so you can make necessary alterations | Closing the cap requires care |
| Remains flexible after curing | – |
| Withstands water and temperature extremes | – |
---
2. Barge All Purpose Cement – Easiest to Spread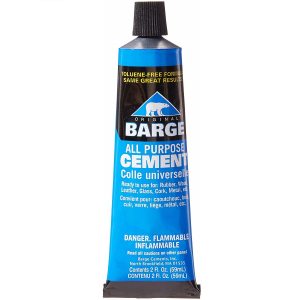 This industrial-grade adhesive is designed to take on even the toughest challenges. Moreover, it is waterproof and flexible for ultimate utility.
Barge spreads easily on all surfaces, including leather. The product is applied, then allowed to dry for less than half an hour before the two pieces that are being adhered together are placed in contact. It's necessary to work quickly and carefully at this stage. Once the items are stuck together, they won't come apart. Nonetheless, Barge recommends allowing the glued pieces to cure for 24 hours before use.
When this adhesive dries, it has a bit of color. Also, the manufacturer does not specify being able to paint or stain it. Proceed with caution if you prefer that the glue be invisible for your project.
| | |
| --- | --- |
| Pros | Cons |
| Strong, flexible hold | Requires 24 hours to cure |
| Durable and waterproof | Doesn't allow for adjustments once items are stuck together |
| – | Dried glue has some color |
---
3. Gorilla Original Gorilla Glue – Best Leather Bonding Glue
You can use this rugged adhesive pretty much anywhere. Extreme temperatures don't bother it, and the glue can be stained or painted once dry.
This product is remarkably strong as it expands to three to four times its initial volume after it dries. Through this process, a stronger bond is ensured.
Before starting, understand that Gorilla Glue is not flexible. Use it only for stiff leather that you don't expect to flex or bend.
| | |
| --- | --- |
| Pros | Cons |
| Incredibly strong bond | Not flexible |
| Expands to fill porous cavities | Dries brown and cannot be stained |
| Waterproof and temperature proof | – |
---
4. Loctite Liquid Professional Super Glue – Best for Immediate Projects
When speed matters, the perfect choice is Loctite Liquid glue. The tip of the applicator is pinpoint-sized for even the smallest jobs.
A
Another reason to choose this glue is its ability to dry in seconds. If you need a job done fast, then this is a solid choice. Of course, this also means that you have to be neat and precise.
This adhesive dries transparent with a bit of shine. It may be too noticeable on some applications, and it may not respond well to paint and stain. The formula is "resistant" to freezing temperatures and water, which suggests that an excess of cold or moisture may cause it to fail.
| | |
| --- | --- |
| Pros | Cons |
| Dries in seconds | Misapplications are difficult to fix |
| Transparent when dry | Won't always stand up to water immersion and extreme temps |
| No clamping or curing required | – |
---
5. Super Glue Gel – Best for Precision Application
This gel formula is perfect for working fast without drips. When you're in a hurry and don't want to deal with a mess, Super Glue Gel is a smart selection.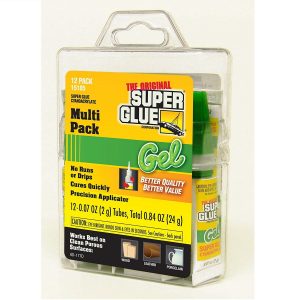 Super Glue Gel can be used on vertical surfaces without a drip. With better viscosity, this glue is natural for use on leather. Just don't expect much flexibility in any materials that have been glued together.
Also, the manufacturer doesn't claim that this formula is waterproof, so it may not be appropriate for use outdoors or where it might get wet.
| | |
| --- | --- |
| Pros | Cons |
| Gel doesn't run or drip | Can't make adjustments once items are stuck together |
| Dries in seconds | Not waterproof |
---
Aleene's15594 Leather & Suede Glue 4oz – the best for non-toxic components!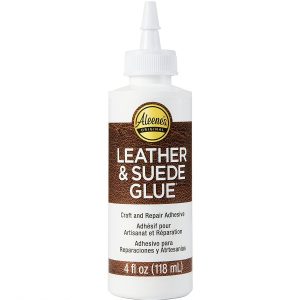 For leather and suede fixes and DIY designs, Aleene's Leather & Suede Glue can become your go-to product. Simple and versatile, this fast-tacking adhesive dries quickly. Also, it will not soak through or stain leathers and suede materials. One of its best features is an almost natural, non-toxic formula.
Uses
If you use it for leather repair work and fringes, beadwork and other materials, this substance can glue these pieces for good. The Aleene product is recommended not only for repairs. Such a permanent adhesive may also be used to glue home decor, and embellish purses, bags, covers, belts and clothes with beads, fringes, trims, patches, etc. It can be a good option if you need to glue natural cowhide leather to a smooth suede piece.
You may also use the clear-drying solution to keep certain leather pieces in place, by adding the stitches for reinforcing, without gumming your needle. It can really replace the hand stitching of every bead and trim onto your leather project.
Tips for users
An adjustable tip comes with the product, so you can customize it to suit your need for the glue flow. Each ridge on the tip of the applicator marks a point where you should cut the tip to improve the flow of adhesive. When dealing with embellishments and small pieces, the top ridge indicates the limited glue flow, while the bottom ridge allows using the glue flow at full speed – just cut at this stage.
As the bonding is irreversible and the drying period is quite low, it is best to put on hand gloves before applying it. The substance can be wiped dry, but it is not washable.
| | |
| --- | --- |
| Pros | Cons |
| Quite universal – for shoes, belts, purses, etc.; | Not washable; |
| Suitable for suede and leather, beads and fridges; | Won't cope with vegan (faux) leather; |
| Bonds quickly; | – |
| Won't soak through the material; | – |
| Non-toxic components; | – |
| Won't leave stains or cause discoloration; | – |
| A customizable tip; | – |
| Safe to touch; | – |
| Almost odorless; | – |
You can trust your leather projects to this non-toxic, hardworking adhesive. It will also do for natural suede used for making DIY shoes and home decor projects.
---
Fiebing's Leathercraft Cement, 4 oz – the best for quick drying!
This Leathercraft Cement by Fiebing is an easy-to-use, fast-drying adhesive for leather as well as other products. If you seek a high-quality cement adhesive for natural/fake leather and similar materials, this product can become your solution.
Its formula includes stable and non-flammable components that provide ultra-high intensity bonding. The leather would not stiffen after applying this glue.
Uses
With this leather cement, the bonding of leather items such as shoes, boots, handbags, jackets, belts, furniture and car upholstery gets easier. Also, this water-based glue product is recommended for different craft projects and unusual leather objects such as baseball gloves.
Not just natural leather materials, but also fabrics, plastic, rubber, felt and wood can be stuck together thanks to this quick adhesive. Do not use it for bonding cloth patches onto natural leather materials.
It's a good choice for hard or soft leather and doesn't create a messy area thanks to its smooth consistency. Some users claim that it can be also applied on vinyl.
Tips for users
Typically this product takes about 4 hours to dry completely and about 24 hours to glue the pieces for good.
The application of this cement does not require any complexity for you to move around. To use it, you only need to cut the cork and add as much as you feel necessary to adhere the pieces. In comparison, the cement is not so deeply stuck to the leather surface or floor that you can't remove it quickly. It is easy to clean off the excess adhesive until finished with the bonding.
The cement is also fully water-resistant, ensuring you are able to wash your stuff with as much water as possible. And if things are beyond the home and rain continues to fall, you don't have to be concerned.
| | |
| --- | --- |
| Pros | Cons |
| Easy to use; | Maybe won't hold light leather pieces quickly; |
| Waterproof; | Glue bubbles are possible; |
| Non-flammable formula; | – |
| Sets up quickly; | – |
| A small 4oz bottle lasts a long time; | – |
| High-strength adhesive; | – |
| No toxic fumes or strong odor; | – |
| Dries clear, without stains; | – |
It is very easy to add this adhesive product because it establishes a tight connection between the glued parts. It does not provide poisonous fumes that may cause headaches or irritate your nasal cavities.
---
Buyer's Guide
Your goal will decide the adhesive you use. If you're working on a large leather piece, then the applicators on the Loctite and Super Glue will be too small for practicality. Moreover, you must consider how much flexibility your finished product requires. Gorilla Glue is rigid, as are Loctite and Super Glue. E6000 or Barge better serves projects needing flexibility.
Of course, if time is of the essence, then Loctite and Super Glue are excellent choices. The other three items will better serve projects that must withstand continued use on this list.
How to Glue Leather
There are dozens of different brands out there that are explicitly made to glue leather. Now, you can go to the home store and buy other contact cement, but if you've ever seen a kitchen where the Formica is delaminated after a while, there's a reason for that, it ages, it cracks, that kind of stuff. Leather cement doesn't do that.
This stuff tends to evaporate. And if you want, you don't have to, but if you're going after a lot of quantity, that kind of stuff, occasionally you can throw in some cement thinner. If this evaporates out and gets thick on you, you can throw some cement thinner in and do that.
Now when you're glueing leather, there's a flesh side, that's the rough side, and the smooth side, that's the outside. That's the outside of the cow. The flesh side is the inside. Most of the time you tend to glue the flesh sides together, but there's going to be a time when you fix the smooth side, and so on. What you want to do there is, wherever you're going to glue, take a piece of sandpaper and roughen that up so that the contact cement has a good purchase. Otherwise, it's going to pop off.
When you're glueing this stuff, and putting some of this glue on, what happens is, especially when you rough it up on any side, like that. What happens is it goes in and disappears, and it soaks into the flesh side especially. What you're looking for if you want a shiny surface all the way across. Now, this one we did earlier, and you can see some shine there, but you can't see any shine there, and shine there. The glue is going to fail right in that area and that area. It's not showing up in the camera, probably, but you get the idea. Now, here's shiny on the smooth side, and you can see that it looks wet, but it's actually dry.
This has chemicals in, and you don't want this stuff on your skin. Now, here we put some glue across this whole backside, but it really soaked into several spots, and that's where your bond is going to fail. What you're going to want to do is come back and put another coat on. Once that dries, and you can see that's dry. But if you touch two parts of it, it's going to tack up, like that, and it's going to glue what you're going to do then hammer. Don't mark it; use the flat. That's stuck together.
Now, that bond is going to continue to cure for the next 24 hours. And, in 24 hours, that bond will be stronger than the leather itself. If you try and tear it apart, the leather will fail before the bond will. That's glueing up with contact cement.
How to Remove Glue From Leather
A little bit more on glueing up leather with contact cement. Lots of times you get a little drizzle that goes across the leather, and on the front, when you're going to dye it, that acts as a resist, and you don't want that on your leather. Here's a piece that had some glue on it, and when we put the dye on it and then saw that it was sticking out, we rubbed it off, and we ended up with that blotchy thing.
Here's a little trick. If you drizzle some on there and you see some on there, take a pencil eraser, this is mechanical, we didn't have a regular, and erase that out. Gently erase and keep going until the pencil eraser actually lifts up that glue, and I won't do the whole thing, but you can get the idea. You can see there, where it's removed that, and you'll minimize a lot of that glue resist line. Sometimes you just can't save it, sometimes you can. Use a pencil eraser and take care of those little drizzles on the front side. Doesn't matter on the back side, you're not concerned about that. But on the show side, take some of that resist off.
FAQ
Is Gorilla Glue good for leather?
According to the Gorilla Glue Company, several types of Gorilla Glue bond well with leather. It is a popular adhesive that is known for its versatility. Gorilla Glue create a seam that can withstand of a lifetime of regular usage.
Original Gorilla Glue is a water-activated polyurethane formula. It creates an incredibly strong bond between most surfaces, including leather and other organic materials. Original Gorilla Glue is waterproof and temperature-resistant. However, it does expand during the curing process.
According to the Gorilla Glue Company, Original Gorilla Glue triples in size during the curing period. As such, the Original Gorilla Glue formula seeps into and fills the pores on the surface of most leathers. For this reason, it is very difficult to remove cured Gorilla Glue from leather. The Gorilla Glue Company suggests using mechanical means to remove unwanted glue.
On the other hand, Gorilla Super Glue is a cyanoacrylate adhesive. As such, it does not require moisture for activation. Cyanoacrylate adhesives are very strong. However, they do not bond to smooth surfaces. A cyanoacrylate bond may fail because of friction. Therefore, Gorilla Glue is not the best option for leather used in flexible applications, such as furniture or clothing. Cyanoacrylate adhesives also have the potential to cause an exothermic reaction with leather and other organic materials.
Can Super Glue be used on leather?
Super glue is the name given to an expansive group of cyanoacrylate adhesives. As discussed in the previous answer, cyanoacrylate adhesives are not the best option for leather adhesion. Super Glue and Krazy Glue are the names given to two of the most popular cyanoacrylate adhesives. According to the Super Glue Corporation, Super Glue works best when used on non-porous materials, such as metal, rubber, and ceramics.
Does Elmer's Glue work on leather?
Elmer's Glue-All is an unique glue formula that is suitable for most leather applications. According to the manufacturer, Glue-All is stronger and more versatile than Elmer's Washable School Glue.
Elmer's Glue-All is a polyvinyl acetate. Polyvinyl acetate creates a strong bond between porous materials. It is also odorless, non-toxic, and easy to apply. With that said, Elmer's Glue-All does not hold up well to moisture. Still, it is an excellent option for leather crafts that are intended for indoor settings.
Can I use PVA glue on leather?
PVA glue is also a polyvinyl acetate. As stated in a previous question, polyvinyl acetate does an excellent job of bonding leather and other porous materials. PVA glue may be referred to as wood, white, or school glue. It is one of the most versatile store-bought adhesives. PVA glue is odorless, non-toxic, and nonacidic. It maintains its flexibility after curing. It creates a very strong bond between leather and dissimilar surfaces.
Polyvinyl acetate is a water-soluble synthetic resin. Most PVA glues cannot hold up to continuous water exposure. PVA glue is not the best option for all-weather leather products. Still, it is an inexpensive option that dries clear and creates a lasting bond. It's fast curing time makes for a fast turnaround.
What removes super glue from leather?
Most experts recommend using acetone nail polish to remove super glue from leather. It is easier to remove super glue after it has dried. Wet super glue is incredibly sticky and messy. Most super glue products harden in just a few minutes.
Use an acetone-soaked cotton ball to loosen super glue from the surface of your leather. Then, use a sharp knife or razor blade to scrape away any loose pieces of adhesive. Do your best to avoid scraping the leather, as this could result in irreparable damage. When you're finished, be sure to wipe away any acetone residue.
What type of glue is best for leather?
Leather repairs and alterations require a durable, flexible bond. There are a variety of leather glues and other adhesives that bond well with leather. Think about the requirements of your project before opting for a particular adhesive. Leather adhesives, including E6000 Craft Adhesive and Barge All-Purpose Cement, work well for large projects. Meanwhile, Original Gorilla Glue, Loctite Liquid Professional Super Glue, and Super Glue Gel are better suited for small leather repairs.
Leather is an organic material with several unique properties. Each hide has qualities that set it apart from others. With that said, most leather products are porous, smooth, soft, and flexible. Craters typically need an adhesive that can bond leather to dissimilar materials, such as metal, rubber, or plastic. In many cases, leather adhesive must be strong enough to withstand exposure to water, cold, heat, and other adverse conditions.
Can contact cement be used on leather?
Contact cement is made from neoprene rubber. Contact cement creates a flexible, permanent bond between two pieces of material. While contact cement is recommended for non-porous surfaces, it also works well on porous materials, including leather.
Barge All-Purpose Cement is a neoprene-based adhesive that creates a flexible, waterproof, and longlasting connection. It is an excellent option for most leather-base projects. Neoprene is a synthetic rubber that maintains its flexibility in a variety of temperatures. Contact cement can also handle continuous exposure to moisture. Therefore, it is an excellent option for all-weather leatherwear, such as boots and jackets.
The solvent in contact cement evaporates quickly when it is exposed to oxygen. Some leathercrafters may find it difficult to work with neoprene rubber. The dry, thick substance can be challenging to spread.
Does a hot glue gun work on leather?
Hot glue guns disperse hot melt adhesive. Hot melt adhesive is made from thermoplastic. This material must be melted before it is applied to a surface. After it cools, it hardens into a semi-flexible substance. Hot melt adhesive may peel or crack if it exposed to friction or extreme temperatures.
Most glue guns reach temperatures between 250 to 400 degrees Fahrenheit. Heat of this intensity will fade, dry, or burn most leather. Leather requires moisture and oil to maintain its smooth, flexible texture. Hot glue may seep through or crimp leather products. This can detract from the quality of a finished product.
Hot melt adhesives do not bond well with leather. As such, most crafters should steer clear of hot glue guns and other heat-based adhesives. If you're in a pinch, use a more reliable glue, such as contact cement or super glue.