Color: Clear
Dimensions: 1.2 x 3.6 x 7.1 in
Weight: 1.6 ounces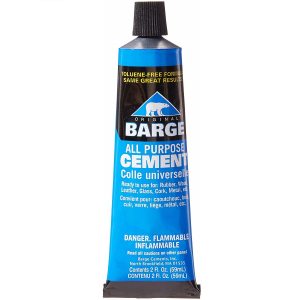 Easy-to-spread
Dimensions: 4 x 6.5 x 10.2 in
Weight: 8 pounds
Color: Brown
Dimensions: 3 x 3 x 12 in
Weight: 3.85 pounds
Color: Clear
Dimensions: 1 x 4 x 7 in
Weight: 2.08 ounces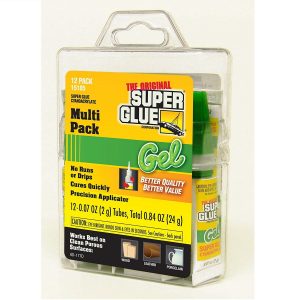 Color: Clear
Dimensions: 4.7 x 3.4 x 1.3 in
Weight: 3.52 ounces
Leather has unique properties that can make it tricky to work with. Finding the right adhesive may ensure the successful outcome of your project.
Leather also may need to handle temperature extremes and moisture. Accordingly, you must find a glue that can handle immersion and hot and cold temperatures. With this guide, you'll be able to find the correct glue for your leather project.
1. E6000 Craft Adhesive – Best All-Around Glue

Many things recommend E6000 to the crafter or dedicated DIY-er. It dries white, remains flexible and can be painted or stained. It even provides you with some latitude as far as timing as it won't start to set up for about five minutes. The strength and durability of this product are second-to-none.
In addition to leather, E6000 is ideal for many uses. It's waterproof, and with its ability to withstand extreme temperatures, this glue is appropriate for use on almost any material. Moreover, E6000 can be put through the dishwasher or washer and dryer with ease.
An Adhesive for Multiple Uses
E6000's durability is a boon for any leather project. Moreover, it retains plenty of flexibility even when dry and cured. Hobbyists and makers further may appreciate the ability to shift and separate the pieces they are working with for five minutes before the adhesive becomes permanent.
However, note that this glue does not dry instantly. After application, the glue won't begin to set for five minutes. This lets you make last-minute adjustments. The manufacturer recommends allowing this product to sit for a minimum of 24 to 72 hours, depending on what you're using it for. Consequently, you'll need to select an alternative adhesive if you need the project to be done immediately.
E6000 is recommended for a vast array of uses. It's inexpensive, yet incredibly effective. The only things to be aware of are that it takes time to cure and that you must take care in replacing the cap after use as you might permanently glue the tube closed.
| | |
| --- | --- |
| Pros | Cons |
| Dries white and can be stained or painted | Requires 24 to 72 hours to cure so it's not for projects with immediate need |
| Takes time to dry so you can make necessary alterations | Closing the cap requires care |
| Remains flexible after curing | – |
| Withstands water and temperature extremes | – |
---
2. Barge All Purpose Cement – Easiest to Spread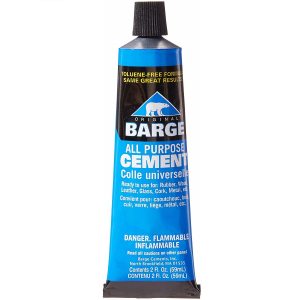 This industrial-grade adhesive is designed to take on even the toughest challenges. Moreover, it is waterproof and flexible for ultimate utility.
Barge spreads easily on all surfaces, including leather. The product is applied, then allowed to dry for less than half an hour before the two pieces that are being adhered together are placed in contact. It's necessary to work quickly and carefully at this stage. Once the items are stuck together, they won't come apart. Nonetheless, Barge recommends allowing the glued items to cure for 24 hours before use.
When this adhesive dries, it has a bit of color. Also, the manufacturer does not specify being able to paint or stain it. Proceed with caution if you prefer that the glue be invisible for your project.
| | |
| --- | --- |
| Pros | Cons |
| Strong, flexible hold | Requires 24 hours to cure |
| Durable and waterproof | Doesn't allow for adjustments once items are stuck together |
| – | Dried glue has some color |
---
3. Gorilla Original Gorilla Glue – Best Leather Bonding Glue
You can use this rugged adhesive pretty much anywhere. Extreme temperatures don't bother it, and the glue can be stained or painted once dry.
This product is remarkably strong as it expands to three to four times its initial volume after it dries. Through this process, a stronger bond is ensured.
Before starting, understand that Gorilla Glue is not flexible. Use it only for stiff leather that you don't expect to flex or bend.
| | |
| --- | --- |
| Pros | Cons |
| Incredibly strong bond | Not flexible |
| Expands to fill porous cavities | Dries brown and cannot be stained |
| Waterproof and temperature proof | – |
---
4. Loctite Liquid Professional Super Glue – Best for Immediate Projects
When speed matters, the perfect choice is Loctite Liquid glue. The tip of the applicator is pinpoint-sized for even the smallest jobs.
A
nother reason to choose this glue is its ability to dry in seconds. If you need a job done fast, then this is a solid choice. Of course, this also means that you have to be neat and precise.
This adhesive dries transparent with a bit of shine. It may be too noticeable on some applications, and it may not respond well to paint and stain. The formula is "resistant" to freezing temperatures and water, which suggests that an excess of cold or moisture may cause it to fail.
| | |
| --- | --- |
| Pros | Cons |
| Dries in seconds | Misapplications are difficult to fix |
| Transparent when dry | Won't always stand up to water immersion and extreme temps |
| No clamping or curing required | – |
---
5. Super Glue Gel – Best for Precision Application
This gel formula is perfect for working fast without drips. When you're in a hurry and don't want to deal with a mess, Super Glue Gel is a smart selection.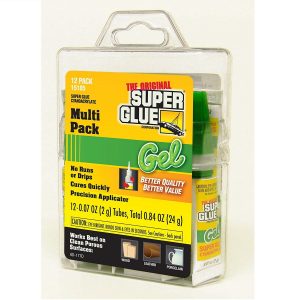 Super Glue Gel can be used on vertical surfaces without a drip. With better viscosity, this glue is natural for use on leather. Just don't expect much flexibility in any materials that have been glued together.
Also, the manufacturer doesn't claim that this formula is waterproof, so it may not be appropriate for use outdoors or where it might get wet.
| | |
| --- | --- |
| Pros | Cons |
| Gel doesn't run or drip | Can't make adjustments once items are stuck together |
| Dries in seconds | Not waterproof |
---
Buyer's Guide
Your goal will decide the adhesive you use. If you're working on a large leather piece, then the applicators on the Loctite and Super Glue will be too small for practicality. Moreover, you must consider how much flexibility your finished product requires. Gorilla Glue is rigid, as are Loctite and Super Glue. Projects needing flexibility are better served by E6000 or Barge.
Of course, if time is of the essence, then Loctite and Super Glue are excellent choices. Projects that must withstand continued use will be better served by the other three items on this list.