---
Leather car interiors can be a pain to keep clean. If it isn't maintained on the regular, peeling, discoloration, and fading can set in quickly. And while dark leathers tend to be the most sensitive to these issues, lighter varieties can also succumb to premature aging. The easiest way to prevent these annoyances from happening is to use a cleaner or moisturizer for your automobile. Reviewed below are ten leather cleaners and conditioners that are available online (and offline), chosen for their strength, longevity, and items included with the main product. After you're finished reading the reviews, don't forget about the Buyer's Guide, which contains helpful advice to help you zero in on the best choice for your car. At the conclusion, the top two picks are announced.
1. Leather Honey Leather Conditioner – Best Leather Cleaner and Conditioner For Car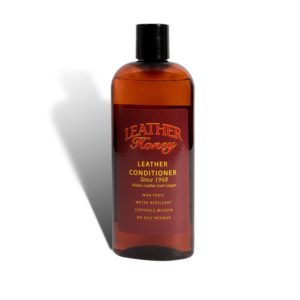 The Leather Honey brand is a cleaning solution that's perfect for anyone that has a stained or heavily soiled car interior. It rids away dirt and grime fast, resulting in an excellent restoration job that will last for weeks to months.
Virtually no preparation is needed, so you can get started immediately when the product arrives at your door. If you want something that will last a long time and won't have you cleaning your leather multiple times every month, then the Leather Honey is recommended.
| | |
| --- | --- |
| Pros | Cons |
| When used in cars, the formula will fully restore and slow down the leather aging process | When working the cleaner into leather, the content doesn't apply in an even manner and must be thoroughly absorbed by the user |
| Ideal for quick cleaning and long term storage (for alternative purposes) | – |
| The formula requires no preparation before usage; doesn't need to be blended | – |
Read: Leather Honey Review
---
2. TriNova Leather Conditioner and Restorer – Best Leather Cleaner and Conditioner For Restoration
(Editor's Choice)
The TriNova takes restoration to a new level, all from the confines of an 8-ounce bottle. But don't let the size keep you from using it. The solution is concentrated, which means that you won't have to apply much to get your entire car clean.
In fact, just a small amount on the cleaning pad included should be enough to cover one-half of your vehicle alone. And once it touches your leather, it will soften almost immediately. If you have patches in the leather that appear to be faded, TriNova will also blend these areas back to the color it once was.
| | |
| --- | --- |
| Pros | Cons |
| Applies in only one session; doesn't necessitate large quantities of solution to clean | An odd smell emanates from the conditioner |
| Moisturizes quickly | Frustrating to use without hand protection; hard to wash from hands |
| Safe to use on leather that has already been damaged from discoloration | – |
---
3. Leather Milk Conditioner and Cleaner – Best Leather Cleaner and Conditioner For Smell
(People's Choice)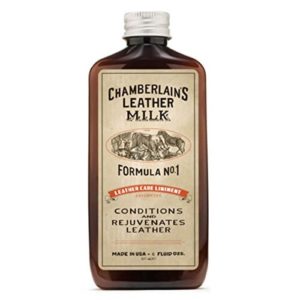 The Leather Milk Conditioner and Cleaner will be loved by people that are sensitive to the smells of other comparable products. And while it does have a slight scent to it, it's not overbearing and won't leave you regretting using the bottle in the first place.
There's also a cleaning pad included with this, so there's no need to go out and purchase additional items to get the job done.
| | |
| --- | --- |
| Pros | Cons |
| Very pleasant smell that isn't strong or overbearing | The bottle and small and will be finished fast (two may be needed) |
| A cleaning pad and sponge are included with the bottle | – |
| Doesn't overtly moisturize the leather; no "slippery" feeling to the final result | – |
---
4. Chemical Guys Leather Cleaner and Conditioner – Best Leather Cleaner and Conditioner For Separate Bottles
Alternatively, the Chemical Guys is all about accessories and is sold in its separate bottles. You don't have to use them at the same time, something that could be well served for people that want to clean but avoid excessive moisture.
They are housed in a spray and squeeze bottle, but come out smoothly and don't run off. When you're done, you might need to do a reapplication in a short amount of time, especially if your leather is worn down. But overall, the Chemical Guys is a great product and a good choice for people that want separate containers for cleaner and conditioner solution.
| | |
| --- | --- |
| Pros | Cons |
| The cleaner and conditioner are sold in their own individual bottles | Reapplication is likely after one or two weeks; shine doesn't last long |
| Fast spray and squeeze application | Denser surfaces will feel stickier to the touch after application (dashboards, steering wheels) |
| The resulting look glistens but won't appear artificial | – |
---
5. Bick 4 Leather Conditioner and Leather Cleaner – Best Leather Cleaner and Conditioner For High-Quality Leather
The Bick 4 Leather cleaner is ideal for automobiles that have high-quality leather that doesn't require a heavy chemical to get it restored. The ingredients aren't harsh and will absorb quickly into the material as soon as it touches.
For darker leathers, the colors will come back without the gray residue that's common among low-quality cleaners. Use this formula if you have black leather that's soft and delicate.
| | |
| --- | --- |
| Pros | Cons |
| Works well in cars with high quality interior leather; won't cause damages to the surface | Although it's not strong, has a slight acidic smell |
| The solution goes deep into the leather's crevices and pores; lasts a long time | – |
| No discoloration or fading | – |
---
6. Chamberlain's Leather Milk Leather Conditioner – Best Leather Conditioner For Moisturizing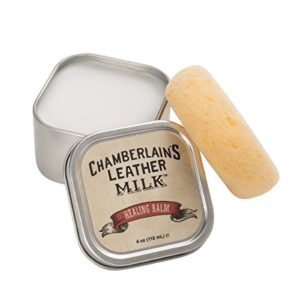 The Chamberlain Leather Milk is a leather conditioner. If you're looking for a standalone cleaner but want a separate brand for moisturizing, consider this as a choice. For starters, it's a small container and should fit well in your glove compartment.
And no fading will occur, even after the layer of conditioner wears off over time. But if you have leather that's scratched, don't expect the nicks to smoothen out with this brand. If you don't mind that, then the Chamberlain will make a great addition to another cleaning product.
| | |
| --- | --- |
| Pros | Cons |
| Sold in a small can that's easy to store anywhere in a vehicle, if needed | Oily consistency |
| Takes out the fading and restores back to the leather's original hue | The conditioner isn't very effective in leather that's moderately or heavily scratched |
| Cleaning sponge included | – |
---
7. Lexol Leather Cleaner and Conditioner – Best Leather Cleaner and Conditioner For Dirty Car Interiors
The Lexol Leather Cleaner/Conditioner is what you should get if you the leather material in your car is dense. It works particularly well on leather dashboards and steering wheels, ridding them of heavy discoloration from years of contact.
You also won't have to work very hard to get in worked into the leather; just a gentle application in a circular motion is all that's needed. While it can get a little smelly, the odor should dissipate after a few hours.
| | |
| --- | --- |
| Pros | Cons |
| Rids hard leather surfaces of grime but won't result in the sticky feeling that's commonly found among other leather cleaners | Contains a strong synthetic smell to both cleaner and conditioner |
| Moisturizes without the need to press down hard on the material | The conditioner along won't do much do wipe away dirt |
| A small but durable cleaning pad is included, which doesn't break or wear down after the first time it's used | – |
---
8. Chemical Guys HOL303 Leather Cleaner and Conditioner – Best Leather Cleaner and Conditioner Kit
The Chemical Guys is a Cleaner and Conditioner combination. But that's not the only thing that you get. An entire kit is included here, which makes it the best buy for anyone that needs everything to do detailed restoration in one go.
A smaller bottle of detailer is featured, which accents the cleaner well and will touch up the areas that require more attention. You'll probably go through each of the bottles very quickly, so make this your choice if you don't own a large vehicle (such as an SUV).
| | |
| --- | --- |
| Pros | Cons |
| A full kit that contains everything needed to complete a detailed and quick interior restoration | The cleaner and conditioner itself won't last very long, particularly in regions with a dry climate |
| No additional appliances required | – |
| A small detailer is also featured with the kit, which will help eliminate small scratches and bruises that the cleaner/conditioner misses | – |
---
9. Lexol Leather Cleaner – Best Leather Cleaner For Bright Colors
The Lexol Leather Cleaner is perfect for anyone that owns a vehicle with odd colors in the interior. It doesn't fade anything and will add definition to the leather that you may not have seen since initially buying the car. But black leather isn't out of the question.
Say goodbye to the lingering a grayish residue that's commonly found after cleaning dark leather over a long time. It's also non-toxic, so settle on the Lexol if you have small children or pets.
| | |
| --- | --- |
| Pros | Cons |
| Great on leathers with odd colors | Sticky and does not wipe away from fabric easily |
| When used on black leather, the result will turn out black, not smokey | – |
| Nontoxic and non-skin irritating; safe to use without hand protection, if preferred | – |
---
10. Armor All 18781 Cleaning and Leather Care Wipes – Best Leather Cleaner For Fast Cleaning
The Armor All Cleaning Wipes finalize the list, being sold in a set of two canisters that pull out from the top. There's 60 wipes total, which should be enough to last for more than one cleaning job.
This is primarily for anyone that wants to clean their car fast, and won't leave the same restoration results found on the products reviewed already. And you may not want to store in your vehicle; the liquid inside dries quite fast. Regardless, try out the Armor All Wipes if you need to clean with haste, or just want something to touch-up on an already completed detailing.
| | |
| --- | --- |
| Pros | Cons |
| The cleaning wipes are easy to store, apply, and dispose of | May result in streaking, especially on dark leathers, unless rubbed in vigorously |
| Has a "new car smell" to the solution in the wipes | – |
| Great for fast, temporary cleans for people that don't have enough time to detail | – |
---
Buyer's Guide
You should use care when choosing which leather cleaner/conditioner you want. Brands have become notorious for their differences in results, scent, and effectiveness at cleaning. On top of this, different leather materials can also play a big part in how well any given product will restore the interior. And while that doesn't mean that you will have to be overly picky, knowing a thing or two will go a long way in determining how well you will like a brand. Nevertheless, here are some tips that will make the choices above easier for you to decide on.
Type of Vehicle/Interior
If you've glanced at the links shown in each of the product's reviews, you may have noticed that some of the brands recommended that you specify the make and model of your car before you purchase. This is mostly due to car interior differences, and some products may work better or some models than others. But truthfully, you should pick whichever is advised, regardless of what the manufacturer may say. For example, if you have dark leather and you're afraid that one product's ingredients might be too harsh on the material, it's perfectly fine that you switch to a brand that you know is lighter. This can apply no matter what the brand suggests. In any case, consider the sensitivity and strength of elements found in the cleaner before you check out.
Separate or Combined?
You may have also noticed that some leather cleaners and conditioners are in separate bottles, while others are in a single. What's best for you in this regard is ultimately your choice to make. How do you plan on cleaning your vehicle? If you have the time to detail, then a kit sold with individual bottles should suffice. Or maybe you want the product to last longer, or don't need to use both the cleaner and moisturizer simultaneously. But if you're going to do everything in one go, without worrying about mixing anything, a single is highly recommended. However, single bottle typically has fewer contents than dual bottles, so you may end up needing more than one if you anticipate going through it very quickly.
Video Tutorial: How to Use Car Leather Cleaner?
The Scent
The smell is often a deciding factor for many people when choosing conditioners/cleaners, and rightly so. Scent can linger or leather for long periods, and even become annoying when it's too strong. Overall, most leather cleaners sold today or odorless or contain a pleasant scent that's similar to the smell of a new car. But some can get pretty strong, especially those with more ingredients. The best way to determine how long a cleaner's smell will stay in your car is to look at what other reviewers say about the product. Still, you may want to consider that some people's sense of smell is weaker or stronger than others. When in doubt, go with the brand that advertises little to no scent.
Detailing versus Fast Cleaning Jobs
Some people don't have time to do long detailed work on their vehicles, and that can include interior leather. But leather tends to be to the portion of a car (inside) that needs to be maintained, in or for it to stay healthy. If you have found yourself strapped for time but urgently need to clean your leather, consider looking for a cleaning kit, or wipes. The advantage of the latter is zero preparation time, fast application, and easy disposal. Wipes are often non-toxic as well, and safe to use around small children. So go with these when you want something that can make your leather look presentable without the need to spend hours in your car. Just make sure that you store wipes well since they tend to dry fast.
Preparation and Common Annoyances
As mentioned, you should prepare your vehicle before you use any leather cleaner. Remove any items from your vehicles such as clothing, documents, or anything that you don't want to get the cleaner on. They can leave a thin layer of film on anything it touches, which can be disastrous for some fabrics. Knowing this, cover or avoid the fabric areas of your car, if there are any. Getting it out is a nuisance. Speaking of annoyances, there are some other issues that you may run into with any leather cleaner, such as the sticky feeling that may appear on the leather immediately after you're done wiping it down. It's not a universal issue for all brands, but something that's frequently described of multiple products. The easiest way to avoid this is to refrain from using too much of the solution at the same time.
How Long it Lasts
How long your leather cleaner/conditioner lasts depends on the size and amount you use. For heavily soiled and stained leather, get ready to go through your bottle(s) very quickly. Anyone that's doing a brief cleaning job will typically see their product last anywhere from a few months to a year, especially if the product penetrates deeply into the crevices of the material. As stated before, you'll probably go through the smaller and/or fewer bottles more quickly, so a dual set shouldn't be out of the question if you want things to last longer than a month. The length of time a conditioner will stay on your vehicle may also change with the weather, or region in which you live. Drier climates will need to be moisturized more, especially if you run your car's air conditioning unit a lot. The higher the humidity, the less you will find yourself running for the moisturizer.
Alternative Uses
Leather conditioners and cleaners can be used for all sorts of things other than your automobile's interior. Have any old, beat up boots that you want to restore? Apply the solution to them and watch the material come back to the state it was in when you bought the product. Or maybe you've noticed your leather furniture or luggage pieces needing a once-over. Use both conditioner and cleaner, and make their original colors show in the material. The products above can be used for virtually anything that's made of standard leather. If you own exotic leather such as alligator or camel, you can also use them. Just apply a small amount to an insignificant portion of the item, and if the result looks well, finish the entire piece off.
How to Clean Car Leather Seats
We often see leather seats that have gone shiny. Dirt, grease, and oils cause this from the skin getting on the leather, which causes a sheen. This is in the buff to a gloss as people get in and out of their cars and move around in the seats. If you remove the dirt from the seat, no more shiny leather. It really is that simple.
First, open the seams of the seat with your fingers and gently vacuum out the crease. Particles trapped in these tight areas will act as an abrasive as the driver gets in and out of the seat over time. There are typically three tools used when cleaning leather for various degrees of cleaning strength. Always use the least aggressive technique that will get the job done safely. The least dynamic method is spray leather cleaner on a small section of the seat and quickly wipe it with a clean, dry microfiber towel applying medium pressure. This is a fast, easy, and safe technique.
If the dirt or stain has not been removed by technique one, then use a soft bristle brush to agitate and lift the dirt into the cleaning lather gently. Spread the leather cleaner onto a one by one area and work the product until it becomes a white, foamy lather. Do not allow the lather to dry as it'll redistribute the dirt back onto the leather. Immediately scoop up the lifted stain with a microfiber towel. If the stain still persists, the next most aggressive method is to use an interior scrub pad with light to medium pressure. Once again, apply the cleaner first, and very gently scrub the leather. Extreme caution must be taken with this technique to avoid rubbing away the pigment or color.
The age, condition, and specific type of leather will dictate its strength and vulnerability using the scrub pad technique. Finally, apply a leather conditioner to the freshly cleaned area to soften the material and prevent premature cracking.
How to Condition Leather Seats
First, make sure the leather is clean and dry. Once cleaned, apply your favorite leather conditioner to a foam applicator pad. Prime the pad by rubbing the moisturizer into the pores of the foam by hand. This will help even coverage and avoid leather blotching. Add a small dot of conditioner to the primed pad and massage it into the leather. Use medium pressure to help penetrate the hide. Work one section at a time, such as the side bolsters. Allow two to three minutes of dwell time before using a clean microfiber towel to remove the excess conditioner and restore the leather to a matte finish. If the conditioner is not removed, the leather will have a slick or shiny appearance, which gives the seat, dashboard or door panels and unnatural sheen.
In rare cases, heavy applications of certain conditioners, without removing, can cause dashboards and seats to crack at a much faster rate over time, as it creates a greenhouse effect from the sun's rays. A simple way to avoid this is to wipe any excess conditioner away with a microfiber towel.
The most common issue with leather conditioning is, of course, blotchiness. This is when one area of the leather is moisturized while the adjoining area is left dry. Be sure to double-check your coverage area when done, and reapply the conditioner in areas that you may have missed or areas that see more use, such as the driver's side bolster from getting in and out of the car. This leather is typically the thirstiest, so keep an eye out for any potential blotchiness you may have missed.
It's a good habit to moisturize your seats after a thorough cleaning, or at least after every few months, depending on usage, age of leather, and the amount of sun and heat your interior is exposed to.
How to Clean and Protect Leather Car Steering Wheel
Most of the time you're touching your steering wheel, or at least, you should be, and that collects grime, it collects anything that was on your hands. On a leather steering wheel, it penetrates the surface, giving you this shiny look. We're going to tell you how to remove it and properly protect it so that you can add longevity, but also restore that natural look.
To begin, use some leather cleaner. Then, spray it on a brush to control some overspray. Start on the center of the steering wheel, just gently scrubbing. This is agitating the cleaner, to penetrate the hide of the leather and lift any of the deep, set in stains, and we'll wipe it off for a natural finish.
Now, most vehicles, the center of the steering wheel is plastic or some vinyl, but you can still use the leather cleaner to remove any body oils and grease. You can see that foamy action, which penetrates the surface, and it makes it easier for stubborn stains or any dirt to come off, which is a simple wipe. Now it has that nice crisp, clean finish. It also feels nice and smooth. You can just continue your way around the steering wheel. This is a high traffic area, where your hands are constantly touching. Most of you know that on a leather steering wheel, it's not supposed to have this shiny finish, so we're going to tell you how to remove all that to get it back down to that factory look.
Start at the top, and go to place this towel on your legs, so don't get any foam on yourself. Then, just work your way around, this helps to remove any staining, anybody oils, any bacteria that you might have touched or brought onto the steering wheel. Because, if you think about it, you touch your face, your nose, your anything, and then you touch your steering wheel, and that's where it's going to linger and stay. So you have to clean that all off to get it back down to that crisp look, and also to add longevity. Any kind of oils will deteriorate the finish of your leather. It causes cracking, and it can start staining and discoloring over time. So, frequently and periodically cleaning and conditioning will help to prolong the life of your leather and also make it look its best.
Take care of most of the larger areas, and the real test is going to be when we wipe it off. This is going to show you all that grease that was hiding in there because a black steering wheel, it's hard to tell when there's dirt or a stain on there until you actually clean it. Just work your way around.
Moving on to our last step in the detailing process on this steering wheel, you have to use some leather conditioner. Now, what that's going to do is it's going to rejuvenate and also protect the steering wheel. It's going to revive that leather look and leather scent, while also preventing any kind of UV rays or staining. Shake the bottle up, and then apply a couple of dots to an applicator pad.
You can use this on synthetic leather, or fake leather. Just simply work it all the way around, getting it into all the pores and crevices. Since there's stitching on this steering wheel, don't go to clot or build upon there heavily.
FAQ
What is a leather conditioner?
True leather needs to be cleaned in a special way to retain its texture and brilliance. With a leather conditioner, you use a special formula to clean leather and still keep its durability. Leather conditioners are mostly used for interior leather seating, such as your couch or car's interior. The chemicals inside of the leather conditioner are able to cut the dirt and grime, lifting it away from the leather to reveal the beautiful leather underneath.
In addition, leather conditioner can preserve your material even longer. Since the texture of leather is naturally soft and smooth, it can turn hard and rigid without the use of a leather conditioner. To keep it supple and soft, you can use leather conditioner to soften and protect the material once or twice a year.
You can also use leather conditioner on other clothing and leather products, such as leather jackets or pants. Its protective properties can reverse some damage and keep the leather looking brand new.
Does leather conditioner soften leather?
In short, yes, leather conditioner will soften up your leather garments and furniture with one or two applications, depending on how rough the leather has become. There's nothing quite like a new leather garment or beautiful leather couch, but if you don't clean the leather with a conditioner, you'll likely start to see it dull and hard without care. It's easy to get back the natural lustre of leather just by using a conditioner.
The key is purchasing a high-quality leather conditioner that has oils that will seep porous leather and improve its flexibility and texture. "Natural" conditioners like olive oil and coconut oil will only ruin the leather and cause discoloration.
How often do you need to condition leather car seats?
This depends on the wear and tear of your car seats. If you generally take good care of your car's leather and don't have many people in and out of your car, then you probably only need to treat the leather once or twice per year.
However, if your car's leather is older, you may want to treat it more often. Some guides suggest cleaning leather every month with a conditioner to keep it the most soft and durable over time.
If you live in a warm region where your car frequently reaches extremely hot temperatures, then you should also consider treating the leather once every couple of weeks. In addition, cars should be parked in the shade so that your natural leather seat color doesn't fade from direct sunlight.
How can I soften my leather seats?
If the leather on your car seats has become rough and hard, then you need to use a leather conditioner to soften up the material. You'll cover the surface of the seat thoroughly with a leather conditioner spray or cloth using leather cleaner. You can spray the leather directly or wipe the conditioner into the leather.
It's important to get into the nooks and little cracks of the leather creases to get the best clean. Some car owners also use a saddle soap to clean extremely dirty or weathered leather first before adding the conditioner.
Is Lexol a good leather conditioner?
Lexol is a pH-balanced formula leather conditioner kit that doesn't have any additives such as alcohol, waxes, or silicone. Since it comes with a sponge applicator, it's easy to use as an all-in-one treatment for old leather and preserving new leather. Lexol doesn't leave behind any residue like some of the other greasy leather conditioners on the market as well. Since it's priced fairly and easy to use, it's one of the better leather conditioners on the market that works on all types of leather.
Will leather conditioner darken leather?
A good leather conditioner will never darken a leather article or piece of furniture unless it contains ingredients in its formula to do so. However, if it contains mink oil, it may naturally darken the leather. This works for some leather types, such as cowboy boots.
One thing that leather conditioner can do is restore the natural lustre of leather to its original color. If you have damaged leather for example, you can use leather conditioner with a sponge applicator to slowly soften and restore leather to its original state.
What is the best way to clean leather?
Using a high quality leather conditioner is the best way to clean and restore leather, but there are some products you can use with your cleaning routine to ensure that you get the most clean and preserve the leather in the best way. For example, you can use saddle soap to clean leather first. Using a cloth and saddle soap, you simply lather up a cloth and wipe down the leather with the soap. You'll clean off any excess, then apply the leather conditioner to the clean leather. This process restores really damaged leather to a better condition, but it may not be able to return rough, cracked leather back to its original state.
Can you clean leather with vinegar?
When your leather has a lot of problem areas, such as dull or cracked parts, you can use a homemade cleaner made from diluted white vinegar. You'll want to mix water and white vinegar in a bucket, and then using a damp cloth with this solution, you can clean the soiled parts of the leather item rather quickly. After wiping over the entire surface of the leather article or furniture, you'll need to follow up with a dry cloth, going every area that you treated to ensure that it's dry and that there isn't any excess left behind as residue.
However, there are some occasions when you don't want to use vinegar and water. For example, you won't be able to wipe away grease stains with vinegar and water. Instead, you'll want to start with a dry cloth. If it won't wipe away, then you can use baking soda to draw out the grease.
LIn addition, ink stains should be removed with rubbing alcohol rather than vinegar. This also works for removing mildew and mold.
What household items can I use to clean leather?
There are some household items that can be used to clean leather without damaging the material over time.
For example, white vinegar and water is a good solution to clean leather that has been soiled and turned dull. You can use a cloth with this diluted vinegar solution to clean leather seats, purses, clothes, and boots.
Rubbing alcohol is another option if you notice that you have stubborn stains, such as ink. However, it's best to try leather conditioner first so that you don't ruin the leather in the process.
There are some oils that shouldn't be used on leather because it tends to warp and create dull leather that is permanently damaged in the long run. For example, olive oil and coconut oil are sometimes recommended as home remedies for leather, but these oils actually lead to permanent damage. Due to the way that oil is absorbed into the leather, it will remain absorbed but start to tarnish and turn spotted after continuous olive oil application.
Adding lemon juice to a solution with leather conditioner can also improve the cleanliness of your leather if it suffers from grime, mold, and mildew.
What is a natural cleaner for leather?
There are a few natural leather cleaners out there that use less chemicals in their formulas. For example, Real Simple leather cleaner uses a combination of coconut and lemon juice with its leather cleaner for a more natural shine. Customers rave about its smell and ease of use, and it cleans rather well.
There's also Leather Honey cleaner, which is a water-based concentrated leather conditioner that works on vinyl and real leather. It can be used to remove tough stains, but it can darken some leather surfaces if not used correctly.
Can I use baby oil on leather?
Baby oil is not recommended for cleaning or softening up leather. While it may seem like it works well at first, it can damage the leather over time permanently. There are some other oils that are frequently used to clean leather, such as Neatsfoot oil, flaxseed oil, or mink oil. However, mink oil may darken leather, which is why it's mainly used to restore boots.
It's best to use a leather conditioner made for cleaning and softening up leather rather than directly using oils, however. Over time depending on the type of leather, you could irrevocably damage leather and create discolored spots that appear over time. These won't go away once they appear unless you try to darken the leather.
Is Vaseline good for leather?
Vaseline is probably not the best way to clean any leather garment. In fact, it will probably leave a greasy residue that won't go away and could discolor your leather. This is mainly because vaseline won't soak into leather like a true leather conditioner or oil that is made specifically for leather.
Conclusion
Do you have an idea of what leather cleaner you want to buy? Each product evaluated in the reviews is recommended for some purpose, although two from the list stand out above all others. If you want the best restoration job and will last long, put the Leather Honey and TriNova Leather Conditioner and Restorer first in line. They smell great, don't flake or discolor dark leathers, and have finished that don't appear too glossy. However, don't take this as a negative to the other products shown, since could also be well-served for people with specific needs. But at the end of the day, you can't go wrong with any of the ten that are featured, and you'll be surprised just how well they all take away years of grime from your vehicle's interior.
---