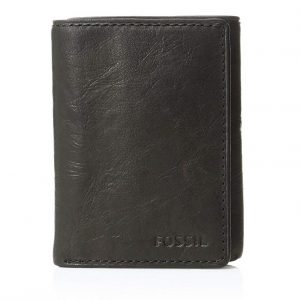 4.25" high
3.25" wide
100% cow hide leather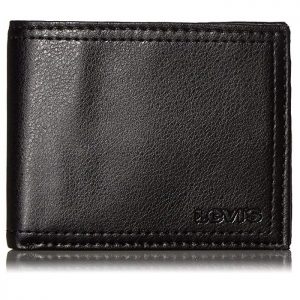 3.5" high
4.25" wide
No Closure closure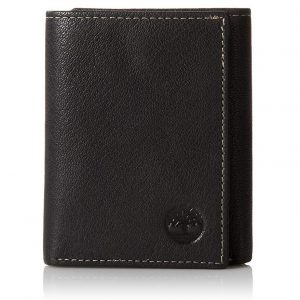 4.1" high
3" wide
Two large pockets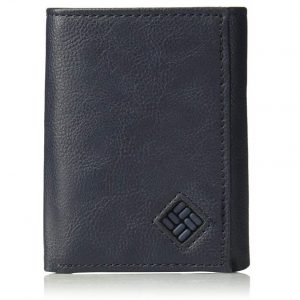 4" high
3.25" wide
Coated Leather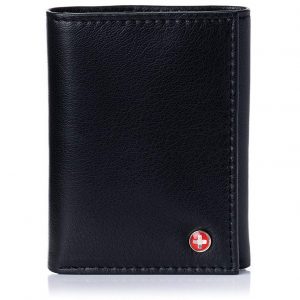 4.1" high
3.25" wide
Classic trifold wallet
Best Trifold Wallet: Fossil Ingram Wallet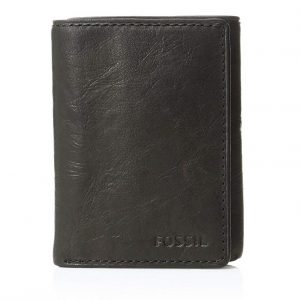 Fossil makes this trifold wallet, which has some solid and high online reviews. You don't need to spend time fumbling to open your wallet when you're in a hurry because it has no closure and opens easily.
| | |
| --- | --- |
| Pros | Cons |
| Some of the top reasons to invest in this Fossil watch include the genuine leather used in the construction of the exterior and the multiple compartments inside. One long compartment can hold all the paper money that you usually carry. You'll find other compartments suitable for your reward and credit cards. | The biggest problem you might have with this wallet is that the construction isn't as good as you expected. Depending on how often you use the wallet and the wear and tear you put it though, you might see some damage to the exterior or issues with the lining inside. |
---
Best Slim Wallet: Levi's Men's Slim Bifold Wallet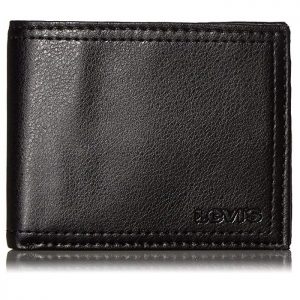 A common problem that many men have with wallets today is that they are too large or too bulky, which causes lines to form under their clothing. This wallet lets you enjoy the clean lines in your clothing that you want because of its minimalist design. Despite being quite
thin and slim
, it still has loads of storage space.
| | |
| --- | --- |
| Pros | Cons |
| Levi's has a strong reputation for the high-quality stitching used in all its products, and this wallet is no exception. That stitching adds to its rugged and stylish appeal. You'll also find an ID card holder for your driver's license, nine slots for other cards and four slips for cash and papers. | Though Levi's makes clothing that will last for years and even decades, you won't get as much use out of this wallet. The leather used on the exterior tends to fall apart from regular use. You might get as little as three months of use out of the wallet before you need to replace it. |
---
Best Value Wallet: Timberland Men's Leather Trifold Wallet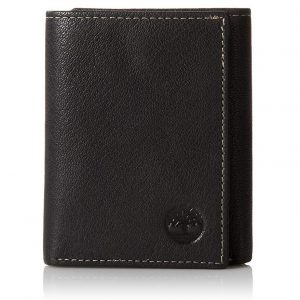 Though Timberland boots and shoes can cost twice as much or more as those you normally wear, this wallet from the same company is a great value. It costs less than half of what other wallets on the market do but uses the same durable and genuine leather.
| | |
| --- | --- |
| Pros | Cons |
| With a higher average star rating than other similar wallets on the market, this Timberland trifold is a good choice for those on a budget. It comes in more than 10 color options that include some designs that feature two shades of leather. This wallet also has space for up to six cards and two compartments for paper and cash. | Though the photos of this wallet make it seem as if it staggers your cards, it actually places those cards almost directly on top of each other. You may have some issues finding the right one when you're in a hurry. If you put too many cards or too much cash inside, you may have problems closing the wallet too. |
---
Best Security Wallet: Columbia Men's RFID Leather Wallet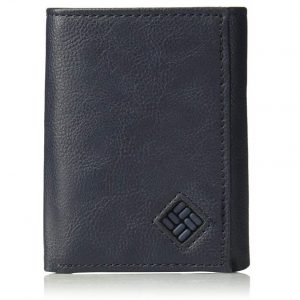 One of the only leather wallets on the market with
RFID protection
is this one from Columbia. It has built-in protection that keeps RFID scanners from stealing numbers and other information off the cards that you carry. No matter where you go or who you encounter, you can stay safe.
| | |
| --- | --- |
| Pros | Cons |
| Whether you need to remove your driver's license at the grocery store or when you need to clean out your wallet, you won't have any problems with this one. It has a large ID slot right in the center. In addition to a compartment for your ID, you'll also find several slots on either side of the wallet for the cards that you use every week. Columbia also gives you the option of picking the type of rich leather that you like the best. | As with other leather wallets in this price range, there were some complaints about the wallet's overall construction. Some guys found that the stitches tore after a few weeks or that the slots inside fell apart within a few months. |
---
Best for Multiple Cards: Alpine Swiss Trifold Wallet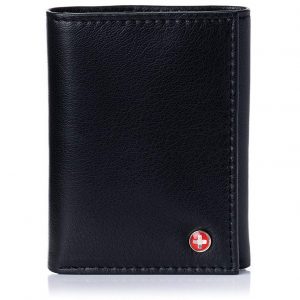 Alpine Swiss wants you to have all the space that you need, which is why the company loaded this wallet with storage compartments and slots. You can carry all types of reward, membership, debit and credit cards with the six compartments, which can also accommodate treasured photos.
| | |
| --- | --- |
| Pros | Cons |
| The genuine leather used on the exterior of this wallet feels softer and more supple than you might think. That leather can stand up to frequent carrying in your pocket and the constant folding that you do too. It has a stylish look and comes in a few different shades of natural leather. | The biggest issue that you'll find is that this wallet doesn't easily close when you use each compartment. Though it uses genuine leather, it can show signs of wear and tear faster than you would like. |
---
Leather Wallets for Men Buying Guide
Leather wallets for men come in many different designs, but you can narrow down your choices based on the design that works best for your needs. You typically need to choose between trifold and a billfold. While a billfold has just two flaps that you press together along a central line, a trifold has three flaps. Both sides fold on top of each other and over a base that usually holds your ID. If you need more space, you'll want to go with a trifold that has more room inside. Guys should also consider a number of other features when picking a new leather wallet such as:
Leather type: You can choose from synthetic leather and genuine leather. Genuine leather comes from real animals, while synthetic leather uses materials with a similar look and feel. Synthetic materials usually cannot last as long as leather does and can feel a little artificial or fake too.
Interior lining: You may want to look at the lining on the interior too, especially if you carry your social security card or family photos. A soft lining will add some protection to the wallet and keep your treasures from becoming damaged.
RFID protection: Finding a wallet with RFID protection is hard, but you might find that it's worth your time. These wallets have some type of shield inside that deflects the rays coming from RFID machines and scanners. Those machines can take numbers and other important information off any type of card.
Interior slots and compartments: It's also important that you look at the number of slots and/or compartments inside the wallet before you buy. You want to make sure that it can accommodate everything you want to carry.
Video Tutorial: Making a Men's Leather Wallet DIY
Conclusion
Buying a new wallet is something that you might need to do when your old one shows signs of wear and tear. Leather is a good material because it can usually last longer than nylon and other materials do. Once you learn what to look for in a new leather wallet, you can take a look at the best leather wallets for men to find one that can withstand your daily routine.
---