---
Best Trifold Wallet: Fossil Ingram Wallet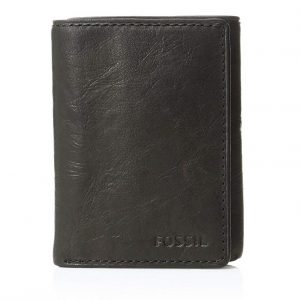 Fossil makes this trifold wallet, which has some solid and high online reviews. You don't need to spend time fumbling to open your wallet when you're in a hurry because it has no closure and opens easily.
| | |
| --- | --- |
| Pros | Cons |
| Some of the top reasons to invest in this Fossil watch include the genuine leather used in the construction of the exterior and the multiple compartments inside. One long compartment can hold all the paper money that you usually carry. You'll find other compartments suitable for your reward and credit cards. | The biggest problem you might have with this wallet is that the construction isn't as good as you expected. Depending on how often you use the wallet and the wear and tear you put it though, you might see some damage to the exterior or issues with the lining inside. |
---
Best Slim Wallet: Levi's Men's Slim Bifold Wallet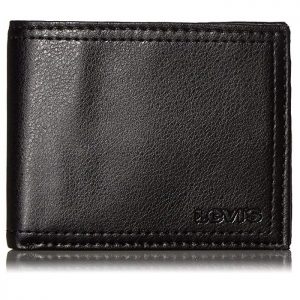 A common problem that many men have with wallets today is that they are too large or too bulky, which causes lines to form under their clothing. This wallet lets you enjoy the clean lines in your clothing that you want because of its minimalist design. Despite being quite
thin and slim
, it still has loads of storage space.
| | |
| --- | --- |
| Pros | Cons |
| Levi's has a strong reputation for the high-quality stitching used in all its products, and this wallet is no exception. That stitching adds to its rugged and stylish appeal. You'll also find an ID card holder for your driver's license, nine slots for other cards and four slips for cash and papers. | Though Levi's makes clothing that will last for years and even decades, you won't get as much use out of this wallet. The leather used on the exterior tends to fall apart from regular use. You might get as little as three months of use out of the wallet before you need to replace it. |
---
Best Value Wallet: Timberland Men's Leather Trifold Wallet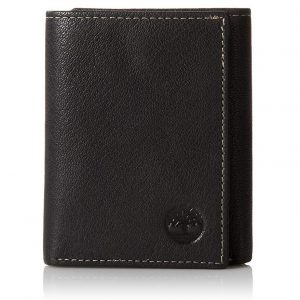 Though Timberland boots and shoes can cost twice as much or more as those you normally wear, this wallet from the same company is a great value. It costs less than half of what other wallets on the market do but uses the same durable and genuine leather.
| | |
| --- | --- |
| Pros | Cons |
| With a higher average star rating than other similar wallets on the market, this Timberland trifold is a good choice for those on a budget. It comes in more than 10 color options that include some designs that feature two shades of leather. This wallet also has space for up to six cards and two compartments for paper and cash. | Though the photos of this wallet make it seem as if it staggers your cards, it actually places those cards almost directly on top of each other. You may have some issues finding the right one when you're in a hurry. If you put too many cards or too much cash inside, you may have problems closing the wallet too. |
---
Best Security Wallet: Columbia Men's RFID Leather Wallet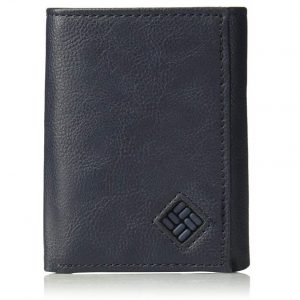 One of the only leather wallets on the market with
RFID protection
is this one from Columbia. It has built-in protection that keeps RFID scanners from stealing numbers and other information off the cards that you carry. No matter where you go or who you encounter, you can stay safe.
| | |
| --- | --- |
| Pros | Cons |
| Whether you need to remove your driver's license at the grocery store or when you need to clean out your wallet, you won't have any problems with this one. It has a large ID slot right in the center. In addition to a compartment for your ID, you'll also find several slots on either side of the wallet for the cards that you use every week. Columbia also gives you the option of picking the type of rich leather that you like the best. | As with other leather wallets in this price range, there were some complaints about the wallet's overall construction. Some guys found that the stitches tore after a few weeks or that the slots inside fell apart within a few months. |
---
Best for Multiple Cards: Alpine Swiss Trifold Wallet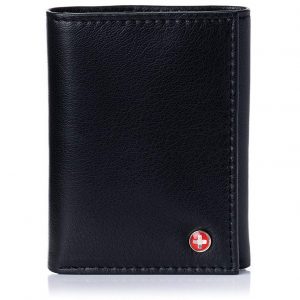 Alpine Swiss wants you to have all the space that you need, which is why the company loaded this wallet with storage compartments and slots. You can carry all types of reward, membership, debit and credit cards with the six compartments, which can also accommodate treasured photos.
| | |
| --- | --- |
| Pros | Cons |
| The genuine leather used on the exterior of this wallet feels softer and more supple than you might think. That leather can stand up to frequent carrying in your pocket and the constant folding that you do too. It has a stylish look and comes in a few different shades of natural leather. | The biggest issue that you'll find is that this wallet doesn't easily close when you use each compartment. Though it uses genuine leather, it can show signs of wear and tear faster than you would like. |
---
Leather Wallets for Men Buying Guide
Leather wallets for men come in many different designs, but you can narrow down your choices based on the design that works best for your needs. You typically need to choose between trifold and a billfold. While a billfold has just two flaps that you press together along a central line, a trifold has three flaps. Both sides fold on top of each other and over a base that usually holds your ID. If you need more space, you'll want to go with a trifold that has more room inside. Guys should also consider a number of other features when picking a new leather wallet such as:
Leather type: You can choose from synthetic leather and genuine leather. Genuine leather comes from real animals, while synthetic leather uses materials with a similar look and feel. Synthetic materials usually cannot last as long as leather does and can feel a little artificial or fake too.
Interior lining: You may want to look at the lining on the interior too, especially if you carry your social security card or family photos. A soft lining will add some protection to the wallet and keep your treasures from becoming damaged.
RFID protection: Finding a wallet with RFID protection is hard, but you might find that it's worth your time. These wallets have some type of shield inside that deflects the rays coming from RFID machines and scanners. Those machines can take numbers and other important information off any type of card.
Interior slots and compartments: It's also important that you look at the number of slots and/or compartments inside the wallet before you buy. You want to make sure that it can accommodate everything you want to carry.
FAQ
What is the best leather wallet brand
According to the Balance, the best wallet for men in 2020 is the tri-fold model from Fossil. This wallet is a top pick because it features card slots that will hold two or three cards versus models that barely fit one. This wallet has a ton of storage space, even though it is a small item that fits well in trouser pockets and jeans. One of the best features of this item is the interior lining. This material easily allows your cards to go in and out of the slots. Levi and Timberland are two other exceptional models as well.
What wallets do male celebrities use
Montblanc may be the most popular luxury wallet brand for men. This German company hails from Hamburg, creating many exceptional products like watches, billfolds, and pens. Tom Ford and Burberry are affluent wallet manufacturers. Many famous men use Louis Vuitton wallets. You may like to know the wallet maker for the Bond movies is Dupont.
What type of wallet should a man have
There is no one wallet for every man. Men's wallets come in several varieties. The function of the item depends on the individual needs of each person. For instance, someone with a lot of cards to carry might want a tri-fold model to give him more room.
Someone who likes a slender model to fit in slacks and trousers might prefer a bi-fold wallet. Zipper wallets contain everything in one central area. These products make it easy to toss coins inside for quick access later.
An important product for people with a lot of sensitive information is a wallet with RFID protection. These wallets use a shield to prevent automatic scanners from getting your information while you shop or walk in the park. Travel wallets give business executives the space to organize notes, cards, passports, pens, and money.
Taxi wallets are similar to briefcases, but on a miniature scale. These wallets fold over and often feature a side pocket. The opening is on the outside of the item letting owners stash a receipt, business card, or note on the go. Body wallets are other items that let the wearer hide money and cards. They attach to the leg, wrist, or waist to provide a secure place to put valuables.
Is Fossil a good wallet brand
Fossil is one of the leading brands for 2020. The manufacturer hails from Texas. You may like that they have over 35 years of experience creating high-quality, premium goods. Besides wallets, this manufacturer also makes designer watches.
How long should a leather wallet last
The cost of the wallet may determine how long it lasts. For many, a higher quality leather with durable seams and handcrafting often outlast a ten-dollar faux leather bi-fold model. Business Insider tells readers if they want a wallet that lasts for years, then they can pay under $100 for several options. The products on our list are affordable, and most are under $50.
Some Reddit users say they have $20 wallets that last 20 years. You may want to consider how often you will use the product, and in what situations will you carry the wallet. For example, for men who work outdoors or in arid conditions, the leather material may not last that long unless you use a good waterproofing material on a regular schedule.
Where should a man carry his wallet
There is no one answer to this question. However, the best way to figure out how you will carry it is by thinking about your activities. Most men will carry these accessories in one of their pockets. For safety, putting the wallet in the front pocket makes it harder for people to pickpocket you. To be super secure, many gentlemen put these items in the glove box or a briefcase since these things are lockable.
If a hiker needs to keep passports, money, or cards on him when he is hiking Mount Everest, then a leg wallet might be best. For people who want their hands free, a wrist wallet may be essential.
How many wallets should a man have
Most men have one primary wallet. This item holds important identification cards, money, and credit cards. Some people keep a couple of accessories available to keep work and private life separate. For example, access cards for work doors, spare change for meters, and key cards for equipment may be things a person puts in a secondary wallet.
Some people like a thin, minimalist design when going out. For these people, carrying a different wallet throughout the day is not out of the ordinary. These men usually transfer their money and identification between items when they get home from work. A business executive might carry a slim bi-fold wallet for work, and then transfer to a larger wallet with room for business card storage or a checkbook or vice versa.
When should I replace my wallet
The best way to know when to replace your wallet is when you find it is not serving its purpose. If a leather accessory starts to crack, smell, fade, or flake apart, then it may be time to purchase a new one. People who need more space for cards or have trouble using a feature may need a different wallet. For instance, a model that has narrow slots for cards might be a pain to use when a person needs to pay for things often.
What should you not keep in your wallet
This answer is not as clear as some. There are things a person should not carry when working, in general, and depending on where they are going. For safety reasons, ABC News tells people to never, ever carry a social security ID in their wallet. They also tell people to only go out with one card at a time, and to never carry a lot of money on them.
Something you may not think of removing from your wallet regularly is receipts. The news giant tells people that thieves can get just as much information from these little pieces of paper as they can your credit card.
If you cannot take the receipts out every night, then ABC suggests removing them once a week. While you are sorting the receipts, then you may want to get rid of old items and business cards you do not need. Weekly cleanouts can help you keep your wallet thin, and it will be much easier to find the things you need in a hurry.
Another thing for men to consider when loading up the wallet is where they plan to go when using it. If they are going to work or somewhere with a lot of physical activity, then using a model with an open pocket may not be the best option for holding onto change and loose items. People may also want to avoid stowing sharp objects like pins or paper clips in soft leather wallets. Bottle caps, keys, lighters can also tear seams, liners, and zippers.
Video Tutorial: Making a Men's Leather Wallet DIY
Check related review:
Conclusion
Buying a new wallet is something that you might need to do when your old one shows signs of wear and tear. Leather is a good material because it can usually last longer than nylon and other materials do. Once you learn what to look for in a new leather wallet, you can take a look at the best leather wallets for men to find one that can withstand your daily routine.
---