Weight: 14.9 ounces
Dimensions: 5.6 x 3.8 x 1.5 in
Wooden handle
Weight: 2.01 pounds
Length: 248 mm
The durable poly head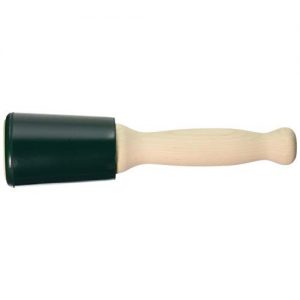 Weight: 14.4 ounces
Dimensions: 2.8 x 10.8 x 2.8 in
Wood handle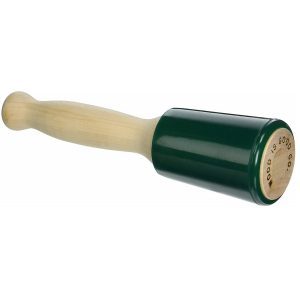 Weight: 1.25 pounds
Dimensions: 2.8 x 10.7 x 2.9 in
Made in USA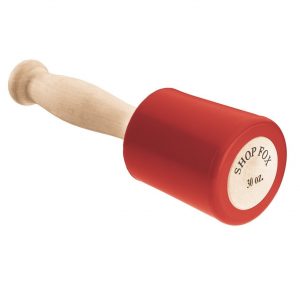 Weight: 2 pounds
Dimensions: 10.8 x 4 x 3 in
Size: 30 Ounce
---
Choose the Best Hammer for Leather
Customer's Choice: the Best Rated Hammers for Leather
127 users answered this survey. Please help us improve this review!

16.54% of users selected Co-link Nylon Hammer, 60.63% selected Tandy Leather Maul, 8.66% selected Wood Is Good Mallet, 5.51% selected Wood Is Good 18-Ounce and 8.66% selected Shop Fox 30-Ounce. Every month we analyze your answers and change our rating.
---
Stamping is an important process of practically any leathercraft project. Only two things are required for good stamping: a print and a special hammer. A good maul is also a must-have thing for making accurate small holes on a leather belt or pelt.
Craft hammers differ from standard household tools. It's also an appliance for delivering blows to an object. But unlike a regular hammer, a tool for crafting is usually less heavy and more comfortable to use when working with small objects.
Two most common types of hammers for leathercraft are:
Maul — a heavy instrument with a long handle;
Mallet — if to compare, usually it's a heavy wooden block on a convenient handle;
Most tools for hitting rawhide are made of hardwood (like beech) because metal devices may deliver damage to delicate small pieces of rawhide.
Maul vs Mallet: what is the difference?
The opinions differ when it comes to choosing a mauling type for DIY projects. Some hobbyists prefer using a maul device because it's a shorter tool with a more massive head. It means the instrument won't deflect on rawhide.
However, other artisans believe that mallets have a larger area to cover when hitting them. Plus, a mallet never rotates when using, especially when fingers are on its head. When a maul is used, it's necessary to hit right in the center of the head to get the best hit without deflects on a cowhide piece.
It's a matter of choice and preference, but mauls are more common picks.
Nevertheless, there are more types of leathercraft hammers than only mauls and mallets. They vary in size, weight, and methods of use. The following review may help to make a final choice.
5. Shop Fox 30-Ounce Non-marring Mallet — the most durable hammer for leathercraft!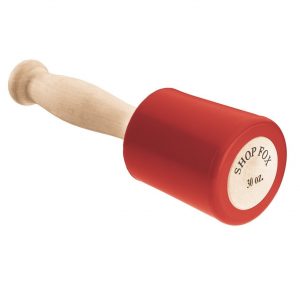 Weighing only 30 oz, this instrument offers a non-marring construction. It's suitable for multiple activities — punching, stamping, and even riveting. The Shop Fox item can be recommended to everyone who is looking for a reliable and pretty massive hammering tool.
| | |
| --- | --- |
| Pros | Cons |
| Very good weight for any kind of leatherworking; | Unlike most new picks in the set, this one doesn't have any weird odor; |
| The handle feels well; | After a few weeks of frequent use the handle may fall off; |
| It produces not much noise; | Doesn't seem different from heavier tools in this segment; |
| It's possible to use various points of the head; | – |
| A lot of control during meticulous work; | – |
| The head-coating is tough; | – |
This instrument is strongly recommended to everyone who needs a multi-use, sustainable instrument.
---
4. Wood Is Good 18-Ounce Mallet — the best multifunctional chisel instrument!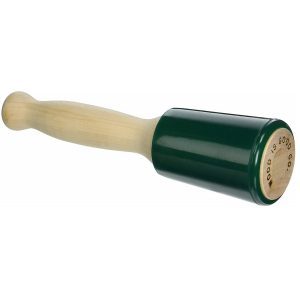 Made in the United States, the Wood is Good product is only 18 ounces. This product can be characterized as a universal tool for simple carving designs. Despite the small size, the mallet is well-balanced and will never hurt fingers — an excellent instrument for riveting works.
| | |
| --- | --- |
| Pros | Cons |
| Gentle tapping; | Good only for flat strikes; |
| Great for wood, cowhide and wool punches; | It can be used only for non-food surfaces, not approved by FDA for any food-grade material; |
| The tool doesn't leave any additional marks on the hitting surface; | A plastic-covered top and wooden handle — may crack easily; |
This is a multi-use leather worker's hammer. But it's definitely not the best choice under 30$ due to a cheap handle.
---
3. Wood Is Good 12-Ounce Mallet — the most lightweight leather craft hammer!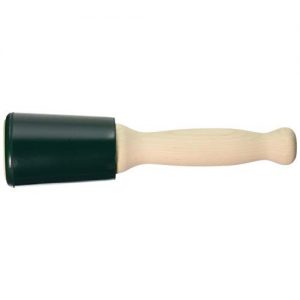 Another Wood Is Good product with a head that is only 12 ounces. A great pick for people who need small, lightweight mauls for gentle tapping. Hobbyists describe this 12-ounce instrument as an ideal choice for chisels and carving gouges.
| | |
| --- | --- |
| Pros | Cons |
| The urethane head was designed specifically for absorbing shock; | Polyurethane can be damaged after multiple uses; |
| A great handle grip — suitable for many hours of constant work; | Won't do for heavy tapping; |
| Can be applied for bookbinding as well as other homemade projects; | Have a large sticker on the head that is hard to pull or remove in any way possible; |
| Without any weird smell, though some urethane instruments can be stinky; | The head has a riddle line that is not smoothed enough; |
| Can last up to 20 years, according to some reviews; | The maple hilt has no additional coating; |
| A very smart design that transfers the power of tapping straight to the chisel, without beating the handle too heavy; | – |
Every hobbyist should consider buying this lightweight appliance for simple or small leatherworking projects.
---
2. Tandy Leather Craftool Poly Maul — the most expensive mallet that may last for years!
Tandy Leather
tools are great for any hobbyist. A perfect addition to any collection because it is capable of delivering awesome punching and stamping effortlessly. People tend to choose this instrument for everyday projects of any kind because it's durable, made of top-notch materials and stable.
| | |
| --- | --- |
| Pros | Cons |
| A durable poly head; | The most expensive leather tooling mallet in this review — over 40$; |
| Minimal bounce even when it is used heavily; | – |
| For shock control and less fatigue a handle is contoured; | – |
| Very solid grip; | – |
| Very good brand with awesome instruments; | – |
| May last up to 20-30 years; | – |
A great instrument for working with any rawhide item, though it may seem overpriced.
---
1. New Wooden Handle Nylon Leathercraft Carving Hammer — the best pick under $15!
Costing under $15 this appliance is great for any hobbyist. The manufacturer claims it's the best choice for amateurs and professionals. Hobbyists claim that the best tool for this particular appliance is carving and printing. Though, some believe that it's too lightweight for constant use.
| | |
| --- | --- |
| Pros | Cons |
| This nylon item is very solid; | Its wooden handle can easily chip out during the intense tapping; |
| Good for striking small prints and chiseling; | It would be better with a rubber grip because sometimes a finger may slip; |
| The handle is very thick; | – |
| Won't hurt an arm in the process; | – |
| The most affordable one; | – |
This is easily the best choice among leather working hammers under $15. It's literally impossible to find a more solid and reliable maul for such price.
---
Useful Video: Types of Leatherworking Mallets
How to buy a leather craft hammer: tips for customers
To add to a nice and solid craft maul to his leatherworking tools, a hobbyist must think of basics, especially on the terms of a tight budget. It would be more preferable to pick up a top-notch universal appliance for leatherworking projects instead of buying a few different instruments separately for stamping or riveting.
It's strongly recommended to look for mallets or mauls with such characteristics as:
1. Steel and smooth head
It's even better is a hammer's head is made of forged steel. Titanium "face" is a dream but a costly one. Also, pricier models tend to have a smoother face — it's less likely to deliver any damage to cowhide pieces. Bear in mind that textured heads are prone to leaving marks if you accidentally miss a hitting spot.
2. Curved claw or rip claw heads?
Hobbyists do not need curved claw instruments because they will be required not for prying nails. However, for some small jobs, curved claw tools can be a wise choice. However, most leather working hammers in this category have a flat head.
3. Handle that is comfortable to hold for a long time
Any DIY project demands meticulous and sometimes exhausting job with a solid and convenient instrument in a palm. There are mauls with fiberglass, wooden and steel handles. All materials have their differences.
Fiberglass works great as a vibration absorbent and it's much lighter than steel. However, they become slippery if not to use special gloves.
On the other way, steel handles are considered more durable and are good for delivering really powerful blows without much effort. The main drawback — they are the most expensive ones.
Wooden handles are convenient to hold, especially when they are a single piece with the hammer's head. Besides, mauls with wooden handles are cheaper. The main drawback — such handles may split faster than any other hilt.
Conclusion
Any mentioned instrument can become the perfect leather tooling maul. Despite the cost, all tools are made of durable materials and have a sophisticated design — the great picks for any hobbyist's collection. Just use them with a steady hand and solid purpose.
---