---
We've put the most revered leather work gloves to the test. We've discovered a collection of gloves that deserve more than a round of applause. We give two thumbs-up to these hardworking hand coverings. Whether you're a contractor, plumber, or avid DIYer, you'll find finger-waving freedom in the following options. Now, let's stop the silly puns and dig into our workplace favorites.
American-Made Buffalo Leather Gloves –
Editor's Choice
These gorgeous leather work gloves are made from pure American bison hide. The leather is gathered at the wrists to prevent dirt and debris from entering. What's more, they boast keystone thumbs and hemmed cuffs.
These gloves enable you to maintain maximum flexibility without exposing your skin. There's no lining, just a soft, flexible leather exterior.
| | |
| --- | --- |
| Pros | Cons |
| Made in America | Expensive |
| Bison leather | – |
| Chocolate brown exterior | – |
| Keystone thumb | – |
| Hemmed cuff | – |
| Unlined leather | – |
---
OZERO Flex Grip Leather Work Gloves – Best Cowhide Work Gloves
These next gloves are made from premium American-made cowhide. The leather is thick, soft, and flexible. What's more, it is resistant to abrasions, punctures, pulls, and tears. The wrist is gathered around a stretchy elastic.
What's more, there is a leather patch over the palm for extra protection. The addition of a keystone thumb and Gunn cut make this glove more comfortable and flexible. On top of that, the gloves are liner-free for improved movement and better sweat absorption.
| | |
| --- | --- |
| Pros | Cons |
| Full-grain cowhide leather | Thickness varies between sets |
| Sewn in elastic wrist | – |
| Gunn cut and keystone thumb | – |
| Unlined leather | – |
| Made in America | – |
| 1 to 1.2 millimeters thick | – |
| Gold | – |
| Palm patch | – |
---
American Made Buffalo Leather Vellux Lined Work Gloves – Best Lined Work Gloves
While raw leather has its perks, plush liners help workers fend off cold temperatures. That's why we cannot live without these Vellux-lined buffalo leather work gloves. These gloves have all the essential elements of a desirable work glove, including keystone thumbs, hemmed cuffs, and gathered elastic wristbands.
They feel fabulous on your hands and offer enough flexibility for precision jobs.
| | |
| --- | --- |
| Pros | Cons |
| Vellux liner | Not suitable for warm weather |
| Ideal for cold leather | – |
| Keystone thumb | – |
| Hemmed cuff | – |
| Gathered at the wrist | – |
| Made in America | – |
| Genuine bison leather | – |
| Maximum dexterity | – |
---
Wells Lamont Premium Leather Work Gloves – Most Budget-Friendly Work Glove
You can score a pair of these premium cowhide gloves for just over $10. Don't let the low price deter you; these gloves are suitable for a range of intense activities. They feature a puncture-resistant exterior with padded palm covers. The design includes a Gunn cut and a keystone thumb.
There's no lining to limit the movement of your fingers. Just pop your hands in and let the elastic wristband do the rest of the work.
| | |
| --- | --- |
| Pros | Cons |
| Made from genuine cowhide | Only available in large and extra-large |
| Soft, sweat-absorbing interior | – |
| Gunn cut | – |
| Keystone thumb | – |
| Flexible fingers | – |
| Palm pad | – |
| Low price | – |
---
Carhartt Men's Insulated System 5 Driver Work Glove – Best Insulated Leather Driving Gloves
These System 5 driving gloves offer warmth and comfort for long stints behind the steering wheel. Whether you're an Uber driver or a delivery man, you will be able to appreciate the improved look and feel of these finger protectors.
An elastic band serves as a pull-on closure that keeps dirt, debris, and cold air out of the gloves' crevices. What's more, Thinsulate insulation keeps your fingers warm on cold winter days.
| | |
| --- | --- |
| Pros | Cons |
| Insulated for winter temperatures | Sizes run small |
| Thinsulate lining | Tag sticks out |
| Reputable brand | – |
| Genuine black leather exterior | – |
| Rugged eterior | – |
| Elastic wrist | – |
---
Men's HydraHyde Leather Work Gloves – Best Waterproof Leather Work Gloves
Do you have a job that is both tedious and wet? If so, then these HydraHyde leather work gloves may be a good fit for you. They are made from water-resistant with a durable sewn-on cuff and wrist closure. We love that these gloves come in accurate sizes. If anything, they run a bit big.
While the waterproofing element tends to wear off after a while, it can be reinforced with a bit of mink oil or other leather conditioners. Overall, these gloves will keep your hands in good repair.
| | |
| --- | --- |
| Pros | Cons |
| Waterproof leather | Leaks after a short period |
| Suitable for a wide range of jobs | Sharp logo |
| Adjustable wrist band | – |
| Leather wrist patch | – |
| Roomy fit | – |
---
Carhartt Men's System 5 Work Glove with Safety Cuff – Best Safety Cuff
Here we have a hearty men's work glove that's built for the most intense situations. The shell is constructed from premium cow leather. As if that piece were not sturdy enough, it is also reinforced with a combination of synthetic leather and genuine cowhide palm and knuckle patches.
The gloves also have a durable safety cuff that helps to prevent superficial wrist injuries. We found these gloves to be perfect for yard work and construction. They give the Carhartt name a good reputation.
| | |
| --- | --- |
| Pros | Cons |
| Genuine leather | Contains some synthetic materials |
| Polyester lining | – |
| Pull-on closure | – |
| Can be hand washed | – |
| Cotton duck | – |
| Synthetic leather palm | – |
| Suede cowhide palm patches | – |
| System 5 leather knuckle protection | – |
---
Leather Cowhide Work Gloves – Best Palm Patches
We love the look and feel of these genuine full-grain cowhide gloves. The hide is incredibly soft and flexible. Nevertheless, the gloves can resist deep punctures and abrasions. We'd recommend these gloves for everything from DIY projects to industrial jobs.
The gloves' Gunn cuts and keystone thumbs enable workers to preserve their natural flexibility. Of course, the icing on the cake is the premium cowhide palm patch. This patch is located right where you need it. It ensures that the softest, most vulnerable part of your hand is protected at all times.
| | |
| --- | --- |
| Pros | Cons |
| Made from genuine cowhide | – |
| Abrasion and puncture resistant | – |
| Reinforced palm | – |
| Gunn cut and keystone thumb | – |
| Many uses | – |
| Unconditional warranty | – |
| Accurate sizes | – |
---
OLSON DEEPAK Sheepskin Leather Gloves – Best Sheepskin Gloves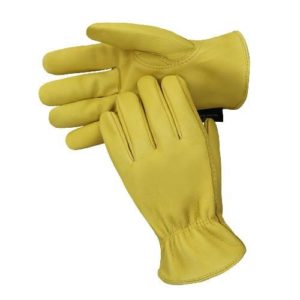 Why dabble in run-of-the-mill cowhides when you could have your very own pair of sheepskin leather gloves? These sheepskin work gloves are thin, flexible, and soft. While it takes a bit of time to break the gloves in properly, they virtually meld themselves to your hands after a few wears.
We'd recommend using these for outdoor tasks, construction projects, and the likes. They are guaranteed to fend off blisters and sores. So, toss a pair in your work bag and call it day!
| | |
| --- | --- |
| Pros | Cons |
| Genuine sheepskin | Thin |
| 0.7 to 0.8 millimeters thick | – |
| Super soft and flexible | – |
| Absorbs sweat | – |
| Snug fit | – |
| Available in several sizes | – |
| Elastic wrist | – |
| 90-day return policy | – |
---
CLC Custom Leathercraft 2055L Split Cowhide Work Gloves – Least Expensive Work Gloves
These may not be the most durable leather gloves on our list, but they are the least expensive. If you're doing light gardening or housework, you cannot go wrong with an $8 pair of these split cowhide work gloves. They're soft, reasonably flexible, and roomy.
A keystone thumb ensures that you have plenty of flexibility and gripping power. What's more, the gloves' elastic wrist prevents dirt and debris from gathering inside it. You can even hand wash them when they get too filthy. In our humble opinion, every homeowner should have a pair or two of these on hand.
| | |
| --- | --- |
| Pros | Cons |
| Split cowhide leather | Wear out easily |
| Shirred wrist | Imported |
| Leather binding | – |
| Keystone thumb | – |
---
Buyer's Guide
Never take shortcuts when selecting work gloves. These safety accessories protect some of your most valuable assets. Leather is the ultimate workplace material. It's aesthetically pleasing, practical, and strong. Just think, men survived for millions of years with nothing but leather to protect them from the great outdoors. It doesn't matter if you're building a stone wall, doing yard work, or performing farm chores. Leather work gloves offer unrivaled protection.
Leather
Don't settle on the first pair of leather gloves you come across. Consider your material options. Premium leather gloves are made from full-grain leathers and animal hides. The leather may come from a cow, sheep, or bison.
You may be able to determine the quality of leather by its country of origin Places such as Europe and the United States have stricter leather processing requirements.
What's more, some leathers, such as full-grain, are more durable and water-resistant. When choosing a work glove, always opt for the strongest leather option that falls within your spending limits.
Pay attention to how your glove leather was processed. Most leathers go through an intense tanning process that involves chemicals. Some of these chemicals are toxic. As such, choose a leather that is sourced and tanned safely and sustainably.
Bison leather, calfskin, and sheepskin are just a few popular alternatives to traditional cowhide. Many people seek out unique leathers because of their aesthetics, texture, or durability.
Seams
Some of the most overlooked elements of leather gloves are their seams. Nevertheless, the most durable glove is of little use if it falls apart at the joints. If you need a glove that can withstand harsh movements, abrasions, and punctures, opt for leather with double seams. If you're working around fires or intense heat, a fire-resistant material may be necessary. If your work puts you in moist conditions, tight, waterproof seams are a must.
Cut
Another important leather glove consideration is cut. Most workers prefer the feel of traditional Gunn cut gloves. Gunn cut gloves feature wide, overarching palms and seamless backs. The middle fingers are made from two separate pieces of leather. This design provides workers with ample flexibility. This freedom is particularly important when it comes to full-grain leathers.
It's also important to pay attention to the design of the thumbs. Whenever possible, opt for a work glove with a keystone thumb. Keystone thumbs are sewn on to the mainframe of gloves. As such, they offer workers maximum flexibility when they need it most.
Padding
Some workplaces require extra protections. If you work in an industry that is especially taxing, be on the lookout for palm and knuckle reinforcements. Some manufacturers use additional layers of leather. Meanwhile, others add pieces of synthetic padding. Padding reinforces the most susceptible parts of the hands.
Liner
Some leather work gloves boast linings. These may be used to insulate or comfort the hands. If you intend to use your leather work gloves in cold weather, a plush yet flexible lining will serve you well. Lining may also be used to provide an additional protective layer in case of cuts or punctures. While leather is incredibly durable, it is not completely impervious.
Waterproof and heat-resistant liners may also be added to the exterior of leather gloves.
Additional Elements to Look For
While comfort and aesthetics are pivotal, protection is the number one consideration when it comes to leather work gloves. We recommend looking for gloves with protective cuffs that extend beyond the base of the hands. We're talking about gloves that provide full-on wrist and forearm protection. You won't regret it. If you're working in extreme conditions, a safety cuff may also be essential to your well being. A safety cuff enables wearers to remove their gloves without the use of an additional extremity.
While you're at it, be on the lookout for gloves with an adequate closure system. In most cases, a built-in elastic band and bunched leather will prevent dirt and debris from entering our glove. However, and adjustable, lockable strap may be necessary for more extreme conditions.
Leather Work Gloves FAQ
What are the most durable leather work gloves?
Choose leather work gloves made of goatskin or cowhide leather if you seek durability. Besides the material, pay attention to the brand of work gloves. Some brands specialize in making the toughest leather work gloves: 
H&M;

Carhartt;

Sir Jack;

Autodromo;

Cole Haan 

Club Monaco;

APC 

Paul Smith;

Brooks Brothers;

Thom Browne;

MCR;
What are leather work gloves used for?
Leather gloves can survive some of the most demanding duties. Leather helps shield the hands of employees from exposure to cold, fire, abrasion and effects. Dexterity and breathability are often provided. These properties make leather the best option for work gloves.
Such items are used for personal protection. The gloves are worn during work projects that cover the hands from the wrist to the fingertips and shield them. Work gloves are designed to eliminate excessive wounds such as bruises, blisters, splinters, skin punctures or heat and chemical burns from the user's hands and fingertips.
Here are a few common uses for the work gloves made of natural leather:
Construction sites.

Thanks to their tolerance to abrasion, leather gloves are used in some of the most robust construction conditions;

For utility purposes.

Natural leather is the top option for electricians and linemen who need to shield themselves from arc flash since it is inherently flame-resistant;

During welding jobs.

Leather can also endure extreme temperatures: when raw, up to 430F and when tanned with chrome, up to 600F. This makes it ideal for welding gloves as well as other work requiring heat exposure;
What is the best way to clean leather work gloves?
1) What you should never do when cleaning leather work gloves
Do not use any harsh soaps. This extracts the existing oils in the leather that are present. No oil ensures that the gloves can stiffen and grow fragile, potentially reducing the lifespan, usage and convenience of leather gloves.
2) This is what you should use when cleaning leather work gloves: 
A mild soap that has many natural fats, like Marseille soap, can help;

The safest option for washing leather work gloves is to dry clean since it keeps the oils and helps you to get the most out of your gloves.

The material is as natural leather is incredibly dense, especially during the first months of use. So it is important to break the leather into layers;
The universal methods for cleaning leather work gloves: 
By using pure soap pellets (think of Lux), make a lukewarm solution;

Wipe the leather gloves carefully, using a paper towel instead of a sponge that would crumble;

Never wipe them or submerge them completely in water in a washing machine;

Let the gloves dry naturally & place a few times on your hands. While they are getting dry to allow the gloves to expand and restore to the proper fit;
What is the toughest leather for work gloves?
Thanks to the material's longevity, lifetime and abrasion tolerance, leather gloves are a preference of employees in different spheres. If you seek the toughest leather materials, pay attention to such work gloves: 
Goatskin gloves.

For the manufacture of gloves, goatskin leather is the hardest leather. This is because goatskin has an organic lanolin moisturizer that keeps the leather from drying and cracking, rendering the leather durable, waterproof and resistant to wear;

Cowhide gloves.

It is one of the hides used for professional gloves most commonly. Due to its convenience, affordability, abrasion-resistant materials, and longevity. When broken in, many find cowhide driver gloves to have the best strength, warmth, and safety. The cowhide leather has a longer break-in time and is more heat-resistant than pigskin or goatskin;

Pigskin gloves

. Pigskin leather gets smoother with usage owing to its brittle existence, and remains hotter. Pigskin gloves can be a perfect hand security option where movement, stability, and comfort are objectives for use. It provides longevity, breathability and water resistance, making it suitable for many industrial applications. Pigskin is flexible;
You can't find anything greater than Kevlar when it comes to heavy-duty materials. No wonder, law enforcement and the military began applying Kevlar vests. The leather preserves its pliability when work gloves are coated with Kevlar. Such items can become softer with prolonged use.
How long should leather work gloves last?
High-quality leather work gloves should serve a lifetime. To prolong their lifespan, you should follow a few simple rules: 
After every use you should clean your leather gloves;

Let your leather gloves dry naturally, away from dry places. To dry your gloves, do not use a hairdryer or a radiator;

Even, under intense sunlight, do not dry damp leather gloves as this can cause them to spread and lose their shape;
Which natural leather material is the strongest?
The toughest and most robust of natural leather is goatskin. The natural lanolin in the skin renders the glove very supple, immune to abrasion and waterproof. For activities requiring fine dexterity, the content is outstanding.
Horsehide is tough and hard to wear, and easy to wear. One of the most expensive natural leather materials. It is non-porous, highly dense/thick, strong and sturdy, and very soft. Horsehide can be reasonably stiff at first, but over time, it will crack in and soften your body and your action.
Which natural leather is the softest?
Deerskin is soft, tougher, longer to carry and more durable than cowhide. It is the warmest of all leathers, too. Deerskin is incredibly thick, super supple and offers unprecedented fit for the finest dexterity. Deerskin leather is immune to the cold naturally. It is lightweight, stretchy, water-friendly, and has a sponge-like texture. These gloves could be the greatest for warmth, but lacking longevity, abrasion and puncture resistance. Deerskin is more costly and is used to make gloves,
Sheepskin is incredibly comfortable and smooth. The leather is softer and fragile and perfect for ultra-fine dexterity. It is extremely flexible, which operates in colder and warmer climates. Sheepskin is still mostly waterproof. It doesn't even have an oily feel about it. The material works great for draping. 
How can you clean leather work gloves naturally?
A few methods are available: 
1) The vinegar method (both for inside and outside)
This technique is better if you have been ill lately or wish to sanitize the interior of the gloves more thoroughly. This procedure often functions well for deodorizing the gloves, which can be used both inside and outside the gloves. Around 99% of bacteria and 80% of viruses can be destroyed by vinegar. Here is what you should do: 
In a spray bottle, mix an equal quantity of vinegar and water;

Turn them inside out in order to disinfect the lining;

Spray the gloves deeply, but the substance does not absorb;

For 15-20 minutes, let the spray settle on the gloves, then pat them off;

Leave the fabric lining to air dry. Then brush the lining to extract any residual residue from the cleaner as well as any dirt or dust with a garment brush. Instead of a clothes brush, a dry towel may be used as needed;
2) The baking soda method (only for the inside)
This technique is better for extracting soil and oil residue from the interior of the gloves that your hands have deposited. In the glove, this powder can trap the dirt and oils such that they can be extracted, as well as destroy bacteria and, if appropriate, deodorize the cloth. Here is how you should clean leather work gloves with baking soda: 
Simply spray each glove with some baking soda, meaning that some fall into each finger slot. You don't need to cover the glove with baking soda full, nor should you do it because all of it would be hard to remove; only a tablespoon or two should be enough;

Keep the top of the glove shut, then rotate the glove around the inside to spread the baking soda. You want to cover the whole interior of the glove with soft powder dust;

Leave the powder for a couple of hours in the gloves and then shake it off;

Turn the gloves inside out. Use a cleaner with the upholstery adapter to clear the residual particles;
Do leather work gloves shrink after getting wet?
Can natural leather shrink after getting wet? Leather, when immersed in water or similar liquid, begins to shrink. Heat could make leather shrinking. Leather may also shrink if left behind over time and not used. You have to soak it in water to purposely shrink the leather and then dry it by adding heat, either by keeping it in the sun or by applying your hairdryer.
You will shrink the leather by wetting it and heat-drying it. Leather gloves for work extend a lot. Sounds like you only wanted to allow time to break into the smaller scale.
Video Tutorial: Making a Leather Work Gloves
Final Thoughts
It's been a pleasure reviewing the top leather work gloves. These premium leather hand covers serve to protect and reinforce your fingers during hardcore work sessions. If you're having trouble choosing just one, give the American-made buffalo leather work gloves a try. These soft, supple sheaths will leave your fingers feeling well-protected yet free to move.
Of course, the American-made cowhide work gloves are yet another dependable option for individuals on a tight budget. In truth, you really cannot go wrong by choosing one of the options above! Enjoy the rich aesthetics and valuable protection provided by any of these animal hide accessories!
---