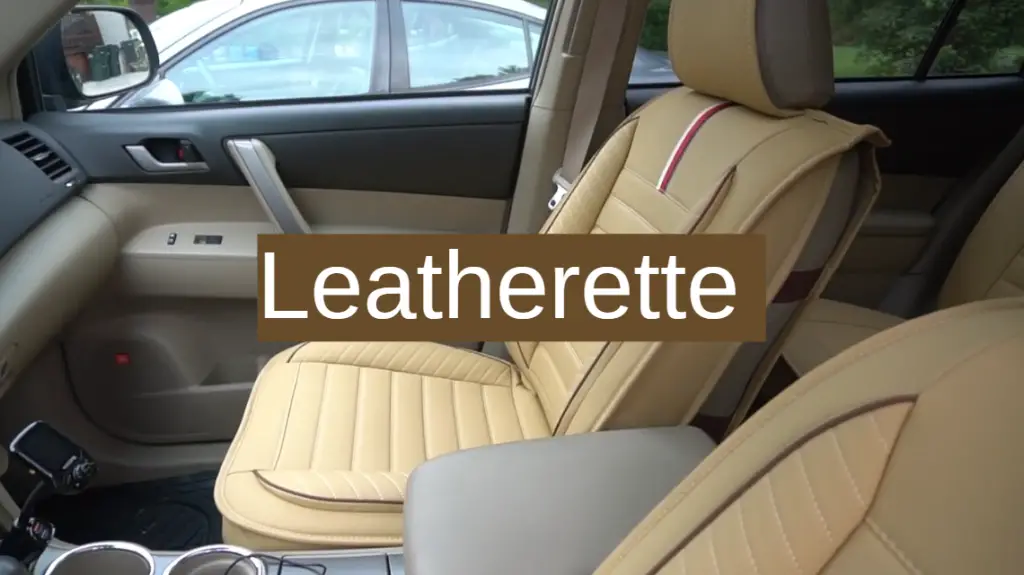 Definition
First developed in the early 1900s, synthetic leather has undergone many cycles of success and mockery. One of the many terms for fake leather is the word "leatherette" (others include fake leather, pleather, PU leather), but in the automobile and furniture sectors, "leatherette" is more commonly used. Leatherette upholstery is an alternative to all cotton and genuine leather.
Formerly very common in the car industry when it was simply called vinyl, owing to its ability to get very hot in summer, very cold in the winter, and trigger sweating, it fell out of popularity. Stronger leatherette is again becoming a common option. It is still advertised by certain car manufacturers, such as Volkswagen, as a premium feature.
Compared to genuine leather, leatherette, a type of artificial leather, is much cheaper and, unlike leather, does not fade over a prolonged time when exposed to sunlight. True leather is smoother and more robust, but still considerably more costly than leatherette. Some people believe leatherette to be a more humane option since animals are not included in it.
It has a synthetic base, typically made of vinyl or a form of plastic that is supposed to imitate leather's look and sound. Genuine leather is the real thing, of course: it comes from a breathing animal. One thing to be cautious about is that Alcantara, which is becoming increasingly common as a luxury automobile upholstery, is not leather at all. It's a form of ultra-suede made of polyester, which implies that it is synthetic like leatherette.
The synthetic leather manufacturing method starts with a foundation of fabric fiber that may be a synthetic polyester or a natural material such as cotton or the remaining split hide from the manufacture of natural leather. A polyurethane coating that has been textured to resemble natural leather is added to this foundation. That is who the leatherette materials appear. You should learn to distinguish them from genuine leather. 
How to distinguish genuine leather from leatherette?
It may be hard to tell whether the seats of a car are made of genuine leather or leatherette. After all, look carefully at the pores of the product to find out which is which. Genuine leather will have pores distributed inconsistently, whereas leatherette will have repeated pores spaced precisely. The leather will also offer a more buttery look than the leatherette's faint plastic feel.
One main advantage of leatherette is that it is more budget-friendly than leather yet also supplying the interior of your car with an upscale vibe. As it isn't brittle, it's much more durable and simple to scrub. This makes cleaning off liquid, gravel, and other debris smoother without staining the upholstery of the bench. On the drawback, it loses airflow because the leatherette is plastic and appears to get warm/hot when the weather is humid.
Natural leather looks nicer than synthetic leather, so if you do not mind splurging a little on the interior of your car, it's the best option. It's more breathable than a leatherette and, in colder weather, it can make you more relaxed. However, it is more difficult to maintain genuine leather, especially if you have kids or pets.
Bonded leather vs. leatherette
Leatherette is made of resin-based plastic components. Unlike bonded leather, this material stays non-scratched despite the heat conditions. Also, the leatherette does not breathe easily. Bonded leather is stickier when it is hot and may crack easily if too dry. 
Uses
Car upholstery can come in many different kinds, varying from simple cloth and fabric in luxury automobiles to different styles of leather.
In new vehicles, Leatherette has become much improved, so much so that the distinction between it and authentic leather can be hard to say. Since leatherette is made of vinyl (plastic-based), it is not porous, and it will quickly clean off food or liquid that is spilled on it. This usually makes leatherette simpler to keep clean than leather, and to keep it looking fresh, it won't take too many specialized cleaning materials. Leatherette could be a safer choice for those aiming for a luxurious look, along with easy cleaning and upkeep, for those with children who are more likely to spill on the benches.
In its use in the furniture manufacture (e.g. sofas, tables, headboards), fake/faux/PU leather is the word widely used material. Although this fabric has a few names: leatherette is used for making accessories and auto upholstery, and koskin is applied in household products.
Benefits and downsides
Some vehicle owners prefer non-leather leather seats because they provide several advantages over the real material. In modern vehicles, leatherette used as faux-leather can be very convincing and hard to say apart from actual leather. Because it is considerably cheaper than leather, buyers are attracted to it.
Since the leatherette isn't porous, it is waterproof, ensuring that drops and debris wash away clean without difficulties. It is a benefit for those who own cars with kids. The low maintenance fabric requires no special cleansing or maintenance products.
Rather than discoloring like leather, leatherette does not degrade with age. And because it is dyed, it is offered with a large range of color options. 
Key benefits of leatherette include:
A good food and liquid-repellent;

Prone to scratches;

Many colors are available;

Budget-friendly;

Easy to wash;

Very sturdy;

Biodegradable and environmental-friendly;
As for the disadvantages of leatherette, leatherette has been used as a cheap natural leather knockoff (although this seems to be adjusting), and it does not hold the same reputation. It often does not breathe and, immediately on the skin, appears to feel painful. The top PU layer also breaks and separates along with tension points as plastic leather ages, exposing the fabric beneath, as most vehicle owners have seen in outdated car seats.
The usage of animal products for non-essential consumer items is the most popular claim against natural leather. The use of natural leather in goods is routinely protested by vegan and animal welfare organizations. Although the leather manufacturing method requires the use of numerous chemicals, it is mainly a natural and renewable material.
Leatherette does not include animal products, even where leftover broken leather is used as the base and is thus used as an ethical substitute by vegans and animal welfare enthusiasts to leather. But environmentally speaking, leatherette is a plastic-based, non-renewable commodity, and PVC is a non-biodegradable and environmentally damaging material in particular.
Leatherette upholstery does have its share of pitfalls, including its enticing price tag. This material does not breathe as easily as leather, so during those humid summer months, it will cling to your skin. Bear in mind that leatherette tends to feel hotter when the temperature goes up.
It's often not as robust as leather, sometimes ten years or fewer in length. The leatherette upholstery top layer appears to break when it ages, resulting in a more aged look and exposing the underlying fabric layer.
It is important to remember, for those contemplating environmental issues, that cheap leatherette is manufactured with non-renewable products and is not fully biodegradable.
Care and maintenance
Proper treatment and maintenance are necessary to preserve natural leather goods for over 15 years. It is tear- and puncture-immune. Leatherette is less robust. Kept in excellent quality, it can last less than 10 years.
If natural leather seats are picked, caution must be taken to maintain the elegance of the seats. Spilling liquids is more complicated on leather than other surfaces. In addition, leather seats may crack or unravel over time. On the contrary, leatherette upholstery and seats are easier to maintain without cracks and discoloration: 
Clean the surface with a damp cloth if the leatherette seat is dirty. Use a diluted solution of soap if appropriate;

To dry the leatherette seat, use a dry fabric made of microfiber;

Before adding the conditioner, make sure that the leatherette seat is clean and dry. To add the conditioner use lint-free microfiber fabric;

Give it some time to let the conditioner consume and dry for 2 hours or more;

Aim not to slide over them while moving in and out of the car to prevent unnecessary wear and tear on any seats with higher and thicker side bolsters;
Final thoughts
The choice between leatherette and genuine leather is connected to personal lifestyle. Prioritize your goals depending on the city where you live, the environment you should anticipate and your budget. Think if you are going to transport kids or dogs in your car, the length of time you intend on keeping the vehicle, the environmental and ethical aspects of two materials and the amount of time you are able to invest into caring about your vehicle's interior.
---