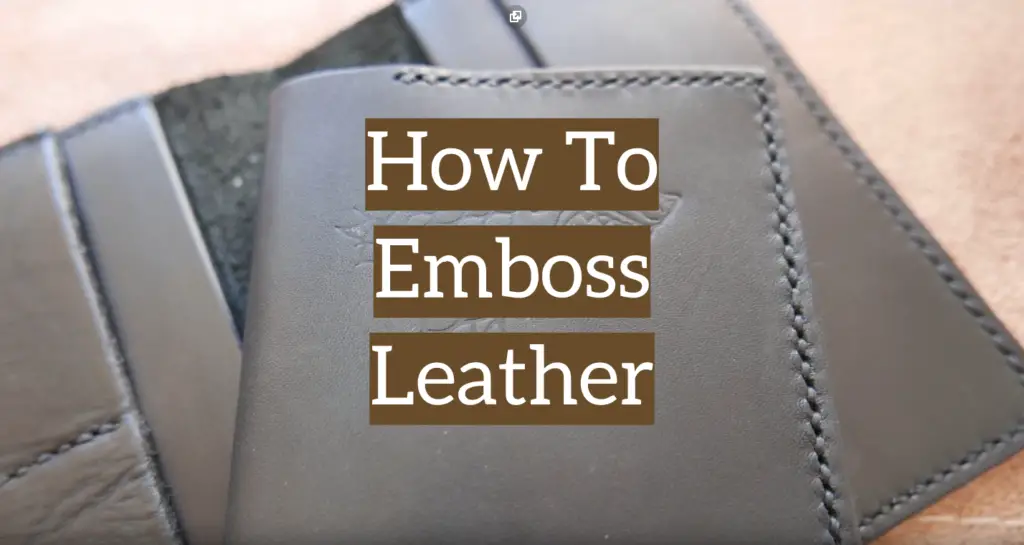 Before the raw skin turns into any leather product, it's processed in a special way: it is tanned, polished, and painted. But keep in mind that certain leather products also have an additional hardened layer – like shoes. The following guide discloses the best methods for embossing leather but they work only on raw skin that is soft and not covered with polish.
Embossing leather at home is only possible if you have an unpolished material. Sometimes bags and shoes are sewn from this kind of leather. However, such products are not sold in fashion stores, they can only be seen among hand-crafted items.
How to buy leather for engraving?
Before you begin embossing leather, start with simple imprints and inexpensive raw skin. When you feel that you can finish more complicated projects, get a top-notch expensive leather. For embossing, cow tanned leather is an excellent choice, other types are good not for all imprints. Never buy the textured leather for engraving.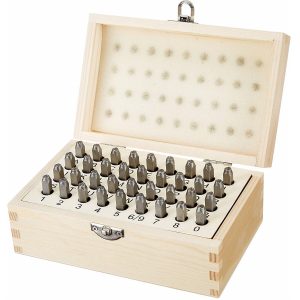 A great professional kit for making permanent imprints with English letters and numbers — 37 pieces (8 mm) in general, along with the symbol "&".
Also, pay attention to the leather thickness. Keep in mind that not all countries measure the raw skin's thickness in grams – in some countries, it is measured in ounces. The thickness of 2-3 ounces (57–85 g) is too thin for embossing. Instead, pick the thicker leather – 3-4 ounces (85–115 g).
The process of embossing leather
Embossing leather is a way of applying an image, logo, text, and patterns of any shape via a special method on the product made of raw, unpolished animal skin. The proper engraving may highlight the texture, volume, and contrast of any leather product.
Raw leather products retain their appearance for a long time, so only a special method of engraving is required. Embossing leather is exactly what makes an item look expensive, stylish, and of high quality.
An ordinary, heavy hammer, iron and stamps will be enough to initiate leather engraving. As for the technique of creating drawings and colorful patterns, they all come down to the principle of pressure and heating methods. You can buy special stamps with the desired patterns. Embossing leather is quite easy craft that even a beginner can master even without additional skills.
The pressing method is very popular among newcomers. On a smooth surface, you may use any imprint with the desired pattern applied. This is a printing option which is possible due to heat or pressure.
Another, quite a popular method of leather engraving with the help of foil. However, this method is quite difficult to implement without special equipment. Foil is located between a stamp and a leather product.
The next method of embossing leather – you will need a special press and heating device. Most of these methods require a set of special tools.
The tools used for leather engraving
Besides a good and qualitative leather, you will need the toolkit with special imprints and instruments. Usually, every craftsman who imprints leather uses such tools:
metal molds;
wooden mallet;
stamps (prints and punches);
clamping brackets;
sponge;
But just in case, get a set of soft and hard brushes. If you wish, you can make an embossing tool on your own. The required minimum – you definitely need a device to engrave, a self-made or bought item.
Sometimes before engraving leather, you need to cut it. You probably know that it is quite difficult to make an even cut. To cut the leather, you will need the following tools:
boot knife;
metal ruler;
sharp scissors;
The best tool for cutting leather is a shoe knife. Scissors are also suitable if they are well sharpened and quite heavy.
If you combine embossing leather with other processing methods, you will need the material with which you can transfer the pattern from paper to leather. A regular carbon copy can be suitable. When working with leather, special tools are used to imprint any image. You can create a relief pattern by stamping or extruding it using a metal mold on unpolished leather.
Embossing leather: the method of pressing without any tools
Prepare the unpolished leather or products for engraving;
Find a sturdy metal mold or stamp. If you use a metal stamp, make sure it has sharp edges. Thanks to this, your pattern will be better visible;
Smooth the unpolished raw skin on the desk. The front part should be on top. It should be near the edge of the table, on which you can attach a strong clamp;
Dampen a clean sponge. It should not be too wet, so wring it out several times;
Clean the leather with a sponge, moisturizing equally on the surface. Slide a piece of leather to fit under the bracket;
Place the metal stamp on spot where you need the embossed pattern;
Place the upper paw of the clamping bracket in the center of the metal object. Tighten the bracket as far as possible;
Remove the bracket after 20 minutes. Coat the raw skin with varnish if you want to improve the pattern's quality and appearance;
The leather engraving method with stamping tools
First of all, buy a leather stamping kit. Also, purchase 3D imprints with a cylinder that can be inserted into any of the flat stamps. Make sure the metal cylinders fit your stamps. Cylinders are those parts by which you press the stamp on the leather products. Then do the following steps:
Lay a piece of raw leather on a flat working surface. The front side should be on top. Decide where you want to make the pattern.
Wipe the leather surface with a slightly damp sponge. If the water changes the color of the item, wait until it dries a bit;
Place the metal stamp on the spot where you want to place the pattern;
Insert the metal cylinder into the stamp's middle. Hold it firmly with one hand;
Hit the stamp several times with a wooden hammer. Be careful not to move the stamp. You can then lift the stamp, see if the leather embossing is deep enough and, if necessary, repeat the process. It takes a little practice to understand how long you need to hammer;
Repeat these steps with other stamps if you want to make a more complex pattern. When the leather engraving is done, coat the product with varnish.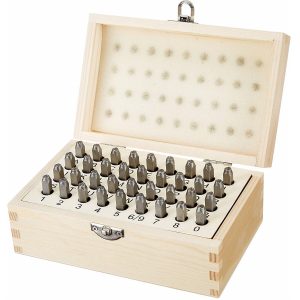 A great professional kit for making permanent imprints with English letters and numbers — 37 pieces (8 mm) in general, along with the symbol "&".
Final thoughts
Embossing leather is a great way to make any product more creative and interesting. The above-mentioned methods of leather engraving are good for beginners who want to try imprinting for the first time. More experienced artists use big stamps and prints, even conveying machines to manufacture many imprinted raw skin clothes and accessories.
References:
https://en.wikipedia.org/wiki/Leather_crafting#Stamping
https://www.wikihow.com/Emboss-Leather
https://www.reddit.com/r/Leatherworking/comments/1txh04/embossing/
---