Dimensions: 0.75 x 4.1 x 9.4 in
7 inch stainless
Imported
LIivingo Premium Scissors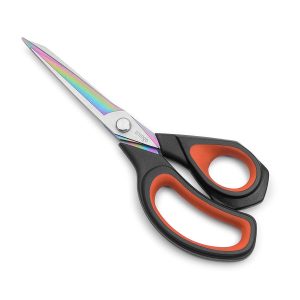 Dimensions: 9.5 x 3.5 x 0.7 in
Color: 9.5" Red/Black
TITANIUM coating blades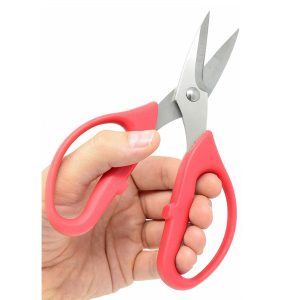 Dimensions: 6.9 x 3.5 x 0.5 in
Color: Red Handles
Weight: 3.68 ounces
Dimensions: 9 x 3.1 x 0.3 in
Color: Black
Material: Carbon Steel
Dimensions: 0.5 x 3.5 x 8.2 in
Double-plated blade
Weight: 4.8 ounces
Most experienced crafters will agree that cutting/trimming is an essential skill in any leatherworking project. Any project will look better with clean cut-edges, particularly if a hobbyist plans to leave them rough, without any overcasting.
How can an artisan cut through cowhide:
Craft knives — multi-use and affordable tools but not every beginner or even professional hobbyist will be able to use them correctly at first;
Cutting wheels — if to compare with the previous category of tools, these instruments work fast, just like pizza cutters, but for crafting fabrics;
Shears or scissors — the simplest tool to use for cutting cowhide;
Special snips for leathern projects are under any budget, simple to apply, durable, effective. Their design won't make a hobbyist cut rawhide even in the air. And it's the worst way of cutting, but sometimes is obligatory is the work is related to small details.
5. Gingher 8-Inch Knife Edge Blunt Utility Shears — the sharpest cutters for any fabric!
Being incredibly sharp scissors for leather, this tool can also offer blunt points on the end of each blade for preventing any snags on fabrics like cowhide. Sharp edges and ergonomic design make these solid cutters the best choice for trimming really dense rawhide!
| | |
| --- | --- |
| Pros | Cons |
| Will easily cut the thickest rawhide, even ¼ belts; | The most expensive cutters in the review — over $30; |
| Suitable for re-sharpening; | Not very convenient handle for a long work; |
| Blunt points on the edges; | No directions for sharpening; |
| Each blade has a chrome-over-nickel finish; | – |
| Can cut through EZeform; | – |
| Nice clean cuts; | – |
| Can be used right out of the box; | – |
| Good for left-handed and right-handed people; | – |
A great instrument for cutting through very dense fabrics. However, they cost more than any average crafting snips.
---
4. Professional 9-Inch Industrial High Carbon Shears — the most professional snips made of high carbon!
If hobbyists seek a really professional cutting tool for sewing, leatherwork and other crafting projects, then these shears will do the best. Made of steel and high carbon these professional snips may serve for many years. Capable of cutting the thickest fabric or even multiple layers of clothes, including carpeting.
| | |
| --- | --- |
| Pros | Cons |
| Very solid construction made of high carbon; | Only for right-handed people; |
| Years of extended use are guaranteed; | Need to clean them with a dry cloth before using — delivered in a box with a small amount of oil on the blades; |
| May cut through rawhide, vinyl, denim, and even plastics; | – |
| Rubberized ergonomic bent handles that are made of metal; | – |
| Clean and fast cuts; | – |
| Can be re-sharpened manually or by machine; | – |
The sharp 9-inch razors and convenient grips deliver very convenient shears. It is a good professional cutting instrument for any homemade projects.
---
3. Leather Scissors with Sharp Durable Blades — the best craft shears under $8!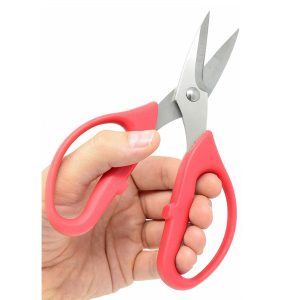 Hobbyists mostly look for heavy-duty tools under the budget. These shears will cost only $8. Despite the modest price tag, this tool is great for regular use because they are were designed with the use of stainless steel. Another distinctive feature is that these snips have very small but sharp blades!
| | |
| --- | --- |
| Pros | Cons |
| Made of strong stainless steel; | For some craftsmen the blades may seem too short; |
| Very sharp; | – |
| Tough and compact; | – |
| One-piece construction with handgrips; | – |
| Effortless clean cuts; | – |
| Convenient handles with large loops for fingers; | – |
| Very affordable — under $8; | – |
These heavy-duty cutters will never give cramps due to the soft-grip of hilts.
---
2. LIVINGO Premium 9-Inch Scissors — the most enduring shears with titanium-coated blades!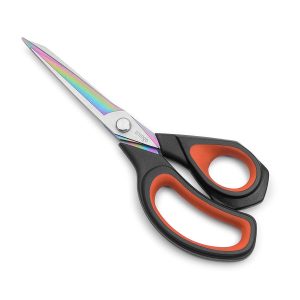 Costing less than $13 these cutters will impress any hobbyist with durable titanium 9-inch blades. One of the greatest features is that this particular tool is made of rust-resistant edges due to the multi-color titanium coating of stainless steel.
| | |
| --- | --- |
| Pros | Cons |
| Very durable blades made of forged stainless steel and titanium coating; | Only for right-handed people; |
| Ergonomic design; | Not good for all materials, like thick vinyl; |
| A lifetime warranty provided by the manufacturer;/td> | Parts of the handle are made of plastic, not the entire construction is made of full-length metal; |
| Can cut through 16 layers of fabric; | Hobbyists will need to sharpen them once per month; |
This all-purpose instrument will cut different fabrics without any efforts due to the multi-color titanium edges. Though, they are getting dull pretty easily
---
1. Tandy Leather 7-Inch Scissors — the smallest professional scissors to cut leather!
Probably the smallest in the set professional cutters that are capable of trimming any cowhide piece. These 7-inch shears are made of stainless steel and cut through a very dense belt. Another great advantage — these leather cutting scissors will cost you less than $10! The top-notch quality shears with small blades for the low price.
| | |
| --- | --- |
| Pros | Cons |
| Very sharp; | For some projects, leather scissors can seem too short; |
| A sturdy feel when cutting; | Sometimes cuts are not clean and straight; |
| Very portable — can easily fit any backpack or lady's purse;/td> | Thin plastic handles can easily break due to the heavy pressure; |
| Will cost less than $9; | Good only for trimming really dense rawhide; |
These well-made cutters are the best for their price and size, but their quality is not the priority here.
---
Scissors for leather: the buying guide
1. Scissors vs. shears: how to pick the right tool?
Basically, all leathercraft scissors counted in this review are shears by definition, because standard cutters have blades that are less than 6 inches. Shears' blades are usually over 7 inches. Another difference is that snips have equally shaped handles. While shears have a shorter grip for a thumb and a hilt with a larger hole for other fingers.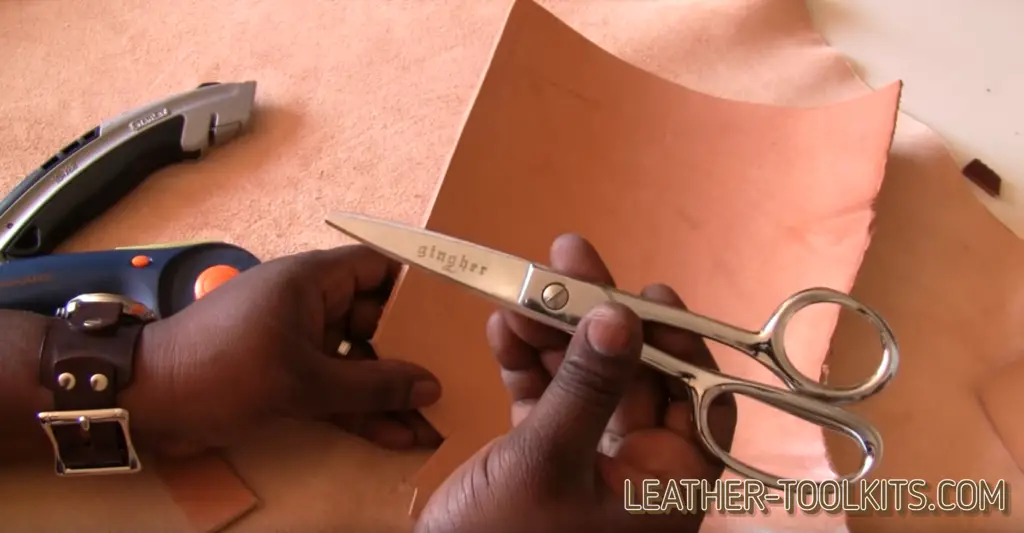 A small tip: to make really clean cut-edge lines with snips for rawhide you may need to cut with long but slow strokes. Consider avoiding short choppy moves, though may seem faster than slow strokes.
2. Price
It is always wise to invest in high-quality scissors for cutting leather that cost over $20. However, some cheap options will do for standard rawhide products. The most important criterion is to avoid any struggling when cutting through fabrics.
3. Left-handed or right-handed?
There are separate shears for left-handed/right-handed people. But sometimes the manufacturers create universal instruments where a handle is usually great for ergonomic use in any case. Surely, lefties can use the right-handed cutters but they will not be able to see what they are cutting with this kind of tool. Also, lefties may find it very inconvenient to use shears with a thumb-hilt.
Conclusion:
The leatherworking tools for cutting vary in price and size, however, one thing must remain the same — the crafting shears have to be sharp and easy to grip when trimming cowhide.