Every fashion-loving person would say that wearing a poorly fitting belt is no good, especially if you are conscious about your style and neatness of your clothes. As such, artisans working with leather need to know how to create perfectly shaped holes in leather accessories such as belts or boots. In this respect, every qualified artisan is aware that high-quality leather is often resistant to wear and tear, which makes it an ideal fabric for a wide range of uses. Nevertheless, it is always useful to learn how to create holes in leather in the right way to make them neat and tidy. We've gathered a few handy tips and tricks to try out if you have faced such a time-consuming task as making perfect holes in leather and intend to use a rotary hole puncher for this purpose. Take a look at how it should be done to achieve only the best results.
What Things You'll Need?
Let's face it, making perfectly shaped holes in leather fabric requires using a suitable hole punching device but not a drilling instrument because this may provoke unnecessary stretching of the material, which will ruin the entire effect. Rotary punching devices allow shaping ideal holes of a small diameter, while other types of instruments make holes a bit larger so that it is always advisable to use a revolving device.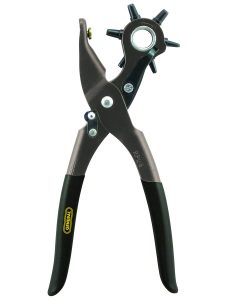 Generally, the tool is intended to hobby and DIY use, but commercial application is quite possible. The puncher is incredibly affordable, so, it's advisable to have an item like this at hand. When you need an additional eyelet in your sheepskin belt, you can easily make it by yourself, spending only several minutes and without any issues.
Usage of a rotary leather hole punch machine will guarantee that there are no fractions and that the holes are snug with only minimal stretching. So, what will you need before you start working with your leather? Make sure you have the following items before getting started:
Steel-made rule;
Pen or pencil;
Leather and rotary hole punch;
12-inch-square fragment of plywood;
Sewing awl;
Compass;
Drive punch suite.
All these tools can be found in specialty stores, craft shops and online. After you gather all the necessary instruments, you'll need to prepare the work surface and make sure it is stable to guarantee a smooth and accurate working process.
Careful Planning Is Absolutely Essential
Every artisan knows that before engaging in the actual work process, there is a need to make all the necessary preparations and ensure that you have planned all the steps of your future work with enough caution and attention to details. In most cases, you'll need to consider the following aspects:
Make sure you know what spacing you'll put the holes in your leather product at, which is a vital requirement for doing this job immaculately;
Feel free to violate the standards whenever necessary. Don't be afraid to make holes at greater or smaller intervals, because the major requirement is to make sure they are sleek and tidy;
Mark the spots for future holes in leather on the back of the fabric and make sure these spots are not visible because mistakes are still possible no matter how skillful you are;
Choose the size of your leather belt hole puncher, which depends on the particular model you are planning to use. As a rule, quality tools are available in six sizes to choose from;
If you are not sure what size will suit you best, pick the smallest one and move up making larger holes whenever necessary.
Steps of the Actual Punching Process
After you are done with gathering your tools, planning your future work, and making preliminary arrangements, it's time to start the actual procedure of making holes in your leather belt or any other leather-made product. Follow these steps to ensure that you make a snug and tidy holes in leather:
Position your leather on a steady workplace and adjust the zero end of your steel-made rule to one side of your leather product.
Take a pencil and create markings in the center of each of your future holes. If you need to make small holes, just put dots over the reverse side of the leather fabric with a pencil.
Take away the rule and remove the fabric from the workplace. Adjust the leather factory rotary hole punch to the size of holes you are about to cut. Make sure you place the punching device right over the dots you have made. Then press the handles of your punching device to cut holes in the fabric.
Place your leather product over the plywood fragment to make a bit larger holes. Then use a compass to shape circles over the leather fabric to ensure that the size of each hole is right.
Take a drive punch of your choice and adjust the cutting end of your punching device to the circles you've already made.
Use a mallet or any other heavy tool to strike the reverse side of the drive punch to create correctly sized holes in the leather. You might need to do it a few times, which wholly depends on the thickness of the material.
Now you know how to use a leather rotary punch to create perfect cuttings in leather goods. Neatly cut holes in leather craft goods are a key to mastering the leatherwork art, and the use of a rotary hole punch makes this process many times easier and a lot more convenient.
References:
https://www.reddit.com/r/Leathercraft/comments/2evboa/rotary_hole_puncher_vs_mallet_hole_punch_set/
https://en.wikipedia.org/wiki/Leather_crafting
https://leatherworker.net/forum/topic/83801-hole-punch-set-or-individual/
---