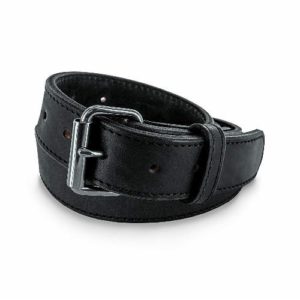 Versatile For Everyday Use
Super thick
17 oz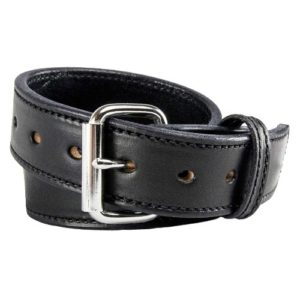 Strong and Secure platform
Lifetime Warranty
14 oz
Features a polymer insert
Custom metal buckle
Vegetable-tanned cowhide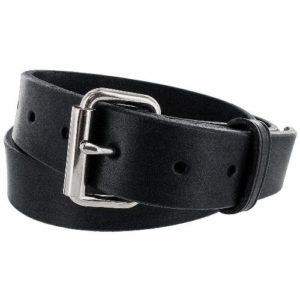 Solid leather belts
Full Grain Leather
Quality are unsurpassed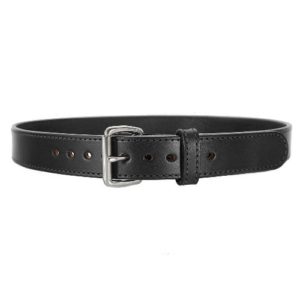 Easy Sizing
Full Grain leather
14-15 oz
Super Thick Gun Belt
Full Grain leather
17 oz
Premium Buffalo Hide
Full Grain leather
14 oz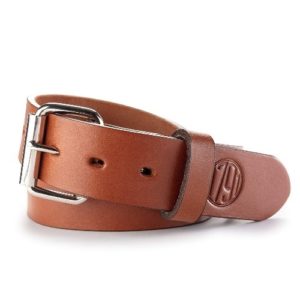 Full Grain Leather
Custom Fit
14 oz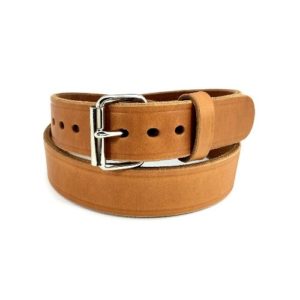 RoughCut
No Rollover
14 oz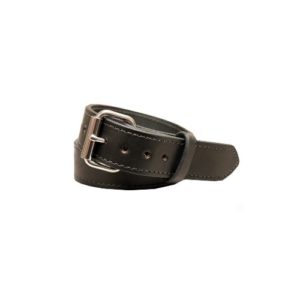 Full Grain leather
Stainless Steel Hardware
15-17 oz
---
Choose the Best Leather Gun Belt for CCW
Customer's Choice: the Best Rated Leather Gun Belts for CCW
388 users answered this survey. Please help us improve this review!

59.79% of users selected Hanks Extreme, 18.3% selected Relentless Tactical, 7.99% selected Aker Leather, 8.25% selected Hanks Gunner and 5.67% selected Daltech Force Bull. Every month we analyze your answers and change our rating.
---
Carrying a firearm is a lifestyle. It says you're ready to protect yourself and those around you. It says you exercise your second amendment right as an American citizen, and it says how you live your life while being prepared for anything.While many people look for the right holster for a handgun, another option is a good gun belt. You'll spend far less time and money looking for the best leather gun belts than many other concealed carry options. The best types of gun belts address the very real concerns of a concealed carrier, such as durability and safety, but it should also be comfort. It wouldn't hurt if the belt looked stylish as well.
This guide compares some of the top leather gun belts available on the market based on their materials, durability, hardware, and comfort.
Here is a quick comparison of the chosen leather gun belts we're reviewing today. To know more about buying high-quality leather gun belts, take a gander at the buyer's guide below our detailed reviews.
Hanks Extreme Leather Gun Belt for CCW: Highest Rated Leather CCW Belt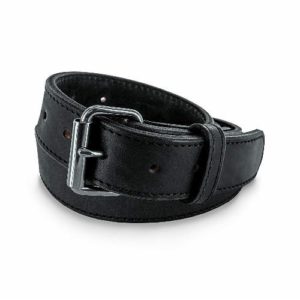 Hanks is a household name for CCW belts. With the Hanks Extreme Leather Gun Belt for CCW, you get an exceptional quality belt made from full grain steer hide leather. It's extremely tough and made to last. You can also wear it with any holster you like, including OWB, SOB, or IWB.
With a higher 17 oz weight, the belt is able to handle a number of handguns and accessories at once. You can carry your Glock 43 as well as holster, flashlight, taser, mag pouches, radio pouch, and many other attachments with no problem at all. It won't sag or droop one bit.
In addition, the belt comes with a 100-year warranty. This is a standard for all Hanks belts, and it definitely shows the quality of the materials and construction. With this super thick belt, you'll be able to effortlessly carry all of your tactical gear without worrying about the draw. It's just one of the best belts on the market.
| | |
| --- | --- |
| Pros | Cons |
| Thick, full grain steer hide leather belt | This belt doesn't have an insert, it's just naturally thick |
| Effortless and comfortable for everyday wear | – |
| Ability to carry heavier handguns and multiple tactical accessories | – |
| Uses screws | – |
Relentless Tactical CCW Gun Belt: Best Value CCW Leather Belt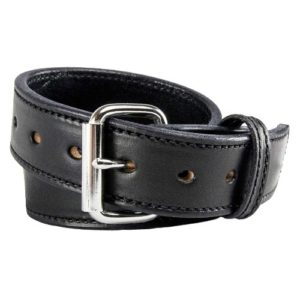 Relentless Tactical is another name brand in gun belts that has built a reputation for making high-quality leather belts and accessories. Their CCW gun belt is no exception. With a 14 oz weight and 1 ½" width, it's a thick, study belt made to securely hold your IWB or OWB holster, as well as any pouches and accessories that you may have.
This is a premium full grain leather belt made in the USA. It is quite strong and slightly heavy in hand, so it feels extremely solid when you take it out of the box. You can use it for concealed carry or open carry, and it comes in four different styles. You can choose between black stitched, brown stitched, or woven. This belt also uses Chicago screws for the buckle, which makes it incredibly sturdy. While it doesn't have a steel core, you can tell it will last you a lifetime, and it includes a lifetime warranty just in case.
| | |
| --- | --- |
| Pros | Cons |
| Heavy, thick durable gun belt | No steel core but still sturdy |
| 1 ½" thick full grain leather | Some customers complained the belt warped and lost its shape after 2 months |
| Made in USA | – |
| Chicago screws for belt buckle | – |
Aker Leather B21 Concealed Carry Gun Belt: Best Gun Belt for the Price
Aker makes sturdy, no-fuss gun belts, and their B21 CCW leather belt is no exception. This is a vegetable-tanned cowhide belt that also uses other materials, so it's unclear if this is a full leather belt. However, it looks and feels like a solid leather belt, and it's been tested by law enforcement agencies.
It features a polymer insert so you won't have to deal with any sagging or drooping due to loss of shape or stretching.
Due to the style, it could also double for a high-end dress belt, but it's definitely a thick 1 ½" gun belt that can hold your IWB or OWB holster. The most difficult issue with this belt is sizing. You'll need to size up about 2 to 4 inches from your natural waist size to get the right one that's comfortable for your waist. Some customers claim the belt runs small, while others had no issue with the sizing.
| | |
| --- | --- |
| Pros | Cons |
| Thick CCW belt | Runs small |
| Great value | – |
| Vegetable-tanned black or tan leather belt | – |
| Includes polymer core | – |
Hanks Stitch Gunner Belt CCW: Best in Style and Value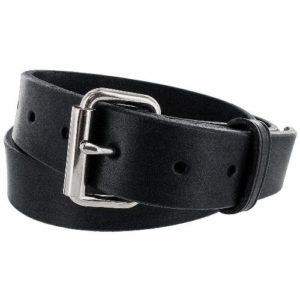 If you're looking for an IWB and stiff paddle holster belt, the Hanks Stitch Gunner Belt CCW is a popular option. It's also one of the best belts from the brand due to its price and leather grain. The utility and strength of this belt for the value cannot be compared to many others in the same market.
The style is pretty straightforward like most of Hanks belts. At 13 oz and 1 ½" wide, it's incredible thick. The belt is vegetable-tanned and comes in three different colors, ranging from black to dark brown to a dark saddle tan. The manufacturer promises no sag, rollover, or stretching, and it comes with a 100-year warranty.
| | |
| --- | --- |
| Pros | Cons |
| Comfortable and sturdy to wear | Bit stiff at first |
| Simple and straightforward style | No steel or polymer core |
| Heavy-duty, supports all holsters and accessories | – |
Daltech Force Bull Hide Leather: Extra Thick and DurableTactical Belt
The Daltech Force CCW is a thick, bull hide leather belt that weighs 14 to 15 oz depending on the style you purchase.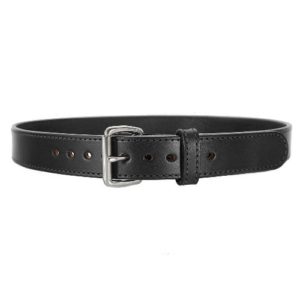 While it's 100% full grain leather, there are some promises in the description that customers say don't hold up to the long-term wear of the belt. However, you still get a simple, well-made stylish black or brown belt with the Daltech.
You won't be able to wear this belt with some dress pants, however. It's simply not made to go with narrow loops. Due to its thickness, it's going to work with certain tactical pants, jeans, and wider loops. The belt comes with removable Chicago screws so that you can customize your buckle. It's definitely a good option for a tactical belt.
| | |
| --- | --- |
| Pros | Cons |
| Indestructible heavy bull hide belt | Quite thick, doesn't fit some types of pant loops |
| Extra thick | Customers complained belt fell apart under a year and was not honored by warranty |
| Stitched black or brown leather | – |
Hanks No Break Black Out Leather Gun: Most Stylish Black Gun Belt
You cannot help but like this belt if you want a pure all black style with genuine leather and sturdy hardware. The Hanks No Break Black Out leather belt is one-of-a-kind and well-known for its durability. You won't find too many CCW belts that have this level of craftsmanship and sturdiness.
With its thick 1 ½" wide design, this belt is all one-piece with no fillers. It's made from 100% full grain leather, and it continues to deliver on performance for many years. It has a 100 year warranty that guarantees to replace the belt if it breaks. You can also easily change out the buckle thanks to Chicago screws.
| | |
| --- | --- |
| Pros | Cons |
| All black hardware, black full grain leather | No insert, may sag after a year of heavy use |
| Made in USA | – |
| Backed by 100-year warranty | – |
DTOM Buffalo Tough CCW Leather Gun Belt: Strongest for the Money
Made from tough buffalo hide, this CCW leather gun belt is extremely durable and sturdy. At 1 ½" width and 14 oz weight, it's a solid one piece belt that doesn't use any fillers in construction. It's indestructible and won't sag even after months of use.
Since it's made from wild buffalo hide, it's also one of the toughest belts you'll find.
You can choose between black or brown leather for the belt, and it's all handmade. DTOM is well known for their belts and holsters, and this one works with any holster or accessories that you'll need to attach. The sizing guide is available right in the description, so you know whether to purchase a size up based on what you'll be carrying.
| | |
| --- | --- |
| Pros | Cons |
| Quite comfortable | Some customers complained belt fell apart within a couple of months |
| Extremely tough buffalo hide leather | – |
| Black or brown options | – |
| High quality handmade stitching | – |
| Backed by lifetime warranty | – |
1791 Gunleather Gun Belt CCW: Best Comfort and Craftsmanship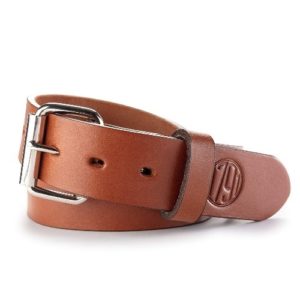 If you want a unique gun belt made with American steerhide leather, the 1791 GUNLEATHER belt is your best option. It's reinforced leather that's perfect for EDC and CCW, and it's made with full grain leather. As a tactical belt, you'll love that it's rated for all holsters and handguns.
The buckle is heavy duty, but it can be removed thanks to Chicago screws. The hardware is chrome and pretty simple, however, so you'll likely want to remove it in favor of another custom buckle. This belt also comes in black or brown leather.
| | |
| --- | --- |
| Pros | Cons |
| Classic, simple design | Customers complained warranty doesn't hold up |
| Heavy duty American steerhide leather | – |
| Supports heavy weight firearms, holsters and accessories | – |
Daltech Force Roughcut CCW Natural Leather Belt: The Perfect Tan Leather Belt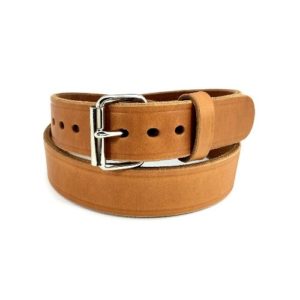 For those who love the light tan and natural tan leather look, the Daltech Force Roughcut is the absolute perfect purchase. It's extremely stylish and handsome, made from 100% full grain leather. The Roughcut is a natural hide color that has unfinished edges, and it goes well with your best-looking jeans.
This heavy duty 15 to 17 oz leather belt is vegetable-tanned bull hide leather with a .22 to .23 edge for no sag, no rollover, and no stretching. It's guaranteed in the lifetime warranty. The belt comes with seven holes and offers a 1-inch thick width. You'll love the way this belt looks and feels.
| | |
| --- | --- |
| Pros | Cons |
| Stylish, bull hide leather | No insert or care, so belt may sag but it's covered by lifetime warranty |
| Natural, unique tan colors | – |
| Thick and heavy duty belt | – |
Exos Gun Belt CCW: Best English Bridle Leather Belt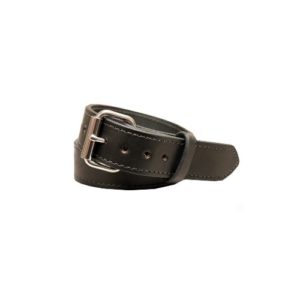 There's nothing more beautiful than this handmade, top quality gun belt. It's made in the USA from real English bridle leather. It's extremely sturdy and can carry any holster, firearm, and pouches with no worries about sagging. In fact, it's gotten such high ratings from customers, it's guaranteed to withstand the test of time.
It also comes in every color you could possibly want, whether you are looking for light tan to black colors. You'll love how this belt fits you and supports all of your accessories as well as your firearm. The manufacturer also includes a warranty that will replace your belt for any reason over its lifetime.
| | |
| --- | --- |
| Pros | Cons |
| High quality leather | Some customers felt it was too soft for a gun belt |
| Handmade in the USA | – |
| Very stylish and sturdy | – |
Buyer's Guide
Purchasing a gun belt is essential for concealed carry, but it's also useful for everyday carry as well. Without a gun belt designed for comfortable carry, your handgun may never get the support or stability that you need to head out with your firearm.
Without a high-quality belt, you are entirely dependent on your pants to support the weight of your handgun, and that doesn't work for anyone.
The main thing to remember is that gun belts don't have to be expensive even when made from the finest leather. The best belts offer durability with refined, long-lasting leather and strong hardware that's complementary to the leather you choose.
What to Look for in Leather Gun Belts
There are some things you must have in a gun belt. When the right belt supports your firearm correctly, you won't hardly even notice it's there. Here are some quick things to keep in mind:
Your belt should be comfortable around your waist with the right weight, ranging from 14 oz to 17 oz if you are looking for a heavy duty belt.
Gun belts should never sag or droop so far that it becomes hard to conceal your carry. It should be easy to draw your firearm.
Durable, long-lasting leather shouldn't be expensive, but it should come with a warranty that verifies its quality.
Most gun belts are made from leather, except for some tactical belts. With high-quality materials such as bull hide leather and steel hardware, you'll get a stable, durable belt that can rest snugly on your waist without cutting into you or sagging if you loosen it up.
In addition, you also want to think about other things you might add onto your belt such as tactical pouches and your holster.
Material and Durability
Most gun belts are made from leather. This material works best because it can handle both lightweight and heavy duty concealed carry firearms, as well as your holster. These belts are made to be strong and durable. The strongest belts will have an insert made of metal or polymer inside to keep the core sturdy but maintain comfort.
However, it does make some belts quite stuff, but if you are looking to carry a heavier weapon, then you will likely need a belt with this stronger core to withstand the weight.
The best belts are thick with heavy duty stitching. They are able to withstand years of use, which is why they have such long warranties.
Belt Sizing
Typical leather gun belts have a weight between 13 oz and 17 oz with a width ranging from 1 to 2 inches. However, you also have to consider if you are choosing an IWB or OWB holster. If you go with an OWB, then you may want to go up a size in length by two inches.
If you have an IWB holster and a heavier gun, then you may want to add four extra inches onto the belt length when sizing it for your waist. Some belts have their own specific instructions on how to size it, so you'll need to check the specifications before completing your purchase.
You can also look for additional holes if you want to ensure that you get the right size. Most gun belts have eight holes to ensure that you can size it appropriately for your carry type and holster.
Removable Buckle
Buckles should be removable, but not all belts are made this way. Buckles may be fastened with screws or snaps. Screws are the most durable option, and they can be removed so you can add on your own buckle anyway.
Useful Video: Why a Good Gun Belt Is Needed For CCW
FAQ
1. What are gun belts?
A leather gun belt is a heavy-duty accessory that is designed to wrap around a person's waist to support a concealed holster and firearm. A well-made gun belt should dramatically improve the weight distribution of a standard firearm. While leather gun belts look a lot like regular belts, they possess durable hardware reinforcements, such as steel cores and metal holster snaps.
Many people who are new to concealed carry weapons fail to wear gun belts. Yet, there is a wealth of evidence that suggests that firearms carriers should not be without gun belts.
2. What is the difference between a gun belt and a regular belt?
Gun belts look and function like regular belts, but many details set the two accesories apart. For one, most gun belts have a thin piece of steel or polymer sandwiched between their leather or nylon exteriors. Some gun belts do not have reinforced cores. However, these belts tend to be far thicker and more durable than run-of-the-mill pant belts. Manufacturers often pair two layers of leather together. Double-layered leather is far more resistant to stretching and sagging.
Gun belts also feature unique hardware, such as holster clips and snaps. Most gun belts also go through rigorous tests to ensure that they can support heavy loads consisting of firearms, tactical accessories, and ammunition.
A CWW or IWB should be positioned securely along your waistline. It should not sag or roll under the weight of a standard firearm. An unstable holster can add seconds to the time it takes you to draw a weapon. In high-pressure tactical situations, a few seconds can make or break you.
3. How thick should a gun belt be?
A typical gun belt is usually just about 1/4-inch thick. Thicker, stiffer leather helps support the load of heavy firearms. Most gun belts consist of one to two layers of full-grain leather. Some belts also contain a thin piece of steel or polymer.
With that said, you do not want your gun belt to be too rigid. After all, an overly stiff belt will limit your flexibility and comfort. The materials should be thin enough to fit beneath standard belts loops.
Many manufacturers offer a variety of belt thicknesses. Thicker, more rigid belts support full-sized pistols. If your belt loops are extra-thick, you may need to invest in tactical pants with large belt loops.
4. Is a gun belt nessecary?
A good gun belt will keep your gun exactly where you want it. A reliable gun position is vital to your safety and comfort. Not only do unstable gun holsters cause poor pant stability and adverse weight distribution, but they also have the potential to ruin your draws.
A leather gun belt will give you a significant tactical advantage. You'll know where to reach when you want to retrieve your trusty firearm. A well-fitted gun belt will not move back and forth nor roll under the weight of a heavy weapon. Your weapon will stay concealed until the moment you need to retrieve it.
5. Do you need a gun belt for CCW?
If you use a concealed carry weapon, a well-made gun belt is essential to your safety, comfort, and performance. A stable yet minimally flexible gun belt serves as the foundation for your holster and your weapon. It's the most significant building block of a CCW platform. If your gun sags or rolls, it can fall off of your belt. Not to mention, a sagging belt can prevent you from successfully retrieving your weapon in high-pressure situations.
We cannot help but stress the importance of quality gun belts. There are so many advantages to be gained from using this type of tactical equipment. A standard firearm weighs around 3 pounds. A load this side can easily pull on your pants and give away your coveted secret. A good CCW gun belt will keep your firearm level with your waistline.
6. Do you need a gun belt for IWB?
An IWB concealed carry is a firearm that is worn inside a holster. Only in an IWB carry, the holster is positioned behind a user's paint waistband. Gun belts are used to support IWB holsters. Most holsters feature universal clips that are designed to attach directly to a gun belt. Without a gun belt to support your holster, your weapon can easily slide down your waistband. While IWB gun belts are often more durable and versatile than regular belts, they are still very discreet.
7. What makes a good concealed carry belt?
A good concealed carry belt looks and feels a lot like a standard leather belt. However, the best concealed carry belts offer unmatched support and tactical advantages. Look for a concealed carry belt that can adequately support your holster and your firearm. Check the dimensions of the belt to ensure that it will fit through your belt loops without issue. We recommend opting for a gun belt that is no bigger than 1 ½ inches wide and 1/4-inch thick. Quality leather is an essential element of any long-lasting gun belt.
For the most part, leather is exceptionally durable and can withstand the tests of time. A belt's hardware is also an integral part of a gun belt's performance. You should be able to securely attach your holster to your belt without having to worry about it accidentally dropping off or wiggling around.
Take, for example, Hanks Extreme Leather Gun Belt for CCW. Hanks CCW leather gun belt features a core made of full-grain steer hide, a material that won't crack, fade, or stretch over time. This belt doesn't even contain a steel center. With a 100-year warranty, Hank's gun belts are bound to withstand the tests of time.
A high-quality gun belt will give you the confidence you need to carry your weapon in public places. A well-made gun belt will even enable you to bring along full-sized weapons and additional tactical accessories. We hope we answered most of your most pressing gun belt questions. If you have more inquiries, drop us a line in the comment section!
Conclusion
It is important to bring a high level of support and stability to your holstered firearm, and for that, you need a gun belt of high quality. Without it, your firearm will droop and sag under the weight of your gun, causing a difficult and awkward draw.
If you've ever worn an average belt with a gun, you'll notice that over time the shape of the belt will deform. Look for rigid material or reinforced leather to counteract these deformations.
Some manufacturers even use steel or polymer to reinforce their leather. This will allow you to carry your holstered handgun, mags, flashlight, and anything else you choose to carry with zero signs of sag or degradation.
Average belts tend to cause discomfort and wear out frequently. Having a strong, reliable gun belt will last you a lifetime. Carrying is a lifestyle; it should provide security and preparation, not be a burden.
Choosing the right gun belt can often be the number one factor for comfort. Most gun holsters require a minimum belt width in order to attach securely. The standard gun belt size is one and a half inches wide.
Having a robust and reliable gun belt will keep your gun and holster in place, giving you an advantage when every second count.
When looking at gun belts, it's clear that the quality of the leather and stitching is important, but it's also the sturdiness and construction. Most belts on this list can withstand the test of time, and they have a lifetime warranty to back it up too.
For the price and value of the belt, we love Hanks belts most of all. The Hanks Blackout leather belt is a particular favorite on this list, but you can't go wrong with the Hanks extreme leather gun belt. It's the best one in terms of durability, style, and cost.
---