Genuine goatskin leather
Hard plastics knuckle
Touch screen capabilities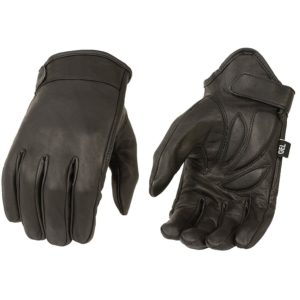 Premium Leather
Gel Padded Palm
Women/Men
Deer Skin Leather
Velcro Closure
Perforated vented back
Aniline Leather
Excellent Ventilation
Double Stitched
Goatskin leather
30-degree pre-curved fingers
Partial Tricot Lining
---
Choose the Best Leather Motorcycle Gloves
Customer's Choice: the Best Rated Leather Motorcycle Gloves
31 users answered this survey. Please help us improve this review!

41.94% of users selected Superbike, 3.23% selected Milwaukee, 9.68% selected Shaf International, 0% selected Jackets 4 Bikes and 45.16% selected Harley-Davidson. Every month we analyze your answers and change our rating.
---
Riding a motorcycle barehanded is such a bad idea because of so many reasons. Hands, head, shoulder and knees are the most vulnerable body parts if a biker gets in an accident on the road.
That is why motorcycle gloves are a must-have thing when you ride a bike. They can make your hands safe, give you better control on the road and just look cool. And, undoubtedly, they have to be made of high-quality leather.
Why to invest in natural leather gloves?
Long-time and novice bikers appreciate leather riding gloves for their classic design and comfortable grip. Different models vary in thickness and fit. For instance, summer cycle gloves are thinner than any winter hand gear. The price depends on the brand and the thickness of the leather type. Durability depends on the design and quality of the seams.
More importantly, leather gloves have a proven reliability factor – they perfectly combine safety and control on the road.
Also, you may want to purchase leather motorcycle gloves because they are easier to repair and more comfortable to wear than any textile hand gear.
Pros of leather bike gloves
Affordable price. Surprisingly, natural leather is cheaper than synthetic fabric with special water-resistant treatment;
Easy to repair. Just like fabric, natural leather may wear out and the holes can appear on the knuckles. Leather gloves are easy to repair.
Softness and ergonomics. Natural soft leather easily adapts and stretches to the size of the rider's hand. In this case, such gloves do not lose protective properties;
Classic style. Nothing beats the black leather motorcycle gloves when it comes to the style;
Cons of leather bike gloves
They are not waterproof. After getting wet, any natural leather material gets softer and shrinks after drying;
Such gloves may leave the nasty stains on the rider's palms;
Easily punctured;
Some of the most popular leather motorcycle glove styles are MX, hot/cold, sports and fingerless. To have a better understanding of leather bike gloves you may check the following guide with detailed reviews and comparison of the most recognized products.
Superbike Leather Touch Screen Gloves – the best for any season!
Superbike offers the market's finest universal gloves for male and female motorcycle riders. The hand gear is made of perforated goatskin leather. This leather type is very soft and flexible, durable and lightweight.
The standard size will do better for large hands with wide palms. The manufacturer gives a chance to pick the fitting pair in such sizes – S, M, L, XL, XXL. There are perforated and non-perforated styles. If you pick the wrong size, the holes may appear near the thumbs.
Double-check the palm's size and finger length before choosing the size. These gloves have a good touch-screen option on the index fingers.
| | |
| --- | --- |
| Pros | Cons |
| Made of soft and flexible goatskin | Not completely waterproof |
| A buckle button to lock two gloves together | Touch-screen pads are flimsy in large sizes |
| Hard plastic knuckles | – |
| Touch-screen index fingers | – |
| Foam padding on the fingers | – |
| Good fitting | – |
| Great for any season | – |
The Superbike perforated motorcycle gloves will make your hands cold in summer and warm in winter. The manufacturer claims this hand gear is great to wear all year round.
Milwaukee Men's Summer Gloves – the best for comfort!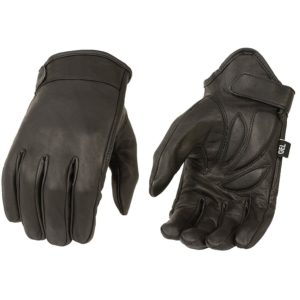 The Milwaukee MG7510 model is popular motorcycle gloves among men who prefer comfortable and breathable hand gear. The major feature is gel-padded areas and perforations all over the gloves' surface. Such a design provides a better grip. Along the padded area, the premium leather gloves have sturdy Velcro straps.
| | |
| --- | --- |
| Pros | Cons |
| Top-notch breathable material with a supple feel | Good only for spring and summer |
| Gel-padded area for comfortable use | The knuckles are not protected properly |
| The Velcro wrist strap is good for an adjustable fit | The seams on the fingers are too thick |
| Stylish design | May expose you to the chemical phthalate (according to the manufacturer) |
| Durable | – |
| Comfortable for long rides | – |
The Milwaukee MG7510 pair can be a good choice if you seek the nice-looking, effective and comfortable gloves. They may be perfect for heavy-duty, casual riding on hot summer days.
Shaf International Gloves – the best fingerless motorcycle gloves!
Shaf International offers stylish deerskin gloves – SH851. This fingerless hand gear is available in different sizes and a few colors. This particular model is black, X-large (check the size chart before buying).
The manufacturer claims that the product is made in the USA. Like most premium leather biker gloves, the Shaf SH851 hand gear was designed for the comfort and style of a rider. It includes perforations, gel-padded palms and Velcro adjustment.
| | |
| --- | --- |
| Pros | Cons |
| Stylish fingerless design | No protection for fingertips |
| Perforations all over the surface | Very thin |
| Gel-padded palms | Some gloves had foam instead of gel in padded areas |
| Flexible deerskin | – |
| May cushion vibration | – |
If you need lightweight, fingerless leather motorcycle gloves, check the Shaf SH851 reviews. You may find them a good choice for casual summer riding.
New Biker Police Gloves – the best tactical gloves!
The brand Jackets 4 bikes released the lineup of tactical gloves for police and military. The New Biker driving gloves will prevent the hands from sweating. The pair is made of top-notch aniline leather.
The critically acclaimed feature is ventilation all around the gloves' surface. Also, this hand gear is unlined so you could safely wear it in high temperatures.
| | |
| --- | --- |
| Pros | Cons |
| Breathable natural leather | Good only for warm weather |
| Palms won't sweat | Knuckles are non-protected |
| Double-stitched for better grip | This leather may stretch a lot |
| No lining for better ventilation | – |
| Convenient wrist closure | – |
| Unisex design | – |
If you need to buy premium tactical gloves made of breathable leather, this pair may fit perfectly. The excellent ventilation can help to ride a police bike with a firm grip, even on hot summer days.
Harley-Davidson Commute Gloves – the best for design!
The most favorable motorcycle brand also made it on this list. The all-favorite manufacturer offers really comfy and stylish Commute Gloves for male bikers. They are true to size and feature padded areas for casual, heavy-duty riding.
The official Harley-Davidson motorcycle gloves are made of high-quality goatskin leather. To keep the hands warm this hand gear has tricot lining.
| | |
| --- | --- |
| Pros | Cons |
| Padded comfort areas | Pricey |
| Rugged style | Limited warranty (only 90 days) |
| Partial tricot lining | May leave the traces on the palms (if you wear them for a long time) |
| Sturdy seams | – |
| Subtle goatskin leather | – |
| 30º pre-curved fingers | – |
| Elastic wrist wrap | – |
| Embroidered logo | – |
| Good for hot and cold days | – |
These motorcycle gloves are made of subtle goatskin leather that delivers the perfect fit and nice grip.
Buying Guide
Take a Dyna Street Bob from Harley Davidson. It's a well-balanced cruiser, making it a great choice for low speed cruising around downtown on a summer night, but also, add some bags and a shield, and the six-speed model also makes an excellent touring bike. Now the motor has plenty of power and it rides nice and smooth on the highway. Both styles of riding are done on the same bike, but if you take your fingerless downtown gloves on a highway cruise, you're asking for trouble. Just a pebble from a truck at highway speeds can cost you a fingernail. Again, gear up for the conditions, not the bike. Now to see any of these gloves in greater detail, check out the individual closer look review for that item.
Let's look at some gloves. The first pair of gloves I want to show you today is the new Shaf International Gloves. Now fingerless gloves are really popular for cruising because they reduce your manual dexterity only minimally, and provide a protective barrier for your palm from the low-speed rash. And they also protect your grips from caustic oils in your sweat and keep your hands from slipping on the grips. These gloves are my favorite fingerless gloves to come out this spring. They're made of a combination of a polyester mesh and leather. A great combination of materials for this type of glove. Now looking at the palm, you can see the all-leather construction that's reinforced with gel padding. This padding reduces the vibration felt through the grips and provides added impact absorption. At the wrist, you can see the cuff, and this feature combined with the adjuster on the top of the hand provides a fit that's much more precise than the fit of most fingerless gloves.
Now while we're on the top of the hand, you can see the large cell breathable mesh material and the padding for the knuckles. Now, these new gloves from Joe Rocket are a great choice for the rider looking for a highly breathable and lightweight fingerless riding glove for the summertime.
The next glove is a very unique offering called the GL2064 naked cowhide gloves. These GL2064 motorcycle gloves are made of 100% naked top grain cowhide. These gloves are true to fit and are perfect for the rider looking for an incredibly comfortable, light-duty leather glove with that antique calvary look to it. Now the design of these gloves is very simple. There are no extra panels for reinforcement or decorative stitching, so they're incredibly flexible and comfortable. Their simple design also makes them incredibly inexpensive. You will not believe the price when you see it on the listing. Now if we look at the top of the hand, you can see the two-position strap adjuster at the wrist for a secure fit. And the gauntlet of the glove is expandable with this buckle for easy on and off. The hand portion of the glove features a microfleece liner for a little added warmth, but a lot of added comfort. Now again, the GL2064 gloves are an incredible value and a great choice for the rider looking for the softness of naked top grain cowhide with that vintage cavalry look.
The next glove in our cruising glove buying guide is the Milwaukee Gloves. Mechanic style gloves are designed to protect your hands from cuts, burns, and impacts while turning wrenches, but their combination of durable materials and lightweight chassis also makes them very popular for riding. Now, these gloves from Milwaukee are a great choice for the grease monkey, rocket jockey, or both. These gloves are made of synthetic suede and highly breathable spandex material.
Let's look at some of the features. Starting on the palm side, you can see the synthetic suede material that's reinforced with extra panels and padding to protect your hands. The fourchettes on the fingers are perforated for added airflow. As we move toward the wrist, you can see the branded pull-tab for easy-on and the hook and loop wrist strap. If we flip the glove over, you can see that the fingertips are protected by more of this synthetic suede from the palm with the A-Star on the index finger. The areas on the top of the hand with the sublimated graphics are made of highly breathable spandex that does a great job of providing a good snug fit and flows a lot of air. The knuckles are protected by a high-density foam pad beneath this synthetic suede panel, featuring the A-Stars logo. The Milwaukee Gloves are a great choice for the technician or rider looking for a lightweight protective glove for their hands.
Next, we have the Harley-Davidson gloves. These gloves are a great option for the rider looking for a lightweight, breathable cruising glove with more of a vintage look and a leather chassis. These gloves come in distressed grown, but there's also a distressed black version called the Swindler and a non-distressed black version called the Sturgis available. The fit of these gloves is very generous and this soft leather will break-in some. So if you're in between sizes, you may want to pick the smaller size. Now on the palm side of the glove, you can see the reinforced panels in the high impact areas. These panels are equipped with gel pads to ease the vibration felt through the bars. At the wrist is an elastic band to make the fit more precise.
Now if we flip the glove over to the top side, you can see the oversized perforation on the fingers, hand, and thumb. The knuckle area features additional larger holes for added airflow, and the carpal area is open with a hook and loop adjuster at the wrist. Again, the gloves from Harley-Davidson are an excellent choice for the cruising rider looking for a light-duty leather glove with that vintage look.
Unlike a standard leather work gloves, Jackets 4 Bikes riding gloves have accordion-style stretch panels on all four of the fingers, giving you a great relationship with your motorcycle's controls. They also feature gel pads on the palms and externally stitched fingers for added comfort. A hook and loop adjuster at the wrists offers a secure fit. All in all, these gloves are a great choice for the rider looking for that vintage industrial-grade work glove look, with the features that make a glove great for riding your motorcycle.
Finally, we have the Superbike riding gloves. These gloves are a great choice for the rider looking for a budget-friendly, highly breathable glove with the comfort and durability of a full goatskin chassis. Now they fit spot-on. They run true to size and are available in sizes extra small to 4-XL. There's a size chart on the listing to help you establish your fit. The construction is very simple. The palms are solid goatskin with an extra panel for reinforcement that extends onto the thumb. The leather's perforated on the fingers and the inside of the thumb for added breathability. And at the wrist, is a stretchy band for a precise fit. And the top of the hand and thumb are completely covered with small perf and there is a hook and loop strap at the wrist for an adjustable fit. Now again, Superbike gloves are a great choice for the rider looking for a full goatskin mesh glove at a great price.
Types of leather riding gloves
Gauntlets are perfect for casual and heavy-duty use. They are well-fitting. Typically, they have special knuckle armors and finger guards with palm shields. They are good when it comes to the full protection of a whole hand from injuries. Besides, they provide excellent mobility;
Off-road cycle gloves a.k.a. dirt bike gloves don't come with any wrist protection. But instead they may deliver a very intense grip. Typically, such units are lightweight. Finger and knuckle protection is a must-have feature in this case;
Racing gloves are designed specifically for extreme driving style (think of high-speed racing). Ventilation and padding in various parts deliver top-notch protection and extreme comfort;
Short or fingerless cycle gloves can make a great accessory during hot summer days. These units do not provide wrist or finger protection. But, usually, the areas around palms and knuckles are armored with thick lining or gel;
Touring gloves are good for all-weather riding. Think of them as the adventure hand gear. Usually, they are made of very sturdy or even bulky natural leather. The extra weight provided more protection;
Weather-resistance
Seasons come and change. But the weather may vary instantly. That is why you may want to invest in weather-resistant motorcycle gloves with steady ventilation around the rider's hands. Thin and breathable leather can provide such ventilation inside the gloves. Your hands won't get slippery or cold inside such gloves.
Protection
Safety comes first when you ride a heavy bike. Perfect leather gloves should have enough padding areas and armor for knuckles. If you are planning a long-distance ride, consider investing in the gloves that cover all delicate parts – fingertips, knuckles, wrists. Check if the picked gloves have knuckle guards, palm sliders/padding, carbon/plastic fiber reinforcement.
Fit
One of the major drawbacks of leather gloves is shrinking or stretching under certain external factors. The pair should fit snug but the gloves can't restrict the blood from flowing. Otherwise, your hands may quickly get numb and you will lose control on the road. The loose-fitting gloves will also be a bad choice. They just won't offer the required safety. Double-check the size chart before buying.
Price
The price factor is also important. If you ride daily, then it makes sense to invest in heavy-use leather gloves. Such pairs will cost around $60-100. However, it is also possible to find top-notch gloves within a modest budget. Compare the styles and features. Then decide how many gloves you need per year and how much you can afford to spend on these accessories.
Other important factors to look for in leather cycle gloves
A smart touch option is a must-have thing nowadays. Most gloves have the touch-screen index fingers;
Extended cuffs provide additional safety but they can make the hands sweaty;
Flexibility – you should be able to move your fingers inside the gloves, without any efforts. The high flexibility around the joints is extremely important;
The inner padding and lining deliver extra comfort. The lining material should be soft to hug the palm instead of squeezing it. Also, the stitching style may affect the comfortable fit;
Tips for the buyers of leather motorcycle gloves
Choose the pair according to the season of the year. Winter gloves should be thicker, with long and elastic cuffs. Respectively, summer gloves must be breathable and thin;
If possible, test the new gloves before any long ride. They should not make your hands slippery or extremely tight to wear. You can't handle any of these drawbacks – a rider should reach quickly on the road;
Clean the leather gloves regularly. Typically, it is enough to rinse the leather pair with warm water. In such a way, they will preserve the size and shape longer. Never put the leather gloves in the washing machine!
Video Tutorial: How to Clean Your Motorcycle Gloves
Final thoughts
Right now you understand what factors can navigate you at the huge marker of leather motorcycle gloves. The major task is to choose stylish, weather-resistant or cycle gloves made of thin but durable and flexible leather material. Check the manufacturers and find the most fitting pair for your daily casual riding.
---