Large
Nice balance
High-Quality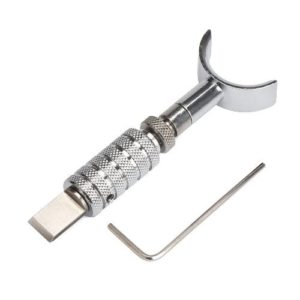 Anti-rust and mould
Long lifespan
Ultra premium Blade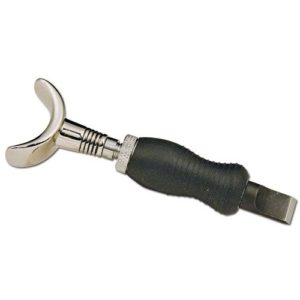 No bearings
A rubber coated barrel
With jagged cuts
Ergonomically design
Reduce grip force
Interchangeable blade
A non-slip texture
Comfort for you
Solid brass knife
---
Choose the Best Swivel Knife for Leather
Customer's Choice: the Best Rated Swivel Knives for Leather
215 users answered this survey. Please help us improve this review!

22.33% of users selected Tandy Leather Craftool, 19.53% selected EnPoint Swivel Knife, 2.79% selected Tandy Leather Ergo, 6.51% selected Ergo Handle Knife and 48.84% selected Master Tools Barry King. Every month we analyze your answers and change our rating.
---
Buyer's Guide
Your swivel knife work is the foundation of your floral carving, so if you're going to do it really nice you need a good, sharp blade.
How to Sharp a Swivel Knife
If you don't have a nice polishing stone, you can go down to your local auto parts store and pick up some 2000 grit bodywork sandpaper. It works awesome for sharpening blades. You just rub your polishing compound into the fuzzy side of the leather and use that to polish your blade.
First off you're going to hone your swivel knife blade on the grit sandpaper. So basically you're going to want to keep the same angle that is already there, but as you work it, over time the blade starts to round up, and you're just going to make a nice crisp angle again. You need a sharp edge, crisp angle.
So you want to take a couple of strokes, rotate your blade to the other side. Take a couple of strokes, turn your blade over. That way it doesn't raise a bur and just put a hook on edge. So you're just knocking that off, you're crisping that edge up. And it doesn't always take too many passes.
Another thing that you want to pay attention to, if you put your sanding paper on your carving block, you'll get this gray, oxidized metal dust. It looks really bad when you get it on wet leather. So you're going to want to clean your table after you sharpen your blade.
So once you've kind of honed it a little bit on the sandpaper, you're just going to go and do the same thing on your polishing compound. This just polishes things up real nice, and it should cut through your leather like butter. You don't have to grind down your swivel blade knife to nothing, but you should keep it sharp all the time just because it makes things easier.
Let's clean off your table because you don't want any steel getting on your wet leather. If you do happen to get metal dust on wet leather, it's going to turn it black, but hopefully, you don't get too much. If you do get some on there, you can take a little bit of lemon juice, and usually, it'll pull the oxidation, neutralize it and clean up your leather.
Video Tutorial: How to Use a Swivel Knife for Leather
---