Premium harness
Accepts tie downs, cuff case
Swiveling Flexalon backplate
Vegetable-tanned cowhide
Adjustable screws
Made in USA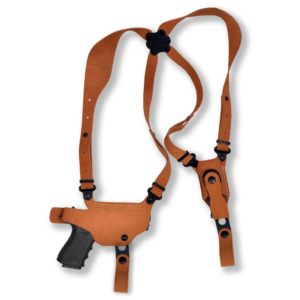 Premium Suede Leather
Adjustable leather harness
Horizontal holster
Adjustable leather straps
Active and passive retention
Made in USA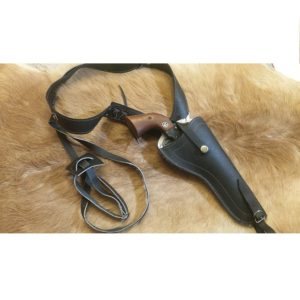 Lightweight Leather
Wool Lined
Adjustable
---
Choose the Best Leather Shoulder Holster
Customer's Choice: the Best Rated Leather Shoulder Holsters
128 users answered this survey. Please help us improve this review!

42.19% of users selected Galco Gunleather, 17.19% selected Aker Leather, 14.84% selected MASC HOLSTER, 13.28% selected Alien Gear holsters and 12.5% selected Gunslinger. Every month we analyze your answers and change our rating.
---
A holster is a safe unit used for placing and carrying the firearm. Holsters are necessary if a person carries a gun for combat purposes, hunting, trekking or law enforcement needs. A shoulder holster is the best way to conceal the gun you carry.
Shoulder holster types, according to the direction pointed by the gun:
Vertical holster lies against the shooter's body. You can place firearms in an upside-down direction or downwards;
Horizontal holsters let the guns lie horizontally so you could quickly draw them whenever you need them. But they are not very good on the terms of concealment, except for small holsters;
45° holsters carry the guns that point upwards at the angle of 45o. Such design provides a better concealment for revolvers. You will be able to draw the gun out when the angle of direction is 45o;
The following information will guide you through the available options in the market of shoulder gun holsters made of leather.
Galco Classic Holster System – the best for Glock guns!
Galco holster systems can fit almost any Glock weapon. This harness is equipped with 4 independent pivoting straps. Also, it is fully compatible with belt tie-downs, accessory attachments and cuff cases.
| | |
| --- | --- |
| Pros | Cons |
| Your gun will be fully concealed under a jacket | Only good for Glocks |
| It is a good fit for thick torsos and broad shoulders | Pricey |
| Made of the premium steer hide leather | Too thin |
| Strapped with 4 independent pivots | Bad quality seams |
| Very comfortable | – |
| Easy to pull out | – |
| Lightweight | – |
You may order this holster for left-hand or right-hand orientation. The rig is not fully reversible that's why choose wisely. It is the best leather harness for Glock firearms.
Aker 101 Holster – the best for various firearms!
If you require a universal holster system to fit different firearms, Aker 101 Comfort Flex harness can serve as a great gear. The design is really stylish thanks to the black leather with a bit of gloss finish. The great horizontal harness can accommodate almost any firearm except the railguns.
The shoulder holster system has been tested and approved by U.S. federal agencies and law enforcement services.
| | |
| --- | --- |
| Pros | Cons |
| Open-end design to accommodate many different firearms | Uncomfortable back straps |
| Cool style | Won't fit railguns |
| Very durable because of hardy stitching | Only right-handed |
| Adjustable wide straps to fit any chest size (up to 62 inches) | – |
| Two options – tanned or black cowhide leather | – |
| A dual pouch for 2 magazines | – |
Those users who need to carry many different guns can stick to the Aker 101 harness. It will perfectly fit Glock 17 or Beretta 911. This concealed-carry holster is made of vegetable-tanned leather.
MASC HOLSTER Suede Shoulder Rig – the best horizontal holster!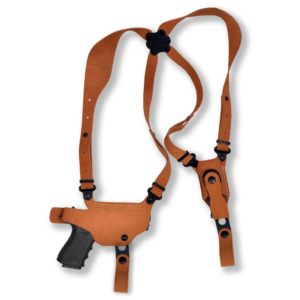 The MASC suede harness can serve as a right-handed rig for any 9mm gun – the manufacturer recommends the perfect fit for Glock 43. This right-handed holster comes unassembled – you should combine 3 parts (leather harness, magazine case and holster).
It is more an advantage than a disadvantage because you may adjust the holster as you like.
| | |
| --- | --- |
| Pros | Cons |
| Budget-friendly | The holster is delivered unassembled, so it may fall apart if assembled improperly |
| Perfect concealment | Heavy suede material makes it impossible to wear it in hot summer |
| Quite soft and flexible | The harness is a bit flimsy |
| Elegant design | It gets tangles easily |
| Single magazine carrier | Low-quality screws |
| Natural color | – |
Thanks to the wide straps, this horizontal shoulder rig can fit the chest size up to 48 inches. This is a handcrafted holster system with the innovative design.
Alien Gear ShapeShift Holster – the best for customization!
Alien Gear created a fully adjustable modular holster system called The ShapeShifter. Users can customize and adjust almost any aspect – the height, suspenders and cant. The harness comes with 2 extra magazine carriers. These carries can help with the weight balance if the gun is a bit heavy.
The ShapeShifter harness can be carried as a vertical or horizontal shoulder holster. It is also good for right or left-hand draw.
| | |
| --- | --- |
| Pros | Cons |
| The custom fit and full customization – 3 default systems to choose from | Not easy adjustment |
| Modular polymer holster shell | No spare screws |
| Classic brown leather design | Velcro straps can't be removed |
| The special trigger guard protection | Not good for a quick draw |
| Off-the-belt concealed or open carry | A bit bulky |
| Good for right-hand and left-hand orientation | – |
| Adjustment without tools | – |
| Dual magazine carriers | – |
| Works fine with red dot attachments | – |
The ShapeShifter gun holster is very comfortable and it offers full concealment. The system was tested by police officers and was approved for the service.
Gunslinger Leather Rig – the best price!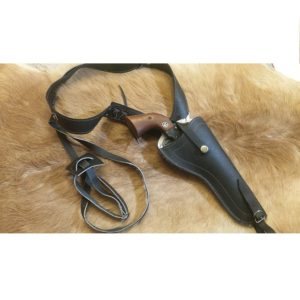 This budget-friendly shoulder holster system is made of real thin leather. It is adjustable and concealable enough to wear under any clothes. The Gunslinger holster may look a bit bulky but it is really comfortable to wear.
| | |
| --- | --- |
| Pros | Cons |
| Great shoulder holster | It won't fit XXL chest size |
| Lightweight | Weak straps for heavy firearms |
| Wool lining | Average leather quality |
| Affordable | – |
The Gunslinger leather holster is the best shoulder harness system on the budget. Do not get fooled by its "toyish" look and bulky appearance – this rig works fine if you require a concealed carry.
The Buyer's Guide
Gun size
All holsters are rigid and that is why the guns inside them should fit tightly. The barrel and hammer should not be in a tensioned position. Otherwise, you will feel the discomfort under the arm. The guns of improper size in leather holsters cause constant movement of clothes above them and they are harder to draw.
Gun position
The major task of any leather shoulder holster is to offer quick access to the gun. Some people prefer horizontal holsters, others like to wear vertical holsters. The choice depends on individual preferences like clothes and body frame.
The gun size also matters. But do not forget that vertical holsters offer better safety. Also, large guns can fit only vertical holsters. But the horizontal harnesses offer the fastest access to the gun. Consider what point is more important to you.
Concealment
Concealment factor is important. Other people should not notice the gun underneath the shooter's clothes, that is the point of buying a holster in the first place. For better concealment, choose a flat holster model, without any attachments sticking out. But for military or hunting use the concealment factor is not important.
So, for carrying the larger weapons, it would be more reasonable to buy a custom-made vertical holster. Such holsters offer quick access to firearms.
Ammo compartment
Most shoulder holsters are customizable and adjustable. It means you can add or remove the additional ammo compartments. If you prefer carrying a few magazines at the same time, then consider buying a large double holster.
Most harnesses are designed for carrying a medium-size with one spare magazine. Such a design is good for balance and concealment. But you are free to order custom holsters.
Safety
Of course, safety for you and the people surrounding you is the number one concern. The safety of the holster is determined by how quickly you can draw the gun. A shooter must be very careful when carrying a loaded handgun in any holster. So check the safety recommendations before buying a particular model.
Durability
Leather shoulder holsters are made for long-term use by default. You don't have to replace them every year. But only if you invest in very durable materials like genuine or full-grain leather.
How To Use Leather Shoulder Holster
Shoulder holsters work wonderfully well for people who do a lot of sitting, especially a lot of driving, but they have to be worn properly. They have to be worn high up underneath your armpit to really work effectively, and we'll talk about how to draw from that holster. We've got the handy-dandy Glock 19. It's cleared, safe, ready to roll. We'll talk about using a leather shoulder holster.
Shoulder holster very comfortable, especially for when you are sitting, but on the draw, you're pulling this pistol out, and you're making a big arc with it. So muscle management is very important, and trigger finger discipline is always very important. We want to make sure we keep that finger off the trigger. Drawing from your shoulder holster gets your off-hand up and out of the way. We call this the rhino horn or the elbow up, something like that. Get that elbow up out of the way and then draw. Notice a trigger finger is out away from the trigger. Pull out, get on target, and come in. For re-holstering with the shoulder holster, reach down with this hand and grab the holster. Now, you might be muzzling your hand a little bit as you go in here, but keep your finger off the trigger, re-insert that pistol into the holster, and then you're ready to go.
Now, in the beginning, we talked about the importance of keeping that shoulder holster up underneath the arm. That's the best place to put it because one, you keep control of it with your upper arms. It doesn't flop around as much, and everything is right where you need it to be when you're grabbing for this gun. If you're driving in a car and you need to defend yourself against a carjacking, a shoulder holster is the ultimate quick draw rig for you sitting in that car. You're just up here, your elbow's out of the way, and the bad guy takes the bullets.
Carrying a shoulder holster requires some cover garment, either a sport coat or a jacket or something over the top to keep it covered. Take the extra time that you need to make sure that everything is adjusted properly. It's not like putting on inside the waistband or an outside the waistband holster where you just strap it on your hip. Make sure that all of the buckles and everything is set to where you want them, and then tape things in place.
Remember, the key point for carrying a shoulder holster is to keep that gun high up into the armpit. And when you draw that gun, get your off-hand and your arm up out of the way so that you're not muzzling anything else. Always pay to your surroundings, not just when you're carrying with a shoulder holster, and always maintain good muzzle management and trigger finger discipline.
Interesting Video: Spectre James Bond Leather Shoulder Holster
Final thoughts
It may seem that nylon shoulder holsters are more affordable than any leather harness. But a leather shoulder holster is an investment. Because there are a few materials more durable than genuine leather and it is not nylon. Fully customizable leather holsters offer universal design or adjustable harness so you could carry a gun as you want.
Leather shoulder holsters help to conceal your gun underneath the clothes and draw it quickly. Consider the above-mentioned products with the cost-to-value ratio. Make sure that you select the holster with the features that are most comfortable to use.
---