Premium harness
Accepts tie downs, cuff case
Swiveling Flexalon backplate
Vegetable-tanned cowhide
Adjustable screws
Made in USA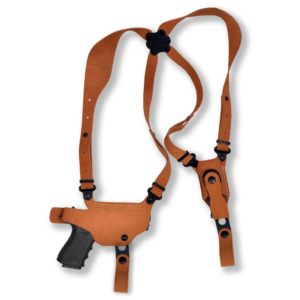 Premium Suede Leather
Adjustable leather harness
Horizontal holster
Adjustable leather straps
Active and passive retention
Made in USA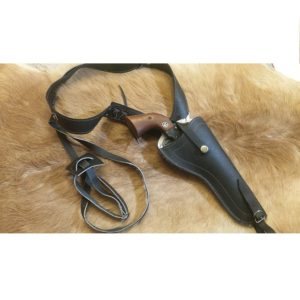 Lightweight Leather
Wool Lined
Adjustable
How To Use Leather Shoulder Holster
Shoulder holsters work wonderfully well for people who do a lot of sitting, especially a lot of driving, but they have to be worn properly. They have to be worn high up underneath your armpit to really work effectively, and we'll talk about how to draw from that holster. We've got the handy-dandy Glock 19. It's cleared, safe, ready to roll. We'll talk about using a leather shoulder holster.
Shoulder holster very comfortable, especially for when you are sitting, but on the draw, you're pulling this pistol out, and you're making a big arc with it. So muscle management is very important, and trigger finger discipline is always very important. We want to make sure we keep that finger off the trigger. Drawing from your shoulder holster gets your off-hand up and out of the way. We call this the rhino horn or the elbow up, something like that. Get that elbow up out of the way and then draw. Notice a trigger finger is out away from the trigger. Pull out, get on target, and come in. For re-holstering with the shoulder holster, reach down with this hand and grab the holster. Now, you might be muzzling your hand a little bit as you go in here, but keep your finger off the trigger, re-insert that pistol into the holster, and then you're ready to go.
Now, in the beginning, we talked about the importance of keeping that shoulder holster up underneath the arm. That's the best place to put it because one, you keep control of it with your upper arms. It doesn't flop around as much, and everything is right where you need it to be when you're grabbing for this gun. If you're driving in a car and you need to defend yourself against a carjacking, a shoulder holster is the ultimate quick draw rig for you sitting in that car. You're just up here, your elbow's out of the way, and the bad guy takes the bullets.
Carrying a shoulder holster requires some cover garment, either a sport coat or a jacket or something over the top to keep it covered. Take the extra time that you need to make sure that everything is adjusted properly. It's not like putting on inside the waistband or an outside the waistband holster where you just strap it on your hip. Make sure that all of the buckles and everything is set to where you want them, and then tape things in place.
Remember, the key point for carrying a shoulder holster is to keep that gun high up into the armpit. And when you draw that gun, get your off-hand and your arm up out of the way so that you're not muzzling anything else. Always pay to your surroundings, not just when you're carrying with a shoulder holster, and always maintain good muzzle management and trigger finger discipline.
Interesting Video: Spectre James Bond Leather Shoulder Holster
---