When a novice selects the leather type for his or her DIY projects or just buying a product made of the authentic animal hides, there are a few challenges he or she may face. Probably you have seen the leather marked with the label "full-grain". The following review will highlight the properties and care routine for full-grain leather types. 
What is full-grain leather?
Full-grain or granular leather is an unpolished material made of cattle or swine hides. The raw material used for making this full-grain leather is cow and calfskin with a surface that can hardly be called perfect. Special presses apply the rough structure to this leather type, resembling small pebbles or grains. Often, the treatment with fats and waxes is processed along the way to give the leather type the resistance to moisture and pollution.
Technically speaking, full-grain leather belongs to the category of leather with a processed surface, but you should not be afraid of this fact.
How is full-grain leather processed?
Full-grain leather types are received from the unpolished animal hides (calf, cow, buffalo skins). More often, full-grain is obtained by rolling the skin in the special presses. The granular type of skin has a considerable thickness. It has a huge advantage with the ability to hold its shape better than other leather types.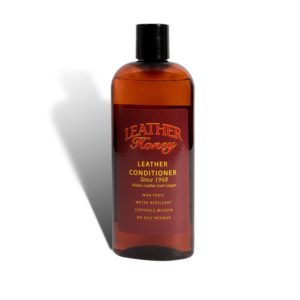 The Leather Honey brand is a cleaning solution that's perfect for anyone that has a stained or heavily soiled full-grain leather goods. It rids away dirt and grime fast, resulting in an excellent restoration job.
A technological feature of the processing of animal hides into full-grain leather is the absence of grinding or peeling the upper or lower layers. Thanks to this, the material remains thick and durable. It holds its shape better. Also, it is more resistant to mechanical stress. Despite the thickness of the used hides, such technology allows getting a soft and elastic leather material.
How to identify the full-grain leather? Granular leather is made from the top layer of unpolished animal hides. Thanks to this, this leather type retains its natural structure and pattern, since full-grain leather hides are thicker and smoother. For example, calfskin retains its shape better and is more durable than most leather types. With high breathability, full-grain leather types are less exposed to water. Also, this material may have a natural patina during the constant wear of shoes.
By the way, if you wonder – is full-grain leather vegan – the answer is no. Genuine leather is always made of animal hides.
Properties of full-grain leather
The rough texture of genuine full-grain leather is the reason why so many craftsmen pick this material for making shoes and accessories. The strong structure of the material and its wear resistance is appreciated when it comes to making shoes (like full-grain leather boots). Full-grain shoes have all the advantages of products made from natural leather:
Excellent water repellency;

Low level of thermal conductivity;

Resistance to dirt;

Natural ability to "adapt" to the shape of the wearer's foot;

Nice texture and appearance;
The major advantage of full-grain leather sheets for a buyer is long service life. The main distinguishing feature of this material is a granular structure. The main material for the production of such leather is the top layer of animal leather hides, and, for this reason, the finished material gets a natural pattern and structure. Full-grain leather has a high level of breathability, it does not get wet easily. The clothes and shoes made of this material can be worn in rainy weather because full-grain leather is quite durable and can last a long time.
To hide the heterogeneity of the leather pattern or enhance its "graininess", buffalo or calf hides are picked for making the full-grain material. In this case, an embossed pattern with a selected "grain" size is done. Now the textile industry produces a wide range of artificial aniline and semi-aniline leather type that may serve as an alternative to the natural material. 
They perfectly resemble natural materials, while having better resistance to moisture and pollution. Perforation of such materials allows maintaining the comfortable microclimate inside the leather products.
Natural full-grain leather colors
The classic color for full-grain leather is brown. Though, the brown color has so many shades – from dark chocolate to a very light, almost reddish palette. Undyed leather of black color also exists, but brown color is more authentic. 
Imitating maximum naturalness, such products are painted in natural shades of brown, less frequent black. Bright colors also look better after being engraved or embossed.
Pros of full-grain leather: 
Resistant to water and grime;

Easy to maintain in perfect condition;

Good heat-insulating properties;

Nice breathability; 
This leather type, like any other, varies greatly in high quality. In fact, this means that some shoes made of such leather are not fully waterproof, wear-resistant and in addition may have poor breathability. The core properties depend on the picked animal hides. 
Usually, this leather material can tolerate rain, mud, and slush, and it is also easy to care for. It has good resistance to salt and reagents scattered around in winter, though whenever possible it is always worth avoiding the place where they are scattered. In addition, this material provides good thermal insulation and at the same time it can "breathe".
Drawbacks of full-grain leather 
There is probably one drawback of – its appearance. For instance, the shoes made of such leather won't match any business suits. Grained leather briefcases, however, can look quite formal. Otherwise, this informal clothes does not harmonize with smooth woolen fabrics. In addition, this material is not suitable for summer and hot weather, because it is warmer than regular smooth leather. 
Where is full-grain leather used?
Full-grain leather is rather thick and resistant to external influences skin with a peculiar texture. The texture can be natural, but in most cases, it is polished with special gear. This material has an artificially processed texture to improve its durability. Genuine full-grain leather is used to make informal men's shoes, men's and women's bags, backpacks and briefcases, women's shoes, various accessories (belts, wallets, and so on). Also, full-grain leather wallets look very nice. 
Split full-grain leather
Sometimes the raw material taken to make the full-grain leather is not the upper layer of animal hides, but the lower layer called split. Split full-grain leather offers lower quality, but it also costs less than the material made of the upper layer of the animal skin. The tanning of full-grain grain leather can be chrome or combination of chrome and vegan polish.
Compatibility of full-grain leather with other materials
Full-grain leather material looks perfectly acceptable in the city, but it does not combine with strict business clothes. Stylists recommend combining this leather type with velveteen, tweed, moleskin, wool flannel, denim, cotton, and wool – but the material should not be too thin!
Flax will be a bad choice because it is associated with heat and summer, while the full-grain leather is more likely to cause rain and autumn. A mixture of cotton and linen can work, especially if it doesn't look too hot to wear.
Full-grain leather care tips:
If you need to clean the shoes made of full-grain leather, at first dust them with a clean and dry cloth;

Then use a soft damp cloth to remove any grime or dirt – rub in a light circular motion;

If the leather is not that soft anymore, it got hard or rough (especially in a dry climate), you may nourish it with olive oil with a clean soft cloth;

Bear in mind that this material is not fully waterproof. After going in the rain or snowfall take care of the wet shoes or clothes with dry cotton cloth. Then leave the shoes or clothes in an airy but dark place. After it is completely dry, nourish them with a few drops of olive oil;
Final thoughts
The full-grain leather type is very popular among shoemakers. Leather DIY projects of this material have a nice, granular texture and many properties like durability or water repellency. Pay attention to the label when picking the leather material in a store offline or online. Also, buy from the trusted stores that offer genuine leather materials at a reasonable cost. 
---