Size: 18 To 21 Inches
Color: Black
Width is 1.5 Inches
Size: Large
Color: Brown
Handcrafted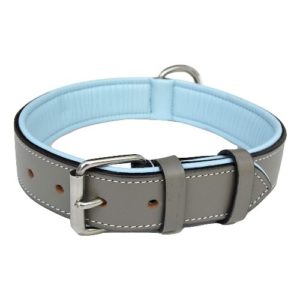 Size: 18 To 21 Inches
Handmade
High Quality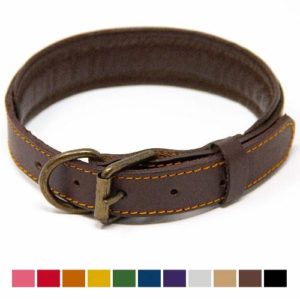 Easy Care
Comfortable & Durable
Premium Hardware
Easy Care
Rustic Metal Hardware
Fits Medium To Large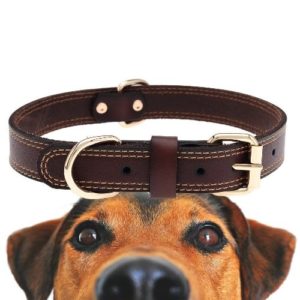 Elegant And Durable
Comfortable model
Safe and non-toxic
5 Adjustment Holes
Material: Leather + Alloy
High Quality Leather
Total Length: 20"
High Quality & Comfort
Handmade
Stylish Braided Design
Comfortable Wearing
100% Real Leather
Genuine Leather
Excellent Quality
Double D-Ring
Picking out your dog's leather collar can be a lot of fun. There are tons of different colors, patterns, and styles to shop. Most dogs live in their collars. This essential accessory houses ID and rabies tags. What's more, it serves as the quintessential connection point for a run or leash. If you've ever had a pup that tugs or bolts, you know the pivotal role this accessory plays in the safety of your dog. Plastic buckles, nylon straps, and brittle hardware rarely make the grade. That's why many pooch parents are opting for premium leather bands. Not only is this material durable and resistant, but it also looks fabulous and is comfortable. We've taken the time to explore several popular leather collars. Below, we share our honest opinion of 10 of the top-selling options.
Soft Touch Padded Leather Collar – Best Training Collar
This plush leather collar is a must-have for pups in training. It even comes in a variety of colors. However, we're particularly fond of the two-toned black and cream option. This colorway tends to compliment most coat colors. Not to mention, it comes with sewn-in D-rings and ID tag attachments.
Each size adjusts 4 inches, making the collar well-suited for growing dogs. With a width of 1.5 inches, this leash is suitable for both small and large breeds. On top of that, it comes with a lifetime guarantee.
Customers have confirmed that the Soft Touch collar is made from high-quality leather and boasts durable handstitched seams. Most reviewers love that there's no need to fish for the D-ring. After all, it's secured directly on top of the collar. What's more, reviewers say that the collar is true to size and offers a generous amount of adjustability.
| | |
| --- | --- |
| Pros | Cons |
| Sewn-in, centered D-ring | Not ideal for hot climates |
| Separate ID tag loop | – |
| Neutral two-toned colorway | – |
| Premium leather | – |
| Plush padding | – |
| Lifetime guarantee | – |
---
Viosi Padded Leather Dog Collar – Most Luxurious Leather Dog Collar
The Viosi padded leather dog collar is made from premium buffalo hide. This eco-friendly leather offers undeniably decadent aesthetics. The collar features a rich chocolate brown exterior and a plush cream-colored liner. The quality leather is amplified by shiny brass buckles and rich caramel stitches.
The collar's pleasing exterior is further complemented by its thick padding. This is a product that can withstand endless walks, runs, and tugs. It comes in sizes small to extra-large. Each size can be adjusted several inches.
Customers love the look and feel of this premium leather dog collar. The articulate stitching, brass hardware, and plush padding make it a solid option for devoted dog owners. Most reviewers feel that the Viosi is capable of handling a lifetime of wear and tear. We're confident that this neckband can hold up to repeated outdoor abuse.
| | |
| --- | --- |
| Pros | Cons |
| Each size adjusts 4 inches | Not ideal for small breeds |
| Made from genuine buffalo hide | – |
| Brass D-ring on top of collar | – |
| Durable hand stitching | – |
---
The Capri Collection Soft Touch Padded Collar – Softest Leather Dog Collar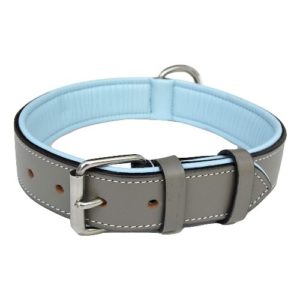 This modern dog collar is made from buttery-soft two-toned leather. It has a fair share of plush padding sandwiched between pieces of processed hide. The abundance of material promises to keep your dog's neck well-protected during outdoor and indoor adventures.
What's more, the seams and metal hardware promise to keep the band connected and secure. A topside D-ring enables owners to separate their leash from other collar attachments. ID and rabies tags can be attached to a small loop on the opposite side of the collar. This leash has a dark gray exterior, a blue liner, and a rich black trim. It's a designer piece that's suitable for fashionable furballs.
Most consumers find this collar to be soft and aesthetically pleasing. The two-toned colorway is unique. However, the company sells a blue and gray leash that pairs excellently with the collar. With 4 inches of adjustability, these collars will carry pups through periods of growth or weight changes.
| | |
| --- | --- |
| Pros | Cons |
| Sizes adjust 4 inches | Light blue liner shows wear and tear easily |
| Plush padding | – |
| Unique blue and gray colorway | – |
| Durable double stitches | – |
| 1 1/2-inches wide | – |
---
Logical Leather Padded Dog Collar – Heartiest Dog Collar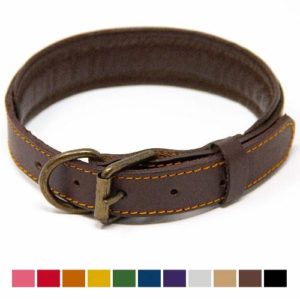 If you're looking for a dog collar that's well-suited for a large and powerful breed, check out this full-grain neckband. This hearty piece of leather is cut from premium cowhide. It features a natural dark brown color with light brown stitching and durable metal hardware.
There's even an independent clasp for ID or rabies tags. We love that this leather collar comes with a lifetime guarantee. At 1 1/4 inches wide and 3/8 inches thick, this collar is ideal for large, active breeds.
Customers found the Logical collar to be durable and stylish. Many shoppers were pleased to find that the manufacturer supports local animal rescue efforts. Some buyers felt that the belt loop was too close to the metal clasp, resulting in a lengthy tail of excess leather. However, we did not experience this issue when testing it out. It met all of our comfort, durability, and aesthetic standards.
| | |
| --- | --- |
| Pros | Cons |
| Full-grain leather | Not ideal for small breeds |
| Natural dark brown tanning | – |
| Heavy-duty metal clasp and leash ring | – |
| Loop for ID tags | – |
| Lifetime guarantee | – |
| Sizes adjust 5 inches | – |
---
Hide & Drink Rustic Leather Dog Collar – Best Value
Do you have a medium-sized canine that would look good in bourbon brown? The aptly named Hide & Drink Rustic Leather Collar boasts a sophisticated pattern with details that are easy on the eyes. The design is marked by durable double stitches, full-grain leather, and brass clasps.
The collar also features an oversized metal D-ring and metal hole reinforcements. This impressive dog collar could go through the wringer and still come out looking good. Its low price makes it an even more enticing option.
| | |
| --- | --- |
| Pros | Cons |
| Vintage patina with natural brown coloring | No independent ID hook |
| Reinforced holes | – |
| Brass hardware | – |
| Double belt loop | – |
| Sizes adjust 9 inches | – |
| Double stitches | – |
| Budget-rate price | – |
---
Trevano Genuine Leather Dog Collar – Customer Favorite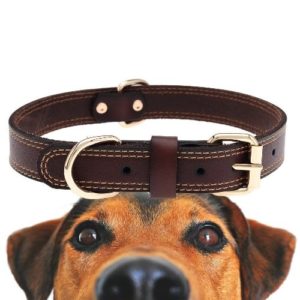 The Trevano Dog Collar is one of the top-selling leather dog collars on the market. Its unbelievably low price and attractive design make it a favorite for pampered pups. However, it's also earned plenty of accolades for its slip resistance features.
Tuggers beware: this strap offers a soft yet secure grip around Fido's precious neck. The durable alloy hardware, double stitches, and double D-rings only add this belt's magic. As if it weren't spectacular enough on its own, it's backed by a 30-day warranty.
Customers found the collar to be soft, flexible, and sophisticated. The dual D-rings enable users to place their leash in the perfect spot. The collar is even packaged alongside a playful poem.
| | |
| --- | --- |
| Pros | Cons |
| Sizes adjust 4 inches | Not padded |
| Made from genuine cow leather | – |
| 30-day warranty | – |
| No rough surfaces | – |
| Non-toxic and safe for canines | – |
---
Aolove Basic Padded Leather Pet Collar – Best Collar for Small Breeds and Cats
More often than not, hearty leather collars are geared toward large active breeds. However, that's not the case with the Aolove padded leather collar. This small yet mighty leather neckpiece is only 0.8 inches wide. Each collar offers 9 inches (five holes) of adjustment.
It's also equipped with a durable metal D-ring. The collar features a dyed leather exterior and a black liner.
Customers love that the Aolove offers room for growth. You don't need a perfect measurement of your pooch's neck just to place an accurate order. However, you will want to take note of which colors compliment your dog's coat. After all, Aolove offers 10 unique options.
| | |
| --- | --- |
| Pros | Cons |
| Available in 10 different colorways | Not suitable for dogs with sensitive skin |
| Premium leather and nickel-plated hardware | – |
| Five adjustment holes | – |
| Pleasing design | – |
| Separate sewn-in D-ring | – |
| Ideal for small and medium breeds | – |
| Perfect for puppies | – |
---
CollarDirect Leather Dog Collar – Coolest Colorway
We love the way that CollarDirect blends basic brown leather with dyed liner. This lovely belt has a soft lining that comes in a variety of bright colors, including blue, green, yellow, and red. These bright accents are further amplified by the golden hardware that is installed along the perimeter of this dog accessory.
Whether you are looking for a collar for a small, medium, or large dog, you're sure to find it in the CollarDirect neckband. After all, it is one of the few collars that offers an everyday look with a little pizazz.
Customers love the look of this two-toned leather piece. Not to mention, they believe it fits great and is exceptionally durable. Unlike inferior leather collars, the CollarDirect can withstand plenty of outdoor exposure without showing signs of wear and tear.
| | |
| --- | --- |
| Pros | Cons |
| Available in 10 colors | Sizes are very specific |
| 1 inch wide | – |
| Sizes adjust 3 inches | – |
| Genuine cow leather | – |
| Chocolate brown exterior | – |
---
Vcalabashor Customizable Leather Dog Collar – Best Engraved Leather Collar
Why rely on ID tags when you could have your dog's collar engraved? The Vcalabashor dog collar features a premium leather exterior with soft PU padding. Instead of a single exterior panel, it features a two-colored braided exterior with a stainless steel plate.
On top of that, the collar feature reinforced eyelets and metal hardware, including a D-ring for leash attachments. Customers can pick their favorite of eight unique colorways. What's more, they can have the plate engraved with their pooch's name, number, or address.
There's a lot to love about the Vcalabashor dog collar. For one, it's priced to sell. What's more, it doubles as a hard-to-miss ID tag. The characters on the plaque are laser etched, making them easy to read and identify.
| | |
| --- | --- |
| Pros | Cons |
| Laser-etched name plate or identification markers | Eyelets are located near the end of the belt |
| Adjustable sizes | – |
| Available in eight different colors | – |
| Braided design | – |
| Oversized D-ring | – |
| Anti-rip eyelets | – |
---
Daihaqiko Leather Dog Collar – Most Bang for Your Buck
Rounding out our list of top leather dog collars is our most durable and long-lasting pick. The Daihagiko is made from premium leather and features dual alloy D-rings. It offers a 350-pound pull resistance. Not to mention, it is guaranteed for 60 days to a year.
The belt is available in three sizes. The sizes provide 17 to 27 inches of adjustable neck length.
Customers agree that the Daihagiko is ideal for medium to large breeds. Not to mention, they seem to enjoy the look of the brass rivets and D-rings. The collar is exactly as it is described, with ample adjustment points and plenty of durable metal hardware.
| | |
| --- | --- |
| Pros | Cons |
| 1 inch thick | Matching leash sold separately |
| Sizes adjust 4 inches | – |
| 350 pounds of resistance | – |
| Double stitches | – |
| Alloy hardware | – |
| Multiple metal rivets | – |
---
Buyer's Guide – What to Look for in a Dog Collar
Collars are the single-most essential dog accessories. After all, there the point of reference for dog tags, rabies IDs, and leashes. As such, you're probably wondering how to pick the perfect leather dog leash. We got answers to all of your most pressing questions!
Fit
Before you begin shopping for a leather dog collar, measure the circumference and height of your dog's neck. Most leather collars are equipped with several adjustment eyelets. However, you still want to purchase a collar that offers the most comfortable and accurate fit. We recommend opting for a collar that is not too snug and not to loose. Remember, leather can be slightly stretchy. What's more, dogs often fluctuate in size depending on their age, level of activity, and diet.
On top of that, don't forget to take the width of the band into consideration. Choose a narrow collar for small breeds and puppies. Opt for a 1-inch collar for large, long-necked pooches.
Comfort
Most leather is soft, pliable, and smooth. Always opt for a collar that has rounded corners and concise accessories. You want to avoid a collar that could chaff a dog's neck or pull at their fur. We recommend opting for a collar that has separate ID and leash loops. This optimizes the distribution of weight and accessories.
Design
Many consumers are surprised by the dynamic selection of leather collars on the market. While you can certainly get your hands on a traditional black or brown strap, there are plenty of colorful alternatives. Some manufacturers will even engrave or emboss a collar with personal details. When shopping for a dog collar, pick a product that is attractive yet functional. These durable accessories can last for years!
Video Tutorial: Making a Leather Dog Collar
Final Thoughts
Before your pup suits up, you'll need to know what size they are. Using a cloth measuring tape or a piece of string, measure the circumference of your dog's neck, about halfway down its length. Add two inches, and voila, you found the correct length of your dog's collar.
To make sure your fur friend's fashion statement fits the bill, use the two-finger rule. Slide the width of your two fingers between the collar and your dog's neck. The collar should feel snug, but not tight. You want to make sure the collar can't slide off their head.
First, what type of collar will you need? Standard collars are made from leather or a nylon band that straps around the neck. They're classic and versatile. These collars work for dogs of all sizes and come in a variety of designs.
If you're looking for something fashionable, yet functional, Martingale collars are perfect for a night out on the town or even just an afternoon stroll around the block. These collars will gently tighten when your dog pulls and loosen when he stops. They can help train your dog not to pull on a leash without injuring them. They're also ideal for canines with smaller heads and big necks, so they can't slip out easily — for instance, greyhounds and whippets.
After you decide on a type, standard, or Martingale, it's time to consider other features. Some collars have buckles. Other collars have side release clips, which make putting the collar on and taking it off quick and easy.
If your dog enjoys late-night strolls under the moon, you might want a reflective collar to help make your dog more visible. Or, if your pup prefers long walks on the beach instead, go with a water-resistant, coated nylon, or all rubber collar.
Toss that beat nylon neckband in the trash! Whether you have a tugger, a digger, a runner, or a roller, a leather dog collar will help your canine make it through their daily adventure. We hope you enjoyed our reviews of the best leather dog collars! Stay tuned for more product reviews!
---