Size: 18 To 21 Inches
Color: Black
Width is 1.5 Inches
Size: Large
Color: Brown
Handcrafted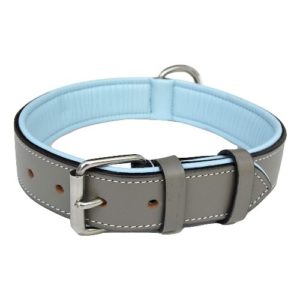 Size: 18 To 21 Inches
Handmade
High Quality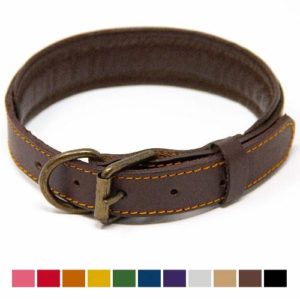 Easy Care
Comfortable & Durable
Premium Hardware
Easy Care
Rustic Metal Hardware
Fits Medium To Large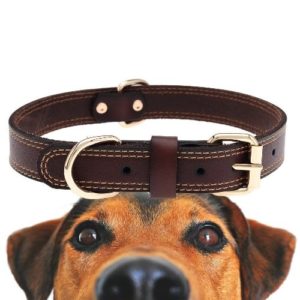 Elegant And Durable
Comfortable model
Safe and non-toxic
5 Adjustment Holes
Material: Leather + Alloy
High Quality Leather
Total Length: 20"
High Quality & Comfort
Handmade
Stylish Braided Design
Comfortable Wearing
100% Real Leather
Genuine Leather
Excellent Quality
Double D-Ring
Picking out your dog's leather collar can be a lot of fun. There are tons of different colors, patterns, and styles to shop.
Buyer's Guide
Before your pup suits up, you'll need to know what size they are. Using a cloth measuring tape or a piece of string, measure the circumference of your dog's neck, about halfway down its length. Add two inches, and voila, you found the correct length of your dog's collar.
To make sure your fur friend's fashion statement fits the bill, use the two-finger rule. Slide the width of your two fingers between the collar and your dog's neck. The collar should feel snug, but not tight. You want to make sure the collar can't slide off their head.
Design Details
First, what type of collar will you need? Standard collars are made from leather or a nylon band that straps around the neck. They're classic and versatile. These collars work for dogs of all sizes and come in a variety of designs.
If you're looking for something fashionable, yet functional, Martingale collars are perfect for a night out on the town or even just an afternoon stroll around the block. These collars will gently tighten when your dog pulls and loosen when he stops. They can help train your dog not to pull on a leash without injuring them. They're also ideal for canines with smaller heads and big necks, so they can't slip out easily — for instance, greyhounds and whippets.
After you decide on a type, standard, or Martingale, it's time to consider other features. Some collars have buckles. Other collars have side release clips, which make putting the collar on and taking it off quick and easy.
If your dog enjoys late-night strolls under the moon, you might want a reflective collar to help make your dog more visible. Or, if your pup prefers long walks on the beach instead, go with a water-resistant, coated nylon, or all rubber collar.
Video Tutorial: Making a Leather Dog Collar
---