---
Keeping your shoes dry is no easy matter. You don't want to put them in a conventional dryer. They will bang around and make a lot of horrible noise. On top of that, your normal washer dryer unit just isn't made to handle this type of task. What you need is a special shoe dryer that can safely do the job.
The shoe dryers on this list have been specially checked out, tested, and selected by us. These are the models that we feel are the best in their class. They are not only the best selling units but also the ones that have received the best reviews from experts in the industry. Here are our Top 5 Best Shoe Dryers.
PEET – The Original 2-Shoe Electric Shoe and Boot Dryer and Warmer
First on our list is the Original 2-Shoe Electric Shoe and Boot Dryer and Warmer model from PEET. This is an extremely handy unit in more ways than one. It uses rising warm air to dry out your shoes. This eliminates the need for noisy fans that create as much disturbance and potential for fire hazard as they do drying air.
The Original 2-Shoe Electric Shoe and Boot Dryer and Warmer works by gently drying out your shoes overnight. Simply place your shoes on the unit, turn it on, and let it do its job. It works relatively quickly but in a gentle fashion. This keeps it from becoming a fire hazard.
| | |
| --- | --- |
| Pros | Cons |
| Unit is safe to use on leather, rubber, vinyl, neoprene, canvas, synthetics, fleece, microfibers, and others | May not be ideal for all sizes of shoes,. especially larger ones |
| Unit is always ready to dry your shoes. Simply plug it in to your nearest electrical outlet | Reasonably priced for the job it does, especially for the long term, but may be a bit much for some budgets as a short range investment |
| Unit uses less electricity than a low wattage household light bulb | – |
| Covered with a 25 year warranty | – |
---
DryGuy DX Forced – Air Boot Dryer and Garment Dryer
The new DryGuy DX Forced Air Boot Dryer and Garment Dryer is the perfect model designed specifically for drying out larger shoes and boots. It's also a very handy unit that uses a forced air system. This system can dry out boots, gloves, and four different garments all at one time.
The unit heats shoes and boots up to 105-degrees F or 40.5-degrees C. It includes two removable extension tubes for use with boots that can measure up to 16 inches in height. It also features an extremely silent rotary blower unit that can completely dry most boots and shoes in a period of 3 hours on average.
| | |
| --- | --- |
| Pros | Cons |
| Unit heats shoes and boots up to 105-degrees F | May be a bit pricy for some budgets |
| Unit includes two removable extension tubes for use with boots up to 16 inches tall | Definitely meant for larger, rather than smaller, shoes and primarily for boots |
| Whisper quiet motor | – |
| Can completely dry most large shoes and boots in a period of 3 hours | – |
---
DryGuy Force Dry – Boot Dryer
The new DryGuy Force Dry Boot Dryer is a handy unit that can quickly dry boots, gloves, and all sizes of shoes. It's a lightweight, portable unit with total dimensions of 8 inches high x 8.5 inches long x 3.5 inches high. The usual time for drying is 1 to 2 hours.
It's safe for household use and backed with a warranty.
It should be pointed out that the DryGuy Force Dry Boot Dryer is meant for boots and larger sizes of shoes. It may not be ideal for drying women's pumps or heels. However, it is an excellent unit for boots as well as gloves. It comes with a 3 hour automatic shut off timer to prevent the unit from overheating and causing a fire.
| | |
| --- | --- |
| Pros | Cons |
| Heats up gloves and larger sized shoes as well as boots | Not meant for smaller shoes |
| Quick drying action usually achieves complete drying in 1 to 2 hours | May need to be closely monitored to prevent overheating |
| Specially designed to kill odor causing bacteria | – |
| Covered by a complete warranty of quality direct from the manufacturer | – |
---
PEET Advantage 4-Shoe – Electric Express Shoe and Boot Dryer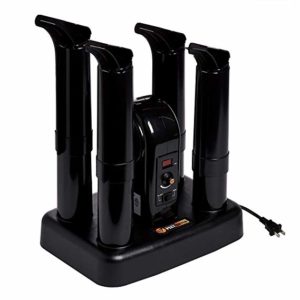 If you need a unit that will quickly and conveniently dry out 4 separate pairs of shoes or boots, this is an excellent choice. The PEET Advantage 4-Shoe Electric Express Shoe and Boot Dryer has been designed with quality and convenience in mind.
It is ideal for removing dampness, sweat, and odor-causing bacteria from your footwear.
The unit is designed to quickly and very silently dry and deodorize up to 4 pairs of shoes or boots at a time. It can do this task in between 1 to 4 hours, depending on the size of the load. It uses a special power fan that uses less electricity than it takes to power a standard electric light bulb.
| | |
| --- | --- |
| Pros | Cons |
| Uses less electricity than a standard light bulb | Device may need to be monitored in order to prevent overheating |
| Special power fan runs efficiently and silently | Ports for drying gloves need to be purchased separately |
| Can dry up to 4 pairs of shoes or boots in a single use | – |
| Specially designed to deodorize as well as dry | – |
---
JobSite Original – Shoe Boot Dryer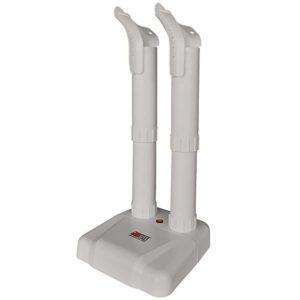 The JobSite Original Shoe Boot Dryer is a very useful household budget unit. It features a wide variety of dry time settings. These include a dry time warm up of 30 minutes, a damp setting of 8 hours, and a wet setting that is designed to dry overnight.
It comes with a complete warranty of quality direct from the maker.
In many ways, this is the simplest item on the present list. It has been designed by industry experts to work very quickly, silently, and safely. Since it contains no motor or any other moving parts, it tends to run so quietly that you may not even realize it that the unit is working. However, it is designed to run continuously.
| | |
| --- | --- |
| Pros | Cons |
| Exttremely silent and efficient | Designed to work efficiently and safely but is best used at the overnight setting |
| Contains no moving parts that can overheat or become a fire hazard | Best used for smaller and medium-sized shoes and boots |
| Designed to naturally contain and destroy bacteria that can cause odor | – |
| Covered by a complete warranty of quality direct from the maker | – |
---
Shoe Dryer Buyer's Guide
There are a number of important issues to be aware of when selecting a model to be your permanent household shoe dryer. The first is convenience. You want to choose a unit that can completely dry all of your shoes and boots in as short an amount of time as possible. Some units run overnight while others complete the job in 1 to 3 hours.
Make Sure Your Shoe Dryer is Diverse
The next point to consider is utility. If you have other items of apparel such as boots or gloves that need to be dried, you will want to choose a more diverse unit. All of the units on the present list have been selected with this quality in mind. Some of them can handle boots, shoes, and gloves with equal facility.
Your Shoe Dryer Should Handle Different Sizes of Footwear
You will also need to make sure that you select a shoe drying unit that is right for your household needs. If you only have your own shoes to dry, you can choose a unit that handles your specific shoe size. If you have others living in your home, you will want to choose a model that handles larger and smaller sizes of shoes and boots.
Your Shoe Dryer Should Be as Safe as Possible
Another important aspect to keep in mind at all times is safety. You will want to choose a shoe dryer that runs as efficiently and safely as possible. Some of the units on this list come with an automatic stop feature to keep them from overheating. Others are designed to warm as naturally as possible with no motor or other moving parts.
Your Shoe Dryer Should Be Cost Effective
The final point for you to consider is cost effectiveness. All of the units on this list have been designed to provide many years' worth of service. They are well worth the initial investment. Buyers on a budget should keep this in mind when selecting a shoe dryer model for their household use.
FAQ Shoe Dryers 
How does a shoe dryer work?
It depends on a shoe dryer model. There are different design and working mechanisms. Most shoe dryers operate by the thermal convection principle. The air is sucked in at room temperature and is converted through their vents. This air is warmed up inside the shoe, clothing or accessory to get rid of the moisture. The use is pretty simple. Squeeze out all the excess water from the socks. Insert the dryer on the shoe into your shoes. For some period, you should put it face down and then place it facing up, so that the sole is dry on both ends.
Most experts recommend picking the shoe dryers with the forced air system. Such models have the hoses that you may put directly inside the shoes. Also, you will be able to place the shoes upside down to speed up the process of drying. 
Always make sure the shoe dryer has an "on and off" option because it's so much simpler to turn a button than plug-in and out the system anytime you need to use it.
Can you leave a boot dryer on all night?
It is not a recommendation but an obligation to dry leather shoes and boots overnight. Surely, drying time varies depending on the fabric or material used on the top of your shoes and the extent of moisture. The size of the boots is not that relevant, though logically small shoes will dry faster. Also, the natural leather boots won't dry even overnight if the surrounding humidity is high. 
But if you have a powerful boot dryer with two horsepower or more, with strong hot air blowing all over the single pair of wet shoes, you may need less time than a night – about 3-4 hours will be enough. Before leaving any electrical gadget turned on for a few hours without surveillance, make sure there are no fire hazards. 
What is a PEET dryer?
If you start researching shoe dryers, then you will eventually find a PEET dryer reference. This is a really popular shoe dryer by the PEET brand. The manufacturer boasts 3 major benefits of using a PEET shoe and boot dryer:  
Quickly makes even the thickest shoes dry from sweat, moisture and odor;

An environmental-friendly device that is safe for all materials including natural leather;

Gentle drying prolongs the service life of valuable leather gear and footwear;
The Original, Multi and Propane PEET shoe dryers use the surrounding temperature in the room to let the airflow go through the vents to the base. This air is slightly warmed to engage thermal convection through the Air Chambers inside every PEET dryer. From the Air Chambers, the warm air goes to the Dry Ports where this flow circulates to safely and quickly remove the traces of moistures, sweat and unpleasant odor all over the shoes (both outside and inside). 
Some profound PEET dryers also employ the UV light tech to neutralize odor-causing polluters. Also, all PEET devices are noiseless.  
It makes sense to invest in a powerful PEET dryer only if you need to remove sweat and odor, in addition to the moisture from rain. Some PEET dryers can be used as a docking station for leather gear and footwear that you wear every day. 
Can a boot dryer catch on fire?
Boot dryers aren't more prone to spontaneously combust than a hairdryer. It is an electronic gadget, after all. Though, it's better to prevent the fire than to find a remedy after the unit is set on fire. Here are the steps you can take to deter fire injuries including a boot dryer.
Shoe dryers are an essential part of keeping the shoes healthy for wearing. The boots are kept odor-free and in excellent shape.
An immediate answer to this question is no. Shoe dryers are fairly safe to use unless they are applied in the wrong way. It is easy to prevent those unusual conditions. 
Are shoe dryers bad for leather boots?
As long as you apply the gadget according to the manual, all modern shoe dryers can be used for drying natural leather shoes. Forced air dryers can do well. The manufacturers recommend such models for drying the shoes made of top-grain leather, full-grain leather, or even gator skin. Besides natural leather, these devices may effectively dry rubber, canvas, vinyl and neoprene. 
However, you may want to put only very wet leather shoes in a boot dryer. Because constant extensive moisture and hot air drying are not great for natural leather. 
Though, it is better to dry the wet leather shoes in a specialized shoe dryer than using a hair dryer or radiator. Experts recommend drying slightly wet leather shoes naturally – in a dry room without direct heat sources, from 24 to 48 hours. 
How can you dry your boots without a shoe dryer?
First, you should prepare the shoes for drying. Start drying them as soon as you come home. However, all the mud traces have to be removed before drying. The insoles and laces should be removed as well. Without a powerful shoe dryer, your boots or shoes have to dry for a few hours, preferably overnight. 
After preparing the shoes, you can use a few methods for their natural dry overnight: 
1) Use a paper towel or old newspaper/paper sheets. Stuff the wet but clean boots/shoes with dry newspaper sheets. They will quickly soak any extra moisture inside the footwear. Before stuffing, it is better to punch a few holes in a paper towel or newspaper sheet. After 2-3 hours change the sheets inside the boots. 
2) Use rice or car litter in a sock. To put your boots in, you would need the bucket of the correct size alongside the rice or kitty litter. Cover the bucket with rice or cat litter about 1 inch full and then place the shoes inside. Place the shoes in and cover the top with a cap to quit for the night. Then rice/kitty litter may be removed anywhere you consider necessary, based on the amount of moisture to eliminate.
3) Use a dry and thick towel. Close to the newspaper method, for soaking up the sweat and moisture, a fabric towel is used. Remember to clean the shoes in advance and then place two corners of a thick towel in each pair. Instead, tie around the shoes the remaining two sides of the sheet, to protect them fully. The towel will be used to absorb the original moisture for a few minutes, then discarded afterward. Repeat, and end the cycle with a new, dry towel. 
The most important rule here is avoiding direct heat or fire. So, putting the wet shoes on a heater or wood stove is a very bad idea. Never place the leather shoes by an open fireplace. Otherwise, glue or thin fabrics holding the shoes together may easily heat up and fall off. Also, skip the use of a blow dryer!
How long does it take shoes to dry?
It depends on the picked method of drying. The hot air should blow on or at the shoes – it is not even necessary to put a dryer inside the leather shoes. Still, you may need at least 12 hours to dry natural leather shoes completely. Less time is required if you need to dry the shoes made of thin fabric like sneakers. If you need to dry them faster by means of a specialized shoe dryer, there are a few tricks you may do:
Clean the shoes from any mud traces;

Remove all the insoles and lace to leave at least 6 inches between the top of the shoes and their base;

The dryer's tubes should be placed inside the boots;

Place the shoes so the top is higher than the heel – in such a way, the footwear will drive more even and faster;
Video Tutorial: The Original Peet Dryer Review
Conclusion
All of the shoe dryers on this list have been vetted for quality. They have been chosen for their high value in the area of safety, efficiency, and cost effectiveness. Some of the models on this list may be a bit pricy for buyers on a strict budget. However, they represent the state of the art and are well worth the investment.
---