100% Leather
Rubber sole
Removable footbed
Leather, Mesh, Suede
Rubber sole
Waterproof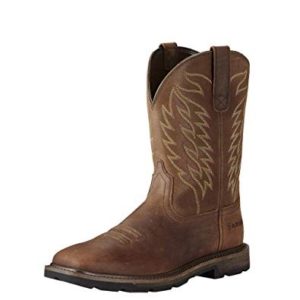 100% leather
Rubber sole
Heel measures 1"
Synthetic Leather
Synthetic sole
Water Resistance
100% Leather upper
Rubber sole
Removable ortholite footbed
---
Choose the Best Leather Boots For Men
Customer's Choice: the Best Rated Leather Boots For Men
7 users answered this survey. Please help us improve this review!

85.71% of users selected Timberland, 14.29% selected Columbia, 0% selected Ariat, 0% selected Ferro and 0% selected Rockport. Every month we analyze your answers and change our rating.
---
Leather has been long considered as a rather expensive material, underlying the prestige of the wearers. Not everyone can afford it but it is assumed that the quality of this material is worthy of its cost. If one makes the right choice and buys properly fitting leather boots, they may wear well for much more than only one season, still remaining in. So a man should take choosing leather boots seriously. When deciding, it's important to bear in mind several factors.
Factors to consider
Intention

: are you going to wear boots casually or formally? Should they suit your jeans and a sweater or dress pants and a shirt? Are you going to put them on when you go to a restaurant for a date or go hiking?

Comfort

: do you prefer laced boots or non-laced ones?

Style

: what boots would you choose – low-cut, mid-cut, or high-cut? Which one will fit your stature best?
Why Leather Boots?
breathable

: the material lets the air in, thus cooling your feet and preventing the bad smell.

durable

:

the material lasts long as it remains strong against demanding application conditions.

water-proof

: if treated or waxed, the leather is resistant to liquids, helping to keep your feet dry.

comfortable

: leather can adapt to your foot shape, perfectly fitting to the

shape of your foot

. 

easy to clean

: you can safely wash them with a damp cloth.

stylish

: leather boots are always a

luxury item in your outfit.
Men are likely to be satisfied with any boots included in this TOP 5 Best Leather Boots review if they choose the ones which would meet their needs best. General characteristics are available in the comparison table below.
Timberland White Ledge Boot – the Best Choice for Hiking!
Timberland's Boots are high-quality boots with a rubber outsole, removable dual-density footbed, and midsole from EVA, and a padded collar which make them durable and comfortable.
The boots are waterproof due to very few seams in their construction. Their uppers are made of full-grain leather manufactured in the LWG Silver-rated tannery. The boots feature secure lacing ensured by rustproof, speed lace hardware with lace hooks at the top.
By buying these Timberland Boots, one can get rather light and easy to wear boots as the White Ledge Boot weighs only 1.1 pounds. It has dimensions 12 x 9 x 6 inches and a shaft measuring about 4.75″ from arch.
Pros
Pros
The seam-sealed construction adds to water resistance;
Perfect weight/quality ratio;
True to size;
Can be worn right out the box;
The solid rubber outsole ensures stable footing;
The gusseted tongue keeps your feet debris free.
Cons
Cons
Non-insulated and, therefore, not particularly warm;
Water-resistance ability may fade away;
To maintain waterproofing it's preferable to use Timberland's own coating.
This activewear might be a good choice for anyone planning to trek up a mountain or hike in a forest.
---
Columbia Newton Ridge Plus II Boot – the Best for Slippery Terrains!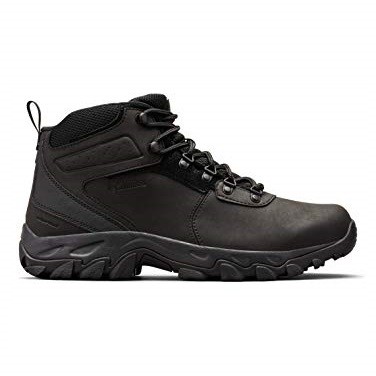 The Newton Ridge Plus II hiking boots are made of a waterproof full-grain leather in combination with a suede construction. Their platform is about 0.50″.
The rubber sole features an advanced high-traction grip technology ensuring slip-free movement even across wet terrains. The boots provide impact absorption and high energy return to their wearers. A lace-up closure makes sure the fit is adjustable and secure.
Pros
Pros
The soft tread grips well, preventing slipping;
Lightweight;
The mesh tongue adds to the breathability;
Available in multiple colors;
The signature midsole ensures superior cushioning.
Cons
Cons
The tread wears off pretty fast;
Not really waterproof;
Fit well with a specific foot shape, quite uncommon in different parts of the world.
This Columbia Men's Newton Ridge Plus II Waterproof hiking boot may be highly liked by hikers on the trail or any other slippery terrains.
---
Ariat Groundbreaker Workboot- the Best Choice for Equestrian Athletes!
Ariat Men's Groundbreaker Workboots are square-toed boots with a 90-degree heel and a shaft measuring near 11″ from arch. The foot is made of full-grain leather but the uppers are suede.
The boots feature a Duratread outsole, rubber sole, and a removable insole. The wearer comfort is achieved due to cushioning, ensured by a four-layer footbed, and the Clarino shank.
Pros
Pros
High-quality material;
Aesthetically appealing;
Safety soft toe;
Wear-resistant;
Oil and slip resisting.
Cons
Cons
Not steel-toe;
Run loose;
Rather slippery;
Created as an advanced decision for equestrian athletes, Ariat Men's Groundbreaker Workboots may be a perfect choice not only for riders, making no difference whether they participate in show jumping, are involved in team penning, or just enjoy riding for pleasure, but also for anyone living and working in the open air.
---
Ariat Groundbreaker Workboot- the Best to Look Prestigious!
These stylish Ferro Aldo Michael Brogue Boots are made of top-class synthetic leather. The perforation is expected to make the boots breathable and the texture makes the wearer look highly prestigious.
For greater convenience, Ferro Aldo Michael Boots feature a zipper on the side of a foot so no need to re-tie the laces each time you put them on. The synthetic soles make the boots slip-resistant.
Pros
Pros
Look classy;
Eco-friendly, as manufactured without butchering;
Perfect cost/quality ratio;
A heel tab ensures a free process of putting the boots on and taking them off;
The laces maintain their form and stay tightened for long;
Offered with a 30-Day Money-Back Guarantee and 90-Day Limited Manufacturer's Warranty.
Cons
Cons
Run loose;
It takes time to get the dye odor out of them;
No memory foam soles;
Not suitable for washer/dryer;
Perforations hardly ventilate but add to the design.
Ferro Aldo Michael Boots may function well if being worn while performing various activities under different weather conditions. If you're a sharp dresser, you might find these boots quite needful in your closet.
---
Rockport Toloni Boot- the Best for a Daily Use!
Rockport Men's Toloni Boots are manufactured with the implementation of Trutech technologies. These boots are not 100% leather. The uppers are made of leather and the sole is synthetic.
The outsole is made of thermoplastic rubber. Wearing comfort is achieved thanks to the EVA ortholite footbed, which can be removed, and a heel cup. Rockport Men's Toloni Boots feature a side zipper for convenience. Weighing 3 pounds, they are not lightweight.
Pros
Pros
Practical;
Don't squeak if walking on smooth areas;
Feature a comfortable fabric lining.
Cons
Cons
Intended for dry weather;
The regular width is a little narrower than expected.
Rockport Toloni Boots would probably suit equally well when wearing both with casual clothing and night-out one.
---
The Buyer's Guide
When choosing leather boots, pay great attention to the following characteristics:
Material
If you choose the wrong material for your shoes, you might jeopard to have your feet cramped and feel uncomfortable. Lather shoes are of greatest popularity now. However, there are different types of this material and their price also varies. Watch out if you see that certain boots are just "leather", they may be of really poor quality. Pay attention to the specifications. 
Cheap boots are often made of vegan leather; 

More expensive shoes – of full-grain leather that is believed to be the

highest quality

leather;

Next goes top-grain leather; 

Suede shoes are soft and comfortable;

Nubuck is a stronger and more durable leather type.
Prestige of brand
Plenty of brands exist today. Some of them have already gained a worldwide reputation and proved their quality. Others are still working on it. Learn how the brand is accepted by customers from different parts of the world to ensure that their product fully meets your needs.
Size
It is crucial to select the appropriate size. If a boot doesn't fit snug enough, your heel is floating or there's too little room in the toe box, the uncomfortable pair of shoes is likely to hurt you, causing blisters and unpleasant feelings. Consider other buyers' reviews to make sure the boots are true to size, even if it's specified so in their description. Another useful idea is to check the size chart.
Cut
Decide on the preferable height of boots. If you need boots for casual walks, low-cut ones may serve you well. However, they don't give you the support and balance you need on more complicated terrains and don't protect your ankles from injuries. But mid-cut boots do. If you're an adventurous hiker, then what you need can be high-cut boots which guarantee the most comfort and safety to you. Besides, choose the cut which is more likely to suit most of your clothes.
Video Tutorial: Leather Chelsea Boot Style Guide
Final thoughts
Choosing leather boots is a highly sensitive task that should be taken seriously. There're various factors to bear in mind when looking for your perfect pair. You shouldn't neglect them as your daily comfort and satisfaction directly depend on your choice!
You're highly likely to find your perfect pair in this TOP 5 Leather Boots review since it offers the boots which would perfectly suit any possible wearing intention such as hiking in a forest, trekking a mountain, moving on wet and slippery surfaces, being on the trail, enjoying a daily walk, partying or even working. Be attentive and good luck!
---