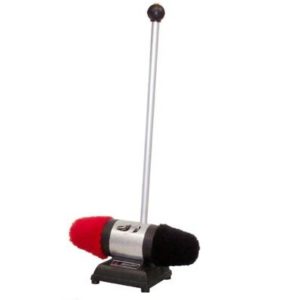 All Types of Shoes
Dual Buffers
100% Lamb Wool
Quiet
Dual Buffers
100% Lamb Wool
All Types of Shoes
Small in Size
Light Weigh
Compact & Powerful
Premium Quality and Design
Compact Size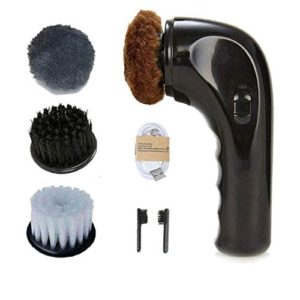 All Types of Shoes
Compact Size
Rechargeable battery
---
Choose the Best Electric Shoe Polisher
Customer's Choice: the Best Rated Electric Shoe Polishers
23 users answered this survey. Please help us improve this review!

69.57% of users selected Sunpentown, 0% selected TruePower, 4.35% selected Amayia, 17.39% selected King Shoes and 8.7% selected Zhouxt. Every month we analyze your answers and change our rating.
---
When you wear dress shoes a lot, you may need a good quality buffer. If you have expensive accessories, furniture, or car interiors, then having a dependable polisher is important. Instead of buffing these items by hand, you can use the five machines on our list to keep every pair of shoes, purse, and dash in your collection nice and shiny. These tools may save you time and a lot of hassle.
If you travel for a living, then having an electric buffer for your shoes and jackets might be important. Even more useful, a small polisher with a variety of attachments can take care of several types of footwear and accessories. We talk about five of our favorite electric shoe shining tools below.
Whether you have a whole closet full of shoes, or you need a tool for cleaning that travels well, we have five items that may come in handy. These reviews will give you the details you need to make the right purchase for your shoes, vehicles, accessories, and lifestyle.
SUNPENTOWN UC-989 – Best Standalone Shoe Polisher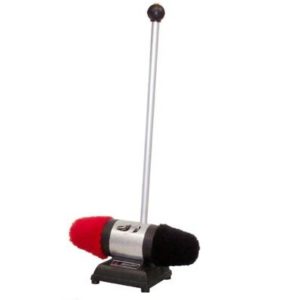 If you have a walk-in closet full of Jimmy Choos or Christian Louboutins, then you may want the right tools to take good care of these shoes. This polisher is 30 inches tall with a handle that stands by itself. Putting on a brilliant shine on the way out the door to an important meeting is nothing with this machine.
The lamb's wool heads on this buffer are soft and safe for any shoe fabric. This electric polisher takes the work out of buffing your shoes by shining them both at the same time if you want. The convenient size of this tool makes it excellent for storing in your closet or the corner of any room.
| | |
| --- | --- |
| Pros | Cons |
| Genuine American product | Motor may not be powerful enough for thick boots |
| Push button stop and start | – |
| Quiet motor | – |
| Weighs under 10 pounds | – |
---
TruePower – Best Dual Shoe Buffer
Your shoes say a lot about you and how you care for yourself. If you look good from top to bottom, then you are more likely to feel better. To keep your shoes clean, you may want a shoe polisher you can stand by the door to keep your cowboy boots and business shoes neat and tidy.
The TruePower Shoe shining tool uses two lamb's wool buffing dials to polish your footwear gently. The 33-inch height makes this model easier for people over six feet tall to operate. The round button faces up on the top of the handle, so all the user needs to do is press down to operate the polisher.
| | |
| --- | --- |
| Pros | Cons |
| Three-prong electric plug with durable 71-inch cord | Engine may smoke |
| Lightweight | Buffer may stop rotating when a shoe is too far under the head |
| 100-watt motor | – |
| Lambs wool brushes | – |
---
Amayia – Best Handheld Shoe Shiner
When you need a serious shining kit that includes dusting tools and oiling brushes, then a complete kit is necessary. The Amayia shoe polish kit comes with several brush tips for every purpose. The machine fits into the palm of your hand.
You may appreciate the ability to use this kit to detail the interior of your vehicle or to deep-clean your Louis Vuitton purse.
This shining tool is small enough to tote in a bag or to put in carry-on luggage. With no cord, you can charge this item via the USB cable and use it whether you have an outlet or not. The battery will last for over an hour with a full charge.
| | |
| --- | --- |
| Pros | Cons |
| Durable Lithium ion battery | May be too low power for some users |
| USB charger | – |
| Easy to store in the office, boat, or luggage | – |
| Reduces time | – |
---
The King's Shoes – Best Shoe Polisher Kit
When an immaculate presentation is key, having a complete shoe polishing kit may be vital to your success. The King's Shoes polishing system comes with six different brush tips, conditioning cream, and moisturizers. These brushes use cotton and flannel materials. The natural fibers protect your fine leather goods and expensive items.
A variable-speed motor lets you get the look you want. This motor is powerful, with 1,100 watts at top speed. Replacing the batteries is easy with this machine using four AA batteries.
| | |
| --- | --- |
| Pros | Cons |
| 100 hour battery life | Polish may not be as high quality as the packaging |
| Kit comes in a box with a suede bag to keep all your items handy | – |
| Swine bristle dusting brushes | – |
---
Zhouxt – Best Lightweight Shoe Buffer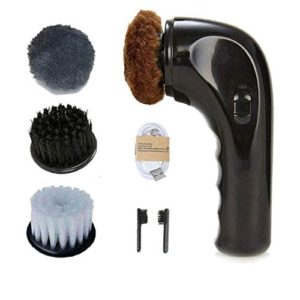 Do you need a leather cleaning tool that you can store in a drawer or take with you when you travel? If the size and weight of the polisher are important, then the Zhouxt shiner might be appealing. This buffer weighs less than a pound.
This shoe shine kit comes with three brushes and a polish rag. The buffer charges with a USB cable. This shiner is black and modern, so you can put it on your vanity or dresser.
| | |
| --- | --- |
| Pros | Cons |
| 1.5 hour battery life | Needs a break every 15 minutes to prevent burning up the engine |
| Replacement brushes available | – |
| Red light shows when charging | – |
---
Top questions and answers about electric shoe polishers
You may wonder how to pick the right size or brush for your shoes. This section of the article will answer some of the common questions about these machines.
Does the polisher have a cord
The first two products on this list have an electric cord. These models are standing shoe shiners.
The last three items are cordless shoe buffers. These three are easily portable handheld items. You may like how light these machines are for times when you need to travel with a shoe shine kit.
Why are there two colors on the standing buffers
People often have several pairs of leather shoes and boots. If you have black footwear, then you cannot polish these shoes and then use the same brush on brown or tan boots. The red and black buffers are for using black and another color polish. If you only want to use one color with the buffer, then you can polish two shoes at once.
Can you wash the shoe brushes and bonnets
No. They fix these items, and they do not come off for rinsing or washing.
What materials do you use for the brush
All the items on our list use natural fibers and materials. For example, The King's Shoes set uses flannel and swine hair. The stand up polishers use lamb's wool.
Can I use these polishers to clean the leather seats in my car
If you purchase one of the handheld buffers, then yes. The last three products are battery-operated, letting you take the tool to the job. You may appreciate how light these machines are when you have a long couch to clean. You might want to check the maximum operating time before purchasing a shoe shiner. Some of the models must have a break to cool down between polishing tasks.
Does the kit come with shoe polish
Some of the items on our list come with cream or leather conditioner. The King's Shoes comes with three applications for your boots and shoes. The standing buffers do not come with polishes.
Do I have to dust my shoes before I polish them
Yes. Cleaning off the dust will allow the leather cleaner or polish to get to all the material. Using an electric brush on dirty shoes can scratch or damage your fine items. Getting all the dirt off first will also ensure the polish adheres to the entire surface.
Video Tutorial: How To Use Beck Shoe Polisher Model 577
Ending thoughts on electric shoe polishers
We think people with a serious collection of shoes or expensive items may want the standalone and handheld options on our list. If you have one of each, then you always have a way to take care of your premium goods. When picking just one product, our favorite is the King's Shoes kit. This item comes with all-natural brushes and basic creams and conditioners for your purses, belts, couches, jackets, hats, and more.
---