I've already covered what is aniline leather. But there is one peculiar leather type that shares similar qualities, though has a few distinctive and unique properties. Let's find out
what semi-aniline leather is
and how it is different from other leather materials in the U.S. market.
What is semi-aniline leather type?
Semi-aniline leather is aniline leather type but with one difference – it is covered with a thin layer of pigments that do not hide the pores and the patterns on the surface, but instead make them less distinct. Semi-aniline is soft, warm and pleasant to the touch, also, it looks natural despite the processing.
Unlike aniline that absorbs water like a sponge, semi-aniline leather has the basic protection layer. At the same time, the protection is not as strong as, for example, smooth pigmented leather has.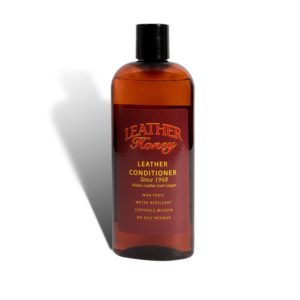 The Leather Honey brand is a cleaning solution that's perfect for anyone that has a stained or heavily soiled semi-aniline leather goods. It rids away dirt and grime fast, resulting in an excellent restoration job.
This type of leather is covered with a basic protective layer, and the second layer contains only paint or a contrasting pigment that creates the distinguishable two-tone effect.
Semi-aniline is the highest quality leather, the finish of which includes additional pigmentation.
Light pigmentation serves to maintain the same leather color and its flawless structure.
Semi-aniline is less sensitive than aniline, but at the same time, its natural marks remain noticeable. Light pigmentation maintains softness, a smooth touch of the material and its ability to "breathe" remain the best properties. 
The surface of semi-aniline is covered with a slightly pigmented layer, which makes it possible to even out its color and hide minor defects. Then, special dyes are applied by spraying to achieve the natural look of the skin. This material has a weak protective layer, so I recommend applying special protective products for leather to gain its durability.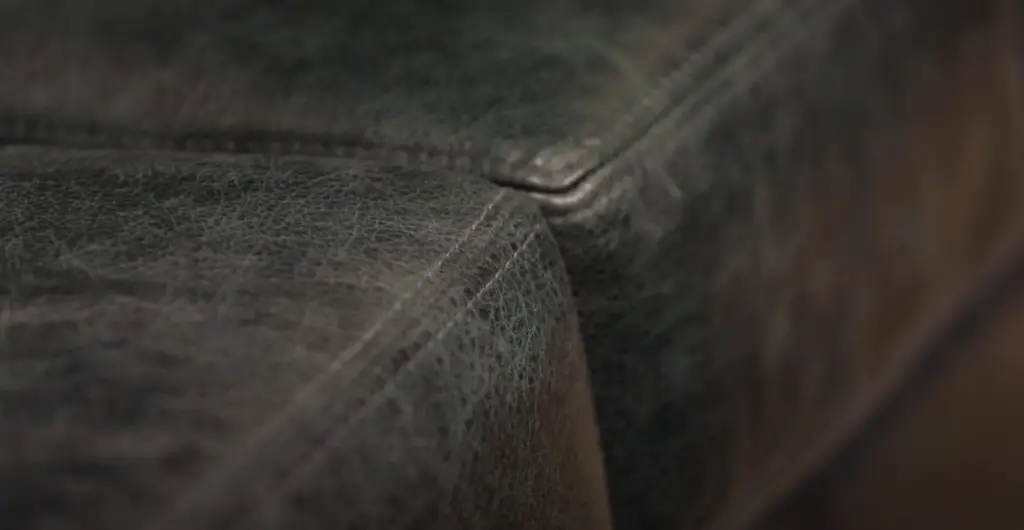 Qualities of semi-aniline leather:
natural granular surface;

resistance to light;

more practical uses (compared with aniline leather);

ease of use and care (the leather "breathes");
Properties of semi-aniline leather
If you use a magnifying glass for the visual test, you can check that semi-aniline is evenly colored. If the protective product was applied in a thin layer, then the natural defects of animal hides will be noticeable – like the traces of insect bites and small scars. The leather areas with deep and large scars are not used for making semi-aniline material. The natural texture is clearly visible.
If you really deal with natural semi-aniline leather, then with a visual inspection with a magnifier you can also notice barely visible hair follicles on the surface in the form of small marks, on top of which a thin protective layer is applied. Sometimes a thicker protective layer is applied to the semi-aniline leather type. In this case, natural defects become almost invisible. Semi-aniline is mostly like aniline, but with a protective coating, so the advantages and disadvantages of these natural leather types are slightly different.
Where is semi-aniline leather used?
Nice-looking and durable furniture upholstery, clothes and bags are made from semi-aniline leather. Since this material is less protected from moisture than pigmented leather, it is not used for the upholstery of car interiors.
Pros of semi-aniline leather: 
It looks very natural when made properly;

Imitates aniline;

Easier to take care compared to aniline;

It has a more resistant coating than aniline leather;

When properly processed, it looks very natural;

Visually it almost does not differ from aniline;

It has a relatively stable protective coating;

It has a natural color of the same shade all over the surface;
Cons of semi-aniline leather: 
It looks less natural than aniline;

Not good for mass production – you won't get much profits;

Sometimes there are problems with the transfer of dyes and oils when the leather was processed;

Dyes quickly erase in places of the most frequent use;

The protective layer is quickly erased and abrasions may appear on the surface. This can be avoided by using special

semi-aniline leather care

products;

It "breathes" worse than aniline;

Semi-aniline is more slippery in comparison with aniline, as its protective coating is very smooth;
Semi-aniline leather vs other types of natural leather
Below you will find the guide explaining the difference between semi-aniline materials and other leather types: 
Full-grain aniline leather. It is also called simply aniline or premium leather. This material of the highest quality and the most expensive in terms of quality. It is made from the leather that has its natural grain (full-grain leather) and after minor processing, almost intact, go to the cutter's table. At a leather factory, such materials can only be cleaned and covered with a protective antibacterial layer;

Semi-aniline. In fact, the same aniline leather but having minor areas requiring coloring. The natural visual qualities are preserved. This material is considered the second in quality after aniline;

Napa leather is characterized by the highest natural softness among all leather types on the U.S. market;

Suede is produced by means of exfoliating the leather and separating the lower layer, which in the process of processing in the grinding wheel acquires a unique velvet pile;
Pull-up leather. The main distinguishing feature is that the leather changes color when stretched. In the production of this leather type, pure aniline dyes, oils and paraffin are used to achieve the pull-up effect, when the material is stretched, it becomes lighter;
How to test semi-aniline leather?
1) Visual inspection with a magnifying glass
With a magnifying glass semi-aniline leather is very similar to aniline. Hair follicles are barely visible (like dimples), and on top of them there is a thin layer of protective coating and pigments. Some types of semi-aniline leather are covered with a thicker layer of pigments – that is why the follicles are not visible on them.
2) Absorption test
Put a little water on the leather patch. Water will stay on the surface, so rub it with a piece of tissue into the leather type. You can notice that the material absorbs only a small amount of water, this will appear as a dark spot on the surface. It may take 3-4 minutes for semi-aniline to completely absorb a drop of water.
3) Tactile test
Semi-aniline is very natural and soft to the touch. The protective coating on it is very smooth, so the semi-aniline material is more slippery in comparison with aniline.
4) Visual test
The surface of semi-aniline is painted in a more even way than aniline, but still it is not as even as the surface of pigmented (dyed) leather. If the protective coating layer is thin, then the natural texture and defects (scars, bites, etc.) remain visible. Semi-aniline is often two-tone, but it is difficult to notice.
Semi-aniline leather care tips
If you don't use the special protective leather cream, then the protective layer of semi-aniline will quickly wear off in the places which are most exposed to damage. To make semi-aniline leather products last for a long time, cover it with a layer of such a cream every 3 months, at least. This procedure will prevent the abrasion of the pigmented layers and the outer layer of protective varnish.
Final thoughts
Semi-aniline leather is a good choice for any DIY projects because of its affordability, durability and outstanding appearance. With proper care, semi-aniline leather will serve for many years as top-notch clothes or stylish accessories.
---