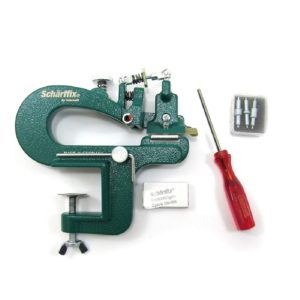 Easily Adjustable
10 heavy-duty blades
Made in Germany
4 different sizes of rollers
Available width:<3cm
Replacement is Convenient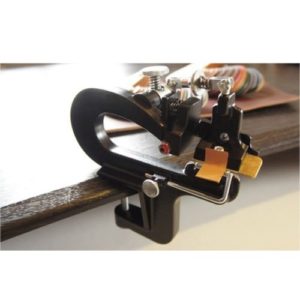 Max width: 35mm
Without Need for Assembly
For table top 4cm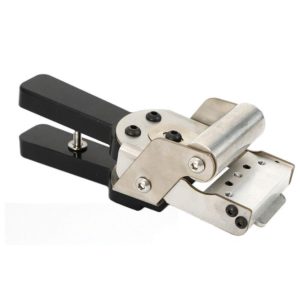 Blade Width 57mm-60mm
Installed directly use style
Soft, Hard Leather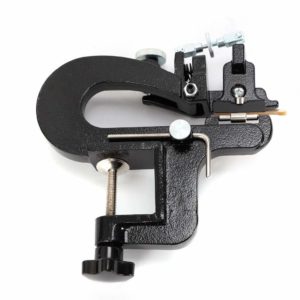 Manual operation
No Noise Interference
Reliable quality
---
Choose the Best Leather Paring Machine
Customer's Choice: the Best Rated Leather Paring Machines
55 users answered this survey. Please help us improve this review!

69.09% of users selected Schmedt, 23.64% selected YaeTek, 1.82% selected Jiayana, 5.45% selected HYYKJ-US and 0% selected BOYU-SHITAI. Every month we analyze your answers and change our rating.
---
Leather skiving is a technique for thinning or decreasing the thickness of the leather piece's outside edges to allow folding, connecting various leather parts, or sewing seams on bags and wallets simpler. Leather skiving is also called "paring" among leatherwork experts and DIYers.
One factor to keep in mind is that unlike splitting, which cuts the thickness of the whole surface of the leather equally, leather skiving only works on the exterior edges of the leather. This can be done manually or with the help of a leather paring/skiving machine. 
A leather skiving machine is a mechanism that can be used to minimize the thickness of the leather's outer edges. It's a great tool not just because it helps the leather appear less bulky, neater, and more professional, but it also accelerates the skiving process and ensures perfect accuracy.
As a result, skiving machines can primarily perform the precise role of skiving only the leather's edges, whereas skiving knives may be required for sections other than the edges.
Who needs a leather paring/skiving machine? 
If you have a decent number of leather projects, then you may need a professional paring machine. It can be specifically useful for those crafters who make leather bags. While the leather wallet crafting requires other tools more – e.g. a splitter machine. 
A fast learning curve is one of the best features of paring machines. It's also ideal for paring small, smooth leather regions, such as bookbinding and labels.
The leather skiving machine is available in a variety of brands, shapes, and functions. The following guide can assist new buyers who need a durable and reliable paring machine for their leather projects. Check the comparison table, buying guide and individual reviews of 5 best leather paring machines for home use. 
Schmedt Scharffix Leather Paring Device Kit– the best for fast skiving!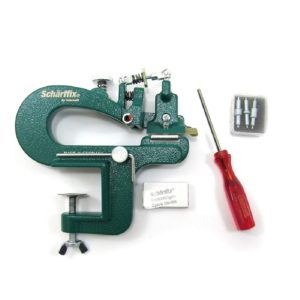 This paring machine from the German brand Scharffix attaches to the edge of the workbench rapidly and easily. It's simple to change the thickness and angle to your liking. The Scharffix has 10 sturdy blades and four width modes.
It's built of tough steel and has a strong handle. It's simple to set up and take down. Since it was designed for bookbinding, it has certain drawbacks as opposed to an industrial skiving machine, such as the amount of leather that can be skived and the strength of the leather that can be skived.
It works well for most types of genuine leather. It takes some getting used to, and since it's a manual instrument, you'll have to depend on your own hands for a lot of the power, such as guiding the skive.
The thickness gauge can be adjusted, and the wheel thingies underneath can be swapped out. At a time/per move through, the Scharffix method will flat-skive up to 1-1.5 inches.
Tips for users:
Here is how you should use this paring machine:
Put the leather piece;
Pull the piece downwards and to the right. The left hand holds the rest of the piece steady;
Pull until you get the skived edge or section;
Prevent cutting the leather by pulling it eagerly at the start;
Keep pulling steadily until the end of the seam;
Pros
Pros
Designed for fast edge skiving;
Durable;
Bottom roller design is unique;
A few adjustments for bevel angle and thickness;
Good for small and thin leather pieces;
Cons
Cons
Many counterfeits;
Replacement blades are quite expensive;
Mostly recommended for bookbinding;
Won't cope with large leather pieces;
It is suggested for long leather strips. This machine is ideal for making precise cuts. It's also useful for skiving edges, strips, and bits that need to be folded over, such as the edges of wallets.
---
Yaetek Leather Paring Machine– the best for durability!
One of the most durable leather paring machines available online. Besides edge skiving, this manual Yaetek paring machine can split and peel the leather surface. It is made of very sturdy stainless steel.
It has adjustable rollers that make it simple to pare thin stripes, such as for hinge paring. Through operating the machine many times, the machine will be able to handle bigger pieces of leather. It can, however, handle the edge thinning of tiny leather items with ease.
Pros
Pros
Sturdy;
Affordable;
Made of stainless steel;
Easy to use;
Adjustable;
Includes replacement blades;
3 extra rollers;
Can cope with large leather pieces;
Cons
Cons
The dial of thickness is hard to read;
Blades get dull quickly;
The machine is a bit unstable;
This reliable machine is more economical and simple to use than costly leather striving blades.
---
Jiayana Manual Leather Paring Machine– the best for beginners!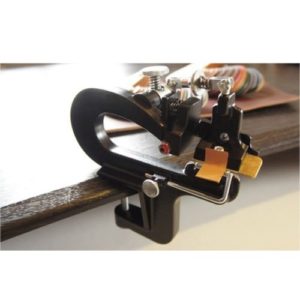 The best feature of this Jiayana paring machine is its quick access for beginners. It is not necessary to assemble the machine until using it. However, it is a benefit if the vendor provides a booklet containing clear guidance.
The crust, soft, vegetable tanned, chrome-tanned, crazy horsehide, sheepskin, and other leather-like materials are all ideal for this machine. It can accommodate a piece with a full diameter of 1.37 inches.
Pros
Pros
Easy to set up;
Maintenance is very easy;
Simple design;
Good for small leather pieces;
Cons
Cons
Won't do for very thin skiving;
Replacement blades are hard to find;
Can't be used for larger leather objects;
If you need a budget-friendly skiving device for beginners, check this simple but effective Jiayana Manual Leather paring machine.
---
HYYKJ-US Leather Paring Machine– the best for wide application!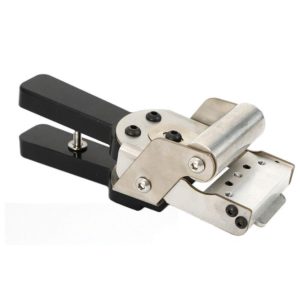 This manual paring machine is relatively small but powerful. It can be used for thinning of any leather pieces, offering segment/entire skiving. The maximum thickness level is 0.24 inches. Make sure to buy replacement blades before using them.
Tips for users:
This is how you should set this paring machine:
Loosen the blade clamp's fixing screws using a hex wrench;
Insert into the blade;
Then you should tighten the fixing screws;
When looking at the blade and rollers from the front, they should be parallel;
Pros
Pros
Wide application;
Good thickness limit;
Can cope with different leather materials;
One blade is very sharp;
Cons
Cons
A bit challenging setup;
Not for beginners;
That is why you may buy this machine for industrial and home use. It will cope with hard/soft/high-density leather materials.
---
BOYU-SHITAI Leather Paring Machine– the best for adjustments!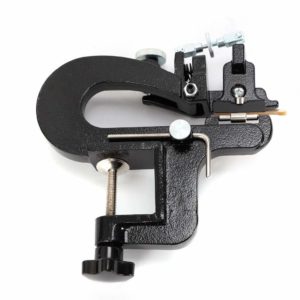 One of the best Chinese manufacturers of leather paring machines offers a great device for skiving with multiple adjustments. Thanks to these adjustments, the machines can be good for edge skiving, peeling and splitting the natural leather pieces. The blades are extremely sharp.
Hard, tanned, crazy horse leather, sheepskin leather, and other traditional leather materials may all be used for this machine. The Boyu-Shitai machine does not demand assembly and can be applied right away. It can be used to thin leather belts, card folds, wallets, and other products, as well as edge skiving.
Pros
Pros
A few adjustments including a splitter, extra roller, spanner;
Double sharp blade;
Made of aluminum
Versatile uses;
Easy to install and use;
Low noise level;
Cons
Cons
Average build quality;
Won't cope with rough and too thick leather pieces;
This leather-thinning device is functional as well as durable. It's a decent option for all DIYers because of its low maintenance costs and easy service.
---
The Buyer's Guide
Types of leather paring machines:
Electric paring machines;

Manual machines;
Although there are many types of leather skiving machines available, the bell knife skiving device and the cylindrical knife style skiving machine are two of the most popular.
Bell skivers are leather-skiving machines. They're typically desk-mounted and driven by a separate engine. To support the transfer of the material around the blade, models are available in top, bottom, and both top/bottom feed. Some have vacuum accessories that take the leather fibers away from the work area when they are skived, keeping it safe.
Bell skivers are more costly than manual instrument alternatives. They're still very strong. They can easily become a popular tool in a workshop since they render fast and steady work of otherwise boring skiing by hand.
Major parts of leather paring machines
Common parts used on a traditional leather paring machine, such as the bell knife device, include:
A manual/guide for better skiving results;

Sharpening stone;

Bottom feed roller;

Pressure foot;

Bell-shaped blade/knife with a safety guard option;

Foot pedal;

Control unit;
The paring machines adjustments to seek
Depending on the type of paring machine you purchase, you will make a number of modifications. On almost all paring machines, however, there are 3 simple adjustments you may use:
To control the cutter's speed, blade or stone;

To adjust the angle of the skive or to create gradient/flat skives;

To control the depth of the skive;
The leather skiving machine, with the correct modifications and function, will skive or pair thick/thin pieces of leather reliably, with virtually no chance of breaking your leather, unlike other skiving knives.
A leather thickness gauge is a popular tool that comes in handy while skiving. 
What skives a leather paring machine can do?
In general, you can skive to whatever thickness you choose, but here are the 3 main types of skives an average paring machine can offer:
Raw edge.

The slight skive is made on flesh side edges of the leather piece;

Underlay skives.

It is used to skive the leather item's edges when two or more pieces were combined;

Folded edges.

It is good if you need to return the original thickness of a leather piece after folding it;
How to maintain a paring machine for leather:
To avoid rubbing out the spring on the lever that activates the presser foot, it should still be up;

Ascertain that the bevels are properly engaged at a steady speed and in the right place;

Oil metal pieces on a regular basis, and clean the skiving machine thoroughly after each use;

Make sure the paring tool isn't clogged with extra leather shavings. In the event of clogging, depending on the kind of skiver you have, you will need to turn a hand wheel or lever back and forth or up and down. If you don't do this, the leather you'll be using won't move correctly when fed;

Timely sharpen the machine's blade;

After sharpening the blade, deburr it. Then the blade may usually have burrs on it, which will obstruct the skiving method. Deburring is accomplished with a deburring stone that comes with a paring device you buy;

Make sure the grindstone of the device isn't clogged with metal scraps from time to time;

Keep the super radar roller included with the machine against the turning grindstone until the grindstone is clean once more;
Video Tutorial: Leather Paring Tools
Final thoughts 
A high-quality paring machine may be useful for reducing the density/thickness of the item's edges. It's a valuable device that renders leather projects in a simple way, professional-looking, and precise. Hopefully, the above-mentioned device will help to craft really beautiful leather garments, clothes and accessories. 
---