---
If you use the Bible not even daily but hourly, it is important to invest in the edition with a solid leather cover and sewn binding. A bad plastic cover may significantly decrease the life of the Bible book. While a premium leather cover will ensure the Holy Book will last for ages.
Why should you invest in sewn bindings? The editions with leather covers and sewn bindings are more expensive than glued Bible books. Sewn editions are more durable and they relatively easy to read when the book is open. Because it gets flat easier. Also, the pages won't come out easily from such books.
The following guide focuses on bonded leather Bible books with nice prints. Check the comparison table to find out about the differences between every edition. The buying guide may also be helpful.
Zondervan NIV Thinline Bonded Leather Bible– the best ultra-thin edition!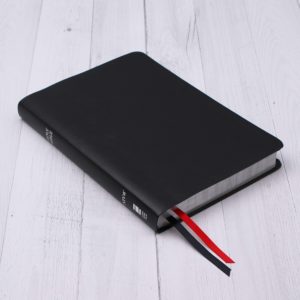 This NIV Bible book has a bonded leather cover, a readable large print and a quite slim size. The book provides a nice reading experience for all the followers of contemporary English Bible translation.
It measures just one inch thick. So, you may easily take this premium leather Bible to your study group, church, travel and work. It is available in red and black large print, with the thumb indexed and double-column format.
Pros
Pros
One of the top-notch NIV Bible editions;
Premium leather cover;
Words of Jesus are printed in red color;
Includes 2 satin markers;
Large print;
Ultra-thin – less than 1 inch;
Cons
Cons
In some places the index tabs are mislabeled;
The print is not very bold;
The sewn binding is quite thin;
Lightweight, clear and large print to read even in the badly lit rooms – the main reasons to buy this leather Bible book. It has the thumb tabs for each of the 4 book groupings (on average). Printing on thumb tabs is small, but still helpful for the navigation. It can be a good gift for traveling ministers.
---
Douay-Rheims Bible (Black Genuine Leather)– the best for the cover!
The translation of this Douay-Rheims Bible dated between the years 1582 and 1610 is considered one of the most accurate English translations of Scripture. This Catholic translation has been in use for 200 years. Apart from the accurate translation, this edition has a nice black genuine leather cover, with golden edges and a silk ribbon marker.
The strict black leather cover feels comfortable in your hands and looks awesome as well. If you like carrying your Bible with you, the size is also perfect.
Pros
Pros
One of the best Catholic Bible translations;
Top-notch quality;
Full-color New Testament maps;
Flexible leather cover with golden edges;
Silky ribbon marker;
Words of Jesus are printed in red color;
Cons
Cons
The standard font size can be too small for aging eyes;
Archaic language can be hard to interpret sometimes;
The page divider covers some sentences;
The physical dimensions of the Bible make it ideal to hold in one hand while turning pages with the other. The binding is composed of split-leather, which is a step up from the apparently prevalent imitation leather-bound Bibles.
---
Douay-Rheims Bible (Burgundy Premium UltraSoft)– the best for Catholic English translation!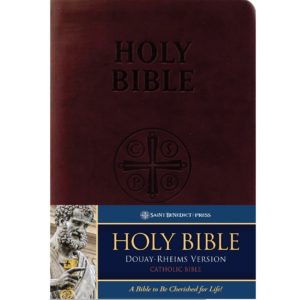 For over 200 years, this was the only Catholic translation of Scripture and it is still in use. Many Catholics believe that it is still the best and safest English version of the Bible. This beautiful Bible is packaged in an eye-catching presentation box. It is available in a sturdy burgundy leather cover, with gold edges and a silky ribbon marker.
The sewn binding seems very durable – it may last for years. Gold-edged pages are covered with premium faux leather – this red-letter edition can become a great gift.
Pros
Pros
Budget-friendly;
The notations are good;
Wear-resistant;
Colorful illustrations of maps and icons;
The soft leather cover with St. Benedict cross;
Suitable for Catholic Christians of all denominations;
Includes Presentation pages and Family record;
Cons
Cons
Faux leather;
The type font is small to read at night;
Some verses are incomplete;
Only one ribbon marker;
Ancient words can be hard to understand;
With the words of Christ in red, this Douay Rheims Bible is the only premium edition available for public sale. Despite its ancient translation, this edition has the New Testament maps in full color, and beautiful pictures depicting Christ's life.
---
The Lockman Foundation NASB Ultrathin Reference Bible– the best for NASB translation!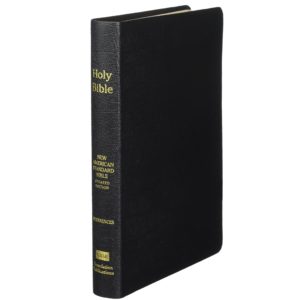 The NASB is a popular version of the literal English translation of the Bible. This edition offers greater readability while maintaining accuracy to the original Aramaic, Hebrew, and Greek words.
This NASB Bible looks nice being a convenient reference and study tool. Also, it is one of the most complete editions with over 95,000 center-column cross-references to improve the reader's vocabulary. It also features bright and detailed maps. This edition features a black, genuine leather cover that has a great feeling in your hands. The large 10-point font makes it a wonderful Bible for study, casual reading, and church.
Pros
Pros
Large 10-point font size;
Made of genuine leather;
Thin;
Over 95,000 cross-references;
Clear print;
A red-letter edition;
Has a Smyth-sewn binding for extra durability;
Budget-friendly;
Cons
Cons
Bulkier than other leather Bibles in this list;
The corners are glued, not sewn;
Doesn't include Harmony of the Gospels;
The sewn binding of both pages makes the Bible longer-lasting and enables it to lie flat rather than stuck. The pages of this Bible are quite thin. There is space in the margins to take minimal notice.
---
Christian Art Publishers KJV Holy Bible– the best for portability!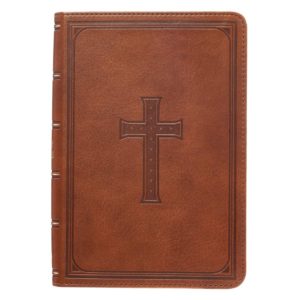 This nice-looking faux leather Bible is a Classic King James Version in a special large-print format. Besides the font size, it is one of the most lightweight leather Bibles in the U.S market.
The stunning tan cover of this foreign version features a skillful cross and boundary style. Gold foil titling and gold-plated pages improve the elegance of the logo. The tan cover is made of premium man-made material with the look and sound of natural leather (called by the manufacturer as LuxLeather).
Pros
Pros
Affordable;
Includes Words in Christ in red fonts;
Has a one-year reading plan;
Fully colored maps;
Gold tilting for the end of pages;
The format of double columns;
The large font size;
Weighs less than 16 ounces with 1533 ultra-thin pages;
Cons
Cons
Made of faux leather;
Not enough margin for notes;
Doesn't have book tabs;
The print is bright, and instead of the 8-point font like the other broad prints, this one is a 10-point font. The cover is really smooth and the fact that it is smooth makes it easy to read for the eyes to mature.
---
The Buyer's Guide
Leather type
The Premium Bibles are crafted of animal leather. And the finest covers are bound in goatskin – the soft and durable material used for centuries for bookbinding. However, a few different leather-based materials are used for binding the Scripture: 
Goatskin

is both soft and durable. It doesn't have a grain stamped onto the surface;

Premium calfskin

material is picked for expensive bindings of leather Bible covers. It is quite flexible and soft, with prolonged use. There are a few variations like French Morocco and calf-split;

Genuine leather

on the label usually means pigskin. This real leather makes a stiff and sturdy cover. One of the popular varieties is Berkshire;

Imitation or faux leather

is a synthetic material. Premium imitation leather feels and looks real. Cheaper faux materials resemble plastic so pick the expensive materials when it comes to imitation leather covers for your Bible books;

Bonded leather

is cheaper than any natural animal skin. It is composed of leftovers of pigskin glued together to form a durable cover. Bonded leather is not very sturdy but it is thin, cheap and natural;
The Bible versions (in this list)
KJV

(the short for King James Version) is a literal English translation of the Christian Bible for the followers of the Church of England (published at first in 1611). The KJV version of the Bible counts 39 books of the Old Testament and 27 books of the New Testament. It is a very accurate and recognized translation of the English Bible;

DRB

(the short for Douay-Rheims Bible) is considered as the rarest Early Modern English translation. It includes the accurate translation of the New Testament, Old Testament, Greek, Latin and Hebrew manuscripts;

NIV

(the short for New International Version). This Bible translation at first appeared as the publication in 1978. It was specifically simplified at some point to be broadly understood by contemporary English-speaking readers (mostly Protestants);

NASB

(the short for New American Standard Bible) – one of the most affordable leather Bible versions because it only features the Modern English translation of 1971. It is a common edition among Roman Catholics;
The column format
A recent update is the single-column pages. Double columns follow the conventional Bible style with 2 text columns across each page, with a new line beginning after every verse.
Binding
To create a stunning, sturdy, lithe book that will withstand years of use, Premier Bibles normally use a mixture of sewing, gluing and sophisticated binding processes. 
Smyth sewn binding would be a method of bookbinding where a few folded pages with binder thread are sewn together. .To create a complete book block, each folded group of pages is stitched with dozens of stitches. Then these groups are joined with other groups of pages. Smyth-sewn binding is associated with durability and quality. Also, it is optimal for keeping the book flat when you want it opened for a long time.
Edge line binding is rarer but is typically found in prime editions of the Bible book covers. No book board between the lining and the cover is used for edge-lined binding. Typically, 2  layers are bonded instantly making fluid and flexible edge-lined bindings.
Yapp and semi yapp Binding is a method of bookbinding featuring a cover that continuously overlaps the three edges of both upper and lower covers. To the point of touching the opposite cover, a semi-yapp cover wraps around the edges of the book's pages, while a full-yapp cover wraps even further.
Other tips for buyers of leather Bibles: 
Price – some faux leather Bibles have the price tag from $25. The premium editions may cost up to $200;

How and where you are going to use it – on the road or store on a shelf;

The cover design – there are tan, black and burgundy options available with the tilted cross;

Durability – many publishers give limited or even lifetime warranty being sure that their books will last that long;
Benefits of buying leather covers for a Bible
The covers made of genuine leather will ensure the safety of the book. Leather covers are resistant to abrasion. Genuine leather is a premium and expensive material. Most often, the book covers made of genuine leather are crafted at the request. Leather-covered Bibles can become a heritage and be passed from one generation to another.
Advantages of genuine leather:
durability;
wear resistance;
environmental friendliness;
stylish appearance;
pleasant tactile sensations;
How to take care after leather Bible covers
The main problem of leather covers is that they can dry out quickly. To do this, it is necessary to maintain the indoor humidity within the range from 45% to 60%.
Genuine leather is especially sensitive to light (especially vegetable tanning). Tanning agents in the surface layer of the skin may darken. The front layer of genuine leather loses its elasticity. The dyes with which the skin is colored are also sensitive to the action of light. Dyes fade under the influence of light, the color of the material dims. Light also enhances the damaging effects of moisture and chemicals.
Leather-bound books should be wiped periodically to remove the dust from the surface. It is best to wipe leather covers with a flannel cloth.
I picked top 5 best leather Bibles:
Thinline Bible edition with a leather cover. This edition has a double-column format where the words of Jesus are in red. It has two satin ribbon makers;
Douay-Rheims Bible also has a ribbon marker, with a natural leather cover;
Douay-Rheims Bible is another great edition equipped with a genuine leather cover;
NASB Leather Bible has a convenient verse format, the two-column text, and maps;
Compact Holy Bible is a nice edition, with gilt-edged pages. The full-color maps are included;
Video Tutorial: Making Leather Bible Covers
Final thoughts
This guide includes a few beautifully sewn editions of classic and new Bible translations. Almost all books are portable and easy to bring along wherever you go. Some of the more expensive editions can be given as a nice gift to Catholics.
Going to church is an important part of my weekly routine. Once I noticed that a person holds a Bible in a nice leather cover. Surely, I got interested. Then I browsed Etsy and a few leathercraft forums – this is a real trend right now. People like to order DIY leather covers for Bibles because such accessories can protect the holy book from scratches. Keeping all pages intact and looking stylish at the same time – that is the main feature offered by leather covers.
If you are interested in making leather Bible covers, the following video tutorial can be useful. Please, tell me if you use leather covers for Bibles or other books. What leather materials do you use? I will read all the comments and feedback from the readers of my blog.
---