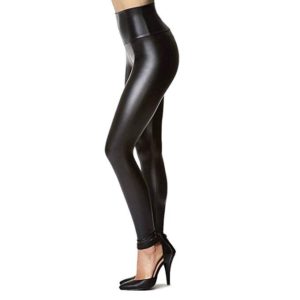 Cotton, Polyester, Spandex
High-waisted
Wrinkle Resistant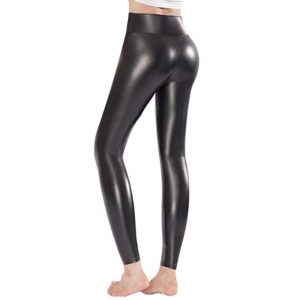 Non see through
High-waisted
Stretchable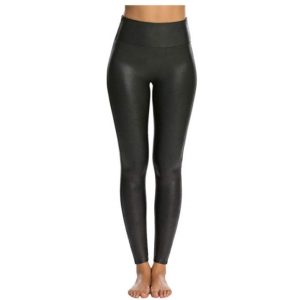 High-gloss fabric
High-waisted
Hook & Eye closure
Plus size
High-waisted
Phone Pockets
Soft Fabric
High-waisted
Wrinkle Resistant
---
Choose the Best Faux Leather Leggings
Customer's Choice: the Best Rated Faux Leather Leggings
46 users answered this survey. Please help us improve this review!

52.17% of users selected Tagoo, 17.39% selected Ginasy, 19.57% selected SPANX, 4.35% selected MCEDAR Plus size and 6.52% selected MCEDAR. Every month we analyze your answers and change our rating.
---
Faux leather leggings are one of the most popular fashion trends these days. Black, glossy and fitting like a second skin – these pants can make legs look longer and thinner just like that. Black tight leggings can flatter any outfit like no other pants.
But not all PU leather leggings and pants are created equal. To prevent the purchase of faux leather leggings with a cheap, "plastic" look, check the following comparison and recommendations based on unbiased tests.
Tagoo Stretchy Leggings – the best high-waisted leggings!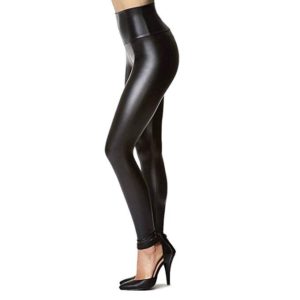 If you like wearing cropped tops and oversized sweaters, consider buying Tagoo Women's stretchy leggings. They are perfect high-waisted stunners (0.7 inches high) with an elastic closure. Their color is classic black with a thin fleece lining. It is made of a 4-way stretch and non-see through PU leather.
Tips for users: wash in cold water, hang to dry and never use bleach on them.
| | |
| --- | --- |
| Pros | Cons |
| Nice glossy and shiny look | The material is cheap and too thick |
| Soft lining | These leggings can make you sweat and leave stains on your skin if to wear them in summer |
| Wide waistband | Not good tummy control, you may feel stuffed inside them |
| Look like real black leather pants | Not good for plus-size over XXL |
| High-waisted leggings | Some users claim it may smell |
| Very comfy | Not very good stretch |
| Perfect for any style and outfits | – |
| Budget-friendly | – |
| Many sizes – from XS to XXL | – |
---
Tagoo faux leather stretchy leggings for women are shiny, sexy and comfy to wear in fall or winter. They are not a good choice for summer outfits because of a thick fleece lining. If you are searching for classic black, high-waisted leggings, Tagoo's pants may fit well.
Ginasy Faux Leather Leggings – the best for a glossy finish!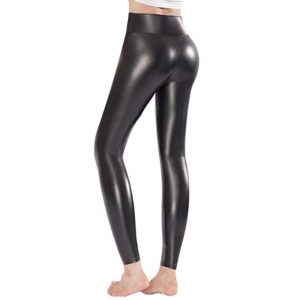 Ginasy black leggings are very stretchable and sleek. They may help if you are looking for the faux leather pants emphasizing a high-rise silhouette. These leggings are capable of "hugging" your body in all the right places. Ginasy leggings won't have any wrinkles if the size is fitting.
Tips for users: these pants are recommended only for hand wash. You may wash them before the first tryout – especially if you got a pair with a weird odor (some users complained about the smell). Never use a bleach product while washing.
| | |
| --- | --- |
| Pros | Cons |
| Stretchable | Not breathable – you may get really hot and sweaty while wearing them |
| Soft and comfortable | Look like plastic |
| Slim fit for many sizes from XS to XXL | Not good tummy control |
| "Wet" finish of the material | Not elastic waistband that is why they may slide down |
| Will give your legs the elongated slimming look | – |
| The non-see through material | – |
| Easy to put on | – |
| Thin lining | – |
---
Ginasy leggings have a great glossy finish and they may perfectly do for any party outfit. However, some people may find them too hot to wear in summer days and too thin to wear in winter. Also, they are not quite comfortable for everyday use. Otherwise, these pants will make the legs look longer without making any wrinkles, even around knees.
SPANX Faux Leather Leggings – the best for tummy control!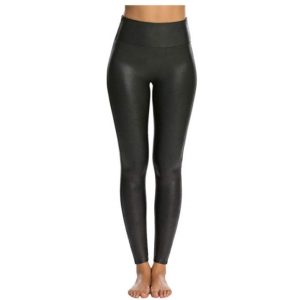 The best-selling Spanx faux leather leggings can fit and change any silhouette for better. The nylon-based material is very soft to the touch. The designers created the classic leggings without any plastic look to shape their tummy and thighs perfectly.
Tips for users: to prevent the loss of a nice sheen look, wash these pants only inside out on gentle mode in a washing machine. However, most experts recommend only hand wash for faux leather pants. Also, do not forget to check the Spanx size chart before buying.
| | |
| --- | --- |
| Pros | Cons |
| Great for long legs – the pants may come with extra length if you need | The sheen look may disappear in a few months, so they may not last long |
| Elastic high-rise waistband for the best tummy control | Leggings may quickly wear out on the knees |
| Good for any outfits – casual or party | Too tight on calves |
| Many colors are available – wine, black, bronze metal and navy | – |
| Slim fit for any sizes | – |
| Comfortable to wear even if you need to do squats or stretching | – |
---
Keep in mind that Spanx leggings are good for wearing in mid-season or summer because they are quite thin and do not have a fleece lining. These pants can be a great choice if you are looking for tummy control. Beware the counterfeits sold in some huge retail stores!
MCEDAR Plus Size Leggings – the best fit for XXL and over!
One of the most common problems with tight PU leather leggings is their small size. Even plus-size leggings can offer only XXL size that is not enough for curvy women. MCEDAR skinny leggings can be a comfortable fit for any size.
They are comfy and soft to the touch. The high-waisted design can smooth the tummy area. And the back pockets make the butt curve look awesome. Bring a sexy vibe to your look with these leggings and high heels!
Tips for users: the manufacturer doesn't give any washing instructions. Wash the pants inside out in cold water with mild detergent – air dry is required.
| | |
| --- | --- |
| Pros | Cons |
| Buttery soft PU leather inside and outside | The smell can be weird |
| The best fit for XXL sizes | The fleece lining is thin so you may re-consider wearing these pants in winter |
| Stretchable | Be careful when choosing the size – sometimes the sellers send Chinese size pants instead of U.S. size leggings |
| High-waisted design | – |
| Good tummy control | – |
| Suitable for all seasons | – |
| Fitting any outfits and styles | – |
| Do not lose their shape | – |
| Do not produce any noise while walking | – |
---
Besides the classic black color, MCEDAR plus-size leggings come in 4 different black shades to choose from. They can naturally smooth the thick legs and calves to make you look taller, especially when matched with high-heeled shoes.
MCEDAR Legging Pants – the best for winter outfits!
Another pair of MCEDAR leggings – they are also black but come without any pockets. They are much thicker than previous plus-size pants. That is why the manufacturer recommends wearing them in cold weather. The black faux leather pants are made of thick, soft and non-see through material that can match any outfit.
Tips for users: you can wash these leggings in the washing machine. Also, it is recommended to wash them immediately after the purchase, especially if the smell is a bit odd.
| | |
| --- | --- |
| Pros | Cons |
| They do not shrink after washing in the machine | Not breathable, heavy material |
| They are true to size | Not comfortable in the crouch area |
| Long inseam (35 inches) | Felt lining instead of fleece |
| Budget-friendly leggings | Plastic look |
| Very warm and comfortable | – |
---
These MCEDAR leggings will keep your legs warm and toned even on the coldest days. They can be a perfect match for ankle boots and oversized sweaters.
The Buyer's Guide
Style
When it comes to the style of faux leather leggings, the sky's the limit. Fringed, studded, embroidered, velvet-edged, lace, racer stripes, corset-style, prints – you may find hundreds of styles. However, it is important to match your top and shoes with faux leather leggings.
Material
Obviously, faux leather leggings are made of PU/artificial fabric that imitates the genuine leather. The leggings with the "leather" effect are made of synthetic fabric – the so-called vegan leather.
If it is possible, buy the eco-friendly leggings based on the materials like bark, kelp, pineapple leaves. For instance, Stella McCartney uses her type of vegetarian leather to design leggings and pants.
How to test the quality of faux leather leggings?
Premium PU leather leggings should be made of high-quality material, even if it is synthetic. Here is how you can test the quality of the material:
The pants must be stretchy and smooth;
The material's surface should imitate the genuine leather;
If the material is too thin, it may look transparent on your legs;
A cheap material will stretch even in cold water;
If you noticed that the lining is detached from the pants, do not buy them. Eventually, the lining or coating will crumble;
Fit
It is essential to choose the proper size that fits your body type. Leggings should fit as tightly as possible. The pants should not crash into the waistline or be loose on the knee. These pants will look bad if they are smaller or larger than your size. Loose leggings will stretch out immediately. While too tight pants can limit your moves.
Color
By far, the most popular color of faux leather leggings is black. Such models are practical and can match any top. But if you already have black leggings, then you may consider choosing another color for the new pair of pants.
For example, burgundy leather leggings give an elegant and noble look. Dark brown or navy blue leggings are good to match plaid shirts. Be careful when wearing beige or white leggings – they may seem too provocative, you might feel "naked". If you like beige color, give preference to the leggings of dark beige shade.
Remember a simple rule: dark-colored leggings make your legs look slimmer, the light colors make the legs look thicker, the vertical strips visually stretch the legs.
Faux leather leggings differ in color and texture. They may have the matte, shiny or textured finish. The classic option is black leggings with a matte finish. Leggings with a glossy finish or textured surface require a more careful selection of the top.
How to choose faux leather leggings, according to your body type?
The secret of a good outfit with leggings is buying a model that complements your body type:
1) Slim body with short legs
High-waisted faux leather pants will make short legs longer.
2) Curvy body
The leggings with tummy control can be awesome if you want to hide extra weight around your waist. If you wear plus-size outfits, consider choosing the leggings without any zipper or patterns. It is better to stick to black pants with a matte finish. Also, such pants should not be too tight or too loose.
3) Long body with thin legs
Try wearing the leggings with a slight gloss finish – visually it makes legs a bit thicker.
The main charm of leather leggings is the ability to emphasize the shape of the legs. But if you have certain flaws in the hip area and waistline, then choose a high classic fit. Low-waist models are good only for very slim legs.
The best outfit options for faux leather leggings
They say the leggings can match any outfit. But still, these pants are not good for some outfits. Here is the list of clothes that will match perfectly if you are going to wear black PU/faux leather leggings:
Denim jacket or shirt;
Beige / print / burgundy / black / royal blue shirts;
A medium-length fur coat;
Plaid shirt;
High heels or any classic sports shoes;
Silk shirt of light colors;
Blazers and bulky vests;
Knee-length knitted sweaters;
Important notice: it is a bad idea to match the faux leather leggings with a transparent shirt, leather jackets, very tight tops, plain blouses or too much jewelry.
Here is how you may match the leggings with different coating:
Black matte leggings will perfectly match the tops made of silk and lace, knitted and fleecy fabrics;
Leggings with a catchy print will match any plain top of any color;
The pants with the effect of "snake" and "crocodile" leather type will look awesome with cashmere jackets and sweaters;
Glossy faux leather leggings will be an excellent match for any evening and weekend outfits, you can combine them with silk tunics, light, translucent knee-length dresses;
Textured faux leather leggings can be combined with white and gray oversized sweaters;
Which boots to wear with faux leather leggings?
During hot summer days, many women prefer wearing ballet slippers or sandals with faux leather leggings. In some cases, this match is not bad, but women of short stature should reconsider wearing them. In this case, the shoes with heels will be a better choice.
White sneakers and classic kicks will match any leggings just fine. An extended T-shirt will complement the "sports" look.
Ankle boots can emphasize the shape of slim legs in leggings. But never tuck the leggings inside the pants.
During the winter season, you may try to wear cowboy boots. Knee-length boots can be picked when you don't wear a skirt or shorts over the leggings.
How to care for faux leather leggings?
The best thing about PU leather leggings is extremely easy maintenance. Typically, high-quality pants are waterproof and weather-resistant (you won't get too cold or too hot while wearing them). Here is how you can care for PU leather leggings:
If you noticed the leggings got dirty, just use a damp cloth to clean the pants;
Some manufacturers design machine-washable faux leather leggings. They are good for washing in the machine with a cold gentle cycle.
Check the label or instructions before washing them;
If the leggings get a little wrinkled after washing in the machine, smooth them by hanging;
These pants are good only for natural dry;
Do not bleach the leggings;
Tips on choosing the best faux leather leggings
Leather leggings can make you look like a rock star or a stylish fashionista if you buy the proper pair. They are very comfortable to wear, consider them as your second skin. This is how to pick the best pair of faux leather leggings for any season of the year:
Ignore common patterns and opt for unusual designs. Faux leather leggings are easy to find, they can be a good competition for pants. You can wear them with long wool jackets, hats, and even cowboy boots;
Make sure they're worth the investment. Of course, a good pair of leggings will be cheaper than a natural leather pair. Don't look at the brand that represents them or leave the first impression. Examine patiently and make sure they match your body type;
Take regular care of the leggings, by the way, they are more comfortable to wear than natural leather pants. If you're not going to buy a new pair at the beginning of each season, be sure to look after them properly. Do not wear them everywhere and clean them with the same regularity as with other items in your wardrobe;
Before you buy any leather leggings, consider the shape of your legs. You should be honest with yourself. If the shape of your legs is not perfect, you should pay attention to semi-matte or matte dark leggings. If you have very slender legs, any model will suit you – made of budget-friendly faux leather as suede, matte and embossed materials.
You shouldn't give up on black leather leggings made of artificial suede. They are absolutely practical and easy to clean.
Video Tutorial: How to Style Faux Leather Leggings
Final thoughts
If you are a fan of saving your time when choosing an outfit, you might want to buy faux leather leggings because they can match pretty much any clothes. They can pull your buttocks and waistline to make it look awesome. They are a hot fashion trend right – everyone wears them.
The above-mentioned guidelines will help you when shopping for PU leather leggings. Invest in a few pairs for different occasions and you will always look fashionably.
---