Dimensions: 8 x 4 x 1.5 inches
100% genuine leather
11 credit card slots
Dimensions: 7.6 x 1.6 x 4.1 in
Snap closure
1 snap cash pocket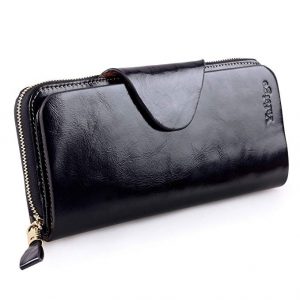 Dimensions: 7.7 x 3.7 x 1.4 in
Zipper closure
Premium cowhide leather
Dimensions: 7.8 x 1.5 x 4.5 in
2 additional pockets
RFID blocking technology
Dimensions: 9.2 x 4.8 x 1.6 in
Leather with wax
17 credit card slots
---
Choose the Best Leather Wallet for Women
Customer's Choice: the Best Rated Leather Wallets for Women
41 users answered this survey. Please help us improve this review!

60.98% of users selected Lavemi Trifold Wallet, 19.51% selected Itslife Clutch Wallet, 4.88% selected Yafeige Clutch Purse, 4.88% selected Itslife Wallet Organizer and 9.76% selected Lavemi RFID Wallet. Every month we analyze your answers and change our rating.
---
Women always have little items like gloss to carry, so having a wallet with enough room to put everything is essential. When you need a quality coin purse to carry medicine, money, identification cards, bank cards, lip balm, and more, a wallet comes in very handy. This informative guide will go into the specifics of each item on our list to help you decide which wallet makes the right gift or choice for you.
Sometimes, security is the most important thing for people who carry a lot of cards. Handheld RFID readers can scan your cards without you taking them out of your pocket or purse. Our list only includes safe options that help you protect your identity and keep your information from being stolen.
Since each of our clutch models are similar in size, material, and weight, we will discuss the other differences that make each item stand out. This portion of the article will talk about the individual items and the features that make each of them a top pick on our list.
Lavemi large capacity clutch – Best Editor's Choice wallet
We like the Lavemi wallet because it is big enough to hold everything you need to take with you when you leave the house. Plus, this wallet protects your information from RFID scanners. It covers the 13.56-megahertz range where most cards function.
This leather material is 100 percent pure with a bubbly texture to ensure you can easily grip it whether your hands are wet or not. Since there are three clear compartments for ID's, you might enjoy carrying a photo of the family or your kids with you wherever you go.
| | |
| --- | --- |
| Pros | Cons |
| Independent testing for RFID blocking | Thinner than the other items on our list |
| 11 slits for holding cards | Some consumers say the wallet ships with the zipper or snap upside down |
| 5 full-size pockets for checkbooks, notepads, and other large items | – |
| Fits iPhone 7 and 8 Plus along with the X and XS sizes | – |
| Colored seams provide an exquisite look | – |
| Excellent for carrying alone or in a purse or bag | – |
---
ItsLife Large clutch – Best wallet for carrying phones
Do you have a large phone? You may like this clutch over others on our list because it will accommodate all phone sizes up to an iPhone 11. You may like this wallet because it can protect your phone should you drop the clutch.
The zipper pocket uses a leather pull tag letting you access your phone quickly.
The military-grade RFID blocking technology in this wallet is one feature that makes it so appealing. This wallet has one clear space for holding your driver's license or ID.
| | |
| --- | --- |
| Pros | Cons |
| 21 spaces for cards | Material may turn sticky after a few months of use |
| Three long pockets | – |
| Appealing antique design | – |
| Special care for the seams to ensure a flatter corner | – |
---
Yafeige – Best card holder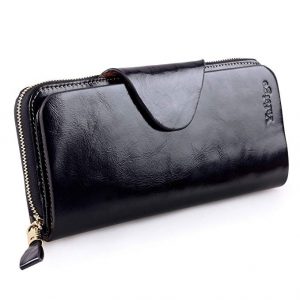 When you need to keep certain cards separate from others in your purse, this wallet may be helpful. The slot organization features card spaces in two areas of the wallet. There are four long slots in this item.
The high-quality leather material is waxed for a durable finish that resists spills and minor scuffing. It houses a military-level material to block RFID scanning tools. The dual zipper pocket gives you plenty of room for a cell phone, change, and receipts.
| | |
| --- | --- |
| Pros | Cons |
| Fits phones up to an iPhone 8 Plus | Zipper may detach |
| 12 card spaces | Some consumers feel the wallet smells musty upon delivery |
| One clear, identification slot | – |
| Tri-fold design | – |
| Handcrafted item | – |
| Four large compartments | – |
| Double stitches throughout | – |
---
ItsLife Organizer – Best checkbook holder
If you are someone who uses checks, cards, and cash, then you may feel this wallet is the best one for your needs. This wallet will hold up to three passports, so you can safely travel with the kid's identification to keep it safe.
When you need to write a check, the last thing you want to do is to try to hold your wallet while signing it. This clutch comes with a removable checkbook slot. Plus, you can use the wallet with or without the checkbook holder.
| | |
| --- | --- |
| Pros | Cons |
| 19 card compartments | Zippers and snaps may come off easily |
| 12 card spaces | Some consumers feel the wallet smells musty upon delivery |
| Pen holder | – |
| Fits up to iPhone 11 Pro | – |
| Outside zipper pocket for phones or change | – |
| Blocks NFC phone readers and RFID scanners | – |
| Made by hand | – |
---
Lavemi wristlet – Best Secure wallet
Do you worry someone will try to slip a card out of your wallet when you are shopping? You may like this Lavemi product because it features a zip-up compartment that encompasses the entire wallet.
Additionally, a removable wrist strap helps you keep the wallet close to you without worrying about dropping it.
The wrist strap features an upgraded cloth material instead of a metal clip. The update adds more life to the product. This wallet protects against unwanted RFID scans from 10 to 3,000 megahertz.
| | |
| --- | --- |
| Pros | Cons |
| 17 compartments for credit cards | Unpleasant odor when unpacking |
| One clear identification slot | – |
| Three full-length bill pockets | – |
| Pen holder | – |
| Zipper pocket for change or phones up to an iPhone 8 | – |
---
Buyer's Guide – Women's Leather Wallets
In this portion of the guide, we will cover several standard questions consumers ask about these wallets.
Is the wallet heavy to tote
All of the items on our list weigh 12 ounces or less when empty. Adding a phone to these wallets will significantly add weight when carrying the wallet in the hand. The Lavemi zip around wallet might be the best option for people who want a sturdy option for carrying a cell phone or several cards or passports.
What phone will fit in this wallet
These wallets will all accommodate an I phone 6, 7, or 8. Some will hold larger phones. You can find out the individual sizes for each wallet in our quick comparison guide. The product review section also contains information about each clutch including what size phone each one will hold.
Does the wallet have a bad smell
Many wallets on our list have an aroma when you open the package. Some people say these smells are offensive. One way to get rid of the bad odor is to leave the wallet in an open space for a few days before using it. Adding a leather conditioner to the wallet may also remove some of the bad smells.
Is the wallet real leather
Yes. All the wallets feature a top grain or high-quality leather exterior. There are different materials on the insides of the RFID blocking material, but the outsides of the wallets are all leather.
Will the wallet hold my phone and a checkbook
We do not recommend carrying a phone and a full checkbook inside the wallets. It may put undue strain on the zippers or the snaps to carry two bulky items at the same time.
Video Guide: Making a Women's Leather Wallet DIY
The last word on wallets for women
All the wallets on our list come with RFID protection to ensure your private information stays safe. If you always have a ton of change, or you like to keep your coins handy, then picking one of the options with an exterior zipper pocket might be the best idea. We like all the wallets because they are stylish, functional, and hold cellphones.
---