Dimensions: 17.3 x 4.5 x 12 in
Zipper closure for security
2 pockets outside
Dimensions: 16 x 3.9 x 11.8 in
Colors: Black, Coffee, Blue
Durable fabric lining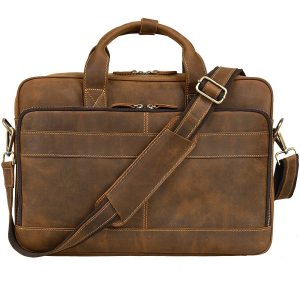 Dimensions: 16 x 2.8 x 11.8 in
Simple and generous design
Fit A4 documents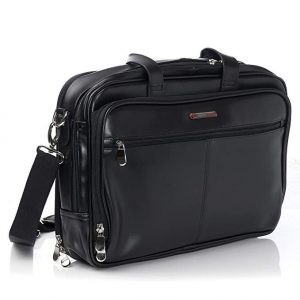 Dimensions: 16 x 12 x 5 in
Includes a laptop sleeve
Crafted from quality leather
Dimensions: 16.8 x 12.2 x 7 in
Weight: 3.5 pounds
Leather Softside
A briefcase is an important accessory for busy business professionals. Students, doctors, tech professionals, and interns can all use these items to keep work and school equipment in one convenient place. Nothing is worse than having to carry a laptop bag, a backpack, and lunch bag all at the same time. Therefore, a convenient way to keep everything organized is with a briefcase.
Besides having room to carry everything in one item, many individuals enjoy having a protective case for laptops, tablets, and work files. The key is to pick the right item to house everything you need. Plus, comfort and ease of carrying are also important when choosing a product you will carry every day.
Whether you are a lawyer or a doctor who needs some place to put the work you will take home, the five briefcases on our list offer a safe place for important work items. We put a variety of men's cases on our list to show the range of available products on the market. All our options are affordable and offer differing benefits.
Bostanten Standard – Best Editor's Choice option
When you want a multi-functional bag that you can carry around for work, weekend trips, and meetings, our Editor's pick is the original Bostanten briefcase. The exterior of the bag is a high-quality black leather that water will bead off from when raining.
This bag has several pockets for keeping things separate. A tough polyester interior shell protects belongings. The bag has a zipper for easy closing to ensure nothing falls out while you walk or ride back and forth.
| | |
| --- | --- |
| Pros | Cons |
| Antique brass hardware | May have problems keeping the strap on the bag |
| Shoulder strap and handle | – |
| Separate mobile phone compartment | – |
| Inside pocket with a zipper | – |
| Handcrafted | – |
| Fits laptops up to 15 inches | – |
| Lightweight at just over two pounds | – |
---
Bostanten Formal – Best Laptop bag
As a busy lawyer or CEO, you may need an item that is more conventional.
Bostanten creates a proper bag for busy professionals. This official laptop bag is an excellent item for carrying your technological devices between courtrooms, board meetings, or planes if you travel a lot.
Inside, several compartments make it easy to store your cell phone, pens, wallet, and laptop. With a sleek external cover, this bag is ready for any occasion. You may appreciate the primary compartment with a zipper closing.
| | |
| --- | --- |
| Pros | Cons |
| Open and zipper pockets on the inside | Main zipper may break after using long-term |
| Will fit laptops up to 15.6 inches wide | Shoulder strap and hardware can wear out after several months of use |
| Robust hardware | – |
| Nylon arm band with customizable strap and carry handles | – |
| Premium materials and construction | – |
---
Jack and Chris Attache Case – Best Organizing bag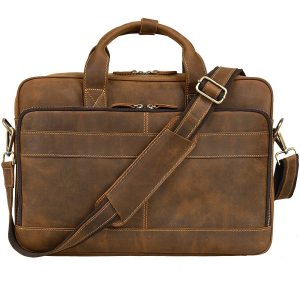 Are you the guy who likes to travel light? Do you prefer a bag that is durable enough to withstand the elements? The Jack and Chris briefcase is more of a casual item.
The tough leather exterior is excellent for guys who ride motorcycles back and forth to work and school. He can easily sling this bag over his shoulder and take off for the next adventure.
The dual zipper for the main compartment of this bag makes it easy to access items when wearing the bag. The zippers feature leather pull tags to help improve the strength of the product. The strap has a cover to make sure the item is comfortable to tote for long commutes.
| | |
| --- | --- |
| Pros | Cons |
| Fits 14-inch laptops and A4 files | Lining may tear |
| Padded laptop compartment | Zipper clasps may not last long |
| U.S. product | – |
| Button closer for the straps | – |
| Color and material resists dirt | – |
| Durable stitching | – |
| Backstrap for hanging the briefcase on luggage carts | – |
---
Alpine Swiss Briefcase – Best Padded case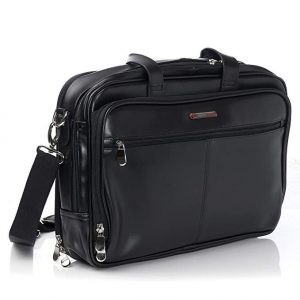 Do you carry valuables in your briefcase? Is a supportive material important to ensure your laptop screen stays intact? The Alpine Swiss attache case features extra insulation.
The internal computer pocket closes with a zipper to stow away your valuables. The closing flap gives you extra room to get into the bag. Keeping your card information safe is important to prevent theft, so this signature item features three slots with RFID security for your credit cards.
| | |
| --- | --- |
| Pros | Cons |
| Back compartment has organizers for pens, phones, and other items | Weighs over three pounds |
| External open pocket for slipping in quick documents or receipts | – |
| Ornate details using buckles | – |
| Fits laptops as large as 15.6 inches | – |
| Removable carry strap | – |
| Authentic Colombian leather | – |
| Two handles for hand carrying | – |
---
Samsonite Leather Briefcase – Best Expandable case
Do you have a lot to carry? If organizational space is important to you, then you may like this briefcase the most. The genuine leather construction means this product is durable and resists water.
With extra padding on the shoulder strap, you can carry this bag wherever you need it. Handling extra weight is no problem with durable hardware and stitching. The two-zipper closer means your items stay safe even when something happens to one of the zippers.
| | |
| --- | --- |
| Pros | Cons |
| Front section features an organizer for pens, calculators, compasses, pencils, and other important items | Heaviest bag on our list |
| Expanding pocket opens up to receive several files, folders, and notebooks | The strips of leather may detach with use and separate |
| Fits laptops to 15.6 inches | – |
| Easy to detach shoulder belt | – |
| Handle slide covers the joint between the two pieces to make the bag more comfortable for carrying | – |
---
Buyer's Guide
Choosing the right bag for your needs may mean looking at the construction of the material. If you need a product that is durable, then we suggest picking items with reinforced stitching and zipper pockets. Dual zippers are more preferable to most people.
How much does the bag weigh
All of the bags on our list weigh between two and a half and three and a half pounds.
Will the bag accommodate a 17-inch laptop
No. None of the bags on our list have ratings for laptops larger than 15.6 inches in width. Trying to put a larger laptop in the bag can stretch or rip the seams causing tears.
Can I add a lock for security
No. The bags on our list cannot lock securely with a key or combination lock. The zipper pockets will not withstand tampering.
Will the strap stain my white shirt
While we do not know of any problems with staining, we recommend trying out the strap when wet to see if any residue transfers to your clothing. You can replace the leather strap with a nylon option should you have any problems with color transfer.
Can I put the bag over my luggage handle
Most of the bags on this list have an adjustable strap that will work for travel carts. We suggest the Jack and Chris bag if you want a bag with a specific luggage strap.
How To Spot Quality Leather Briefcases
The first thing to look at when buying a briefcase, to make sure it's of high quality, look at the hardware. If a manufacturer spends good money on the hardware, they actually buy oversized, good, solid pieces that are well-polished, or well put together. You can tell, okay, they probably didn't skimp in other areas when it comes to the leather when it comes to the thread when it comes to the overall design, and the build of the briefcase.
Next up, let's talk about leather quality. You're looking for a full-grain with no blemishes. Full-grain means the top layer of the leather that's the grain may be mixed with a little bit of the junction, and the junction that's the combination of the grain where it meets the corium.
What's the difference? It really comes down to durability and water resistance. At the top leather that's where you're going to see it's actually going to be least porous. It's going to be very flexible, very tough. As we get down into the corium of the leather, that's where we're going to see it's going to absorb water a lot more readily, and it's not going to be as durable.
Look at the stitching. You want to look for a single stitch, and where it needs to be straight, it should be straight, where it needs to curve and follow the lines of the leather it needs to do that.
So, a bad stitch job that's a sign that they probably didn't pay attention to the type of thread that they used. If they didn't pay attention here, the material choice of the thread is key in terms of the longevity of the bag, and how it's going to react with the leather. Is it going to enlarge the holes? Or is going to have a little bit of stretch and it's not going to enlarge the holes over time? All of this plays into how long your bag is going to last.
Look at the inside of the bag, the internal lining. If you can pull it out, this is a bad sign. It should stay in the bag. Next up, look at the alignment of the threading, the stitching, the placement of the pockets. Everything should be aligned, and shouldn't have any issues. When you zip up, and you close the bag, is it catching on anything? Especially the inner lining. If it catches on the inner lining, this is the sign of poor quality.
When you're identifying great design, look at how they mix functionality with style, so notice the strap. It is perfect when It goes all the way around the bottom of the bag, and what it does is the weight of the bag is being carried and distributed all over this strap.
Look at the bottom of the bag. It can have little metal legs to protect the leather. A small detail that a lot of manufacturers are going to skip on, but when you see this, it's a sign of quality.
Look at is the printing. Actually, the company's logo. Maybe your initials engraved in there. Now, if it's going to be printing on top of the leather the issue here is that it can, and eventually will, get scrapped off, but if they actually press it into the leather, maybe go over it with a little bit of a gold leaf, or just maybe leave it just a straight pressing. That right is going to be a better sign of quality and much more permanent.
Video Guide: How to Choose Men's Leather Briefcase
Our final word
Bostanten makes elegant bags for formal workplaces. If you want an item that is better for travel and outdoor time, then we suggest picking the Jack and Chris bag. When you have a ton of work to take home every night, then the Samsonite bag might be your best option. We hope this Buyer's Guide helps you determine which of these bags will be the ideal men's briefcase for your needs.
---