Do you want to buy split leather for DIY projects or intend to choose the leather goods made of this material? The review shows the major features of this leather type, its pros and cons, care tips and recommendations for craftsmen.
Split leather is a layer of natural animal skin, mostly of cattle like cowhide or buffalo hides. In most cases, it is a cow split leather received in the process of grinding and splitting the top layer of a hide. When split, the hide is divided into layers (up 3 to 6 layers, depending on the thickness of the particular hide), differing in properties and then used for various purposes. Thick cowhides are just split if they are over 0.2 inches.
Unlike grain leather, splits have a nice velour-like, smooth structure – an indicator that a sharp knife of the splitting machine has passed through it. Looking at the hide that has not been processed yet, you can see that its backside is covered with different veins.
If possible, you should also pay attention to whether the split leather is single-layered, whether it is not glued from two thin plates. In the case of a belt, it just needs to be bent, the same method is used to determine the natural raw material.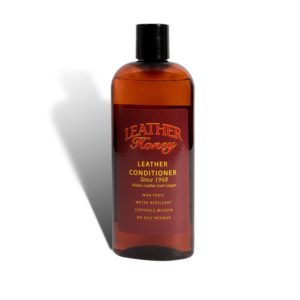 Where you can use split leather?
Although split is technically a leather type of natural origin, it's not very durable or wear-resistant. For instance, the shoes made of split leather will not tolerate muddy or rainy weather. Most often craftsmen choose affordable material to make cheap cow split leather gloves, shoes, and hats. This material looks luxurious and expensive. But try skipping working in the rain or snow when wearing split leather clothes and accessories.
The top layer of split leather has better water resistance, so it is not recommended to buy it to make DIY capes, jackets or shoes. No matter how you twist or bend it, it is possible to break the surface structure only by a sharp cutting with the special equipment. It is possible to soak such a product to make it more durable. Yes, the split grain leather is durable like no other type of this category.
But the belts made of this material can be almost as good as the ones made of top grain leather, but their cost is significantly lower. And, unlike substitutes, natural split leather does not melt and practically does not burn, though, it won't withstand the effects of rain.
Unique features of split leather:
It has a velvet-like front layer with the smooth lining;
The price for split leather is lower than the cost of suede, though, these materials are much alike;
It is impossible to notice pores on such material;
It has a monochrome color without any spots or shades – both natural and dyed types;
This material does not have any distinctive odor;
If you press a finger to the material and hold it for a few seconds, you will see the dents on the surfaces afterward;
Major types of split leather
Cowhide leather is usually split in grain (top-grain), middle and flesh layers. The middle split can be obtained only of the hide taken is thick. Experts call the split received from the top-grain split as drop split. The drop-split layer is very rough on all sides and resembles the back of natural grain leather.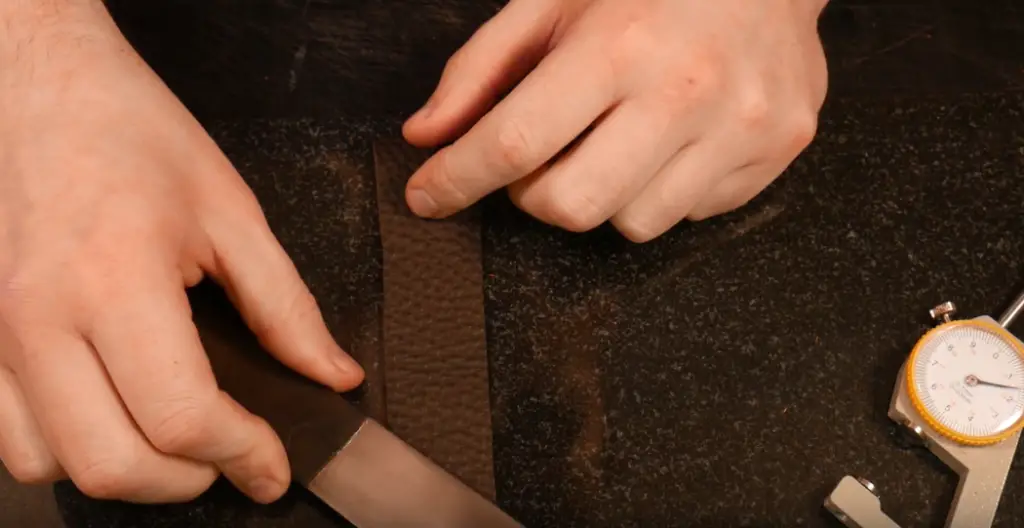 Experts prefer using only the grain split layer because it retains a nice smooth surface. The middle layer is used for making footwear, furniture upholstery and domestic goods that require cheap leather. Its characteristics are inferior in the quality of grain leather, so the raw materials are additionally processed. Usually, the split leather is covered with a polymeric layer, and then it is processed by the pressing method. As a result, the new coating, whether smooth or embossed, looks like top-grain leather that resembles expensive natural leather.
Pros of split leather:
Affordable price;
It can tolerate the effects of chemical agents;
It repels moisture;
Durable and practical;
Has a smooth and nice-looking surface;
Incredibly wear-resistant;
Easy to process and use for DIY projects;
You may polish it quickly to give a nice look that most expensive leather types have;
Breathable material;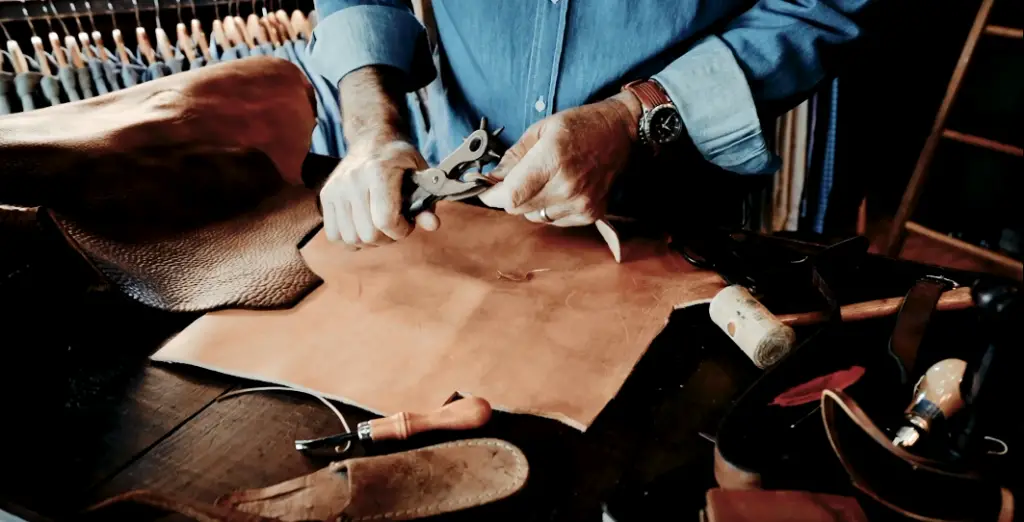 Cons of split leather:
Natural split is less elastic, so it reacts worse to stretching;
Does not restore its shape and can quickly be deformed;
Deforms under the influence of high temperature;
When it has a fabric lining, the split leather does not allow air to pass badly;
Not resistant to rain and snow;
Important notice: The coating film, despite its minimal thickness, reduces the vapor permeability of the good made of split leather.
The middle layer of split leather has a loose structure, which makes such shoes unable to retain the heat during the cold season.
Popular materials based on cow split leather
Natural suede leather. The most valuable type of polished leather. It is rare and expensive. It is produced from the hides of wild animals (deer, moose) and small cattle by the tanning method. Suede is velvet-ish to the touch;
Velour is a chrome tanned leather type (also made from swine leather). Sometimes velour is mistakenly called suede. But its front surface is thinner, carefully polished from side to the side. Velour is ideal for skirts and vests;
Suede raw materials of poor quality. Work gloves, aprons, and special clothes are made of the flesh layer of split leather;
Differences between velour and split leather
Velour is made of the small hides of cattle and pigs. It can be processed from natural leather with different defects. Because its front surface will not be a smooth measure, and the inner side is polished, resulting in a thick monochrome color and low pile.
Unlike split leather, tanning of velour leather is done with the help of chromium. Sometimes titanium or zirconium salts are used, they help to lift a good and thick pile surface, which is a distinctive feature of these leather types.
Difference between PU leather and split leather
Most artificial leather types of a lower quality are based on the bottom layers of split leather. Mostly, such materials are used to produce shoes, gloves and work gear. If you compare split leather vs PU leather, it is better to choose the first one. Though, if you wonder whether the split leather is vegan, it is not. Choose PU leather if you need to use a vegan material.
Shoes made of split leather: tips for the buyers
Most cheap shoes that resemble suede are in fact made of split leather. Natural suede is difficult to find on sale, and its cost is dozens of times higher than the average price of the shoes made of split leather. Footwear made of splits is less elastic and durable but has a nice appearance.
If you are going to purchase a classic model of footwear, for instance, office shoes, it makes sense to invest in cheaper footwear made of the split. Such a pair, if properly cared for, will serve for many years and will look perfect. Split leather boots and special footwear made of split leather won't be durable!
How to take care after the shoes made of split leather:
Clean the dirty shoes after the rain only when they are completely dry;
Let them dry at room temperature. Pat them dry with a paper towel if necessary. Drying near the heating battery may damage the material;
Dust and small drops of dirt must be removed with a brush. The shaded areas are wiped with a coarse-grain rubber;
Pour talcum powder over greasy spots for 2-3 hours. Then sweep the powder with a brush. Dry and stubborn stains should be removed with gasoline or a special product;
Water-repellent shoe spray must be applied in the evening if you are going to wear such shoes in the morning. In such a way, the surface will have enough time to completely absorb it;
To make the surface smoother, shoes or boots must be held over the steam for 2-3 minutes;
Common tips for split leather care
Thoroughly dry the products made of split leather after wearing – avoid exposure to sunlight, batteries, and heaters;
Purchase a special rubber brush to clean the product from dust and dry dirt daily;
You can wipe the soles of split leather shoes with a damp cloth;
Be sure to apply a moisture-repellent formula to the surface before going out;
Use a special sponge and brush;
Purchase aerosol paint to smooth out the color and remove dirt;
Wipe the stains with ammonia solution, soapy water or gasoline. Breadcrumbs just rub the stain;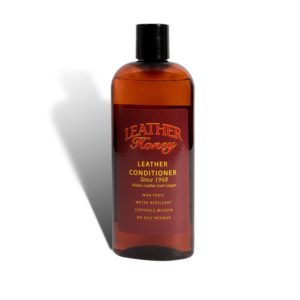 It is best to clean the dust off the sofa made from split leather with a vacuum cleaner (with a suction nozzle). Then you should wipe the product with a slightly damp cloth. And brush it with a rubber roller.
If there are any rain stains on your shoes or clothes, the fibers may glue to one another. A special rubberized brush will help to make them separate. Just comb through the top layer, lifting it in different directions.
Final thoughts
Split leather is a great option for craftsmen and people who are looking for the material that is both affordable and stylish. Make sure to buy authentic leather goods with the label "split" if you want to get the genuine material for a reasonable cost.
---