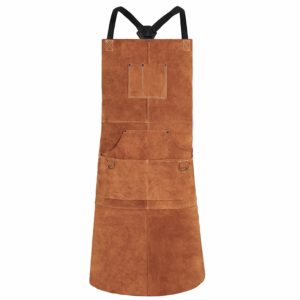 Genuine Leather
Until the knee
6 pockets for tools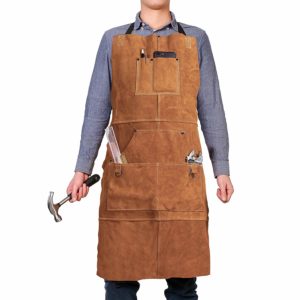 Genuine Leather
Until the knee
6 pockets for tools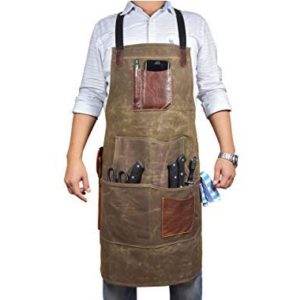 Suede
Until the knee
2 Handy pockets for tools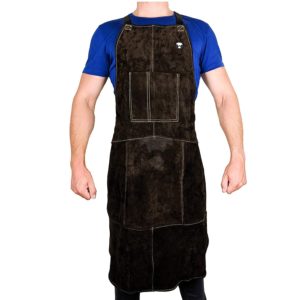 Fire resistant leather
Until the knee
2 buckles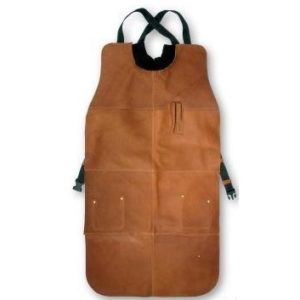 Genuine Leather
Until the knee
Two inside pockets
---
Choose the Best Leather Apron
Customer's Choice: the Best Rated Leather Aprons
12 users answered this survey. Please help us improve this review!

66.67% of users selected QeeLink 24" x 42", 25% selected QeeLink 24" x 36", 8.33% selected AARON LEATHER, 0% selected Waylander and 0% selected Craftsman Collection. Every month we analyze your answers and change our rating.
---
A leather apron is an indispensable outfit in workshops. Why do you need them? Its primary function is to protect you from dangerous factors you risk undergoing when working, like stains, heat, shatters, wood shredding, sharp objects, etc. Moreover, to the working men's convenience, such aprons have capacious pockets of various sizes to keep the necessary tools at hand and easily accessible.
Not only are the leather aprons divided into different types according to one's preferences and styles, but also by the job the working man intends to perform. Lots of aprons are considered multifunctional, thus, suitable for several types of work.
We have selected TOP 5 Best Leather Aprons that may provide reliable protection for you and satisfy your needs.
QeeLink Leather Welding Apron – The Best Choice For Multi-Functioning!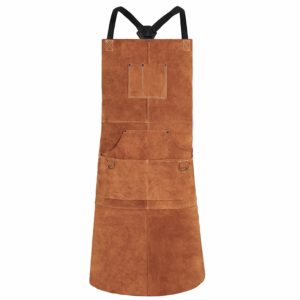 The QeeLink Apron is made of 100% super-tough genuine leather. It is long-lasting enough due to a thick split cowhide. The minimum thickness is about 1.5 mm. In addition, it is sewed through with a US Kevlar thread, considered to be heat-resistant.
This brown welding apron demonstrates resistance against flame and fire ensuring reliable protection during work. The QeeLink Welding Apron is 24 inches in width and 42 inches in length. Such an extra-length helps to cover and protect almost fully cover your body.
QeeLink Welding has manufactured a polyfunctional apron with 6 pockets where a working man can keep tools at hand. The X-back straps contribute to comfort as they spread the weight over the body, thus, preventing your neck from strain. The QeeLink Apron may be worn not only while welding but also while many other types of work and household tasks like grilling, gardening, working in a garage, metalwork, etc.
Pros
Pros
Durable to a thick leather and strong US Kevlar thread;
Demonstrates resistance ability to fire and heat;
Accurately stitched, double reinforced;
A stylishly designed model;
Multi-functional apron;
A nice idea for a gift;
Adjustable M up to XXXL size;
Available in a smaller size;
Suits anyone due to the long straps;
Cross-back strap design adds to the comfort of the working process;
6 various-sized pockets make it capacious;
Comes with a 100% refund in case of dissatisfaction with the product.
Cons
Cons
The apron may be deformed if treated with water;
It should be placed in a ventilated place when wet;
You might face bad stitching;
You may struggle to fix the straps on your back.
The QeeLink Apron may be the best decision for you if you seek a polyfunctional, reliable apron to perform different types of work.
---
Leather Workshop Apron with 6 Tool Pockets by QeeLink – Best Among Small-Sized Options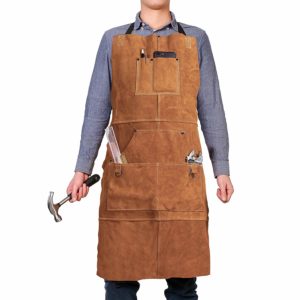 This is the same model but in a smaller size. Made of 100% heavy-duty genuine leather with a thick split cowhide, the QeeLink Welding Apron is durable enough. About 1.5 mm is its minimum thickness.
Moreover, it is sewed through with a heat-resistant US Kevlar thread. This brown apron is resistant to heat and fame ensuring reliable protection of a worker. The QeeLink Welding Apron is 24 inches wide and 36 inches tall. Such length provides almost full coverage of your body.
The QeeLink Welding polyfunctional apron consists of 6 pockets to keep tools at hand. The weight of the apron is spread due to X-back straps that prevent workers' necks from the strain. The QeeLink Apron may be used for many types of work and home tasks, not only for welding, for instance, wjile working in a garage, garden, while grilling, or dealing with mechanics, etc.
Pros
Pros
Made of a thick, soft, supple leather and strong US Kevlar thread;
Demonstrates max durability;
Fire- and heat-resistant;
Accurately stitched;
Has a stylish design;
A polyfunctional apron;
Adjustable M up to XXL size;
Well worth its cost;
Easy to put on and off;
One size fits anyone due to the long straps;
X-back strap design makes your working process more comfortable;
Capacious with 6 various-sized pockets to keep tools at hand;
You may get a promised 100% refund in case of dissatisfaction.
Cons
Cons
It may be deformed if treated with water;
The apron should be placed in a ventilated place when wet;
You might face bad stitching;
Has a strong, lasting, bad smell.
By quality, you may like the QeeLink Welding equally as the previous model. They differ only in size.
---
Aaron Leather Utility Apron – The Best For Comfort!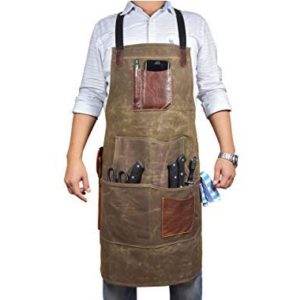 This Utility Apron is manufactured by Aaron Leather Goods Vendimia Estilo. It is a premium-quality shop apron ensuring protection from scratches and spills during the most difficult works. The apron is made of soft fabric, the waxed canvas that is water-repellent.
The pockets are leather. Weighing 1.75 pounds, this apron is lightweight enough to ensure comfort during hard work but also it is heavy enough to provide strong protection.
The Aaron Leather Utility Apron with reinforced stitching on pockets is versatile. This is a unisex model, suitable for both men and women. Thanks to adjustable X-back straps, it is also a one-size-fits-all model with 26 inches in width and 35 inches in length. The Cross-back straps reduce stress and tension onto one's body. It can be successfully used as a workshop, blacksmith, woodworking shop, machinist, tool apron.
Pros
Pros
High-quality durable apron;
Features a very sturdy construction;
Has different-sized pockets for convenience;
Normal weight for comfortable usage;
Well worth its price;
There is enough storage space in pockets;
Has adjustable X-back straps;
Cross-back straps lessen the load on the body;
Easy-to-reach waist straps;
Comes covered by the warranty.
Cons
Cons
The waist strap may not hit in the right place;
You may find it a bit hard to put on.
If you often work hard and need reliable protection, the Aaron Leather Apron may meet your needs. This is the model that is highly likely to ensure your comfort while working.
---
Waylander Welding Apron – The Best For Flexibility!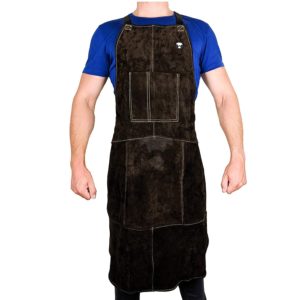 The Waylander Welding Apron is made of heavy-duty genuine split leather. It provides strong protection against fire that is contributed by flame-resistant Kevlar stitching. Besides, the open-back design makes you stay colder under the heat.
Being 40 inches long and 25 inches wide, this apron covers you from your upper chest to below your knees ensuring a high level of protection. It weighs 1.43 lbs being normal for convenient wearing during hard work.
The Waylander Apron can be also worn while wood cutting, carpenter, grilling, gardening, workshop, butcher, etc.
Pros
Pros
High-quality apron with a solid construction;
Its flexibility ensures the freedom of movement;
Safe and secure to use;
Has a fire-resistant ability;
It is distinguished by a perfect stitching;
Features an open-back, ergonomic design;
Produces no bad smell;
Has 2 capacious oversized pockets for keeping welding tools at hand;
Features an easily adjustable harness strapping across the back;
Is well worth its price.
Cons
Cons
Weak, wonky straps that do not stay in place and might break off;
Plastic clasping may be irritating.
If you need a flexible multi-use apron, then you may like the Waylander Welding Apron. It is likely to suit perfectly to welders, blacksmiths, and machinists. Though if you are not okay with clasping, try looking for another option.
---
LEASEEK Leather Welding Work Apron – The Best Universal Option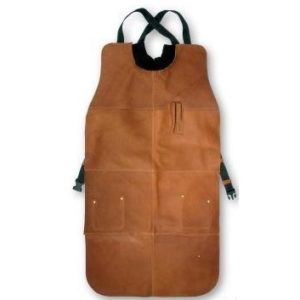 Made of flame-retardant cowhide leather and sewed with a strong US thread, the Leaseek Work Apron demonstrates high resistance against fire. It is manufactured in China.
This top-quality apron is durable enough to serve you quite long. For convenience, it has 4 (2 large and 2 smaller) reinforced pockets to store tools in. They are double-stitched.
The apron can be used for multiple purposes. Its weight is 1.92 pounds. It is 24 inches wide and 36 inches tall. It has a universal size and is unisex. The strap design gives comfort during work and prevents neck pain. The straps are long enough and, thus, adjustable.
Pros
Pros
A light and comfortable-to-wear model;
Has adjustable straps;
Universal in terms of size and sex;
Made of high-quality leather;
Well worth the price;
It fits for multi-functional usage.
Cons
Cons
Produces bad smell;
Crossover adjustment may slide up.
If you are okay with its color, then the Leaseek Work Apron may work out great for you. If you find it improper, you may consider other options.
---
The Buyers' Guide
What should I pay attention to when choosing an apron? 
Type of straps.

  Neck-straps are good for their convenience but the apron's weight causes pressure on the nerve root causing strain when bending. X-straps place the weight of the apron on a working man's shoulders. Y-straps shift a part of the weight to your hips.

The thickness of the protection layer.

7-9 ounces is ok for knife sheaths and gun holsters but it's too heavy for blacksmith aprons. Purses and clothing are quite good when they are 2-3 ounces thick but this is too soft for blacksmith aprons. Whereas the thickness of 5-6 ounces will be perfect for them.

Apron length.

Shorter aprons are lighter and more comfortable to wear while working. Longer ones are usually heavier but they provide more protection.

Ergonomics.

The wider straps an apron has, the more comfort of work it provides. The ones with epaulets also work out great since they help spread the weight over a wider area. Even more, convenience will be received if the straps are adjustable so that an apron could fit anyone better. Make sure the apron does not restrict your movements. The more pockets and loops an apron has, the greater convenience it ensures.

Tie mechanisms.

Aprons may have ties

(the strings wrapped around and tied behind the waist), back straps (go over the back), cross-body system (very adjustable), buckles, or snaps, (allow easy adjustment). The latter two may be present on the other types of aprons.
We strongly recommend that you do not neglect the issues specified. If you take them into consideration, you will find the perfect model that best fulfills your needs and expectations.
Video Tutorial: Blacksmith's Apron
Final Thoughts
To feel safe and protected while performing hard work, you should choose a proper apron as well as take this matter seriously and carefully. Please mind its primary purpose and then study the details. Pay attention to the material it is made of, to the thickness, type, ergonomics. Compare a few options. Such a careful approach to picking up an apron will end up with your comfort and high level of protection while working.
We have selected 5 Best Leather Aprons that, to our mind, are capable of ensuring high-level safety for you, being comfortable and convenient enough, and meeting your needs. We hope you find this review helpful!
---