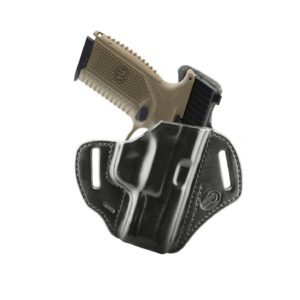 Cow Hide
Wet molded
Fits 1.5" wide standard gun
US cowhide leather
Fits over 80 Guns
Fit close to body
American Steerhide Leather
3 different CCW positions
Hand Crafted
Premium Leather
Calibers With 6" BBL
Open top for fast drawing
100% genuine leather
Double stitch
Fits Makarov, Polish P64
---
Choose the Best Leather OWB Holster
Customer's Choice: the Best Rated Leather OWB Holsters
4 users answered this survey. Please help us improve this review!

50% of users selected Winthrop Holsters, 25% selected Relentless Tactical, 25% selected Gunleather, 0% selected Mack Holsters and 0% selected Stich Profi. Every month we analyze your answers and change our rating.
---
Buying Guide
Leather OWB holsters are a very popular option for a lot of people, depending on the firearm, depending on their personal preferences.
When a lot of people will purchase a leather holster, especially those who are unfamiliar with them, they find out very quickly that a new holster is often very difficult to get their firearm in. In fact, some people will actually send the holster back, thinking that it just does not fit. In some cases, it may not. However, if it is made specifically for your firearm, if it's brand new, it's going to be stiff and it does require a break-in period. There's a few things that you can do to speed up the break-in period a little bit and help your gun fit in the holster just a little bit faster and make it a little more comfortable for you.
The holster, in most cases with most leather holsters, when you get them, and you got to put your firearm in them, it is extremely difficult. They are very tight when you first go to put that firearm in there, and the reason for that is the way that leather holsters are molded.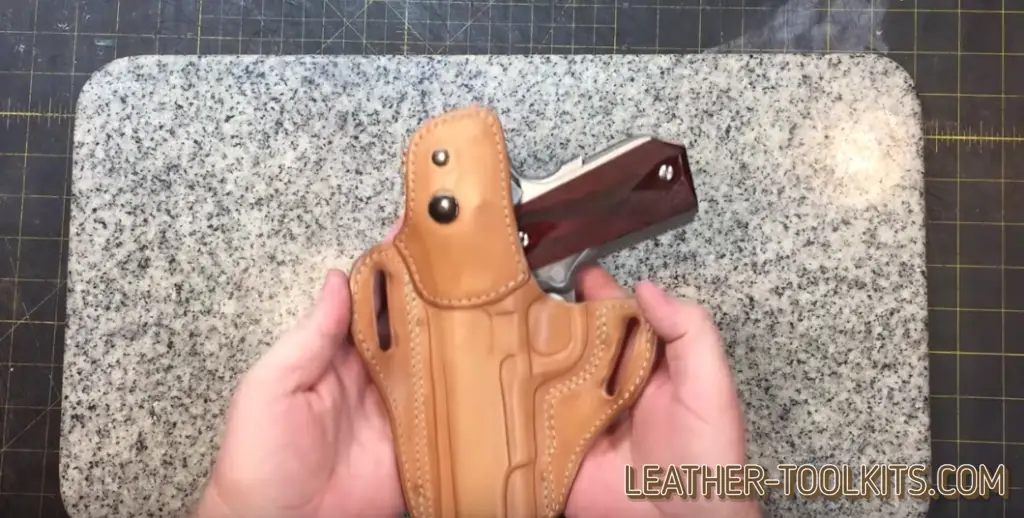 You will see on some videos where some of the craftsmen are demonstrating how they make their holsters. They will wet-mold these holsters. A lot of them will take them and put them into some warm water and then mold them that way, and that's a very good process. However, one of the things that happens a lot of time with leather is that, as it dries, that leather will shrink and, once that leather shrinks, the gun fits much tighter into that holster, and it needs to be stretched back out.
Some of the steps that you can do to ensure that the holster stretches properly and that your firearm fits are by loosening it up, by stretching that leather out again. You're only doing it dry. You don't want to put it back in the water or anything like that. Some people say that you can put mink oil or some type of other leather oil on your holster to loosen it up. However, one of the things that you run into doing that is you will lose a lot of the form, a lot of the detail and the form that you paid for in that holster.
Another area of strain is, once you do get that in, it's often difficult to strap that gun in there, so what we're going to do to help that is just to work the leather just a little bit just when you get it. It might take you a few days to get it loosened up, but this is some of the things that you can do to help. Just take the strap itself and then just work it back and forth, and what you're doing is stretching those leather fibers and, over some time, they're going to stretch anyways. This process just helps to speed that up and make your gun fit in the holster a little sooner.
Another trick here to be able to get the firearm fitting in there is to take a plastic bag. One thing is that it helps to protect the finish on your pistol. You simply put your pistol in the plastic bag, and again it helps to protect the finish. The other thing that it does is just that small gap that… just that little bit of plastic, the thickness of that plastic helps to stretch that leather just a little bit more. You take the holster and put your firearm in it, and you want to push down on the back of the slide. You want that chamber closed, and then, once you get that holster in there, you can strap it. It takes a little bit of working with to get that in there all the way, the way that it should be.
After a couple of days of your firearm being in the holster, you should be able to remove it, and, again, it's going to be a little stiff coming out, and then remove it from the plastic bag, and you should know very soon how well, how much better that it fits. Just slip it down in there, pull the strap over it, and strap it in with no problem whatsoever.
The more you use the holster, the easier that it's going to become, the more broke-in that it's going to become. This is just one little way to help speed up the process to make it a little more comfortable for you, a little easier to draw your firearm. That's really like how a holster like that looks with a classic firearm.
Useful Video: Carry options 2 OWB Holsters
---