2 side/1 internal pockets
Water resistant lining
Detachable shoulder strap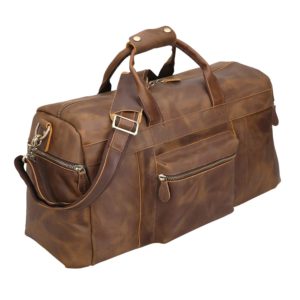 Handcrafted
Cowhide genuine leather
Upgraded metal zippers
Laptop compartment padded
Comfortable Shoulder Strap
Genuine Leather
Handcrafted
4 card slots
Laptop compartment padded
100% Genuine Leather
Two Side pockets
Adjustable shoulder Strap
Size 25"
Side zipper pocket
Removable Shoulder Strap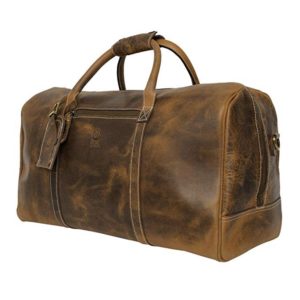 Handcrafted
Space for your laptop
Polyester lining
Weight is 4.5 pounds
Durable Cotton lining
Brass Zipper and Hardware
Real Goat hide
Removable shoulder belt
2 side Zipper pockets
Size: 22
Detachable shoulder strap
Pockets for iPad/ tablet
---
Choose the Best Leather Duffle Bag
Customer's Choice: the Best Rated Leather Duffle Bags
60 users answered this survey. Please help us improve this review!

56.67% of users selected KomalC Duffel Bag, 13.33% selected Polare Original, 13.33% selected Viosi Carry-On Bag, 10% selected Rustic Town and 6.67% selected Komals Passion Leather. Every month we analyze your answers and change our rating.
---
Whether you travel by plane, drive in your car, go camping and just go to the gym, you need to carry a bag with your clothes and accessories. Consider choosing a duffle (sometimes it is replaced with a "duffel") bag that is quite popular among men and women. This is a unisex bag appreciated for its fashionable and luxurious look.
Typically, a duffle is a travel bag made of durable and waterproof material. It can be carried as a handbag or backpack. This travel bag is useful to everyone who travels by plane or has a lot of business trips.
A duffle bag has a simple design with one main compartment to pack the clothes and accessories and provide access to them at any time. On the inside of the top of the bag, there is a mesh inner pocket for storing small items and documents.
Most leather duffle bags in the market are made of PU/synthetic leather or leather patches mixed with the synthetic patches. However, despite the use of cheap or artificial leather, such duffle bags are wear-resistant, won't cause stains or allergic reactions. If you move around a lot, such a duffle bag can become an irreplaceable thing.
Read the article till the end to find the description and tips about choosing high-quality leather duffle bags.
KomalC Travel Duffel Bag – the best for durability!
If you are looking for a unisex-adult leather bag, check the travel duffle by KomalC. It is made of top-notch full-grain leather. The best thing is that these bags are handcrafted – all stitches are made with quality threads.
It is a perfect choice for gym, sports, photo cameras and video recording equipment, travels and camping. The bag is very durable and nice looking.
| | |
| --- | --- |
| Pros | Cons |
| Handcrafted | Bad stitching on the outside |
| Strap leather on the front | May come with weird odor |
| Double handles with the 9-inch drop and 5 inches above the bag | – |
| Adjustable shoulder strap | – |
| Metal zippers | – |
| Includes small internal sections for cards and smartphone | – |
| A lot of space | – |
This bag may stand upright for quick packing. One of the best features of this KomalC travel bag is the approval by major U.S. airlines. Its length is less than 22 inches so you may take it inside the airplane cabin.
Polare 20" Weekender Bag – the best for portability!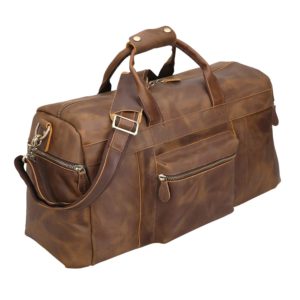 This stylish travel bag has a nice walnut brown color. Both outside and inside the bag is made of high-quality materials – full-grain cowhide leather and soft cotton, respectively. The bag is rather small and can be taken in an airplane cabin.
| | |
| --- | --- |
| Pros | Cons |
| Handcrafted bronze hardware | Zippers may break quickly |
| Premium YKK zippers | The bag is rather small and not many things can be put inside |
| Natural thick cowhide leather produced in the United States | Can leave stains on white pants because it is made of genuine cowhide leather |
| Very durable | – |
| The double stitching on the handles and shoulder strap | – |
| Comes with 2 large side pockets | – |
| Reinforced bottom | – |
| Lightweight | – |
The Polare Weekender duffle bag is great for traveling because it weighs only 4 pounds. You may use it as a carry-on bag. And the price is great if compared with other genuine leather duffle bags.
Viosi Genuine Duffle Bag – the best for capacity!
Viosi offers a genuine buffalo leather duffle bag for travel and gym. The manufacturer promotes this bag as oversized weekend luggage for airplanes and cars. The smart multi-functional design and retro fashion style make this bag a great choice for both men and women.
It is an affordable gift idea that will serve for short trips, business trips, camping, work or gym.
| | |
| --- | --- |
| Pros | Cons |
| Large capacity | It is not foldable |
| High-quality durable leather | Not typical duffle design |
| 100% handmade | Occasional zipper issues |
| Great stitching | – |
| Silver hardware | – |
| Metal feet and YKK zippers | – |
| Many inside and outside pockets | – |
| Non-slip padding | – |
This large Viosi duffle can be used as a tote shoulder bag or carry-on luggage. The bag comes with many inside and outside pockets – 1 padded laptop compartment, 1 zipper interior pocket, 2 small interior pockets with open zip, 1 external zipper pocket. Some suppliers include a toiletry bag inside the package.
Rustic Town Duffle Bag – the best for airplane travels!
If you travel by airplane a lot, consider buying Rustic Town duffle for men and women (though some suppliers label this bag "For Men"). The brown-colored duffle bag can be easily transformed into the carry-on luggage and placed under the seat or in the overhead compartment in the airplane cabin.
| | |
| --- | --- |
| Pros | Cons |
| Great for airplane travels | The inside lining is not wear-resistant |
| Unisex-adult | Made of corrected-grain leather |
| 100% handcrafted in India – no 2 bags are the same | – |
| Sturdy YKK zippers | – |
| Brass fittings | – |
| Many slots and compartments | – |
| Good solid bottom | – |
| Removable insert | – |
| Doesn't leave the stains on the clothes | – |
You can easily detach and adjust the shoulder strap of the duffle bag. Despite the average size, the bag is quite spacious inside. It includes 4 card slots, 1 mobile pocket and 3 pen loops. Keep in mind that this leather type is not completely waterproof.
Komal's Passion Leather Bag – the best for style!
Komal's Passion is a nice brown-colored duffle bag in vintage style. It is a very fashionable leather accessory. This duffle bag is perfect for road trips, weekend vacations and sleepovers. You may also take it to the gym because the bag will easily fit any sports gear and clothes. It can be transformed into a carry-on bag.
| | |
| --- | --- |
| Pros | Cons |
| High-quality durable leather | Won't fit an airplane cabin |
| Handcrafted in India | Zippers are partially made of plastic |
| Doesn't leave stains | Not many pockets – no laptop compartment |
| Double stitches | – |
| Premium YKK zippers | – |
| Adjustable shoulder straps with a soft pad | – |
This leather bag doesn't have many compartments. Basically it has just 1 big compartment for clothes, 2 side zip pockets and 1 external pocket on the front side. A great gift for anyone who likes vintage bags.
The Buyer's Guide
Size
To measure what size of your duffle bag should have, you just need to put all the things you want to carry and see how much space they occupy. If you visit a gym frequently, a medium-sized bag will suit you just fine. If you want to separate clean and dirty clothes after training, choose the duffles with a waterproof, isolated compartment. And do not forget that you will need a towel, water and toiletries when visiting a gym.
If you are going on a trip, a large ruggedized bag will suit you. It should have many compartments and special mounts for small things. The material must be water repellent so you could use it despite the weather.
If you plan to carry many heavy things in your bag (like a motorcycle or bicycle helmet, sneakers, etc.), you must choose a large duffle bag. Pay particular attention to the bags with a strong flat bottom and ergonomic handles.
A duffle bag should be lightweight to reduce the weight of your luggage. Before making a choice, pull out all the inserts from the bag and check how light it is when empty. If an empty bag seems heavy, then it will become an unbearable burden when you stuff it with heavy things.
Material
Cowhide is the most popular leather type picked for making a duffle bag. But cowhide material is quite thick – that is why the manufacturers typically slice cowhide material to make it thinner. Thinner cowhide is malleable to be made into a duffle bag.
A few cowhide leather types used for making duffle bags:
Grain leather type is a corrected material that has been buffed to get rid of any markings and blemishes on the surface. Sometimes such leather type is called top-grain. If the entire grain junction remains intact on a leather type then this cut is called full-grain. Full-grain is considered the most durable material but its surface may have many imperfections like scars, scratches and blemishes. Compared to top-grain leather, full-grain material is much superior;
Split leather (embossed or coated) is a more budget-friendly material. It is made by the separation from the grain at the junction. Many manufacturers of premium bags use split leather to make a bottom layer of their products. Genuine leather is another good choice. Anyway, even the cheapest natural leather is better than faux leather or synthetic materials. Suede is also a split leather type but it is not quite durable compared to the grain leather. Suede is typically used to make a nice top layer;
Bonded leather is one of the low-quality leather types. Basically it consists of straps and shredded bits of the residue left after making top-grain leather. Bonded leather is mostly used as a filler. To make it more durable, some manufacturers cover bonded leather with embossed polyurethane. Besides the budget-friendly leather bags, this material is used for making lower-end upholstery and bookbinding. If you need a durable bag, stay away from bonded leather;
Lining
Many leather duffle bags have no inner lining because the manufacturers save money. And it is easier to cut the corners of the bag if it doesn't have any lining. The bags without any lining because of the reduced durability. They are prone to wear and tear. A lining is required to make a bag more durable and better looking.
A few durable materials are used for making an inner lining of a duffle bag. If the bag is made of a lightweight leather type, then the inner lining must be made of stiffer and heavier fabric. For instance, most leather duffle bags have a muslin or cotton lining. These materials can protect natural leather from any scratches and wear from the inside. If you carry sharp objects in the bag, the lining should be made of stiff and durable fabric.
Hardware
Hardware might seem an irrelevant part of a bag, but its durability is extremely important if you have plans to use this duffle for a few years. Check the quality of buckles, zippers, handles, and locks before buying the bag. Metal zippers, for instance, YKK, are high-quality hardware if compared to plastic zippers.
When choosing a duffle bag, pay attention to its equipment with accessories. All zippers, buttons, Velcro and fasteners should be opened and locked without difficulties and meet the requirements. Additional hidden or patch pockets will be a huge advantage because this is where you can put the necessary and useful little things.
Color
The most popular colors of leather duffle bags include dark brown, tanned, black, and light beige or light brown. If you need to carry a duffle bag to your office or a similar formal place, consider choosing the black and dark brown colors.
Tan and light brown colors are a good match for more relaxed or casual environments. Dark brown is a shade that will add a classy look to any bag.
How to choose a durable leather duffle bag?
If you are looking for a leather bag of high durability, pay attention to the type of leather:
Full-grain leather retains the original texture and marks on the original raw animal skin because no changes were made except the removal of animal hair. I recommend buying a leather duffle bag thanks to minimal processing – such products are of good resistance to wear and tear;
Top grain leather is the thinnest type, which ranks second in quality. It is the uppermost layer of leather (on the hair side), which has then been polished, and, as result, such leather feels like plastic a little bit. It is smooth on one side and a little fuzzy to the touch. The polish is an interesting touch, and it is cheaper than full-grain leather;
Suede leather type is very smooth and it is made of calfskin;
Painted leather offers a luxury and polished look. The glossy surface of this leather type is achieved by applying a lacquer-based coating that is completely waterproof;
A few tips to keep a leather duffle bag in a perfect condition
Maintain quality of leather by regular air conditioning, without soap and water;
Leather may have good water repellency, but excess moisture will simply drain your money. So try not to leave your bag on wet surfaces for several hours;
To keep the original finish and color, keep a bag in a protective case made of fabric, not in a plastic bag. In such a way, leather will remain in perfect condition;
Leather Duffle Bags FAQ
How should you care for a leather duffle bag?
A leather duffle bag should be treated in 3 steps:
Cleaning;

Conditioning;

Proper storage;
You will need such things: a soft and clean cloth, a leather cleaner and conditioner, bubble wrap (parchment paper), a pillowcase (dust bag). 
The basic care guidelines for leather duffle bags:
Clean your bags with clean hands because natural leather may absorb the grease and oil of human skin;

Quick cleaning is required daily. Use a soft and dry cloth to clean dirt and grease after wearing a duffle bag outside;

To prevent dirt buildup, do a rigorous cleaning once or twice a year. Wipe your bag with a specially designed leather cleaner;

Apply in a circular motion and to prevent clogging the leather pores, rub it off with a slightly damp cloth;

Using a leather conditioner on a smooth material helps to avoid flaking and wrinkling. Gently brush it over the whole leather bag;

Apply a conditioner at least twice a year, up to once a month or so, depending on the dryness or humidity of your environment, to maintain your bag comfortable and supple;

To recover and keep its shape, fill the bag with bubble wrap/parchment paper (but not a newspaper, as it may tarnish);

To prevent dampness, put your stuffed bag in its original dust bag and store it in its original case, along with silica gel packs;
Other care tips for users of leather duffle bags:
Prevent a leather bag from getting wet. Wipe off excess moisture immediately. Never use a hairdryer to dry natural leather. Let the damp leather item dry naturally. Then use a conditioner;

Don't use alcohol-containing cleaning items, since they may dry out and can darken your bag;

Once in every 2 weeks, air your bag to avoid mold production;

It is better to pick special leather care products instead of DIY remedies;
Be conscious that heavy exposure to the environment will significantly age the leather. Adapt the leather treatment and cleaning procedures according to your use of duffle bags.
How often should you condition leather bags?
The leather conditioner is like the leather bag moisturizer. The leather would wear out with time without it.
Leather conditioning is a method of regular maintenance that will return the leather to moisture and improve it for the future. Although it is not important to prepare your leather to last for a long time, daily conditioning (once every 30 months) will significantly boost the appearance and longevity of your leather goods.
Rub the surface of your leather bag with a bit of leather conditioner. Leave it for 10 minutes and then wash out the surplus. In an airy room, make sure you dry it properly. Every single month, condition your bag just to keep the leather material looking its finest.
Apply a conditioner at least twice a year, once a month, depending on the dryness or humidity of the surrounding environment, to maintain your leather bag smooth and supple.
How long can leather duffle bags last?
The life expectancy of your leather bag depends greatly on how much you wear it and how good you care for it. Natural leather in itself will be able to disintegrate for 100 years before it starts, and most people won't be maintaining their bag for so long.
Consider choosing a duffle bag made of full-grain leather. Full-grain leather, noted for its resilience and longevity, is the finest quality and most coveted leather material. Such materials are isolated from the thickest and most external portion of the hide, which gives it its strength.
What can be used to moisturize leather?
For moisturizing leather, it is better to pick special leather conditioners. However, you can make DIY remedies to moisturize natural leather: 
1) Whisk together a quart of warm water, a tablespoon of soap, and a few drops of vinegar. Dip a clean rag with this mixture. Wring it out such that it is moist and not hot. Wipe down the whole surface of the leather item.
2) On a soft cloth, add a dime-sized volume of mink oil. Microfiber is the best material for a rag, but it's not required. Start rubbing the clean leather with the cloth in circular moves.
What oil can be recommended for leather duffle bags?
Much like human skin, natural leather requires frequent (preferably daily) moisturizing. There are several options available for moisturizing leather, but a dab of sunflower or vegetable oil applied equally over the bag with a clean dry cloth is all it really requires for regular maintenance.
The oils that make leather smooth and sturdy are mink oil, neatsfoot oil, and other leather-suitable oils. When oiling leather, do not forget to wash off the excess residue after a few minutes since applying. Leather bags with finish also need polishing after using any of these oils. In such a way, you may protect your leather bag from scuffing. 
Resist buying DIY leather care items that may possibly damage your product, such as olive oil or coconut oil.
Are leather duffle bags worth it?
It depends on your daily tasks and routine. Here is why you should invest in natural leather duffle bags: 
A perfect bag for work and gym sessions;

Very stylish;

Spacious;

Durable exterior;

Flexible – easy to squish into tight places;

Wear-resistant;
However, keep in mind that leather duffle bags also have a few disadvantages: 
Bulky;

Lack of protection – not many zippers and locks;

Difficult organization;

Lacks pockets;

Inconvenient for air travel;
Though, if you need a stylish accessory to transport your belongings, leather duffle bags are definitely worth the investment. 
Can you use Vaseline on a leather duffle bag?
Natural leather can be softened with petroleum jelly/vaseline. This substance may keep genuine leather from breaking. This product can be used for moisturizing leather accessories like belts and wallets. However, never use petroleum jelly on products made of rawhide leather. 
That is why it's better to choose special oils for moisturizing your leather duffle bag. Nevertheless, if you have no other choice but Vaseline/petroleum jelly, make sure to apply a nice, lint-free rag when treating the leather bag with it.
Interesting Video: World's Most Durable Duffle
Final thoughts
Buying a leather duffle bag is definitely one of the smartest investments, especially if you travel a lot or visit a gym regularly. Duffle bags are spacious cylindrical bags made of different thick fabrics (including genuine leather) with a drawstring top closure.
Leather duffle bags are stylish, practical and affordable bags that you may use daily. Check the best leather duffle bags after reading the guidelines. Your purchase must be a reasonable choice because a duffle bag may serve as a great investment for many years. The range of duffle bags is huge, for any purpose or occasion, but it's better to pick the bag that you can use daily.
---