2 side/1 internal pockets
Water resistant lining
Detachable shoulder strap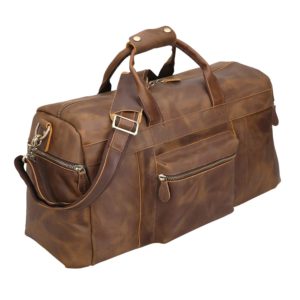 Handcrafted
Cowhide genuine leather
Upgraded metal zippers
Laptop compartment padded
Comfortable Shoulder Strap
Genuine Leather
Handcrafted
4 card slots
Laptop compartment padded
100% Genuine Leather
Two Side pockets
Adjustable shoulder Strap
Size 25"
Side zipper pocket
Removable Shoulder Strap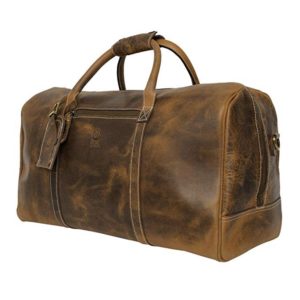 Handcrafted
Space for your laptop
Polyester lining
Weight is 4.5 pounds
Durable Cotton lining
Brass Zipper and Hardware
Real Goat hide
Removable shoulder belt
2 side Zipper pockets
Size: 22
Detachable shoulder strap
Pockets for iPad/ tablet
Buying a leather duffle bag is definitely one of the smartest investments, especially if you travel a lot or visit a gym regularly. Duffle bags are spacious cylindrical bags made of different thick fabrics (including genuine leather) with a drawstring top closure.
Why do I recommend buying a duffle bag made of leather? The reason is simple – any leather bag will last for many years due to the thickness and high quality. In most cases, high-quality leather duffle bags are properly designed and can serve you for a lifetime.
How to choose a durable leather duffle bag?
If you are looking for a leather bag of high durability, pay attention to the type of leather:
Full-grain leather retains the original texture and marks on the original raw animal skin because no changes were made except the removal of animal hair. I recommend buying a leather duffle bag thanks to minimal processing – such products are of good resistance to wear and tear;
Top grain leather is the thinnest type, which ranks second in quality. It is the uppermost layer of leather (on the hair side), which has then been polished, and, as result, such leather feels like plastic a little bit. It is smooth on one side and a little fuzzy to the touch. The polish is an interesting touch, and it is cheaper than full-grain leather;
Suede leather type is very smooth and it is made of calfskin;
Painted leather offers a luxury and polished look. The glossy surface of this leather type is achieved by applying a lacquer-based coating that is completely waterproof;
My top 5 leather duffle bags
After a few weeks of tests and research, I picked such models and brands as the best leather duffle bags – I would recommend one of these accessories to my friends and family. Moreover, I picked one of these items for my regular visits to a gym:
KomalC offers an accessory with 3 pockets and a water-resistant lining. I also like it is detachable shoulder strap;
Polare Original is a hand-crafted piece made of soft cowhide leather. Metal zippers make it really stylish;
Viosi Carry-On includes a compartment for laptop's transportation;
Rustic Town is another hand-crafted bag with 4 slots and a separate laptop compartment;
Komals Passion is another 100% leather bag with 2 side pockets and a shoulder strap;
Other brands of duffle bags I definitely recommend C CUERO, Cenzo, LeatherFocus.
A few tips to keep a leather duffle bag in a perfect condition:
Maintain quality of leather by regular air conditioning, without soap and water;
Leather may have good water repellency, but excess moisture will simply drain your money. So try not to leave your bag on wet surfaces for several hours;
To keep the original finish and color, keep a bag in a protective case made of fabric, not in a plastic bag. In such a way, leather will remain in perfect condition;
Also, check the related video below this review. Please share your opinion of duffle bags made of leather or other fabrics – what would you recommend?
Video Tutorial: World's Most Durable Duffle
---