3 compartments
Adjustable Strap
Zippered Pocket
Handmade
High quality leather
2 zipper sections
Finest Buffalo Leather
Concealed Snap
Concealed Snap Closures
3 compartments
Adjusts For Comfort
2 inner zipped pocket
Color: Black
High quality
Large Capacity
Genuine Leather
Comfortable
4 zipper pockets
Convenient to carry
Genuine leather
Anti-Thief Pocket
Color: Black
Ergonomic Design
Large Capacity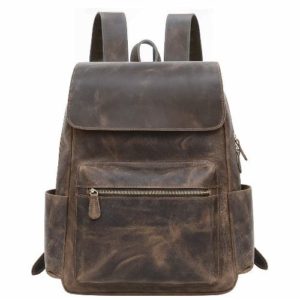 Color: Deep Brown
Cover flap
Unique back material design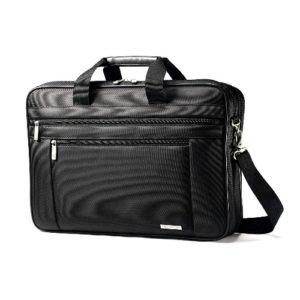 Color: Black
Easy access
Wrapped bale handles
With so many leather laptop bags to choose from, it can be challenging to settle on just one. We've scoured the internet in hopes of finding the top five leather laptop bags. To the list, a bag needed to be durable, stylish, and protective. Read along to discover everything from premium to budget-friendly options.
Cuero's DHK 18-Inch Distressed Leather Messenger Bag – Our Edtor's Pick
If you are a fan of distressed leather, you'll find this vintage-inspired messenger bag to be irresistible. The bag measures 12 inches high, 18 inches wide, and 5 inches deep. It has a luxurious vintage look.
There are three large compartments with metal buckles. Two smaller pockets are mounted on the bag's front panel. Meanwhile, a large center pocket serves as the perfect spot for a traditional laptop.
The bag features an adjustable shoulder strap with a padded shoulder protector. It has an interior zipper pocket as well as three pockets that can be accessed from the bag's exterior. The bag is made from genuine goat hide. It has a deep brown color and an aged patina. With plenty of storage space and a unique unisex design, this is our go-to option for leather laptop bags. It's big enough that you can tote around a few books, folders, and other items. With plenty of storage space and a unique unisex design, this is our go-to option for leather laptop bags. It's big enough that you can tote around a few books, folders, and other items.
| | |
| --- | --- |
| Pros | Cons |
| Naturally distressed brown leather exterior | Some quality control issues |
| Several pockets with buckle and zipper closures | – |
| Has a vintage-like design for a blockbuster price | – |
| Can easily be maintained with a little leather conditioner | – |
---
Komal's Passion Leather's 18-inch KomaIC Messenger Bag – Customer Favorite
Consumers cannot get enough of this vintage-inspired 18-inch leather messenger bag. It has a brown full-grain leather exterior and a durable canvas lining. A top handle enables users to carry it like a briefcase.
However, an adjustable over-the-shoulder strap also lets you use it as a messenger bag.
It has two buckle-laden pockets and a lockable internal chamber. As such, you can secure the inner contents without having to worry about your belongings spilling out. The thick leather exterior will protect your electronics from harm. Meanwhile, the extra storage space can be used for everything from textbooks to clothing. Each of these bags is pieced together by skilled artisans. The ever-growing number of bags sold by Komal's Passion Leather is a testament to the company's dedication.
| | |
| --- | --- |
| Pros | Cons |
| Made from quality full-grain leather | Pricey |
| Features a lockable interior pocket | – |
| Has a vintage-inspired design that can be carried or worn | – |
| Can fit a laptop as well as several other items | – |
---
KomalC Leather Briefcase – Best Bag for Compact Laptops
This lovely leather laptop bag is the perfect size for laptops with 15.6-inch or smaller monitors. It is made from full-grain buffalo leather and lined with high-quality canvas. Its padded interior is the perfect place for a compact laptop.
Its dual front pockets are excellent spots for small items, such as cell phones, paperbacks, pens, and pencils.
We love that this bag was designed by Komal Chaudhari and produced by skilled artisans. It's certainly not your run-of-the-mill laptop bag. The bag's rustic patina gives it a lot of character. Meanwhile, top and shoulder straps enable users to switch between carrying and wearing their computers.
| | |
| --- | --- |
| Pros | Cons |
| High-quality brown buffalo leather | Bag tilts away from the body when filled |
| Vintage patina with retro buckles | – |
| Suitable for laptops that are 15.6 inches or smaller | – |
| Affordable | – |
---
Rustic Town 15-inch Vintage Crossbody Genuine Leather Laptop Messenger Bag – Most Contemporary Leather Bag Design
If you're looking for a more striking laptop bag design, check out Rustic Town's contemporary leather messenger bag. This beautiful bag is made from premium goat leather. It has a rich brown color that improves with age.
The vegetable tanning process used to dye this bag help it to retain its original characteristics without taking on toxic chemicals. Since leather is a natural product, you should not expect any two bags to be identical.
The Rustic Town leather laptop bag features a durable leather shoulder strap. All of the hardware is secured to the base with high-quality thread, buckles, and zippers. The interior lining is made from olive green canvas. Overall, this bag is perfect for anyone looking to carrying their laptop in style.
| | |
| --- | --- |
| Pros | Cons |
| Made from genuine goat's leather | No easy access exterior pockets |
| Suitable for both business and casual | – |
| Features a heavy-duty canvas lining | – |
| Easy access to internal zippered compartments | – |
---
Tocode 15.6-inch Leather Laptop Bag – Best Budget Option
If you love the look of leather but want a vegan alternative, check out Tocode's PU leather messenger bag. This 15.6-inch bag is perfect for compact computers. It has a traditional shoulder strap, a wax-coated canvas lining, and lots of reinforced stitches.
What more could we ask for?
| | |
| --- | --- |
| Pros | Cons |
| Contains 11 pockets, including one that's perfect for a compact laptop | Can only be worn across the body |
| Serves as a shock-resistant briefcase | – |
| Made from cruelty-free PU leather | – |
| Water-resistant fabric and durable closures | – |
---
How to Choose a Perfect Laptop Bag
A quality leather laptop bag will protect your laptop while you travel from one destination to another. Leather is a premium material that, for the most part, gets better with age. Before you settle on a bag, be sure it meets the following qualifications.
Dimensions
Your bag must be big enough for all of its intended contents. Review a bag's dimensions before assuming it is big enough for your laptop. Your laptop should have a little wiggle room. If you plan on carrying more supplies, make sure there are additional storage spaces.
Materials
First off, determine the material composition of your leather laptop bag. Is it made from full-grain, synthetic, or bonded leather? The answer may determine its durability, patina, and upkeep requirements. Keep in mind that PU leather is an artificial substitute made from plastic and rubber. On the other hand, authentic animal-derived leather may be obtained from goat, cow, or buffalo hide. Typically, the quality of a leather product is reflected in its price tag.
It's also important to consider the material of a bag's liner. Most manufacturers use a thick canvas lining inside their leather laptop bags. Thick natural materials help buffer laptops from the shock of sudden drops and impacts. A quality liner may also help to fend off water damage.
Style
Most leather laptop bags have a messenger bag-like foundation. Traditionally, these bags have an adjustable over-the-shoulder strap. However, some messenger bags also boast a briefcase-inspired top strap. It's nice to have flexibility, especially if you enjoy alternating the way you carry your laptop. If you are someone who has a long commute on public transportation or you travel a lot for work, an additional handle may make a world of difference.
Keep in mind that some leather laptop bags have a relaxed appearance, while others are better suited for business settings. If you're looking for a formal carrying case, opt for something with a pocket-free front panel. Elegant designs are more suitable for professionals. Keep in mind that you may squander storage space by choosing a bag without exterior pockets.
What are the Benefits of a Leather Laptop Bag
Leather laptop bags offer years (if not a lifetime) of laptop protection. Most leather bags will outlive the technology they are protecting. This thick, wear-resistant material does an exceptional job of protecting screens and other vulnerable electronic components. Not to mention, it does a magnificent job of supporting heavy equipment.
Of course, leather is also a timeless style option. The vibrant color palettes, soft textures, and dynamic patinas of this material make it perfect for both business and casual situations. If you want a unisex bag that will pair well with any outfit, a leather one is an unquestionably wise selection.
Video Instruction: Making a Leather Laptop Messenger Bag
The Takeaway
We hope you enjoyed our rundown of the top leather laptop bags. If you're looking for a premium bag that will protect your possessions, you cannot go wrong with Cuero's distressed leather messenger. Of course, any of our options will enable you to tote your most prized electronics in style.
---