Easy to carry
Premium leather
Various pockets
Lockable inner section
Handmade
Concealed locks
Perfectly sized
Finest rugged
Genuine leather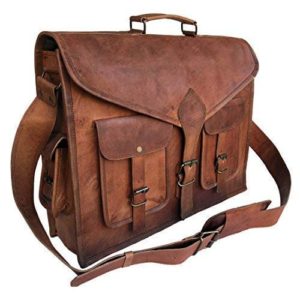 Adjustable strap
Multiple pockets
Light weight
Adjustable strap
Multiple pockets
Genius Leather
Big Front pocket
2 big front pockets
Perfect to use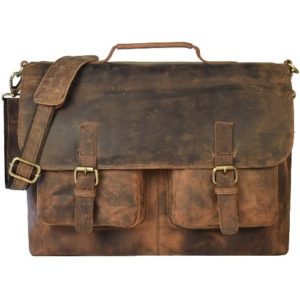 Genius Leather
2 big front pockets
High Quality Canvas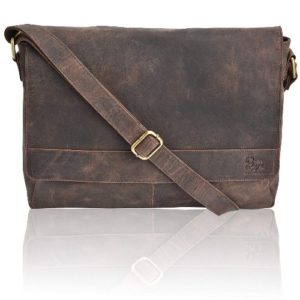 Color: Brown Crazy Horse
Adjustable strap
High Quality Canvas
Adjustable strap
3 compartments
Perfect to use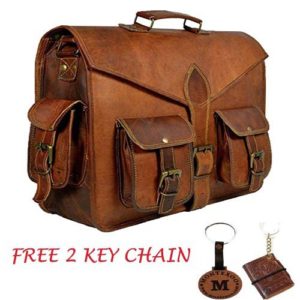 Big front pocket
3 compartments
Perfect to use
For some people, going to work means spending time in the office, heading to meetings, traveling between venues, and taking work home. If you are one of these individuals, then you might appreciate a bag that can tote all the important items. Trying to carry notepads, pens, business cards, sunglasses, keys, lunch, snacks, and your laptop is too much for your pockets. If you have presentation materials, then having a neat place to put files is crucial too.
Choosing the right satchel is important. Some have more pockets than others, while impact protection might be the most decisive thing to you. This list encompasses a variety of options for both men and women. The following chart will give you a quick glance at the primary features of the five items we put in this guide.
This section of the guide will go into more in-depth information about each satchel. We give you the best and worst qualities of each product. You may find this information is helpful when choosing a work bag for your needs.
Lifewit Leather Vintage Bag – Best Padded Briefcase
If you have expensive or sensitive technological equipment, then you may appreciate the extra cushioning in this bag. The Lifewit satchel uses a combination of leather hides from different animals for a striking design.
Along with these materials, a durable canvas provides a two-tone design that is appealing and resistant to tears and scratches.
Two layers of robust canvas fabric envelope a thick layer of insulating foam. The magnetic closing buckles may be convenient when you are in a hurry to get to your next client. The broad carrying strap might be more comfortable when you are carrying this case a lot.
| | |
| --- | --- |
| Pros | Cons |
| Large interior pocket with two smaller ones | Product may lose buttons |
| Two open front pockets and one with a zipper | Seams along the strap can come undone and ravel |
| Can carry by the handle, shoulder, or the entire body | – |
| Fits laptops up to 15.6 inches | – |
| Lightweight | – |
---
KPL Vintage Satchel – Best Handmade Product
When you give a gift, you may find a meaningful item is one of the best presents you can offer a person. This satchel uses a full-grain leather construction. You may like the size of this bag when you have large items like stethoscopes or files to carry.
Hidden locks on the outside of the bag make sure your important papers are secure. Inside, another locking compartment allows you to store your laptop and expensive equipment safely. The timeless style is one you may find lasts for years and goes with any coat, suit jacket, or shirt.
| | |
| --- | --- |
| Pros | Cons |
| Small exterior pocket for quick access to calculators, glasses, or cell phones | May need to air the bag for some time before using |
| Two zipper pockets | Buckles tend to break easily |
| Excellent for carrying a change of clothes or work gear | – |
| YKK zippers | – |
| Durable stitching and thread | – |
---
Brainstorm Messenger Bag – Best Heavy Duty Satchel
Do you find yourself staying at the office more and more? Perhaps you have a job that requires you to work extra-long shifts. The Brainstorm Satchel provides plenty of space for everything you need from your toothbrush to a spare cellphone charger.
With eight pockets, you are sure to find a spot for everything you have to carry. Durable zippers and brass hardware ensure your bag will open and close without snagging and catching. The slim design and high-quality leather let lawyers, doctors, and busy executives look stylish and bring everything they need to work.
| | |
| --- | --- |
| Pros | Cons |
| Insulated laptop compartment | Zippers may break after heavy use |
| Multiple pockets for easy organization | Seams can come undone |
| Variety of compartment sizes | – |
| High-quality stitching | – |
| Premium leather material | – |
| Padded carrying handle | – |
---
KPL Rustic – Best Traveling Bag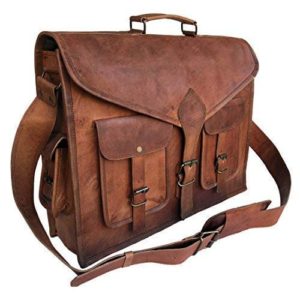 If you travel a lot, then you know the importance of having a carry-on bag with plenty of room for all the little things you need at the ready. Additionally, keeping certain items with you is important if your luggage happens to get lost at the airport.
The sturdy design includes durable zippers and seams.
The KPL rustic satchel is spacious with room for several files and a laptop in the main compartment. Two interior zipper pockets give you room to put smaller items. Outside, two buckled pockets give you space for tickets, keys, wallets, phones, and other items.
| | |
| --- | --- |
| Pros | Cons |
| Easy to adjust shoulder carrying strap | Many consumers feel the product looks better in the photos |
| Rivets with durable, dual caps | May have problems with the stitching coming undone |
| Canvas interior material | – |
| Double stitch seams | – |
| Handle and strap | – |
---
Wowbox Satchel – Best Unisex Bag
Do you want a gift you can give to any friend on your list? Opting for a gift you can buy in multiples is an excellent way to save time shopping for birthdays or the holidays. You may find this bag is such a favorite that you want one for yourself.
The bottom of this satchel has an insulating layer to protect sensitive items like tablets and laptops. Premium leather materials let you feel good about giving this product as a gift. Men and women can use this bag for overnight trips, going to the office, carrying school items, and traveling.
| | |
| --- | --- |
| Pros | Cons |
| Removable shoulder strap | May not be as durable as the manufacturer claims |
| High-quality stitching | Colors appear different than in the photos |
| Sturdy buckles with magnetic closers | – |
| Adjustable strap | – |
| Interior zipper pocket and two exterior buckle pockets | – |
| Lightweight | – |
---
Buyer's Guide – Best Satchels for Men and Women
This section of the guide helps you get answers to the most important questions about these satchels.
Typical questions and answers
What is the purpose of a satchel
These bags are versatile. You can use them for everything from taking a change of clothes with you to work to carrying your golfing equipment. Many people prefer a briefcase or messenger bag instead of a backpack.
Does the bag have a handle for attaching to my suitcase
No. These bags all have shoulder straps and handles. You can adjust the strap to wear the bag across the body for security and comfort. Otherwise, you can use the shoulder strap to carry it on one arm. You can use the handle when you want the extra support.
Does the messenger bag fit 17 or 18 inch laptops
No. Most of the satchels on this list fit laptops between 14 and 15.6 inches wide.
Where does the bag come from
The manufacturers of these bags are from a variety of areas.
Are the bags oily
No. There is no residue on the bags when they arrive.
Can I use the bag for carrying books
We do not recommend using these bags as backpacks. You can use it to tote a couple of books and your laptop, but not as a primary option for school. These products are usually an additional item to free up the backpack solely for books and papers.
Video Tutorial: Making a Leather Satchel Bag
Concluding thoughts
Since each of these bags is partially or fully constructed with leather, we suggest reading the manufacturer's information for caring for the material. You can protect the leather and prevent rips with proper upkeep. Each product on our list offers a variety of features and conveniences. We suggest checking out the product reviews to choose the one that best suits your needs.
---