---
A high-quality leather tote bag has always been one of the best gifts for a woman. You can present it to yourself or your dear mothers, sisters, daughters, or wives if you are a man. This lovely and practical accessory will make your life easier and serve you for years.
They differ in design, size, capacity, the inner layout of compartments and pockets, type and quality of leather and closure hardware, functionality, and affordability. All selected models feature large capacity, practical design to suit your everyday activities and look smart, matching different styles of clothes, you may want to wear, such as casual jeans with a T-shirt, when you are shopping or traveling with children, or an elegant dress, when you are going for a business lunch.
The comparison table below will give you a breakdown of the main features of the 5 best leather tote bags, which were picked up by ordinary women and experts in the field of leather accessories to facilitate your choice. The Buyer's guide will be useful to get a general understanding of the diversity and some key points of tote bags.
KOMALC Leather Multipurpose Handbag – the best for super simple multi-utility design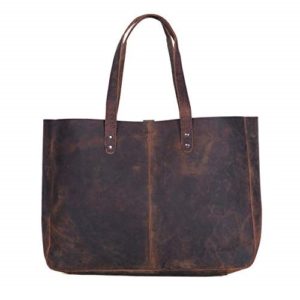 This beautifully handcrafted pure leather multipurpose tote bag is designed with the idea of absolute simplicity and maximum utility in mind.
Top-quality leather is durable lightweight and helps you always look smart. The construction of the unit with one main compartment and a pocket gives a huge space to use according to your needs.
Pros
Pros
High-quality full-grain leather
Beautifully handcrafted and durable
Versatile utility for any needs
Fashionable and stylish
Smart casual, matches any look
Soft and pleasant to the touch
Neat tailored
1 main compartment and 1 pocket
Large enough for an iPad, a 15" laptop, or an umbrella
Snap top closure
Very lightweight
Cons
Cons
Snap lock is easy to use, but not 100% safe
This tote bag design is ridiculously simple: a main compartment and a pocket, but this simplicity allows you to insert loads of things inside and carry them anywhere you need. It's totally universal. The untreated leather inside doesn't transfer color to your possessions, so no need to worry.
---
BOSTANTEN Women's Leather Designer Handbag – the best for elegant and noble style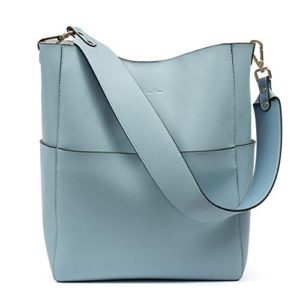 No more compromises! This Bostanten designer tote bag combines sophisticated elegance with a practical approach to carry and organize all your possessions.
It is roomy enough with lots of pockets and a removable pouch to maintain perfect order inside. It's a perfect everyday accessory, that will add a noble touch to your smart look.
Pros
Pros
High-quality cowhide leather and hardware
Comfy magnetic buckle closure
The detachable pouch is made of fabric
Includes 1 main compartment, a detachable zipper pouch
2 side pockets with magnetic buckles for easy reach
Large enough for an umbrella, or a 13" laptop
Changeable leather and woven shoulder straps
Looks noble and elegant
Perfect for daily use for various needs
Roomy
Cons
Cons
The shoulder strap looks cheap
The bag is not soft, the leather is thick to keep the shape
The tote bag can be easily worn crossbody with a shoulder strap. It's quite high and deep, so It feels better on the shoulder than crossbody.
---
SCARLETON Stylish Reversible Tote Handbag for Women – the best double-side reversible bag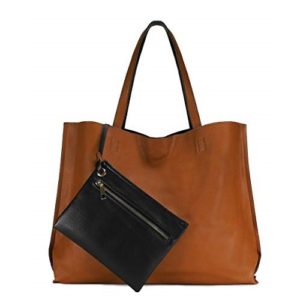 Scarleton offers a pleasant surprise for women with their reversible tote bag. The same bag can be used in 2 colors black or light brown, depending on your mood or style.
It is made from eco-friendly material, large enough even for a laptop, well-made, and perfectly sized for comfy everyday use. As the price is very attractive, it can easily complement your collection of bags without damage to your budget.
Pros
Pros
Can be flipped to another color, from camel to black
Eco-friendly synthetic leather
Magnetic closure of the main compartment
Coin bag closes with a zipper
Simple and stylish design
Sizeable
Suitable for a 13" laptop
Affordable price
Well-made and sturdy
Perfectly sized
Cons
Cons
Smells when new
A zipper can be stuck without use
After the purchase you can feel a smell from the bag, it's ok for synthetic materials. What you have to do is just to let it air for several days. The unpleasant smell will disappear day after day. No other treatment is required or recommended. Another trouble can occur with a zipper. It can get stuck without use for a long time. Just apply a bit of candle wax to make it move smoothly.
---
COVELIN Women's Genuine Leather Tote Bag – the best for all seasons carrying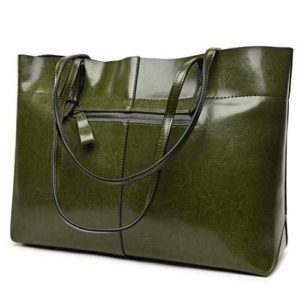 It's great when you can have one bag for all seasons to carry every day to school, work, or anywhere else. This Covelin leather tote bag suits it perfectly.
It looks glossy, classy, and elegant with thin straps. Its large capacity with 2 big compartments will contain all you need, for example, any files, books, a laptop, etc. There is a wonderful opportunity to choose among 2 section options: vertical or cross to satisfy your needs and preferences best.
Pros
Pros
Genuine split cowhide leather
Polished and wax finish
Polyester inside
13" laptop fits well
2 large compartments with pockets inside for essentials
A backside zipper pocket for immediate reach
Looks classy and stylish
Cross and vertical section options
Thin straps
Many colors available
Value for money
Cons
Cons
Inside pockets for a phone and keys are too small
The recommendations for care say to clean the bag with a dry and soft cloth only. Never wash it. Avoid scratching the leather with sharp objects. If it happened, try applying a little white liquid from an egg. It can help bond the crack.
---
KATTEE Women's Genuine Leather Handbag – the best for the all-matching and smart look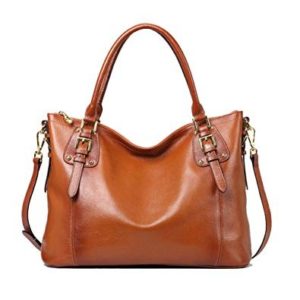 This lovely genuine leather tote bag made by Kattee is a universal model, which will match all your styles and looks. It can be worn crossbody or on the shoulder to give you more freedom on the move.
Top zipper closure keeps all your personal possessions safe and pockets help organize the essentials inside for easy reach. It holds the shape when it is empty.
Pros
Pros
Genuine cowhide leather
Nice texture
Wax finish
Polyester inside
Top zipper closure
High-quality hardware
Feels soft and flexible
Maintains the shape when empty
2 main compartments with pockets
13" laptop fits perfectly
Shoulder straps are adjustable
Smart design for any occasion: work, traveling, personal appointments, etc.
Cons
Cons
Quite heavy
The crossbody strap is too narrow and not comfy
The model is practical, universal, and looks smart. The wax finish of the grain leather makes it polished, soft, and pleasant to touch. This method makes the material water, dirt, and dust-resistant. Its glossy appearance will match most of your clothes.
---
The Buyer's Guide
Size, capacity, compartments, and pockets
A woman can't live without a beautiful and comfy handbag. Tote bags cover most of the needs of a modern woman to contain all the everyday essentials, a laptop for work, an umbrella, or things for childcare and lots of other trifles to keep them at hand, wherever she goes during the day. Large capacity allows you to use them daily when you go to work, move around the city with children, for shopping and traveling. For your convenience, they may have one main or several big compartments with or without many pockets. As an option, they include a pouch to organize everything in the perfect order.
Materials
Tote bags are traditionally made of genuine leather: full grain or split, or synthetic materials, for example, polyurethane. Pure leather accessories are always durable, flexible, and strong, they look fantastic and high-quality and get an even more exclusive view over time. However, if you are a fan of the animal rescue movement choose a bag from eco-friendly synthetic leather, which is also strong enough and nice-looking. 
Top closure
Types of top closures differ. For tote bags, zipper, and magnetic snap options are common. Both are practical and reliable. In the first case, your possessions are obviously safe. A zipper can break or get stuck with use. A snap is so easy to use, it lets extra space for everything you need. However, the bag may look bulky a bit if overloaded, and the contents are not completely closed.
 Other recommendations for buyers about the care and use of Tote bags
All leather accessories usually have a specific smell when they are new. No matter it is genuine or faux leather. You don't have to do anything except letting it air out. The odor will disappear gradually after several days.

All manufacturers recommend wiping the bag only with a soft dry piece of fabric. If you plan to store it for some time you can apply a little of a special agent for leather care and put the unit in the place with good air ventilation.

Leather is afraid of sharp edges, and other mechanical damages. Scratches and cracks are left on the surface, and you can do nothing with that. 
Video Guide: Making a Black Tote Bag
Leather tote bags always come first when I need to transport my laptop. A good leather tote bag will serve you for several years – it is extremely easy to wash. They are hard to scratch and very spacious. This review on Leather-Toolkits will help you to choose and buy the best leather tote bag in the U.S. market. I personally tested several models for a few months, below you will find the results of my tests.
Surely, tote bags are good for transporting pretty much everything – but I recommend them for laptop owners who look for a stylish and spacious handbag to move their devices.
Things to consider when buying leather tote bags
When buying a bag made of genuine leather, pay attention to the seams you can determine whether a tote bag is really made of natural leather. Tote bags are very large (even compared to hobo and frame bags), with one and two handles. Tote bag does not usually have a clasp, sometimes there is one button in the center. As a result, it is considered very practical and comfortable to wear daily. Make sure to pick the bag made of genuine leather, despite the higher price, because it will serve you for many months if not years.
Skip wearing tote bags in airports – sometimes things can fall off them.
According to my tests, you can safely use such leather tote bags for everyday use:
Komalc is a hand-crafted tote bag with a separate pocket for the transportation of laptops;
BOSTANTEN is smaller but has two shoulder straps and 2 side slip pockets for accessories;
Scarleton handbag is made of vegan leather with awesome magnetic closures;
Other great brands of leather tote bags: Covelin, Kattee, YALUXE.
If you are interested in crafting one of such leather tote bags, I posted the video that can be helpful. Share your experiences with tote bags under this review. Your feedback is very important!
Conclusion 
One of the mandatory attributes of a modern woman is a nice-looking and comfy handbag. Busy with daily routines and kids, or business meetings and trips, such a woman will feel confident with a favorite tote bag, keeping all everyday essentials and other needed things in order and always at hand. Each of the selected models is awesome, handy, and a great value for money. 
---