Supple leather
Touchscreen
Made in Italia
Sheep leather
Resist -20℃
For winter travel, driving
Lambskin leather,
Touchscreen
Warm lining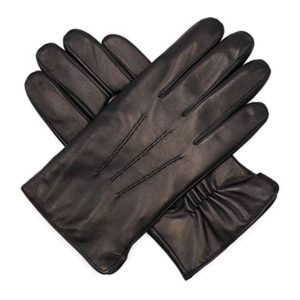 Sheep leather
Very warm
Waterproof
PU leather
Adjust the size
Inner fleece is soft
Buyer's Guide
Keeping warm is one of the most important things when you're outdoors. So it's no surprise we often get asked what warmest winter glove is. Before answering, we need to talk a bit about hands and leather gloves in general.
The first thing to keep in mind in cold weather is your body's natural process of prioritizing vital organs such as your heart. This means your extremities are the first to cool down. In other words, your hands and feet are the first to get sacrificed from reduced blood circulation.
So, warm hands require a warm body. Therefore, a good way to keep your hands and feet warm is to wear a hat and an extra sweater. If your hands get cold, you will soon be severely restricted. Frigid hands fumble, limiting your ability to handle equipment, zippers, skis, and safety gear like rope and carabiners.
To generate maximum warmth, you will have to compromise on flexibility.
In fact, several factors should be considered when choosing a glove: the environment and weather conditions, the type of activity, and the need for flexibility. Rather than relying on one specific glove to do the work, we recommend dressing in layers. We believe in the layering principle, which means wearing different clothing, with each item having a specific function.
The thin liner closest to your skin generates roughly 20% extra warmth. Wearing a liner also provides excellent protection against contact cold. It's often a good idea to add a shell on top of the liner and your regular glove. This will increase warmth by as much as 50%. When you need to do precision work, remove the top gloves, and keep your liner on.
In short, liner, regular glove, shell. Three layers, it's the best way to keep your hands warm and flexible.
Video Tutorial: How to keep your hands warm
---