Supple leather
Touchscreen
Made in Italia
Sheep leather
Resist -20℃
For winter travel, driving
Lambskin leather,
Touchscreen
Warm lining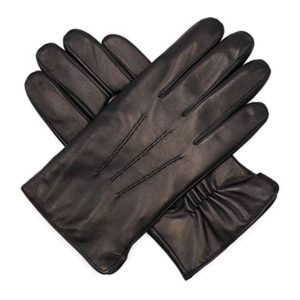 Sheep leather
Very warm
Waterproof
PU leather
Adjust the size
Inner fleece is soft
---
Choose the Best Leather Winter Gloves
Customer's Choice: the Best Rated Leather Winter Gloves
47 users answered this survey. Please help us improve this review!

25.53% of users selected ELMA, 4.26% selected Anccion, 4.26% selected Harrms, 63.83% selected Harssidanzar and 2.13% selected SANKUU. Every month we analyze your answers and change our rating.
---
Leather winter gloves have always been a great solution to protect the hands from the windy, frosty, and nasty weather. Apart from warmth, comfort and convenience in use, the elegant design of the gloves is suitable for both smart and casual styles, business, and everyday wear. Getting more and more demanding, buyers are looking for additional water-proof, wind-proof, anti-slip properties, a touchscreen function, etc.
A huge variety of leather winter gloves available on the market may seem confusing for those, who are buying them for the first time or haven't got much experience. So, thorough consideration of some necessary features will make the choice easier, and the purchase – just a perfect fit.
The shell and the lining of the gloves are the most important part of the choice. But personal needs and purposes, for instance, driving, riding, cycling, or other outdoor activities should add the final adjustment.
Several useful tips for buyers and a comparison table of 5 different pairs of leather winter gloves picked by users and experts are presented below.
ELMA Winter Leather Gloves for Men – the best for business wear!
The classic design of these gloves makes them ideal for representatives of office and business life. This essential fashion accessory to a smart office look might be a great idea for a Christmas or birthday gift.
They're also suitable for driving, motorcycling, and riding. Touchscreen function allows them to be sensitive, just like your skin. You can work on your smartphone, touch any displays of ATMs, GPS devices, etc.
The choice of lining could make happy even those who are demanding. Cashmere is extremely soft, and your hands will be warm when it's cold outside. Fleece is another option. Being thicker and stronger, it's considered to be warmer than cashmere and wool for freezing weather and more long-lasting.
| | |
| --- | --- |
| Pros | Cons |
| Working nanotechnology touchscreen finger function | Not intended for hard work |
| Look stylish and luxurious | The gloves are not water-proof |
| Extremely comfortable feel | Wouldn't match with casual clothes |
| Lovely packaging provided | – |
| Value for money | – |
| Slip-resistance gives confidence in every move | – |
| Excellent quality soft and very thin leather looks and feels fantastic | – |
Finger touchscreen technology is applied only to thumbs, forefingers, and midfingers to keep leather gloves flexible enough and pretty subtle.
Anccion Winter Genuine Leather Black Gloves – the best for long-distance driving!
This pair of gloves gives the feeling of lightness to your hands as they are breathable and airy. They prove very helpful when you must drive for a pretty long time. That's a wonderful choice for those who are looking for warm and comfortable hand protection at moderate temperatures.
The non-slip design is suitable for any outdoor activities, like driving, cycling or horse-riding. These handmade designer gloves with assured quality match both casual and smart styles of clothing. Gentle fleece lining prevents the hands from sweating and maintains warmth.
Highly recommended for those, who want to look like gentlemen and feel free in their everyday life. The gloves combine multifunctional usage and a sophisticated appearance.
| | |
| --- | --- |
| Pros | Cons |
| Genuine leather gloves feel tough but stretching and shaping your hands | The lack of touchscreen function, which is a huge demand |
| Warm, smooth and pleasant lining inside | Could feel a bit tight on the hand |
| A great bargain for high-quality leather gloves | – |
| Strong enough for sport outdoor activities | – |
| Ideal for driving, preventing from hand fatigue | – |
| Look smart | – |
| Waterproof | – |
The usage of the item is recommended for a moderate range of temperatures. So, when there is a need for a pair of gloves for severer conditions, it's better to search for other options.
Harrms Full-Hand Touchscreen Leather Gloves – the best for high-tech lovers!
Full-hand touchscreen function allows you to work on the move wherever you are: in the car, shopping area, or just in the street. All fingers and full palm can boast of touchscreen possibilities. Integrated nanotechnology allows us to type or zoom, scroll the pictures, swiping them with fingers.
How does it work? Gloves imitate the conductivity of our skin. They provide superior interaction with all touchscreen surfaces, maintaining high accuracy and convenience.
Are you thinking about a lovely gift for your sweetheart, close friends, or family members? Branded packaging and excellent quality leather gloves will meet all your expectations.
| | |
| --- | --- |
| Pros | Cons |
| Full hand touchscreen is designed for all possible needs | Touchscreen sensitivity is not always accurate when working fast |
| The gloves are well-made and look high quality | The gloves don't fit perfectly well for all hands |
| Very warm inside even at low temperatures | – |
| Windproof | – |
| Waterproof | – |
Even though the gloves possess Entire hand touchscreen technology and smooth feel, they are quite wear-resistant. Concerning freezing conditions, you may be sure to keep your hands warm and comfortable even at -20.
Harssidanzar Luxury Italian Leather Gloves – the best for fashion-conscious ones!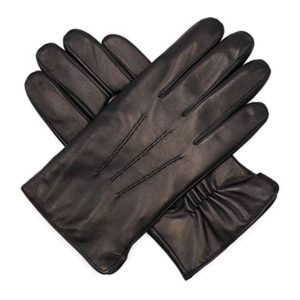 Astonishing quality of these genuine Italian leather gloves provides durable and long-lasting usage experience. From the first look, you may fall in love with their fascinating style. It's a non-compromising solution for driving purpose, using touchscreens while looking extremely smart and handsome.
Those, who appreciate all the details, shades, and colors would definitely feel satisfied with a huge range of colors available. The price is very attractive, making this pair of gloves a fantastic value for money.
| | |
| --- | --- |
| Pros | Cons |
| Luxury Italian leather | They seem a bit thin, just as all dress gloves |
| Numerous color variations for any occasion and taste | Thumbs in these gloves are pretty long – don't fit perfectly well for all the hands |
| Fashionable and practical for different purposes | – |
| Durable and top quality item | – |
| Waterproof | – |
| Real value for money | – |
Harssidanzar Luxury Italian Leather Gloves were designed to meet all the needs of a modern man in working and personal spheres of life. As they are made of pure leather, with time they are expected to fit the hands even better.
SANKUU Men's Winter Black Gloves– the best price!
SANKUU gloves have an adjustable snap for a tight grip of the wrist, which makes the hands feel truly comfy and warm. Polyurethane leather provides a water-proof effect. These gloves are really durable and will serve you for a long time.
| | |
| --- | --- |
| Pros | Cons |
| A very low price | Made of faux leather |
| Look great and match both casual and smart wear | Hands sweat when it's cool |
| Fuzzy soft lining | Poor wheel grip |
| Cold-resistant – perfect for very cold days | Not windproof |
Despite a very low price, which is a big advantage, they are great for winter outdoor activities, including driving, riding. Additionally, you are lucky to work with touchscreen devices.
There is a special extra cotton tube on the wrist of the gloves, which provides better protection from the cold weather. Cleaning is easy, you need just to wipe them with a wet cloth.
The Buyer's Guide
Here are some details to pay attention to before you've made up your mind.
Keeping warm is one of the most important things when you're outdoors. So it's no surprise we often get asked what warmest winter glove is. Before answering, we need to talk a bit about hands and leather gloves in general.
The first thing to keep in mind in cold weather is your body's natural process of prioritizing vital organs such as your heart. This means your extremities are the first to cool down. In other words, your hands and feet are the first to get sacrificed from reduced blood circulation.
So, warm hands require a warm body. Therefore, a good way to keep your hands and feet warm is to wear a hat and an extra sweater. If your hands get cold, you will soon be severely restricted. Frigid hands fumble, limiting your ability to handle equipment, zippers, skis, and safety gear like rope and carabiners.
To generate maximum warmth, you will have to compromise on flexibility.
In fact, several factors should be considered when choosing a glove: the environment and weather conditions, the type of activity, and the need for flexibility. Rather than relying on one specific glove to do the work, we recommend dressing in layers. We believe in the layering principle, which means wearing different clothing, with each item having a specific function.
The thin liner closest to your skin generates roughly 20% extra warmth. Wearing a liner also provides excellent protection against contact cold. It's often a good idea to add a shell on top of the liner and your regular glove. This will increase warmth by as much as 50%. When you need to do precision work, remove the top gloves, and keep your liner on.
In short, liner, regular glove, shell. Three layers, it's the best way to keep your hands warm and flexible.
Shell
Genuine leather. Real leather gloves defend dry and sensitive skin from wind and frost. Natural sheepskin is strong, durable and possesses a good grip, breathable, wind-proof properties;
Faux leather. Though it's pretty durable, faux leather is not so breathable, and your hands may sweat. Easy to clean, just wipe it with a clean cloth;
Types of lining
Before purchasing a pair of gloves, consider the weather conditions and the purposes you are willing to wear them for. Lining plays the most important role regarding warmth. To understand which kind of lining is the warmest, let's look at three of the most popular ones.
Cashmere is a natural fiber, soft, light and warm;
Wool is natural, but not so warm as the other two;
Fleece is a thick fuzzy material, strong and probably the warmest;
Touchscreen function
It is another important factor. Lots of leather gloves manufacturers are now trying to implement this feature into their designs, as the demand is getting stronger. The percent of distant work, online availability, and work on the move is growing with an ever-increasing pace. A touchscreen is not an advantage, it's already a must-have.
Design
There is a wide variety of leather gloves. Each model has benefits and disadvantages. It's only up to you, your needs, and your taste.
Waterproof and windproof
Most genuine leather gloves are water and windproof, which means comfort and care for your hands.
Video Tutorial: How to keep your hands warm
Conclusion
No doubts, it's hard to point out one, the best pair of leather winter gloves. Each item presents unique design and characteristics, its advantages, and drawbacks. No matter what choice you make, this necessary and elegant accessory for the cold season will be durable, comfy, and just for your individual needs and preferences.
---