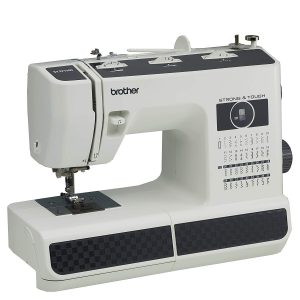 Weight: 18.4 pounds
Dimensions: 7.9 x 16 x 12.2 in
Includes a built-in handle
Weight: 23.2 pounds
Dimensions: 19 x 10 x 14.7 in
Easy stitch selection
SINGER Quantum Stylist 9960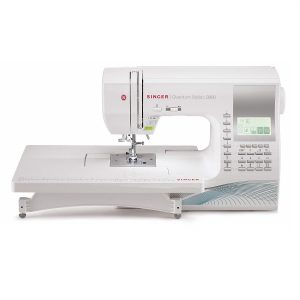 Weight: 20 pounds
Dimensions: 17.2 x 8.2 x 12 in
Automatic needle threader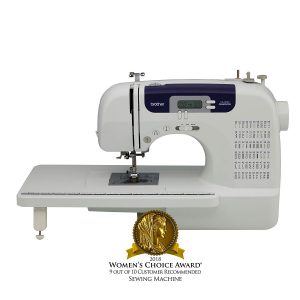 Weight: 13 pounds
Dimensions: 16 x 6.7 x 11.4 in
Built-in free arm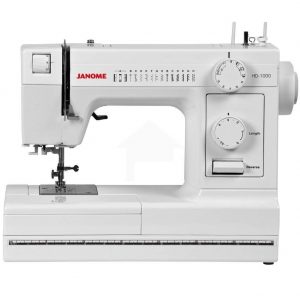 Weight: 21.8 pounds
Dimensions: 18.2 x 8.5 x 15 in
Includies extra needles
Leather is one of the most reliable and most durable materials around, which is why manufacturers use it in the production of both clothing and furniture as well as other items. The basic sewing machines that you use at home cannot accommodate the rich and heavy texture of leather materials. Those machines can rip and even tear the leather. The best sewing machines for leather can tackle projects with this more substantial material.
Brother ST371HD Sewing Machine – Best Overall Sewing Machine for Leather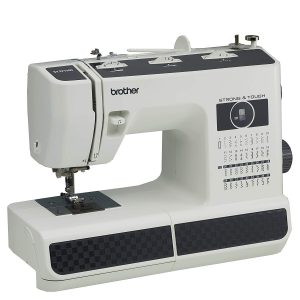 Nine out of 10 reviewers recommended this sewing machine to others, which helped it earn a 2018 Women's Choice Award. It has 37 stitches that you can choose from, which include the heavier stitches needed for leathers.
One common issue reported by shoppers is that the built-in light isn't nearly bright enough. If you have a problem with the machine, you may find that your warranty doesn't cover that issue.
Brother makes multiple machines that you can use with thick materials such as this one. This model has built-in knobs conveniently located on the back. You can pick stitch type, set up the features you want to use and select a mode via those knobs. With a built-in handle located on the top, the sewing machine is easy to carry.
| | |
| --- | --- |
| Pros | Cons |
| Multiple stitching and other settings to choose from | Poor warranty from Brother |
| Carrying handle | Bad light quality |
| Includes instructional DVD | – |
---
Janome HD3000 Heavy Duty Sewing Machine – Best for Storage and Travel
The HD3000 is a one size fits most/all machine for seamstresses working from home because it comes with some extra accessories such as spool holders and
needles
. The manufacturer also gives you a quilting bar and seam ripper.
Some users discovered that the HD3000 has a needle bar that sticks when working with leather and layers of fabric. If you want to use it with leather, you need a special needle that you can purchase separately.
Easy to Use
The HD3000 is easy for beginners to use because it comes with a bobbin system that loads from the top to prevent jams. It also has multiple feet and a hard case for storing and traveling with the machine.
| | |
| --- | --- |
| Pros | Cons |
| Automatic built-in needle threader | Requires a special needle for use with leather |
| 18 built-in stitches | Often sticks or stops working when used with some materials |
| Loads of included accessories | – |
---
Singer Quantum Stylist 9960 Portable Sewing Machine – Best Computerized Sewing Machine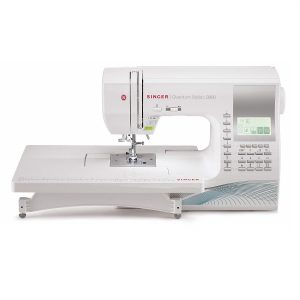 Singer made the 9960 for those who want to embroid and sew with one handy machine. It has a digital screen on the front and buttons that let you change fonts and other settings.
Though this computerized system is a great choice for advanced seamstresses, some may have troubles understanding how to use those features. You may have issues with the sewing machine breaking the threads you use on leather too.
Top Features
One of the ultimate tools for home crafters is this Singer sewing machine, which you can use for most materials. It has five fonts and 600 stitches that you can choose from the computer screen, which lets you preview your selections.
| | |
| --- | --- |
| Pros | Cons |
| 600 stitches included | Hard to use |
| Five fonts and options for buttonholes | Can rip/break certain threads and fabrics |
| Durable design | – |
---
Brother CS600i Sewing and Quilting Machine – Best Budget Model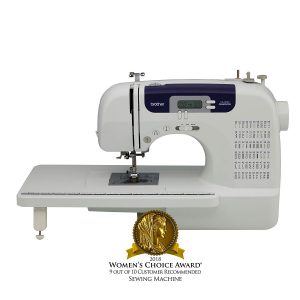 Though it costs significantly less than the last award winner, the CS600i also received the Women's Choice Award in 2018 due to the high number of recommendations it received. Reviewers liked its stitch selector and how easily they could control it.
Despite its good reviews, the CS600i does have some issues, including problems with the tension dropping. The included feet may not work with thick leather either.
Good Features
It is easy to set up and use because of the threader that automatically threads needles. Some of its other impressive features include an adjustable arm and a maximum speed of more than 800 stitches per minute.
| | |
| --- | --- |
| Pros | Cons |
| 59 included stitching modes | Tension can drop suddenly and without warning |
| output rate of more than 800 stitches every 60 seconds | Does not work on all types of leather |
| Adjustable free arm | – |
---
Janome HD1000 Heavy Duty Sewing Machine – Best for Beginners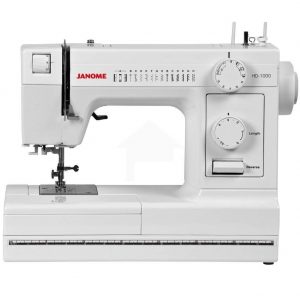 You don't need a lot of experience to feel confident with the HD1000 from Janome because it's so easy to use. As long as you read the included instructions and can turn a knob, you can use the machine.
Most of the poor reviews of the HD1000 claim that it stops working after a few projects. You might notice that the bobbin jams fairly regularly too.
Top Features
The cast aluminum chassis on the HD1000 is similar to those used on older machines. It lets you make buttonholes when you follow four easy steps and comes with a threader that automatically threads needles.
| | |
| --- | --- |
| Pros | Cons |
| 14 built-in stitches | Not as durable as other machines |
| Free arm | Bobbin jams are common |
| Included soft case | – |
---
Video Guide: How to Sew Leather Using Sewing Machine?
Buyer's Guide & Tips
The most important thing to consider when choosing a sewing machine is whether it can accommodate that thick material. You should also look at whether you need to buy any additional accessories. These machines come in a range of prices, which is why it's important that you know how much you can afford too. You'll also want to look at the number of built-in stitches and included feet. Each foot allows you to do different types of projects, including adding a hem to clothing and creating buttonholes.
One of the reasons these machines work well on leathers is because of the powerful motors. You can use a foot pedal to increase and decrease your speed to work quickly on thick materials. The machines are also compatible with the large needles necessary for leather work. As you look at the top sewing machines for leather, you'll want to look for one that fits your craft budget and one that gets great reviews. Those reviews help you find the best of the best.
Tip #1 – Reasonable Sewing Machine
You do need a reasonable sewing machine for leather. It's got what's called compound feed. That's probably the number one thing. The challenge for a leather sewing machine is actually going across seams. It's very difficult, because the foot if you think about it, is having to climb over the bump of a seam. At the same time, you have to pull the slippery leather through the transit mechanism. It's quite a technical challenge.
The key things really are to have what calling needle feed. It's where the needle literally walks forward as it sews and pulls the slippery leather through. You have a good bottom feed, which does like an ovalized motion to drag the leather through, and you have like a walking foot which also helps to keep the leather down at the right point in the needle stroke. Also, again, helps to drag it all through. Compound feed machine, pretty essential if you're doing precision stitching. Obviously if you're just doing more things like ax covers, knife sheaths, a drop feed machine's perfectly okay.
Tip #2 – Pick Right Size of Needle
You don't want too big a needle. That's the mistake a lot of people make when they first start using a sewing machine. You also want to have the right size of thread. Again, there's a tendency for people to overengineer and think that they must have a massively strong thread.
If you come from a woodworking background, you'll probably know, if you put in one little tack into something, it's easy to pull it out. It's not terribly strong. If you put in a row of 10 tacks, it's pretty strong, and it's the same idea with sewing. One stitch on its own isn't going to be very strong. A row of 10 stitches will be pretty tough. You can get away with actually using quite a fine thread. You can use what's called bonded nylon thread, which is very good for machine sewing with leather.
You can use mostly size 40 in the European measures, and that'll translate differently in the States. If you're doing finer work, you can use the likes of a 60. If you're doing a very heavy duty work, you may use a 20. The things to say about the thread, you want to have it that it's strong enough. The best way actually is to try destroying the seam, and see what breaks first whether it's the leather or the thread. You'll obviously find that's partly dependent on the closeness of your stitches. Err on the side where you can of using a finer needle and a finer thread.
Tip #3 – Well-Lit Surface
Make sure you've got a well-lit surface. You have to buy little magnetic lights, and little LED lights that run off the motor, and they're really good. If you have a clutch motor, you can still get them. You can plug them in the mains. They just light up the sewing area. It gives you enough light to see clearly what's going on. You can find that your accuracy increases by having very good light.
Tip #4 – Test Run of Stitches
Always to do a little test run of stitches to check your thread tension. What you're looking for with thread tension is whether the stitches, they should form with their loops each side of your leather piece. You're looking to see whether they form evenly with the loops forming in the center of two bits of leather. You don't want the loops just forming on the top or on the bottom only.
Essentially, what you're doing is you're adjusting the tension dial on your machine if you find that it's wrong. The loops are forming underneath the two bits of leather, so one thread is going like a straight line, and the top bit is going with huge loops right the way through both layers of the leather. It's not going to be a very good or very strong or very neat seam.
Make a little adjustment on the tension knob, and that will pull the thread back up and get the loop in the center of the two bits of leather. Sometimes you have to adjust a bobbin tension, and you can do what's called a drop test for that.
Tip #5 – Keeping Bits of Leather
The tip is about how you can keep your bits of leather closely aligned up while you're sewing. You can't pin the leather normally. You really got a couple of options. You can use little plastic patchwork workers clips and just go around clipping your bits of leather. Then as you come to sew, you can take the clips off. That's one option. Some people use double-sided tape, which is quite effective.
Another option is to use some fairly fast-setting leather glue. You can go round your seam, line up your two pieces. Done this a bit crudely, but hopefully, you can see the idea. Then just press them into shape. Where you get the glue splurging out, wipe it off. That dries in literally a few minutes, but it's quite a good way for holding delicate leather shapes if you want to keep them aligned nicely.
Tip #6 – Getting a Nice Accurate Stitch Line Right Up to Your Edge
The best way to do this is by one of these adjustable edge guides. You can adjust them both up and down. They have a little roller wheel, and they make sure that your stitches line up nicely against your edge. If you're going around a curve, for example, you get an excellent alignment.
Tip #7 – Adjust Your Stitch Size
If you think about it, if you were doing this corner with large stitches, it would actually be quite difficult to control the sewing machine as you're going around the corner. Because with large stitches, your machine is running faster. You've got less time to control that curvature. If you take the stitch size down, so they're quite small stitches, it's like walking around. It's far slower. People don't think about it, and It does make a huge difference. It may just come intuitively to you, but it's worth bearing that in mind. Take the stitch size down. It gets a lot easier to control it.
Tip #8 – Practice on Scrap
The more you try sewing something, practice on scrap, the better you'll get. You'll get better quite quickly. It's surprising. If you're doing shapes and curves which one has to do quite a lot in leather work, it's worth keeping a certain speed and rhythm going. If you go too slowly on doing a curve, it can start to look a bit stilted. Whereas if you move fairly smoothly and quickly, the answer is being smooth the whole time. If you're fairly smoother with your sewing machine, you'll get excellent good-quality stitching.
Tip #9 – Hammer Your Stitches Down
It does pay to hammer your stitches down. They'll look so much neater. You just have a plastic hammer, nylon hammer, an anvil, and go along. What you're doing is you're bedding those stitches down into the leather. Do it both sides, particularly on the reverse side it's worth doing. It just sinks the stitches right down and makes it neater. It also will probably make them last longer because they get a bit more buried into the leather. It's worth doing that. You'll be amazed at the difference.
Tip #10 – Trim Loose Ends
If you've got loose ends, you can trim them. You can use little snips for this. What is also quite a good idea, if you've got a tiny little end like a two or three-millimeter end, you can burn it off. It puts a little ball on the end and stops it from getting dragged through. Obviously, when you're stitching a seam, you go back on your stitches four or five stitches to lock them in. In addition to that, if you burn off the ends with a lighter if it's bonded nylon, you can do it and it looks very neat. It gets rid of the loose end, puts a little ball on which can't be seen, and locks that stitch even more so. Another little tip worth bearing in mind.
How to Use a Walking Foot Attachment
Walking foot has feed dogs, these little teeth, that move up and down with the feed dogs that are on your sewing machine. This is what pulls the leather or fabric through the machine.
When you're doing regular sewing with any other regular foot, there are no feed dogs on top. But sometimes, you want something pulling that top fabric along with your bottom material. It's great for quilting when you're sewing lots of layers of thick fabric, and it's also good if you're stitching thick, slippery materials, like vinyl or leather.
How to Install a Walking Foot
To install the walking foot on a sewing machine, you have to make sure that the presser shank is up, and then you have to unscrew the screw, and you will see that the shank fell off, that's fine. Put that aside. And with the walking foot, you want to make sure that your needle is a little bit low. Your screw that attaches that holds your needle in this area corresponds with this lever that's on the walking foot.
So, when you install this, you're going to make sure this lever is on the right, but you want it to sit on top of this screw that holds your needle in. So, you have to put that in, and this is resting on there. And then you can take your screw, and put your screw in to hold the foot and tighten it, so everything is secure. If you have a screwdriver, you can use it. Now you can rotate the wheel to bring the needle back up, and you will see, as the needle comes up and down, this lever is resting on this piece and moving with the needle. And so, that's what controls these upper feed dogs.
Once you have your walking foot installed, let's go ahead and try it.
---