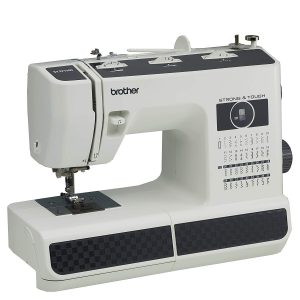 Weight: 18.4 pounds
Dimensions: 7.9 x 16 x 12.2 in
Includes a built-in handle
Weight: 23.2 pounds
Dimensions: 19 x 10 x 14.7 in
Easy stitch selection
SINGER Quantum Stylist 9960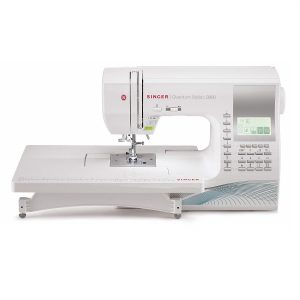 Weight: 20 pounds
Dimensions: 17.2 x 8.2 x 12 in
Automatic needle threader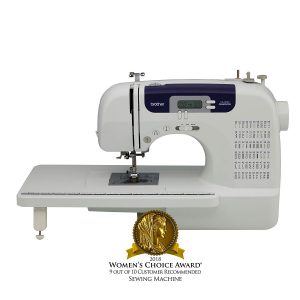 Weight: 13 pounds
Dimensions: 16 x 6.7 x 11.4 in
Built-in free arm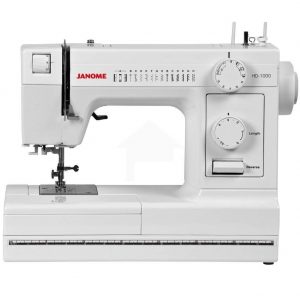 Weight: 21.8 pounds
Dimensions: 18.2 x 8.5 x 15 in
Includies extra needles
Leather is one of the strongest and most durable materials around, which is why manufacturers use it in the production of both clothing and furniture as well as other items. The basic sewing machines that you use at home cannot accommodate the rich and heavy texture of leather materials. Those machines can rip and even tear the leather. The best sewing machines for leather can tackle projects with this heavier material.
Brother ST371HD Sewing Machine – Best Overall Sewing Machine for Leather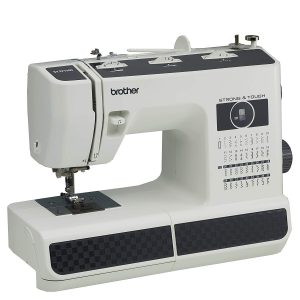 Nine out of 10 reviewers recommended this sewing machine to others, which helped it earn a 2018 Women's Choice Award. It has 37 stitches that you can choose from, which include the heavier stitches needed for leathers.
One common issue reported by shoppers is that the built-in light isn't nearly bright enough. If you have a problem with the machine, you may find that your warranty doesn't cover that issue.
Brother makes multiple machines that you can use with thick materials such as this one. This model has built-in knobs conveniently located on the back. You can pick stitch type, set up the features you want to use and select a mode via those knobs. With a built-in handle located on the top, the sewing machine is easy to carry.
| | |
| --- | --- |
| Pros | Cons |
| Multiple stitching and other settings to choose from | Poor warranty from Brother |
| Carrying handle | Bad light quality |
| Includes instructional DVD | – |
---
Janome HD3000 Heavy Duty Sewing Machine – Best for Storage and Travel
The HD3000 is a one size fits most/all machine for seamstresses working from home because it comes with some extra accessories such as spool holders and
needles
. The manufacturer also gives you a quilting bar and seam ripper.
Some users discovered that the HD3000 has a needle bar that sticks when working with leather and layers of fabric. If you want to use it with leather, you need a special needle that you can purchase separately.
Easy to Use
The HD3000 is easy for beginners to use because it comes with a bobbin system that loads from the top to prevent jams. It also has multiple feet and a hard case for storing and traveling with the machine.
| | |
| --- | --- |
| Pros | Cons |
| Automatic built-in needle threader | Requires a special needle for use with leather |
| 18 built-in stitches | Often sticks or stops working when used with some materials |
| Loads of included accessories | – |
---
Singer Quantum Stylist 9960 Portable Sewing Machine – Best Computerized Sewing Machine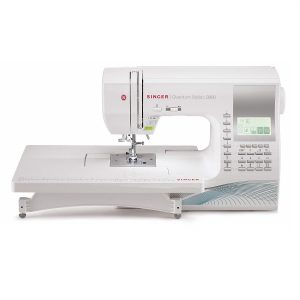 Singer made the 9960 for those who want to embroid and sew with one handy machine. It has a digital screen on the front and buttons that let you change fonts and other settings.
Though this computerized system is a great choice for advanced seamstresses, some may have troubles understanding how to use those features. You may have issues with the sewing machine breaking the threads you use on leather too.
Top Features
One of the ultimate tools for home crafters is this Singer sewing machine, which you can use for most materials. It has five fonts and 600 stitches that you can choose from the computer screen, which lets you preview your selections.
| | |
| --- | --- |
| Pros | Cons |
| 600 stitches included | Hard to use |
| Five fonts and options for buttonholes | Can rip/break certain threads and fabrics |
| Durable design | – |
---
Brother CS600i Sewing and Quilting Machine – Best Budget Model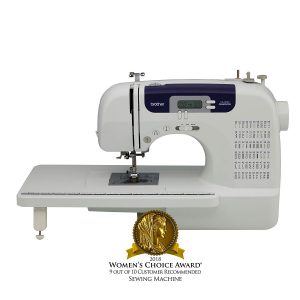 Though it costs significantly less than the last award winner, the CS600i also received the Women's Choice Award in 2018 due to the high number of recommendations it received. Reviewers liked its stitch selector and how easily they could control it.
Despite its good reviews, the CS600i does have some issues, including problems with the tension dropping. The included feet may not work with thick leather either.
Good Features
It is easy to set up and use because of the threader that automatically threads needles. Some of its other impressive features include an adjustable arm and a maximum speed of more than 800 stitches per minute.
| | |
| --- | --- |
| Pros | Cons |
| 59 included stitching modes | Tension can drop suddenly and without warning |
| output rate of more than 800 stitches every 60 seconds | Does not work on all types of leather |
| Adjustable free arm | – |
---
Janome HD1000 Heavy Duty Sewing Machine – Best for Beginners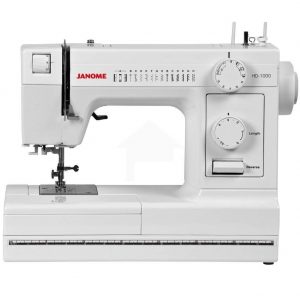 You don't need a lot of experience to feel confident with the HD1000 from Janome because it's so easy to use. As long as you read the included instructions and can turn a knob, you can use the machine.
Most of the poor reviews of the HD1000 claim that it stops working after a few projects. You might notice that the bobbin jams fairly regularly too.
Top Features
The cast aluminum chassis on the HD1000 is similar to those used on older machines. It lets you make buttonholes when you follow four easy steps and comes with a threader that automatically threads needles.
| | |
| --- | --- |
| Pros | Cons |
| 14 built-in stitches | Not as durable as other machines |
| Free arm | Bobbin jams are common |
| Included soft case | – |
---
Buyer's Guide
The most important thing to consider when choosing a sewing machine is whether it can accommodate that thick material. You should also look at whether you need to buy any additional accessories. These machines come in a range of prices, which is why it's important that you know how much you can afford too. You'll also want to look at the number of built-in stitches and included feet. Each foot allows you to do different types of projects, including adding a hem to clothing and creating buttonholes.
One of the reasons these machines work well on leathers is because of the powerful motors. You can use a foot pedal to increase and decrease your speed to work quickly on thick materials. The machines are also compatible with the large needles necessary for leather work. As you look at the top sewing machines for leather, you'll want to look for one that fits your craft budget and one that gets great reviews. Those reviews help you find the best of the best.