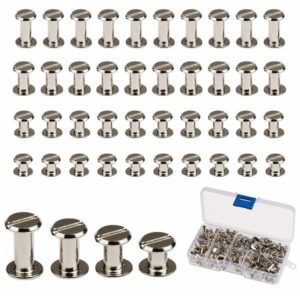 128 sets
Four sizes screw posts
Durable & Sturdy
100 sets
4 pieces fixing tools
Made of stout copper
120 sets
10 sets snap fasteners
Durable Material
240 pcs
Premium Designed
Just The Right Size
50 pcs
High Quality
Highly functional fasteners
---
Choose the Best Snap for Leather
Customer's Choice: the Best Rated Snaps for Leather
417 users answered this survey. Please help us improve this review!

17.27% of users selected Chicago Screws, 36.93% selected Arokimi Metal Snap, 28.78% selected Snap Fastener Kit, 11.27% selected Lynda Leather Rivets and 5.76% selected CooBigo Antique Snap. Every month we analyze your answers and change our rating.
---
I have collected and share with you a list of the best snaps for leather which you can use for DIY and handmade projects.
Leathercraft demands patience. Experienced craftsmen understand what I mean when it comes to attaching tiny snaps or rivets to leather goods. However, thanks to snaps, any simple leather bag or wallet has a great pattern or distinctive style. That is why I decided to dedicate the whole review to these small but important accessories. I think any artists who work with raw skin materials might be interested in such recs.
The importance of high-quality snaps for leather
You may have a product made of top-notch leather, but poorly attached snaps will spoil the whole look of the item and may even reduce its durability. It is also important how the snaps and rivets for leather are fixed because it must be reliable.
Usually, a rivet consists of two parts – head and two ends. When installed, each end is bent inside the flat surface. You may pick between two rivet types – single- and double-sided. Single-sided snaps are used in leather goods where you can't see the inside of the product. The double-sided rivets are closed in the same way as the flat snaps. It looks the same on the front and inside. The length of the rivet's end should be 1-2 mm thicker compared to leather good.
My top 5 rivets and snaps for leather
Below I recommend a few great types of rivets and snaps for leather that I have tested and found them good for leathercraft:
Chicago Screws includes 128 rivets of four different sizes, they are both durable and sturdy for all types of leather;
Arokimi Metal is another 100-piece set with 4 different types of snaps made of stout copper;
Snap Fastener is a 120-piece kit made of durable material;
Lynda Leather rivets are my personal favorite set that includes 240 pieces of premium designed snaps of the perfect size for any leather goods;
CooBigo Antique Snap kit includes 50 pieces of high-quality fasteners for leather;
I hope you will find these recommendations useful. Do you use snaps for leather or do you prefer using stamps or maybe adhesive sprays for attaching different pieces? Please share your techniques and preferences below this review. Subscribe to follow the updates on this website!
Video Tutorial: How to Set Snaps in Leather?
---