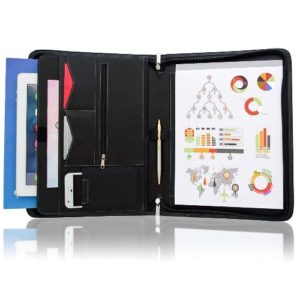 Functionally Stylish
Premium Durability
Capacity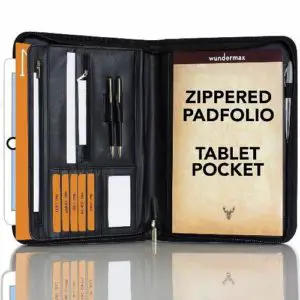 Innovative Storage
American Versatility
Stylish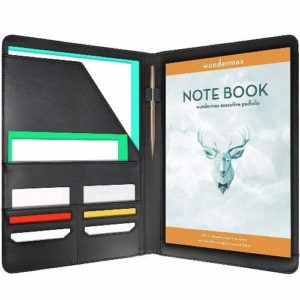 Premium Leather Cover
American Versatility
Stylish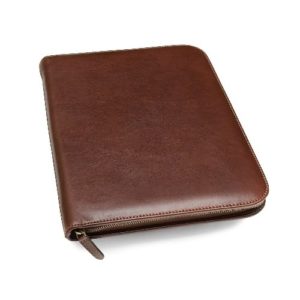 2 inside pockets
Metal Zip Closure
100% Handmade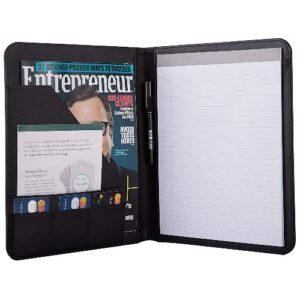 Made of Premium PU
Various inside pockets
Refillable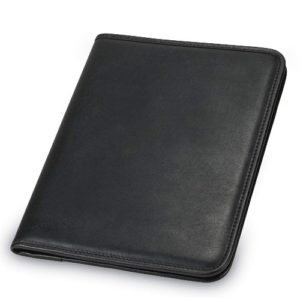 Premium Napa Leather
Organize loose pages
Includes a refillable notepad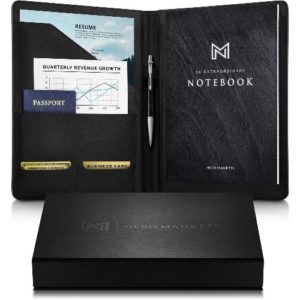 PU Vegan Leather
Just The Right Size
Free Bonus Ebook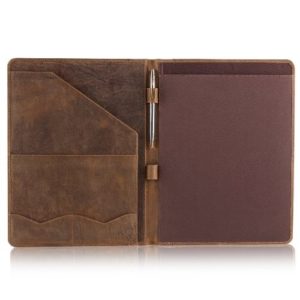 Unique Leather
Premium Quality
Multi-Purpose
iPad Case
Internal slots for cards
Metal Zip Closure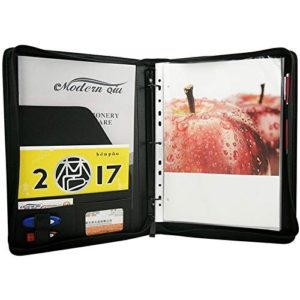 Organized
Security
Easy Clean
---
Choose the Best Leather Portfolio
Customer's Choice: the Best Rated Leather Portfolios
58 users answered this survey. Please help us improve this review!

58.62% of users selected STYLIO Padfolio, 8.62% selected Wundermax Padfolio, 6.9% selected Wundermax Portfolio Premium, 22.41% selected Maruse Padfolio and 3.45% selected Jancosta Portfolio. Every month we analyze your answers and change our rating.
---
A leather portfolio is a bare necessity for college students and business professionals. A portfolio keeps your business essentials clean and organized. We wouldn't dare step into a business meeting or interview without a trusty leather portfolio. You probably wonder what makes one portfolio better than another. We're here to answer that question and share a few of our favorite products.
Stylio Zippered Padfolio Portfolio Binder – Best Phone Pouch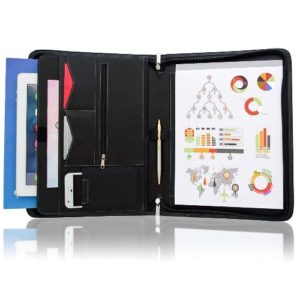 The Stylio Padfolio is a zippered pouch with a number of internal compartments. The Stylio has a designated electronic sleeve with enough room for a 10.1-inch tablet. It also features smartphone, pen, and business card pockets.
A refillable letter-sized notepad slot serves as a low-tech writing platform. Two-tier expandable folders provide plenty of space for important documents.
The Stylio's black exterior is made of premium PU leather. Not only is it waterproof, but it also features reinforced stitches. On top of that, the product is backed by a generous 1-year warranty. It is designed to keep your business gear out of harm's way. Despite the Stylio's durability, it features a sleek, timeless design.
| | |
| --- | --- |
| Pros | Cons |
| Features a refillable letter-sized notepad | Made from synthetic leather |
| 10.1-inch tablet sleeve | – |
| Waterproof PU leather | – |
| 1-year extended warranty | – |
| Elastic phone pouch | – |
| Pen holder | – |
| Zippered pouch | – |
| Durable zipper and velcro closures | – |
| Two-tier expanding folders | – |
---
Wundermax Vegan Leather Padfolio – Most Storage Pouches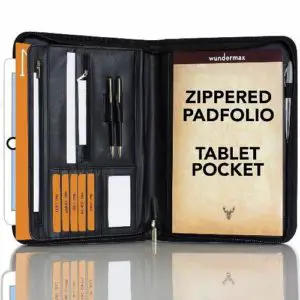 This Wundermax Vegan Padfolio is a zippered portfolio with a rich leather-like exterior and plenty of internal storage. There are sleeves for five business cards and an ID. On one side, there's room for a legal-sized notebook and pen. On the other side, there are pouches for all sorts of business accessories.
The notepad can be inserted on either end, making this portfolio accessible to right- and left-handers.
The Wunderlax also features several document sleeves and a 10.1-inch tablet pouch. Everything is bound by rich faux leather and robust metal zippers. The product is slim, lightweight, and easy to carry. In fact, it has the perfect storage capacity for a job interview or meeting. The classic look is backed by a lifetime promise.
| | |
| --- | --- |
| Pros | Cons |
| Legal-sized notebook | Slight chemical smell |
| 10.1-inch zipper tablet sleeve | – |
| Three pen holders | – |
| Five business card holders | – |
| Several accesory pockets | – |
| Lifetime product guarantee | – |
| Made from 30% recycled material | – |
| Suitable for men and women | – |
---
Wundermax Vegan Leather Binder – Best Vegan Portfolio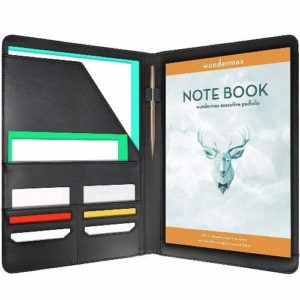 Our next Faux Leather padfolio is also made by Wunderlax. Nevertheless, it features a completely unique setup. The padfolio features a two-sided legal notebook slot. It also boasts four business card holders, a set of small pockets, a large middle pocket, and a tapered pocket.
There is a pen holder within the binder's spine.
This Wundermax product is made with premium PU. It has a rich, textured look that really resembles real leather. The padfolio is an appropriate size for job interviews and light field work.
| | |
| --- | --- |
| Pros | Cons |
| Includes a legal pad | Slight chemical smell |
| A mixture of small and large storage pockets | – |
| Pen holders | – |
| Document holders | – |
| Made from premium PU leather | – |
| Water-resistant matte finish | – |
| Lifetime guarentee | – |
| Easy to carry | – |
| Executive black color | – |
---
Maruse Executive Leather Padfolio – Best Zipper Closure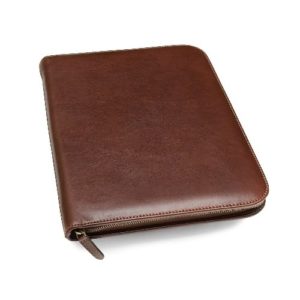 Show your colleagues who's the boss with this stunning Italian leather padfolio. Maruse aims to please with this sophisticated, simple design. A buttery soft exterior and durable metal zipper serve to protect your most essential business documents.
Even the interior is backed by fine fabric. The Maruse padfolio features several card slots and a legal writing pad. There's also a sleeve that can accomodate a 12.9-inch iPad or similar-sized tablet.
The charcoal black colorway is perfect for executive-level business ventures. You can even have this padfolio monogrammed with your initials. Maruse portfolios are handmade by skilled Italian crafters. They are 100% authentic. It's a true joy to use this full-grain Tuscan leather piece.
| | |
| --- | --- |
| Pros | Cons |
| Made in Italy | Weak pencil holder |
| Zipper closure | – |
| Tablet pouch can accomidate an 11-inch iPAD or similar device | – |
| Main compartment can fit 12.9-inch device | – |
| Soft fabric lining | – |
| Comes with premium writing pad | – |
| Business and credit card slots | – |
| A variety of color options | – |
---
Jancosta Business Padfolio Portfolio with Letter Size Writing Notepads – Top Interview Option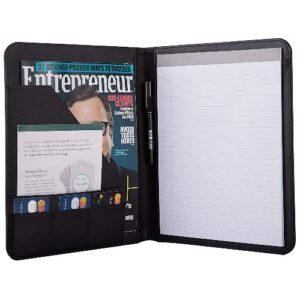 Rock your next interview with this affordable yet sophisticated business padfolio. The padfolio features a black PU binder with a durable zipper closure. Inside, there are three card slots, a pen holder, an a refillable legal notepad.
These elements are balanced by a set of small and large document slots.
Use the Jancosta to store your resume during your next job interview. This well-made binder will keep your documents free from smudges and creases. This product's price is so low it is a bit deceiving. The Jancosta padfolio offers nothing but executive-level excellence.
| | |
| --- | --- |
| Pros | Cons |
| Made of premium synthetic leather | Pricey |
| Several internal document pockets | – |
| Refillable legal notepad | – |
| 30-day refund guarantee | – |
| Pencil holder | – |
| Lightweight and slim | – |
| Matte black PU exterior | – |
---
Samsill Professional Padfolio – Best Budget Option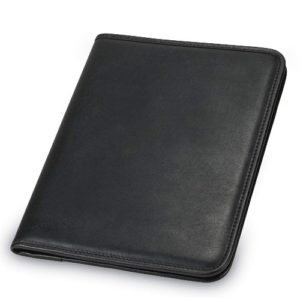 The Samsill Professional Padfolio is yet another perfect resume case. It is made premium black vinyl. The inside of the Samsill features an abundance of specialty pockets. There's room for a 10.1-inch tablet, business cards, legal notepads, and plenty of documents.
There's even a small zippered pocket for loose goods, such as paperclips and highlighters. Each Samsill padfolio is backed by an impressive 1-year warranty.
If you're looking for a portfolio that features a rich leather-like look, you can't go wrong with the Samsill. This impressive document holder is built to last a lifetime. Not to mention, it features a design that screams business.
| | |
| --- | --- |
| Pros | Cons |
| 10.1-inch tablet sleeve | Limited capacity |
| Legal-sized notepad insert | – |
| Zipper closure | – |
| Made from synthetic leather (vinyl) | – |
| Padded exterior | – |
| Pockets for business cards and other business accessories | – |
| 1-year limited warranty | – |
---
Nero Manetti Leather Portfolio – Best Black Leather Portfolio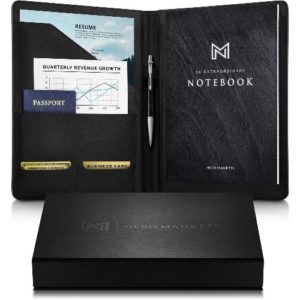 The Nero Manetti portfolio is a synthetic binder with a black, leathery exterior. It has a slim, lightweight body that can accomidate a suprising amount of supplies. The Manetti comes with a refillable legal notepad, a business card wallet, and adhesive phone wallet.
There are also plenty of internal slots for professional documents.
You can use this portfolio to work your way up in the business world. It even comes with a complimentary eBook. You get step-by-step instructions for making a good first impression. Bring this binder to your next board meeting. You'll relish its 360-degrees of notetaking potential.
| | |
| --- | --- |
| Pros | Cons |
| Refillable legal notepad slot | Not thick enough to accomidate a spiral notebook |
| Made from premium black PU leather | – |
| Vegan | – |
| 360-degree flip for notetaking | – |
| Four internal pockets | – |
| Oversize pen holder | – |
| Comes with bonus eBook for making the right impression | – |
| Compact and easy to carry | – |
| Business card holders | – |
---
Moonster Professional Organizer Padfolio – Best Resume Storage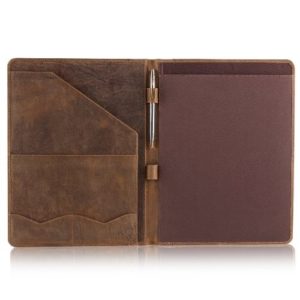 This leather Moonster Padfolio features a soft buffolo hide exterior. The natural brown color features a naturally aged patina. The binder features ample space for business essentials. There's a notebook/clipboard spot, V-shaped credit card slots, and an A4 document holder.
The product also comes with two pen holders and a complimentary ballpoint pen.
The Moonster is backed by a 1-year warranty. As such, there's little risk surrounding any purchase of this quality product. The manufacturer is obligated to offer you a complete refund or replacement. Of course, you won't want to part with this business accesory.
| | |
| --- | --- |
| Pros | Cons |
| Includes a letter-sized writing pad | Some reported creasing and wear on new products |
| Genuine leather in your choice of two unique colors | – |
| Several internal pockets | – |
| Two business card holders | – |
| Two pen loops | – |
| One open sleeve for important documents | – |
---
Maruse Executive Leather Writing Portfolio – Best Italian Leather Pick
This Maruse padfolio features the company's proprietary Italian leather. This incredible piece would make the gift for a graduation or career milestone. It's a quality piece, with clean seams, zipper closures, and a refillable writing pad.
All of Maruse's leather products are made from experienced leather workers. They are expertly crafted and designed to last a lifetime. Enjoy the classic leather look with room for modern business tools, including tablets and smart phones. A soft fabric liner keeps all of the padfolio's contents in good repair.
| | |
| --- | --- |
| Pros | Cons |
| Made from full-grain Italian leather | Shallow pockets |
| Includes a letter-sized writing pad | – |
| Soft internal lining | – |
| Business card holders | – |
| Monogrammed with your initials | – |
| Made in Italty | – |
| Durable | – |
| iPad Case fits tablets 11-inches and smaller | – |
| Zipper closure | – |
---
Freeprint Three-Ring Portfolio Binder with Writing Pad – Editor's Choice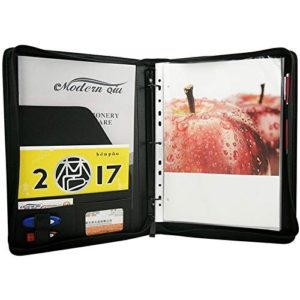 Last but not least, we have a classic three-ring portfolio. This so-called trapper keeper may remind you of junior high, but its a perfectly versatile piece of business equipment. The Freeprint's black PU exterior is complemented by a quality zipper closure.
It is a slim yet roomy piece with a cardboard-enforced cover. As such, all the internal documents are guaranteed to be free from bends and creases.
Unlike cowhide, the PU fabric can be wiped down with a bit of warm water. It will last for years, showing little to no signs of wear. There's room for a notepad, ring binders, business cards, and more. What more can you ask for in a business portfolio?
| | |
| --- | --- |
| Pros | Cons |
| Three-ring portfolio | Rings are difficult to open |
| Writing pad | – |
| Business card holders | – |
| Room for a oversized tablet | – |
| Zip closure | – |
| PU leather | – |
| Easy to clean | – |
| Executive appearance | – |
| Not too bulky | – |
---
What to Look for in a Leather Portfolio
Material
Genuine leather is a durable, long-lasting material. It is designed to take a beating without showing many signs of wear and tear. Most professionals opt for full-grain leather in black or brown. Simple, one-color portfolios look good in almost every business environment.
There are plenty of synthetic leathers for those who want to avoid animal products. PU is a durable material with a soft, leather-like texture. Vinyl is another option with great durability and water resistance.
Size
Portfolios come in a variety of sizes. However, manufacturers often use the term padfolio to refer to anything that is the size of or smaller than a legal notebook. Compact portfolios can't house thick stacks of paper. However, they are perfect for business meetings, interviews, and fieldwork. Full-sized portfolios offer more space. They are closer in size to small briefcases or accordion folders.
Storage
Portfolios boast a variety of storage. Think about how you intend to use your portfolio before honing in on specific storage options. The most rudimentary portfolios boast internal notepads and document pouches. Meanwhile, more sophisticated offerings feature business card holders, pen slots, tablet sleeves, and a variety of pockets.
Closure
Some portfolios boast zipper closures, while others snap shut like clamshells. This choice is both a matter of preference and convenience. A zipper closure is paramount to the protection of documents and electronics. Meanwhile, a closure-free portfolio offers easier, quicker access to notepads and other accessories.
Price
Portfolios range in price from $10 to over $100. Make room in your budget for quality materials and craftsmanship. A well-made piece is engineered to last a lifetime. Of course, don't feel like you have to overindulge if you are in the middle of a job search or career change. We have included plenty of budget-friendly options in our product review section.
Video Tutorial: Making a Leather Portfolio
FAQ
1. What is a leather portfolio
These carrying cases are excellent items for organizing all the little things you need to take with you to work, school, or meetings. Nothing is more aggravating than walking into a building and bumping into someone and dropping everything. Then, all your stuff in your hands goes everywhere, and you find yourself picking up business cards, copies of your resume, pens, and everything else. On top of being late, your stuff is getting dirty, or worse, someone steps on it and rips it.  
To prevent these situations, a leather portfolio provides a safe spot for everything. The cover keeps it all clean and wrinkle-free. Plus, these cases are usually light to carry, and they keep everything neat and easy to find. Unlike a briefcase, portfolios are smaller and can fit into a messenger bag or backpack. If you ride a bike to work or carry a backpack, then you can protect your work when it rains or gets hot. 
2. How to use a leather portfolio
Using a portfolio for work or school is pretty similar. For class, you may need a few more pens and pencils, but the rest of the contents will be the same as going to work. The large slot is often for a legal pad or notebook. If there is a ring binder, then you can also put paper here. These pads will have open slots or zipper pockets for smaller items. You can store writing utensils, earbuds, erasers, magazines, brochures, and so much more in one of these carrying cases. Some cases have internal padding, so you can carry tablets, laptops, and other electronics.  
3. How to use a leather portfolio at work
You may find one of the best ways to use your organizer at work is to open it up and spread it out on your desk. You can write directly on the notepad without removing it in some models. You can use the portfolio to organize receipts or tax documents. You can store your laptop or phone a portfolio pouch. That way, you can keep your essential items close without your phone becoming a distraction.  
You may find these items are helpful when you have a demonstration. Using these folders to hold files, branded items, and conference materials may be the best way to protect the items and keep them neat. When you finish with the meeting, you can easily pack up and get on your way. The portfolios have several pockets for separating and storing important items.  
4. How to clean a leather portfolio
Cleaning the leather is just like taking care of a nice leather purse or wallet. You will want to dust off the item with a soft, clean rag. Then, you can apply a leather cleaner to get rid of any stains. When clean, you may want to add a leather protectant to the portfolio.  
These waxes come with specific instructions. Most go on with a clean rag and you can spread it around until you coat the entire item. Repeat these steps as often as you feel you should to keep the leather in good shape. About once every three to six months is common with a year between new coatings being suitable for most products.  
5. How to reinforce a leather portfolio
To improve the interior strength and durability of the interior of a portfolio, you may want to add nylon or plastic inserts cut to the size of the pockets. You can use plastic to cover cards and paper items. You can also use the plastic to line the compartments to protect them from premature wear. To strengthen the exterior of a bag or soft leather binder, adding another seam to every part of the item may be your best option.  
You can purchase leather stiffeners if you want to make sure the exterior of your leather does not scuff. These items cover the material like a barrier and help sharp, or heavy objects glide across the material. This protectant prevents objects like scissors and plastic items from cutting and tearing the leather.  
6. How to sew leather zipper portfolio
If you want to create a leather portfolio from scratch, then you will need a blueprint for the project. One of the first steps is to create templates for your leather. Be sure to leave a little extra space around the edge like a quarter of an inch. For example, if your leather should be six inches wide, then you might want to cut it at six and a quarter inches. Once you finish sewing, you can trim off the excess material and create a neat edge.  
If you use hard inserts, then you need to cut these pieces too. Then match up the fabric and inserts. Use a strong, thick thread to sew the leather pieces together. Using a leather glue is another way to get the material to stick to the insert and stay flat and even.  
When you need to repair a leather piece, it is best to remove the ripped thread and go back a little bit further to ensure there are no pieces with fraying. If the thread is loose, then you can remove the material and sew the item through the same holes as the original thread. It may be best to find a thread that matches the color of the leather. The seams will not stand out as much with matching seams.  
If you want to add a deep contrast, then using the opposite color thread is a great choice. For instance, a white thread on dark blue or black leather is striking, classic, and motivating. For work, we suggest staying with neutral colors like brown. You can sew designs into the fabric or add embellishments like beads to the cover.  
7. How to carry resumes if you do not have a leather portfolio
Manila folders and three-ring binders work well for protecting important items like resumes, cover letters, bank statements, presentation materials, and business cards. Pocket folders also work well. When you have different sizes of items, then something with a compartment is usually helpful. A binder with pockets or a zipper pouch can work. If you are in a pinch, then you can always use a book to protect resumes. If the book is larger than your paper, you are in good shape.  
Final Thoughts
We hope you enjoyed our look at the best leather portfolios. These amazing devices help demonstrate that you mean business. Do you have a favorite portfolio? Let us know in the comment section below.
---