Big Size
Multiple Handles
Additional duffel strap
Color: Brown
Multiple Pockets
Improved The Zipper
Multipurpose
Multiple Compartments
High Quality Materials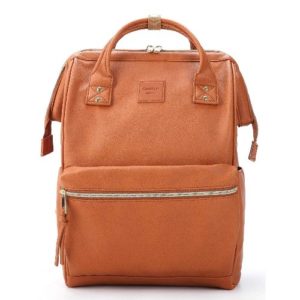 Color: Camel
Padded laptop pocket
Adjustable shoulder straps
Color: Brown
Safty back pocket
High Quality Materials
---
Choose the Best Leather Travel Backpack
Customer's Choice: the Best Rated Leather Travel Backpacks
7 users answered this survey. Please help us improve this review!

42.86% of users selected Vintage Duffel Bag, 14.29% selected Vintage Crazy Horse, 14.29% selected AUGUR Backpack, 14.29% selected Kah&Kee Backpack and 14.29% selected Kenox Vintage PU. Every month we analyze your answers and change our rating.
---
If you are already a happy owner of a leather travel backpack you surely realized all the benefits you've got with this handy and comfy accessory. The manufacturers commonly use genuine or faux leather and cotton canvas for backpacks. They can meet lots of your needs if you are an active person and are often on the move. 
Genuine leather smart-looking backpacks are most suitable for work or school purposes, and business trips. With a separate compartment for a laptop and plenty of pockets for necessities, they will give more comfort and freedom. Large capacity and quite bulky canvas backpacks are great for those, who adore outdoor sports, camping, or hiking. 
All the details about the products and useful recommendations you will find below in the comparison table and the buyer's guide. All 5 best leather travel backpacks were chosen by ordinary people and experienced travelers to facilitate your choice.
WITZMAN Men's Vintage Travel Backpack – the best large capacity backpack for longer traveling
Witzman vintage travel backpack will become your permanent fellow traveler, no matter if you head for a day trip or a longer journey. It's heavy-duty, high-quality, reliable, and practical. 3 handles on the bag make it easy to hold and manipulate.
The backpack straps can be hidden in a separate back zipper pocket not to bother you when not needed. It can be transformed into a shoulder or tote bag. The large volume can contain everything you need for the trip: clothes, toiletries, a laptop, and other trifles, even if you are going to travel for 2 weeks.
Pros
Pros
The cotton canvas of premium quality with PU leather insert
Heavy-duty zinc alloy metal zippers
Several handles give 3 options for carrying
Convertible to a shoulder bag with removable and adjustable strap
Can be used as a tote bag and a backpack
A window for a laptop
Lots of pockets inside and outside
A backside zipper pocket hides the backpack straps when not in use
Backpack straps have padded mesh for better comfort
Well-made and durable
Large capacity
2 sizes available
Cons
Cons
The large compartment can be unzipped only from the side, not from the top
For the proper organization of your stuff inside, especially if you travel for a week or 2, you can use delicate laundry bags and pack your clothes and toiletries perfectly. Another method is to roll all the garments tightly.
---
S-ZONE Genuine Leather Casual Backpack – the best quality leather for everyday use
This casual style backpack is made of top quality thick and heavy-duty leather for your best experience. The casual vintage design suits perfectly for business purposes, daily occasions, or more active outdoor performance, like sport, hiking, or camping.
For those, who prefer to work on the move, there are 2 compartments for a laptop and iPad with special foam sleeves and fixing bands for better protection of your devices. The retro style of the backpack is attained with sturdy genuine leather and unique scratches on its surface and with use you'll receive even a smoother awesome look.
Pros
Pros
Top-quality crazy horse genuine leather
Lining is cotton
Reliable top zipper closure
Large main compartment to fit 17" laptop
Professional handy design
Laptop and iPad compartments have foam sleeves and flexible bands to keep your gadgets safe
A pair of slip pockets for your phone, power cord, or a mouse
Perfect for business trips
Great for outdoor sports activities, hiking, or camping
Looks retro, wild, and rebellious with unique wrinkles, scratches, and scars
The leather gets softer and smoother with the use
Feels very comfy on the back when heavy loaded
Cons
Cons
Front pockets don't close securely, only by a strap through a ring
Difficult to pull the zipper to close
This model is more suitable for men as it looks bulky and heavy. The leather is stiff and very thick. It resembles the leather used for saddles or motorcycle saddlebags. So, on women's shoulders, it may look enormous and harsh.
---
AUGUR Canvas Vintage Backpack – the best for comfy multipurpose use
This Augur backpack will suit almost any of your needs, as it can be used for a variety of purposes: school, college, work, hiking, camping, flying, outdoor sports, etc. It features a protective padded compartment for your laptop to help you always be in touch.
High-quality and strong materials ensure long-lasting and comfy usage. Recommended for active people, who appreciate the combination of comfort with cool and handy design.
Pros
Pros
38 liters capacity can contain all everyday essentials for studying, work, or travel
Premium quality high-density canvas with PU leather
Well-made and tough
Brass hardware adds vintage accents
Casual style
Easy to tighten and loosen
Shoulder straps are adjustable
Drawstring type of closure of the main compartment
Well-constructed with many pockets
The laptop compartment is shockproof and fits 16" computer
Great for various purposes
Suitable for men, women, or teenagers
Anti-theft pocket on the backside for the most valuable stuff
Cons
Cons
Not waterproof
Quite heavy
This stylish canvas backpack with leather straps can serve various purposes. It's great for school, college or work. It's roomy and sturdy. Those, who like hiking will find it admirable. This rucksack can also be used as a diaper bag, a weekender, or, as a carry-on, when flying.
---
KAH&KEE Leather Backpack – the best for weekend travelers
This weekender will do a great job if you often travel on business or personal occasions for several days.
It's roomy enough to hold all the necessities, handy and comfy. The backside mesh will help you feel fine even when it's hot outside. It looks fantastic and stylish. Young and old will love it from first sight.
Pros
Pros
Faux leather
Feels very soft
Breathable mesh at the back
The laptop compartment is padded to secure your device
Fits a 15" laptop
Sizeable zipper pocket at the front for easy reach
2 side pockets
Unisex
Suitable for all ages
Great for studying purposes or as a daypack
Comfy for traveling
Looks chic
Easy to clean
Cons
Cons
Not very long-lasting
The quality of zippers is low
This model has 18 liters capacity. If you are traveling for a few days, it can easily contain several pieces of clothes, toiletries, and other personal possessions.
---
KENOX Vintage Laptop Backpack – the best work laptop bag for business or light day trips
Kenox vintage backpack looks amazing on the shoulders and can keep all the essentials for a light trip around the town, or business travel.
2 safe pockets for valuables, like a phone, keys, or cards are very helpful when being in the crows or on the tube. The attractive affordability of the unit will surprise you and leave all your doubts behind.
Pros
Pros
Artificial leather
Vintage style
Looks smart and professional for work or studies
Lightweight
Slim
Safe pockets at the backside and under the flap for keys, cash, and a phone
Fits a 15" laptop, though without closing the zipper
Zipper closure with a top flap
Well-made
Great for traveling
Very affordable
Cons
Cons
The straps slip off the shoulders
The straps are quite thin
This backpack is not convenient to reach the stuff in small spaces or crowds with both a zipper and a large top flap with magnets. However, you'll feel better protected with this double closure.
---
The Buyer's Guide
Materials 
Backpacks made from pure leather are reliable and long-lasting with an exquisite rich look. They are comfy, handy, and easy to care about. The leather can differ in type and thickness.
Accessories manufactured from synthetic leather are typically cheaper and are more variable in designs, styles, and colors.  
High-density cotton canvas is widely used in backpack production. They are affordable, practical, durable, and strong for heavy loads and frequent use. The only problem is dirt and stains. That's why manufacturers often choose only dark colors.
Capacity and utility
Check the dimensions of the bag to have an idea about its capacity. Most backpacks now offer a special padded compartment for laptops and tablets.  You can fix the unit with flexible bands. Multiple pockets will help organize your possessions in the perfect order.
Design and style
There is a huge number of various leather travel backpack designs and styles on the market. Many of them are multifunctional and suitable for everyday use, school, work, shopping, day trips, business travel, and longer journeys. One more frequent use of a backpack is as a baby diaper bag.   
 Other tips for Leather Travel Backpack buyers 
The hardware is also very important. Zippers suffer a lot from heavy use and overloads, so check if they are metal or plastic. 

Canvas backpacks require frequent washing, especially if you go hiking or camping.

To keep the hardware shiny and wipe it with a soft piece of fabric. Don't use any solutions or solvents. 
Video Guide: Making a Leather Travel Backpack
Conclusion 
A leather travel backpack can serve you for various purposes. It's perfect for day trips around the town, holding all your essentials, or for longer travel with a few sets of changing clothes, toiletries, gadgets, and other personal stuff. If you plan to use a bag for studies or work it will cope successfully with this task, containing all the textbooks, laptop, or iPad. Always choose according to your needs. No matter, which you'll pick up, all selected models will give you a pleasant experience for a long.   
---