Healthy Material
Breathable Features
Easy to Install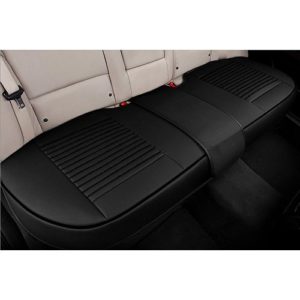 Healthy Material
Breathable Features
Easy to Install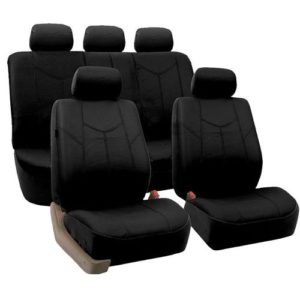 2 front bucket covers
Side airbag compatible
Rear bench covers
Easy To Wipe Clean
Color: Tan
Semi-Universal
2 front bucket covers
Quality Faux Leather
Unique Stitching Design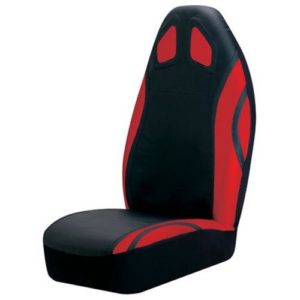 Color: Red
Improves comfort
Protect The Seats
Color: V - Black
Safety
Elegant
Color: X - Black
Sideless Design
Protection & Decoration
Waterproof PU
4-Point Nonslip Feature
Quick Installation
Comfortable Features
Sleek Design
2 Small Pocket
---
Choose the Best Leather Seat Cover
Customer's Choice: the Best Rated Leather Seat Covers
30 users answered this survey. Please help us improve this review!

43.33% of users selected Big Ant Beige-Flexible, 20% selected Big Ant Black-Flexible, 20% selected FH Group Black, 10% selected FH Group Tan and 6.67% selected FH Group Solid. Every month we analyze your answers and change our rating.
---
Whether you have a pet, kids, or tote a lot of things in your vehicle, a good quality seat covering can be useful. These covers help prevent spills from staining your cloth interior, and they make it easy to clean up messes. Since leather is waterproof with the right protective coating, liquid spills wipe clean easily.
Another benefit of using these covers is that you can change the entire look of your vehicle. If you purchase a used SUV or a van with a dark interior, then you can buy lighter leather seat covers to brighten up your car. Conversely, you can add a dark cover to minimize the look of stains when your seats are too light.
If your vehicle gets extremely hot in the summer, then it might be helpful to get a lighter-colored set of seat covers. Our list includes front, back, split, and individual seat cover sets to give you a variety of options. We like the neutral colors for heat resistance, but the dark covers work excellent for covering up stains.
Big Ant Back Seat Cover – Best Cover for Long Trips
When you travel a lot, your vehicle can become a temporary home. You may eat meals in your car or van, or you might take a pet with you to keep you company. Protecting your vehicle seats is easier when you have a leather cover that is comfortable and resistant to stains.
This leather covering fits 53.9-inch to 62.3-inch bench seats. If your vehicle heats up quickly, then the beige tone will lighten the interior. The thick foam core provides plenty of cushioning for hours of travel.
| | |
| --- | --- |
| Pros | Cons |
| Heat-resistant leather | May wrinkle or wiggle around when there is only a passenger in the middle of the seat |
| Fast clean surface | Does not fit all vehicle seats |
| Quick to place | Must buy concave model to accommodate seat belts |
| Useful for pets and passengers | – |
| Breathable fabric | – |
| Dense foam core returns to normal even with hours of use | – |
| Resistant to scratches, dings, and moisture | – |
| Slip-resistant bottom layer | – |
| Easy adjust strap | – |
---
Big Ant Cover for Back Seats – Best Covering for Repelling Stains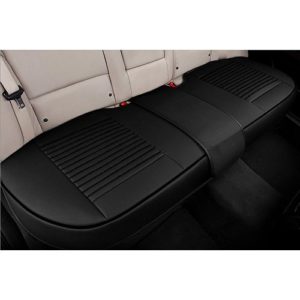 When you take your dog or other animals with you on the road, then you need a cover that will protect your seats. This black leather cover for rear seats is convenient and fast to place. The breathable material makes it less likely to heat up the vehicle.
This leather cover fits seats from 53.9 inches to 62.3 inches in length. This model comes with clips to hold the casing in place. If you want to purchase the concave version, it includes seat belt holders.
| | |
| --- | --- |
| Pros | Cons |
| Eliminates tired legs on long trips | Only covers the seat – may purchase seat skirts and backs separately |
| Excellent color for minimizing stains | May be slippery |
| Wipes up quickly | – |
| Configurable cover strap | – |
| Non-slip rubber bottom | – |
| Thick, foam core that rebounds fast | – |
| Lightweight cover | – |
---
FH Group – Best for Covering Seats for Vehicles with Airbags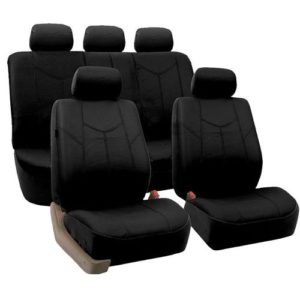 When you want to protect or change the look of your entire vehicle, then using durable seat dressings can be a big help. The seat liners let water droplets bead up and wipe away with a soft cloth.
This set of covers fits a variety of seat designs from 50/50 to 40/20/40 sizes. If your van or SUV has side curtain or passenger airbags, then this model will allow those technologies to work seamlessly after installation. They test the covers to ensure the seams on the side will break free with airbag deployment. This model works with headrests that come off of the seat.
| | |
| --- | --- |
| Pros | Cons |
| Set includes five covers for headrests, one for bench seats, a cover for the bottom of the bench, and two front seat toppers | Many consumers find the seats make you sweat a lot |
| Heat-reducing technology | Opening for the headrests makes it difficult to install the items |
| Water-resistant material | Corners of the cover like to curl up and shift |
| Dark color hides stains from pets and children | – |
| Thick, heavyweight material protects seats from damage when transporting tools and heavy equipment | – |
| Velcro patches let you remove covers easily | – |
---
FH Group Front Seat Covers – Best for Reducing Heat Buildup
When you commute long distances for work, or you travel extensively in your personal vehicle, then you need a cool and comfortable place to sit. Adding a leather seat cover can keep your sweat from penetrating cloth seats and making your vehicle smell like a gym locker.
You may appreciate the tan color because it does not get hot in the sun like black covers might.
These seat protectors work with traditional car seats and heated units on newer models. This design is a comprehensive style that covers almost any bucket seat on the market. Velcro attachments at the top make it easy to attach these materials to the headrests in your vehicle.
| | |
| --- | --- |
| Pros | Cons |
| Durable polyurethane leather material | Must have a vehicle with detachable head and arm rests |
| Only needs air to dry after a damp cleaning | Will render side airbags useless |
| Lightweight fabric does not change the feel of the seats or make them bulky | – |
| Great disguise for seats with holes or other damage | – |
| Quick to place | – |
| Adaptable straps to fit most vehicles | – |
---
FH Group Full Set Covers – Best Editor's Choice Seat Covers
When you have little ones that spend a lot of time in the back seat of your vehicle, you may appreciate a lighter color seat covering. Keeping the heat down is important to the comfort and safety of your family.
You may appreciate how these covers do not cause heat to build up when you are out of the vehicle for a long time.
This set includes covers for five headrests, the skirt for the bench seat, the bench cover, and two front bucket seat covers. These protectors work well with vehicles with seat warming technology. These covers allow side airbags to deploy with special stitching that separates with the pressure of the airbag.
| | |
| --- | --- |
| Pros | Cons |
| Soft material is comfortable for long trips | May be difficult to keep the middle seat belt clasp out of under the cover |
| Quick to place | Zipper pulls may break off with constant removal and reapplication |
| Affordable and convenient | Stitching may not hold up to lots of use |
| Thick padding to ensure comfort | – |
| Tan color is appealing and resistant to heat buildup | – |
---
Buyer's Guide – Best Leather Seat Covers
Purchasing a product often comes with lots of questions. In this area, we will talk about the most common answers to these queries. We will cover a variety of questions to give you the most information available.
Will these covers fit on a Toyota Rav 4
Each seat cover fits a variety of vehicles. To find out if the model you want will fit the car or van you have, it is important to read all the manufacturer's information about size and installation. Some covers use Velcro attachments while others have straps that you can adapt to get the leather material to fit correctly.
Is this product easy to install
Most of the items on this list are not difficult to place. To ensure the installation goes smoothly, it is important to follow all instructions. If your vehicle does not have detachable head rests, then the products for front or bucket seats will not work. The bench seat covers should be the easiest to put in your vehicle.
Can you wash these covers in the washer and dryer
Genuine leather products cannot go in the washing machine. However, neoprene materials like the FH Group liners can go in a regular wash cycle with no problems.
What is polyurethane
This material is a synthetic product that uses real leather to create a durable product. The interior uses leftover leather strips that they coat in synthetic materials to provide a durable, waterproof product.
Do leather covers damage car seats?
The most controversial opinion among car owners: some believe that leather covers (no matter natural or synthetic) must be covered with something protective as well, and others believe that covers cause the accelerated wear and tear of seat covers. I think both groups are quite reasonable. Leather material is very sensitive to scratches, so you may want to cover the covers. However, if you use cheap leather covers then you don't have to invest money into other covers.
Make sure to take care after leather seat covers to maintain its elasticity and durability. Covers made of synthetic animal skin must be fixed so you could sit without squirming resulting in scratches.
Taking into account all the above-mentioned facts about genuine leather seat covers, I've tested a few leather materials by the popular U.S. manufacturers. The results are given below, the best materials were included to my top. I hope these materials will help to choose the leather seat covers for cars.
Some of the best leather seat covers, according to the tests by Leather-Toolkits:
Big Ant has a nice beige color. This is a healthy, breathable material for leather seats and it is great for simple installation;
Big Ant is another black-flexible, healthy material good for installation;
FH Group Black is a set of 2 front bucket covers, with the side airbag compatible and rear bench covers;
I also recommend such brands for leather cover seats: Auto Expressions, Leader Accessories.
Instruction: How to Install Leather Seat Cover?
Last thoughts about choosing a leather seat cover
Many people like leather seats for many reasons, and they can also give a car a more solid appearance. However, leather seats can be quite impractical and expensive, that is why many car owners tend to choose covers over their seats made of another material. If you have not yet decided on what kind of upholstery for covers to choose, below I enumerated pros of genuine leather.
Pros of leather for car's seat covers:
They are difficult to get dirty: leather is much harder to get dirty than any fabric upholstery;
Genuine leather is resistant to common dirt and liquid stains;
Easy to clean: such covers have a smooth and silky surface, making it very easy to clean;
It has a pleasant odor: unlike fabric upholstery, leather seat covers do not absorb any odors but offer a distinct scent, which many people call the aroma of a "new car";
This material has a soft, thick layer that provides cushioning and support, making it very comfortable to sit at;
Leather can reduce the number of allergens in a car, as dust and dirt do not stick to leather covers as much as a fabric upholstery;
Buying a seat cover for your vehicle has a lot of advantages. To ensure the right fit for your car, SUV, or van, we suggest looking at the size, attachments, and material of the cover before you make your purchase. We like the FH Group Tan Set the most because it provides a durable cover for all the seats, and it has technology that allows the airbags to work.
I've also attached the video instruction for installing leather seat covers in a car if you are interested. Make sure to leave your feedback on this issue. I will upload new videos and reviews here.
---