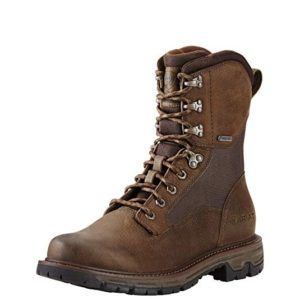 100% Leather
Rubber sole
Round Toe Profile
400-gram
Waterproof
Brown
800-gram
Waterproof
Brown
Fabric and leather
Oil and slip-resistant outsole
9 Inches in height
Leather
Rubber sole
Protective rubber toe
Buyer's Guide: How To Choose Leather Hunting Boots
We have the fortune to travel all over the country and do all kinds of hunts in all types of conditions. And we've developed what we call the four boot rule to cover the footwear needs of hunting in all these diverse conditions.
So let's start with the first boot. And this is a six-inch leather, uninsulated, or lightly insulated hiking boot. This is made by Ariat. So these boots are lightweight, they're comfortable, and yet have a high level of support. They're good in the mountains, and they're good in a flat country, they're definitely good in warmer weather. If it starts getting cold and the snow starts to fall, this is not going to be the boot that you want to pull out, but this is great for early season elk hunts, antelope hunts, anything where you're not too worried about freezing your toes.
The second boot in the review is a Huntrite hunting boot. So this is insulated, it's got a tall leather upper, and it's a very stiff, heavy backpacking boot. It has a very stiff footbed to help you sidehill in steep country. It's warm. It works for you really well into the late season, and it's a great all-around backpacking boot. When you're carrying a heavy load on your back, when you're going to pull out a big animal off a mountain, this is your go-to mountain boot.
The next boot is a pack boot. And what this is a lightweight, cold-weather boot that still works well for hiking and for action. You can wear this boot in a tree stand hunting for a whitetail. You can be sedentary in this boot, and it has insulation that will keep you warm, but it's light enough, and it's built correctly that you can also hike up mountains through the forest and be active in this boot as well. It has a rubber sole, which is very good for traction. It's good for snow, it's good for ice, and then it has a leather upper that is fairly waterproof, helps keep you warm. It's just a rugged, great all-around boot.
One of the important parts of these boots is that they have removable felt liners. You can get some with removable liners and some without. We recommend you getting removable liners because you can pull the insulating material out of your boot. It's separate from your boot. And the advantage of having it separate is that you can bring a couple of pairs on a hunt, and if they get wet one day, you can dry them out and go back and exchange your wet liners for your dry ones each day.
The fourth boot in the four boot rule is a knee-high rubber boot. Now, this model specifically is made by a European company, and this is an insulated boot. In Alaska, everybody runs around wearing it. There's a couple of other brands that make knee-high rubber boots in the United States, and they are a very useful boot to have around. There are some situations in hunting where these come in handy. One of those is where the scent is an issue. So if you're a bow hunter and you've got to climb into your stand, and you're really worried about scent, rubber does not hold scent very well. So what you can do is you can scrub these down, clean them up, rub some dirt and mud on them, and have a very scent free boot walking into your stand.
Other obvious reasons that these are really great is for any kind of wet country, any low country hunt, any marshy hunt, or even any rainy day. One thing on the negative side of this boot is this isn't a mountain boot. There's no ankle support here. It's just rubber and then a solid rubber sole, so this is not what you want to climb up a mountain in. There's not support, and you could get super blistered up or even get yourself into a pickle.
And then the thing that breaks the four boot rule is a pair of waders. They're a sock foot wader, which means that the boots are not attached to the wader. You put the waders on, and then you put the wading boot on over top of that. This is a Vibram soled wading boot. A lot of wading boots are felt-soled, which help you grip rocks while you're fishing and things like that. That boot that felt sole freezes up, and you get these big blocks of ice, whereas this Vibram sole stays free of ice and is safer for wading in water in cold temperatures. So that's your four boot rule plus waders. If you line yourself out with this spectrum of footwear, you're going to be able to go anywhere pretty much and hunt anything.
Video Tutorial: Leather Hunting Boots – Review and Comparison
---