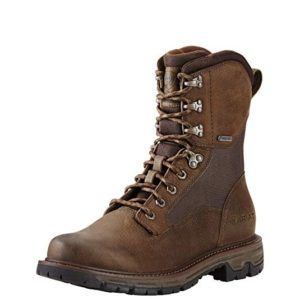 100% Leather
Rubber sole
Round Toe Profile
400-gram
Waterproof
Brown
800-gram
Waterproof
Brown
Fabric and leather
Oil and slip-resistant outsole
9 Inches in height
Leather
Rubber sole
Protective rubber toe
---
Choose the Best Leather Hunting Boots
Customer's Choice: the Best Rated Leather Hunting Boots
112 users answered this survey. Please help us improve this review!

35.71% of users selected Ariat, 25% selected Huntrite, 16.96% selected Huntrite Boots, 14.29% selected Rocky Boots and 8.04% selected Salomon. Every month we analyze your answers and change our rating.
---
Anyone who spends time hiking, hunting, or working outdoors understands the importance of a quality pair of boots. Protecting your feet and ankles requires sturdy materials and long-lasting products with the right support. The wrong step can spell disaster in a tactical situation, so choosing footwear with the right attributes is necessary. You may want to browse our product correlation chart below for a quick overview of each item.
Ariat Conquest – Best Editor's Choice Boots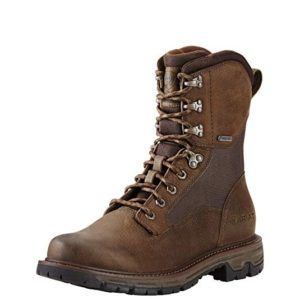 When hiking, biking, climbing, running, and hunting is your life, then you might find a high-quality, durable pair of boots a necessity. Since you like to participate in many activities, a versatile product combining comfort and function may be important.
The Ariat Conquest boots are our top pick.
With a thick rubber sole, traversing rocky cliffs and thick mud is no object for the Conquest boots. This item is a high-top boot with a thick leather band that reinforces the upper area around the ankle. Dual seams provide extra support at the heel and along the laces.
| | |
| --- | --- |
| Pros | Cons |
| Eight-inch shaft | Potential for eyelets to separate from the material |
| Duratread sole | – |
| Gore-Tex moisture wicking material | – |
| 400 grams of Thinsulate padding and insulation | – |
| Impact reducing EVA insole | – |
| ATS professional construction | – |
---
Huntrite 400 grams – Best Boots for Walking
When exploring is one of your favorite things to do, then you may find a comfortable and lightweight pair of boots useful. The Huntrite line of products features designs for active individuals with tough leather and nylon materials.
You might like that the padding is thin, allowing for plenty of movement.
You might find the 400 grams of Thinsulate Ultra appealing with these Huntrite boots. The loop on the back makes putting the boots on and off easier. It may comfort you to know the tall design will keep your ankles and feet safe in thick underbrush and thorny areas.
| | |
| --- | --- |
| Pros | Cons |
| Solid steel shank | May squeak or crack making it tough to be quiet when hunting |
| Non-slip rubber soles | – |
| Removing, breathable liner | – |
| Mesh lining | – |
| 100 percent waterproof liner | – |
---
Huntrite 800 grams – Best Cold Weather Hunting Boots
When you live in a climate where frigid temperatures are not uncommon, then having the right outdoor gear is critical. These Huntrite boots are just like the previous product, except with one major distinction.
800 grams of Thinsulate insulation gives your feet protection in the harshest of hunting conditions.
(yellow paragraph) With a non-skid, thick sole, this footwear may work well for climbing over rocks, limbs, and uneven terrain. These soles make it easy to dig in when you need to spend hours being still. You might like that these boots are waterproof to keep your feet dry when you encounter mud and streams.
| | |
| --- | --- |
| Pros | Cons |
| Pull strip on the back | Boot sizes may run under |
| EVA insole | – |
| Padded collar and front panel | – |
| Breathable liner with waterproofing | – |
---
Rocky Grizzly – Best Boots for Climbing
If you spend your time hunting, fishing, and participating in vigorous outdoor fun, then you may like the Rocky Grizzly boots the best. This footwear comes with a dynamic rubber sole ready for intense activity.
You may like the brown and black color combination that blends in well in nature.
You may like the aggressive pattern tread on the bottom of the soles when you encounter slippery moss or ice. The waterproof membrane uses a breathable mesh material that keeps your feet dry. The EVA insole uses two materials to soften each step and protect the feet from harsh impacts.
| | |
| --- | --- |
| Pros | Cons |
| Contoured heel protection | May not have enough insulation for extremely cold areas |
| 200 grams of insulating material | – |
| 900 Denier nylon and tough leather upper materials | – |
| Dual stitching | – |
| Collar padding | – |
---
Salomon Guardian – Best Lightweight Boots for Running
If you like to explore while taking your daily run, then the Salomon Guardian boots may fit your lifestyle well. These boots are the lightest pick on our list. The boots are a light brown color keeping you visible when you want.
The brown color still blends in when you are on the hunt.
The thick EVA insole protects your feet whether you are jogging or trying to best your last elapsed time. The trademark Contagrip tread gives you extra grip for running in the woods or on concrete. A rubber panel on the toe and the heel reduces damage from asphalt, rocks, and branches.
| | |
| --- | --- |
| Pros | Cons |
| Meets military specifications | Fit may be too narrow for some individuals |
| Approved uniform item for law enforcement employees | – |
| Lightweight | – |
| Not reflective | – |
| Sensifit Technology | – |
| Attached tongue | – |
---
Buyer's Guide: How To Choose Leather Hunting Boots
We have the fortune to travel all over the country and do all kinds of hunts in all types of conditions. And we've developed what we call the four boot rule to cover the footwear needs of hunting in all these diverse conditions.
So let's start with the first boot. And this is a six-inch leather, uninsulated, or lightly insulated hiking boot. This is made by Ariat. So these boots are lightweight, they're comfortable, and yet have a high level of support. They're good in the mountains, and they're good in a flat country, they're definitely good in warmer weather. If it starts getting cold and the snow starts to fall, this is not going to be the boot that you want to pull out, but this is great for early season elk hunts, antelope hunts, anything where you're not too worried about freezing your toes.
The second boot in the review is a Huntrite hunting boot. So this is insulated, it's got a tall leather upper, and it's a very stiff, heavy backpacking boot. It has a very stiff footbed to help you sidehill in steep country. It's warm. It works for you really well into the late season, and it's a great all-around backpacking boot. When you're carrying a heavy load on your back, when you're going to pull out a big animal off a mountain, this is your go-to mountain boot.
The next boot is a pack boot. And what this is a lightweight, cold-weather boot that still works well for hiking and for action. You can wear this boot in a tree stand hunting for a whitetail. You can be sedentary in this boot, and it has insulation that will keep you warm, but it's light enough, and it's built correctly that you can also hike up mountains through the forest and be active in this boot as well. It has a rubber sole, which is very good for traction. It's good for snow, it's good for ice, and then it has a leather upper that is fairly waterproof, helps keep you warm. It's just a rugged, great all-around boot.
One of the important parts of these boots is that they have removable felt liners. You can get some with removable liners and some without. We recommend you getting removable liners because you can pull the insulating material out of your boot. It's separate from your boot. And the advantage of having it separate is that you can bring a couple of pairs on a hunt, and if they get wet one day, you can dry them out and go back and exchange your wet liners for your dry ones each day.
The fourth boot in the four boot rule is a knee-high rubber boot. Now, this model specifically is made by a European company, and this is an insulated boot. In Alaska, everybody runs around wearing it. There's a couple of other brands that make knee-high rubber boots in the United States, and they are a very useful boot to have around. There are some situations in hunting where these come in handy. One of those is where the scent is an issue. So if you're a bow hunter and you've got to climb into your stand, and you're really worried about scent, rubber does not hold scent very well. So what you can do is you can scrub these down, clean them up, rub some dirt and mud on them, and have a very scent free boot walking into your stand.
Other obvious reasons that these are really great is for any kind of wet country, any low country hunt, any marshy hunt, or even any rainy day. One thing on the negative side of this boot is this isn't a mountain boot. There's no ankle support here. It's just rubber and then a solid rubber sole, so this is not what you want to climb up a mountain in. There's not support, and you could get super blistered up or even get yourself into a pickle.
And then the thing that breaks the four boot rule is a pair of waders. They're a sock foot wader, which means that the boots are not attached to the wader. You put the waders on, and then you put the wading boot on over top of that. This is a Vibram soled wading boot. A lot of wading boots are felt-soled, which help you grip rocks while you're fishing and things like that. That boot that felt sole freezes up, and you get these big blocks of ice, whereas this Vibram sole stays free of ice and is safer for wading in water in cold temperatures. So that's your four boot rule plus waders. If you line yourself out with this spectrum of footwear, you're going to be able to go anywhere pretty much and hunt anything.
Interesting Video: Leather Hunting Boots – Review and Comparison
Whether you are tackling a mountain or tracking deer, having protective, comfortable footwear is essential. The five boot choices on this list feature EVA insoles for extra padding and impact reduction. Most of the boots are waterproof, making them ideal for hunting and hiking in all-season climates. Below you will find the answers to some of the most common questions about hunting boots.
Do these boots have steel toes
No. However, the Huntrite boots feature a steel shank that provides additional protection against impacts and flexing.
Do the boots have insulation
Yes. Every choice on our list contains at least 200 grams of insulation. Most of the boots use 400 grams of Thinsulate. Huntrite offers an 800-gram product with the most insulation to provide warmth in colder temperatures.
How tall are the boots
These hunting boots come with a six or eight-inch upper. The materials are high-grade nylon and leather. Some boots feature added padding in the collar, or leather reinforcement panels.
Are these boots safety certified
No. The only item on our list that meets work standards is the Salomen Guardian boots. This footwear is a standard issue for military members and police.
How do the sizes match up
Each person has an individual length and width that differs from others. Some manufacturer's products may fit one person while another has issues with the width or height of the boot. The only way to know for sure how well the product will fit is to try purchasing your regular size and going from there.
Will the boots be noisy when I walk
If you purchase a product with an aggressive tread pattern, then you may find they are loud when walking on smooth surfaces. The more cuts and turns in the sole, the more surface area for the boots to grip when you are on rugged terrain.
Are these boots comfortable enough for long hours of use
Yes. All the products on this list feature thick, comfortable midsoles and liners. Mesh materials inside the boots help wick wetness away from the feet. Thick, rubber soles prevent any sharp edges or rocks from penetrating the boot.
How much do the boots weigh
Each pair of boots on our list weighs a different amount. You can check our quick comparison guide to see these numbers.
Hunting boots in conclusion
Some boots may run small in size compared to standard charts, so checking reviews and manufacturer's information before making a purchase might be best. Before you make your decision about the right boots, you may want to consider how much insulation you need. For extreme activities, we suggest choosing an item with heel and toe protection to get the most life out of the boots.
---