Fit large pony
Premium rope nose
Weight: 1.39 pounds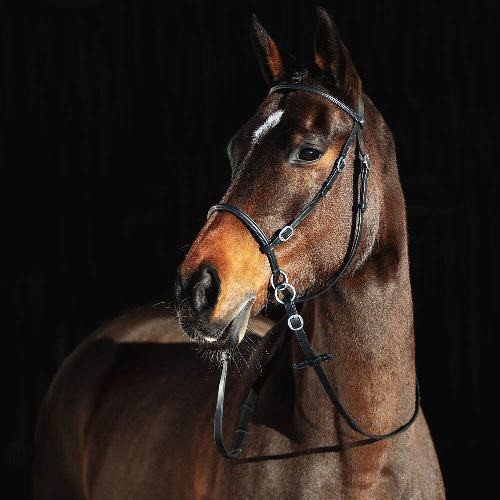 Silver-colored buckles
Soft leather
Halter-style fit
Best Quality Leather
Stainless Steel hardware
Softy Leather padded nose
Double layered noseband
Set of 5/8" wide
7
Colored padded browband
Set of 5/8" wide
7
Recently I met a nice person, Mary J., who is into horse riding. She asked me a few questions about choosing the best leather for making DIY bitless bridles. I had to do thorough research to give expert advice on this matter.
Firstly, I've learned that a headgear without a bit and with reins attached to a noseband used for controlling a horse is called a hackamore (also known as bitless bridles). So, below you will find the results of my tests and a few tips for people who need to choose leather bitless bridles or raw animal skin for making such headgear for a horse.
Things to consider when selecting leather bitless bridles
First things first – if your budget is low, pay attention to the quality of the used leather. This factor will determine how long the bridle will last. At the same time, of course, do not forget that the key to durability will continue to care for a hackamore when using it!
When choosing a leather bridle, consider the size and shape of your horse's head. Wide capsules are popular now, but if they don't fit well on your horse, then you shouldn't buy such a headgear.
Bridles with wider reins will look good on a big head with a strong backbone. Sometimes they come with wide substrates that make them visually wider. If the horse's head is tiny, a bridle should not be "heavy" either – pay attention to models with narrower reins.
If you rarely buy a leather bridle, it can be difficult to see the difference between $50 and $500 hackamore. To determine whether a bridle is made of high-quality leather or not, whether it will serve you for a long time or whether it will be enough only for one season, pay attention to the following things:
The quality of stitching. Check if the stitching lines are even. Are the stitching points stitched or riveted? The latter method is cheaper and loses in terms of reliability. Is the stitch tight? Does the thread look thick and strong? Opt for string stitches all over a hackamore;
Look at the headband and capsules. Expensive bridle reins have leather inserts to give the capsule and headband a rounded shape. The cheaper ones have plastic reins. Plastic inserts are not so flexible and can break;
Clasps. Evaluate how strong the clasps are, the moving parts should move well. Have the holes been punched correctly? They must be;
Evaluate the rein edges. The front side of reins will be smooth, should have no scratches, the seamy side will be smooth too, but more grainy;
What leather to buy for DIY bitless bridles?
High-quality leather is very durable and has no defects. Sometimes the tanning and finishing process is more important than the quality of the raw material. The best for leather bitless bridles is vegetable tanning. During this process, color permeates the entire structure of the material. If you bend the rein, the sliced leather will not change color. A bridle, which was dyed via the usual method, will not pass such a test. If a cheap dye was used, the leather bridle will pour out into the rain and leave traces on the horse's hair, soaking it with sweat.
My choice of 5 best bitless bridles:
Dunn hackamores will fit a small horse or large pony. It boasts a premium rope nose. It is very lightweight;
Leather Bitless Bridle offers silver-colored buckles, made of soft material. There is a great halter-style fit;
Leather Crossover is a premium product, with stainless steel hardware and soft padded nose;
SIDEPULL REINS is another nice product in my list, with a double-layered noseband;
Combo REINS 7710 has a nice colored padded browband that is quite wide;
Video Guide: Making a Bitless Bridle
I also attached the video tutorial of making a bitless bridle of genuine leather. I hope that all my recs and choices will help to find a really nice headgear for your horse. Since this niche is quite new to me, I really appreciate your feedback in the comments and your recommendations. Any advice is welcome here. Thanks for reading the reviews on !
---